In theory, choosing the best white paint should be easy. I mean, it's just white, right? That is until you come to consult a paint chart and realise there are potentially ten different whites you can choose from. And that's just the Farrow & Ball options! Add a few more paint manufacturers to the mix and you're suddenly swimming in paint charts, color swatches and have spent a small fortune on sample pots looking for the perfect shade.
To make it even trickier you'll soon come to realize there isn't in fact just one best white paint; the best option for you needs to be tailored to your room – because as we all know the same shade can look very different depending on where you place it, and light plays a huge part in that.
The general rule is that in North-facing rooms it's best to avoid whites that have cool blue or green undertones as these can make a room feel cold and a tad miserable, so look for whites with gentle red or yellow undertones to lend warmth to the walls. In South-facing rooms which are blessed with much warmer natural light anyway, pretty much anything goes, and you can work with whites with cooler undertones or milky warmer shades.
So, whether you're looking for the best white paint for the walls, skirtings, the best kitchen paint, or paint for a bathroom – browse on to find the best option for you.
The best white paint options – our top 10
Why you can trust Real Homes Our expert reviewers spend hours testing and comparing products and services so you can choose the best for you. Find out more about how we test.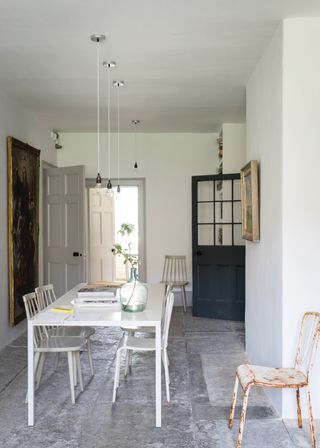 Although it can be tricky to suggest the definitive best white paint for all interiors, if we had to stick all our eggs in one basket, this would be it. Ammonite is a best-seller, and one of the best Farrow & Ball paints, and once on the walls, it's easy to see why.
It's a gray-toned white (but not quite a grey paint) that's that elusive mix of neither too warm nor too cool, meaning it lends a light and airy look to sun-filled spaces and doesn't feel cold in a North-facing room.
The depth of tone will add character to a more modern property and look right at home in a period property too.
Bring out the warmth of the shade and create a fresh look by pairing with pure white woodwork, or create more of a statement by contrasting with a darker gray tone.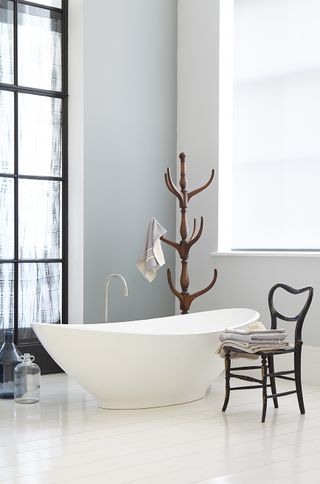 Better suited to light, south-facing rooms Shallows by Little Greene is edging on almost being gray. We love pairing this white paint with a slightly more obvious gray (Grey Teal has been used in the bathroom above) to further highlight those cooler tones. This color would look gorgeous in a light and airy open-plan kitchen or in a large bathroom. Just be aware it risks looking harsh in a sun-deprived room, so avoid using it in north-facing rooms or hallways.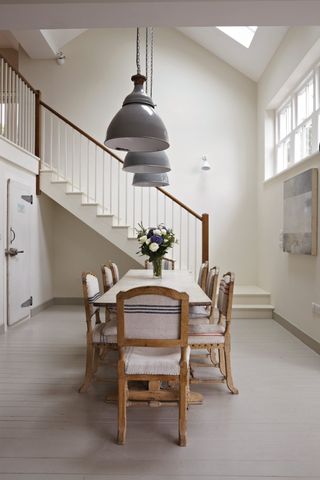 The off-white Slipper Satin wall paint from Farrow & Ball takes its name from the delicate color of silk used in traditional ballet slippers.
The absence of any cooler undertones means it works perfectly in a North-facing room that's in need of some uplifting warmth, and whilst a lovely creamy white, it doesn't have the more obvious yellow-tones common in other warm whites - in case true cream isn't your thing.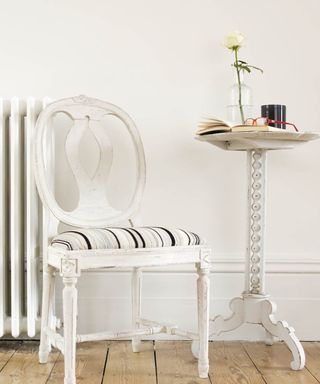 A pure white paint can be a great option for a modern or contemporary property, although it can run the risk of reflecting blue tones in a North-facing room, and sometimes it can be a bit harsh on the eyes in a room with lots of sun.
If you love the desaturated look of pure white though then our top recommendation is the Pure White matt emulsion from Mylands of London.
It's a lovely chalk white color with hardly any undertones of any kind, which can make it the perfect backdrop to adding color and texture elsewhere in the room.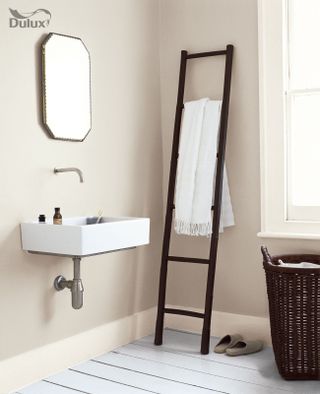 Dulux have got bathroom paint down, and this formula made it to the top of our best bathroom paints list, so you know it's good. It's been designed to be both steam and moisture resistant, plus its MouldTec foundation protects the paint against mold for up to five years. Over 24 hours, the paint dries to a mid-sheen finish, which repels steam rather than allowing it to soak in.
In terms of colour, we think the Dulux Bathroom Egyptian Cotton is the best white paint for a bathroom. Managing to look both crisp and cozy (who wants to bathe in a cold-toned room?), this versatile color will work in bathrooms of any size and looks equally lovely in light-filled bathrooms as well as rooms with less natural light.
You can find more bathroom paint ideas in our dedicated feature, too.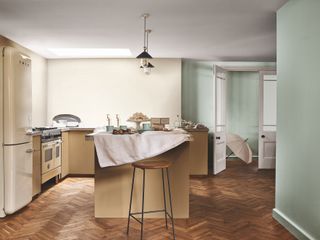 Looking for the best white paint for kitchens? We love the Dulux Easycare Kitchen Timeless emulsion.
The formula is engineered to stay pristine, with a greaseproof formula that resists stains and makes any marks that do appear easier to wipe off. You will find that most of Dulux's paint colors come in the Easycare Kitchen formulation, but we love the look of Timeless. It's a warm white paint, but as the kitchen above shows, it works just as well when combined with both warm and cool tones. Have a read through our kitchen paint ideas too, for more inspiration.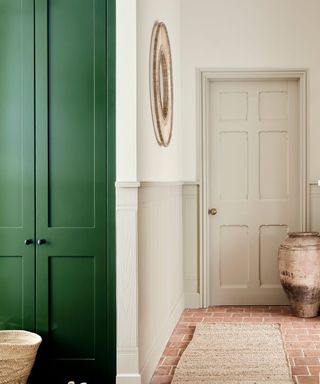 We love the creamy softness of Little Greene's Portland Stone, it's just the perfect white paint for bedrooms – think melted vanilla ice cream (in a very good way). While it looks gorgeous and warming in a light-filled space, it also brings a lovely lived-in feel to darker spaces. It works wonderfully in more traditional style homes, but it's equally at home in a modern space, just pair it with some crisp white woodwork to give it a bit of an edge.
Check out more inspiring bedroom paint ideas in our dedicated feature.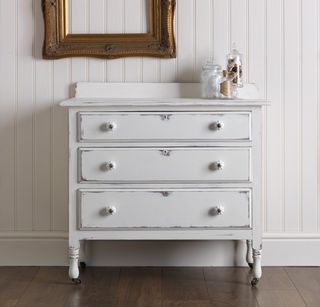 Is there an easier way to give your interiors a bit of vintage charm than a lick of chalk paint? The farmhouse vibes you get from chalky white walls will never go out of style, and you can use white chalk paint to quickly upcycle old furniture, or even give your kitchen cabinets a revamp – just have a read through our guide to painting kitchen cabinets and painting furniture first.
So what's the best white chalk paint out there? Well we love Rust-Oleum Chalk White Chalky Matt paint. There's no hint of yellow, it adheres to pretty much any surface and is perfect for distressing. Plus it also comes in a spray paint if you think you would find working with that easier.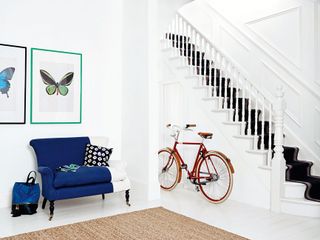 Tough, durable and hard-wearing, the Dulux Satinwood in White Cotton is perfect for interior woods, especially where there are high volumes of foot traffic. Requiring just a couple of coats, this paint is easy to apply, with no undercoat necessary, unless you are painting over a color that is particularly strong.
Technical bit over, let's focus on the color. We love the look of clean white woodwork, so we've picked White Cotton as our favorite – but you can get Satinwood in all the Dulux shades. This tough, bright white would work perfectly to bring some light into dark hallways, and if you are dabbling with the idea of painting your floorboards white, this is your color.
Follow our guide to how to paint floorboards if you want to create this gorgeous look, and take a look at more of the best paints for wood.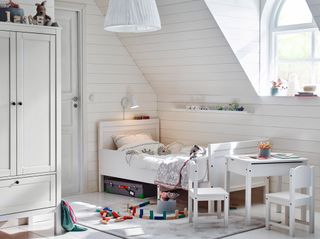 Painting a kid's room white may sound like a mad idea, but pick the right paint and you needn't worry about rogue fingerprints, muddy marks or unidentifiable smudges. 'Washable' and 'tough' are arguably the magic words when it comes to decorating children's rooms, and Dulux Easycare Washable & Tough Matt in Jasmin White is covering them both with this formulation.
This paint is 20 times tougher than the brand's standard offerings and is designed to repel liquids, so you have time to wipe away any spillages before they soak in.
In terms of colour, we love the fresh feel of the Jasmine White. Cool without being sterile, it creates an inviting warmth to a room while still looking crisp and clean. Be sure to check out more paint color schemes for kids' bedrooms and take a look at our roundup of the best paint for kids' rooms too.
How to choose the best white paint
South or west-facing rooms are always going to be a dream to decorate, and most white paints are going to work perfectly in sun-filled spaces. Choosing the best white paint for a south-facing room really just depends on your style and how you want the room to look, particularly under lamp light. If you like a clean, crisp look, stick with a cool-toned white paint (with gray or bluish undertones), but if you prefer a more relaxed vibe, choose a softer warm white (with yellowish or blush hues) that will feel cosier at night.
North or east-facing rooms obviously get less light, and cooler light. So, warmer whites are always going to be more at home in this type of room. Look for white paints that have a creamy undertone for warmth, both day and night.
Test it day and night
As we mentioned above, it's important to consider how your white paint will look under artificial light as well as daylight. So, make sure when choosing white paint that you consider it under both natural and artificial light, and always test a paint color in your home so you can see how it changes throughout the day. Order a tester pot, paint on to A3 sheets of paper (or the wall if you are feeling committed) and stick them up on all four walls. That's the best method for seeing what it looks like in real life.
Read more: