Yellow bedroom ideas are sure to bring cheerfulness and joy to your sleeping quarters. Gorgeously bright and brimming with optimism, it is found in Mother Nature's most rewarding creations. From earth-saving bees to springtime daffodils, a yellow bedroom is set to put a smile on your face.
And so it's understandable that you would have some of these bedroom ideas planned for your sleep space. Waking up every morning to an instant dose of positivity and upbeat vibes sounds like a great way to live, so whether you want a statement, investment piece, or a few simple accessories, we've got you covered.
1. Update your soft furnishings with a yellow rug and throw
If you'd love a splash of sunshine yellow in your bedroom, but don't want to commit to an investment piece of furniture, look to updating your soft furnishings. Here this bright yellow shade is enhanced with textures – the natural jute rug and the luxurious velvet throw bring some essential warmth and depth to the space.
Francesca Birch, designer at Danetti says: 'Adding pops of bright and positive color that embodies a feeling of optimism is especially important after the few years we have had.
'Yellow is bright and cheerful and will uplift any room in your home when added into accent pieces, soft furnishings and accessories.'
2. Paint the lower half of your wall yellow, and keep the rest white
Dividing your wall up into two halves and painting the lower half a bright yellow, and the rest a simply white, allows you to get all the fun and warmth of yellow paint, without dominating or overwhelming the room.
3. Bring instant sunshine with yellow bedding
The best bedding is super soft and breathable, but it's amazing to see how this yellow bedding compltely changes the look and feel of this pink and white bedroom. Yellow bedding is an ideal way to add a sunshiny glow throughout the summer months, and you can always revert back to a cosier grey come winter.
4. Make a statement with an ornate yellow headboard
Choosing a bold, statement headboard is an easy way to create a clear focal point and centerpiece in your room, from which the rest of your scheme can work around. This ornate, shapely design brings a classic edge to an otherwise modern scheme, as a nod to the period property's origins.
5. Use color blocking for a fun, gender neutral bedroom
Yellow is a great color for a nursery idea and even a shared kids' bedroom, but give it an extra fun twist with stand-out color blocking like this. Simply use masking tape to mark out a shape, and paint within the shape for an instant, inexpensive update with huge impact.
6. Combine yellow with midnight blue for a striking contrast between dark and light
You may naturally pair yellow with white, but combining it with a darker shade like midnight blue is an easy way to create a stark contrast and even more drama.
Here this velvet throw pops against the deep blue velvet bedstead, while the materials unite the scheme creating a rich and luxurious feel.
7. Go for pattern power with a vibrant wall mural
Nothing makes a statement in a bedroom quite like a wall mural, and a striking yellow design like this is a sure way to bring all the fun and whimsy to your room. At Wallsauce, you simply enter your wall dimensions online and they send the mural out to you for you to apply yourself - just like wallpaper.
8. Revamp white wall panels with a pop of yellow
Paneling is a classic and smart wall decor idea that has stood the test of time in the interiors world since its invention in the late 15th century.
However, if you want to rework your wainscoting, this shouldn't require a full-blown remodel of your bedroom design. All it requires is a pot of yellow paint.
But before you go all Bart Simpson on your boudoir, consider only painting your wall panels.
9. Use removable wall decals in a yellow bedroom idea
Thought wall stickers and decals were just for kids' room ideas? Children shouldn't have all the fun when it comes to a creative yellow bedroom idea. Perfect for renters, these decorations can be peeled off and shouldn't damage your walls.
'This is still one of my favorite walls in the house because it was so spontaneous and organic which is my fave way to be creative,' says home renovator Flo Sandler.
'As long as I have trust in my ability and enough materials I know giving myself the freedom to experiment is the best way to create something I love.'
But, there have been some amusing, but scary side-effects with this design. She says: 'I'm still loving sleeping under our sticker mural headboard every night even though sometimes when I'm falling asleep I catch sight of one of the crosses and my brain tells me it's a spider.'
Interested in Flo's other colorful projects? Follow her on Instagram at @florisinaforest.
10. For maximum impact, paint your ceiling yellow
Painting your ceiling is one way to instantly add impact to a room. But while many of us opt for a white or neutral refresh in white or beige, it's a shame that we seldom turn to bolder colored ceilings.
So the only way is up with a yellow bedroom idea. Borderline brash but still beautiful, this paint idea can produce stunning results for your sleeping space.
Note how the skirting boards are also lacquered in the same shade to create a coordinated look and feel.
This fertile living wall idea stops the color from looking too artificial and instead add a biophilic and healthy glow to the space. As does the rocking chair with bucket seat made for relaxing in this room.
11. Mask out a yellow headboard
Masking tape is usually used to ensure that paint doesn't seep into nooks and crannies you don't want it to. In most DIY cases, for example, it stops paint from dripping onto skirting boards and dado rails.
But more recently, it has been used to get creative with wall paint ideas. So whether you're marking off a square section, introducing stripes, or adding curves with a semi-circle or arch - you can really pretend you're Picasso with paint.
This bedroom was brought to life using Simply refresh feature paint in Golden Sands by Dulux and it's the perfect way to introduce yellow into your bedroom scheme.
12. Paint your lower walls and radiator
Communications consultant Nikki Griffiths and songwriter and music producer Luke Moseley of @tierneyterracelocation transformed their bland bedroom with a splash of Banana Yellow by Benjamin Moore on their walls and radiator.
'We used a lot of yellow in our last flat, and we always thought we'd stay away from it,' says Nikki.
'I love the tone. It's not really bright but it's not a pastel – it's somewhere in between. It's a really happy color to wake up to every day.'
13. Add impact by introducing black with yellow
'Welcome to the jungle' goes the classic Guns 'N' Roses lyric. And we've definitely been given a one-way ticket to exotic chic with this black palm print design by Maisons du Monde.
Combined with muted ocher paint, gold furniture and a rattan statement headboard idea, this luxury women's bedroom idea will transport you to a tropical paradise.
14. Get earthy with clay-based yellow paint decor
We've all heard the adage 'less is more' right? So instead of thinking that your yellow bedroom idea needs to be a punchy sunshine shade, why not consider an earthy hue that falls gently into the background and lets your soft furnishings and accessories shine?
Get the look by selecting a sun-baked shade like Earthborn's 'Humpty Dumpty'. Unlike its namesake, this paint is safe on any wall.
The black bedroom lighting idea and white wooden slatted table add enough contrast without going OTT.
15. Pale egg-yolk yellow is a cracking idea for beginners
'Soothing egg-yolk yellow can be a strong ally for interiors which are focused on rest and relaxation.' says Wayfair's Resident Style Advisor, Nadia McCowan Hill.
'Our bedrooms are one of our most sacred downtime spaces and therefore it is crucial to choose a color palette which compliments calming schemes of soft lighting and plush textiles.'
'Pantone's 2021 Color of the Year "Illuminating" pairs effortlessly with neutral tones such as soft vanilla or opt for a dusty pink for a trendy retro vibe.'
16. Choose floral bedding for a beautiful bedroom idea
Yellow flowers are a quaint and quintessential part of our childhood. From making daisy chain bracelets in school to picking off the petals of a buttercup to determine our destiny. So it's no wonder that a duvet cover is a quick and cozy bedroom idea for your yellow bedroom.
A heady mix of florals and botanicals in just the right combination of mood-enhancing colors, this Spring Splendor duvet from French Bedroom Co has a wonderfully nostalgic feeling to it.
Designed for all-year-round comfort, this cotton-mix bed linen is lightweight and has a white floral motif on the reverse. Perfect for use in the less bright months and in a rustic bedroom idea for a country-chic aesthetic.
17. Paint your wall yellow for an instant mood boost
Add some flavor into your bedroom with fun yellow wall decor design.
'Bright sunshine shades have unrivaled mood-boosting qualities and can lighten a room instantly.' says Wayfair's resident style advisor, Nadia McCowan Hill.
'Patterned wallpaper with a yellow hue is a surefire way to energize your space and create a motivational mood if your bedroom also doubles up as a home office.'
To style, add punchy fuchsia pink furnishings and a fun framed flamingo wall print!
18. Incorporate a yellow window treatment
Come rain or shine, if there's one way to add brightness to your home, it's by incorporating yellow into your bedroom scheme. But if you don't want it to look a little radioactive, a simple bedroom window idea might just do the trick.
While a fun blind might be one way to incorporate this color, when designing a kids' bedroom get up in a grown-up way by drawing open honeysuckle-colored curtains.
Paired with a light net or voile, it'll block out sunlight and contribute to a romantic bedroom idea for a sweet Sunday morning lie-in.
19. Introduce wall art into a yellow bedroom idea
20. Add a coastal wallpaper design for seaside vibes
If you're looking for a subdued feature wall design that isn't a grey and yellow bedroom idea, then consider beige as a softer, sandy alternative that'll bring the beach to your bedroom.
Google Trends reveals searches for 'beige' within the home and garden category have rocketed in 2021 and wallpaper designer Elizabeth Ockford knows why. She says: 'Beige might not be the first color that springs to mind when you think 'glamorous', by combining it with bright colors and intricate, exciting patterns as I do, it can still deliver the slice of luxury every home needs.' Nina Tarnowski, founder and designer for Woodchip & Magnolia shares this sentiment and love for motifs. She says:
'We've noted an increase in yellow as it is becoming an increasingly popular choice this year as homeowners look for ways to add a cheerful color palette to their homes.
'For a more muted look introduce delicate patterned wallpaper or for a bolder scheme, paint the ceiling for an unexpected pop of color.'
21. Upcycle tired bedroom cabinets with yellow paint
As a bold primary color, yellow can sometimes be a bit much for a wall decor design.
But if you're feeling bold and brave, then upcycling an existing bit of furniture can add a kitsch glow to your bedroom interiors.
If you want to recreate this yellow bedroom idea, Rust-Oleum Neon Spray Paint can be used on wood, ceramic or metal furniture to create statement features. Be sure to keep the rest of the room simple for maximum effect.
22. Create an arched alcove bedroom design
Zesty colors like yellow can inject the feel-good factor into a space as they're more energizing. Using a shade like this in your bedroom is perfect for bringing you or your kids a buzz first thing in the morning.
For a fun small kids' room idea, why not create a bedroom built into the wall? This handy hideout provides privacy to children and makes use of a snug sleep space.
To style this small bedroom idea, add gingham bedding and curtains for a black, grey, and yellow bedroom idea that suits boys and girls alike.
23. Add grey for a Scandi-inspired scheme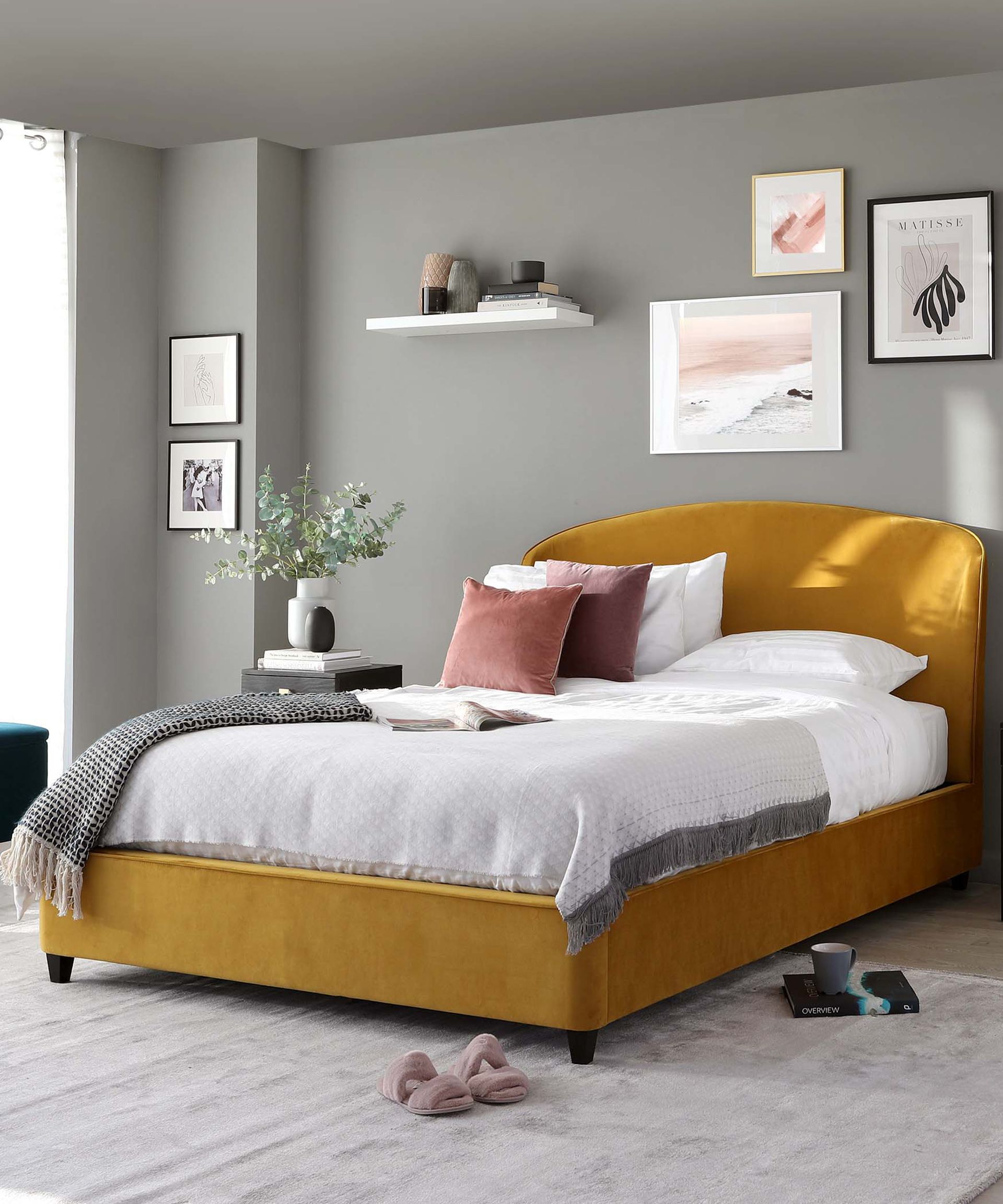 Grey bedroom ideas are a growing trend among interior influencers, with grey furnishings being used to complement a sunny yellow wall – or vice versa.
Its universal appeal and classic characteristics mean many of us are adopting similar schemes in our bedrooms and living spaces. So how do you make your grey and yellow bedroom ideas stand out from the rest?
By introducing indoor plants and light-colored wood into this scheme, you can create a modern bedroom design with Scandi inspired feel. This brings with it light and welcoming atmosphere.
To add to these Scandinavian bedroom ideas, you may want to incorporate white shelving or perhaps a gallery wall idea made up of natural and beige framed prints.
24. Revamp a built-in wardrobe design with yellow
Asides from their apparent space-saving properties, built-in wardrobe ideas get a bad rap for being boring and can't be taken with you when you move home.
But, just because it is a permanent fixture, this doesn't mean you can't have fun with this bedroom storage idea. Whether you paint it, fit wallpaper into the panels or come up with another creative decorating idea, yellow is a color that'll immediately add impact.

Executed beautifully here, Colin Roby-Welford, Fired Earth's creative director says: 'Rich, golden yellows are perfect for bedrooms. They have a restful quality that's ideal for inducing a wonderful night's sleep and they're happy, optimistic shades to wake up to.'
'They exude a gentle, flattering light and they're really versatile too, adding warmth to palettes of blue and grey, or helping to harmonize bold reds and purples.
'Look for fresh, zesty shades for en suite bathrooms and bright, welcoming hallways leading up to the bedroom.
'Yellows can look very different depending on the light, so it's always worth painting large pieces of paper with your favorite shades and then moving them around the room to see how they look throughout the day.'
25. Add yellow to an on-trend teal design
Let's talk fringe for a minute. It's tactile and cute, but also brings '70s chic into your interior space. And with yellow is added into the mix, this vintage retro bedroom design is immediately heightened.
Elevate your scheme with a statement yellow bedroom lighting idea. Paired with warm bulbs, it will add a gorgeous glow to your room, without the cheesy disco ball effect.
For a Bohemian bedroom idea, style with a patchwork throw, pompom cushions and heavily embellished accessories. Groovy baby.
26. Create a cozy dressing area with lemon yellow
An essential space in a women's bedroom idea, a dressing table or corner makes for the perfect place to apply make-up and tie up your shoes. So you'll want a color that will compliment your skin tone and outfit choice without being too garish.
With its ability to soften a room, a pale lemon shade is a great idea for a yellow bedroom idea. Paired with a warm master bedroom lighting idea it can create an idyllic interior space for those pre-night-out selfies and a perfect place to paint your nails too.
27. Take inspiration from the influencers
While we're more used to her making yummy salads as one half of a famous sister duo, Jasmine Hemsley knows a thing or two about yellow bedroom ideas too.
Using Farrow and Ball's Dutch Orange paint, she enveloped the walls in a warm yellow hue, and contrasted this with both near and far-flung finds.
'We accented the room with a recycled sari bedspread and cushions that played on the bold flowers in the curtains, and a knitted throw car boot find.' says Jasmine in her blog.
The paint experts have validated her decision. Erika Woelfel, vice president of color & creative services for Behr says: 'Incorporating golden yellow hues in your bedroom is the perfect way to be met with energy and positivity first thing in the morning.'
'On the other hand, yellow tones with a touch of gold offer a cozy and warming feel to create a calm start and finish to your day.'
How can I make my yellow bedroom look good?
Rob Abrahams, co-founder of COAT Paints says: 'Choosing yellow for the bedroom should be done pretty carefully.
'As a color, yellow is naturally uplifting and energizing, so selecting a shade that's too bright could mean overstimulating our eyes and minds when we just want to sleep.
'In sunnier south-facing bedrooms, muted pastel shades of yellow can work as they'll look much more subdued and almost neutral in the brighter morning light. For north facing bedrooms, you can get away with a darker yellow shade - but ideally not a bright one.
'Mustard tones work well with the darker light which brings out a grubbiness, rather than a vividness.'
And Jennifer Matthews, co-founder at Tempaper adds: 'Yellow is known for capturing joy and raising self-esteem.'
'I like this color for bedrooms, but as an accent. I would pop the color with a throw pillow or blanket.'
'I also love the idea of a minimalist yellow pattern like a ditsy floral for behind a bed or in a bedroom closet.'
Is yellow a good color for a bedroom?
Many color psychologists note that yellow is good for our mental wellbeing. Ruth Mottershead, creative director Little Greene says: 'Our homes are a place where we want to surround ourselves with joy, colors and patterns that make us happy. Yellow is a shade that brings positivity to a space and makes us feel uplifted, happy, energized and invited.'
'Yellow paint colors have an inherent brightness, freshness and warmth that makes them an ever-popular color all around the home, creating a feeling of warmth and coziness.'
'A bold yellow may be a little vibrant for the bedroom, so consider softer hues or wallpapers with elements of yellow, be it a pretty yellow base or pops of yellow in a wallpaper pattern.
'To introduce a little yellow to your bedroom, use as a color highlight on woodwork, a door or skirting boards.'
But, one industry expert warns us to use yellow with caution. Amber Dunford, associate art director at Overstock.com says: 'While yellow can be a cheery upbeat color, humans can tend to feel fatigued after long periods of time in yellow rooms.'
'I would suggest using it in small doses as decor or in florals throughout the space.'
What color furniture goes with yellow bedroom walls?
Amber Dunford, associate art director at Overstock.com says: 'I would select harmonizing warm colors in opposite saturation levels to pair with yellow (paler yellows, watery corals, etc).
'This will help the space flow better and avoid an overly contrasting in it's color scheme, which can feel overwhelming.'