Looking for vintage bedroom ideas? With centuries of design history from which to draw, it can be daunting to know where to start, so we've gathered plenty of inspiration and tips to give you a hand. Although really, it's all about experimenting- there's no one-size-fits-all or right or wrong way.
'There are many different styles of vintage including French, which is soft, rustic, and inspired, with vintage French style furniture, painted floorboards and soft pastel tones on the walls. Or there is country style vintage, which includes soft, pastel blues, delicate floral wallpapers, country style furniture, weathered floorboards, and rustic accessories.' says Scarlett Blakey, Creative Partner of Ophelia Blake Interior Design. 'Once you have selected the style, it's time to think Maximalist. Introduce contrasting prints with soft paint colors that complement each other, and painted floorboards.'
So whether you're decorating a period home and seeking to complement its aged features, or have a new home and simply love the vintage look, these ideas are guaranteed to make you want to start that Pinterest board or pull out the sketchbook and begin planning your new room.
For more bedroom ideas check out our huge gallery for inspiration.
How can you make a bedroom look vintage?
The easiest way to make a bedroom look vintage is to shop second hand. Have a look on online market places or head out to thrift stores and start switching out any of your new furniture for vintage finds. Even one statement piece like a vintage piece will totally change the feel of your room.
'Introduce timeless pieces of furniture such as unholstered armchairs and grandad clocks which can usually be found from charity shops or auction houses and will immediately provide you with a vintage look. A vintage bedroom pays homage to the true craftmanship of pre-technology, so statement pieces of furniture like sleigh beds help to achieve this.' Scarlett Blakey of Ophelia Blake Interior Design.
'Or if you prefer, consider upcycling your pieces to update them and give them a new lease of life, whether that be new feature handles, a fresh lick of paint or decoupage with wallpaper.'
'A lot of vintage bedrooms are styled through creating upholstery and soft furnishing pieces yourself. It's almost like stepping back in time, but with a contemporary twist. No technology or current trend pieces allowed!'
1. Create period drama with a Parisian look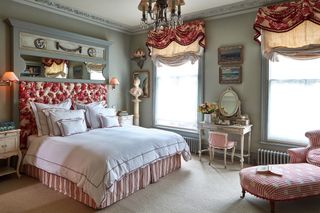 With its elaborate Toile de Jouy upholstered headboard, opulent chandelier, swag pelmet curtains, antique French dressing table and chaise longue, and not to mention classical busts on pedestals, this is the epitome of a vintage bedroom.
No matter the style or scale of your bedroom a statement headboard is a great way to create a focal point in a vintage scheme, there are all sorts of designs to choose from, from sumptuous buttoned velvet designs to antique Louis XIV carved frames. You could even go all out with a bespoke design such as the above by Linden-Bauer.
2. Embrace an Arts & Crafts theme with Morris prints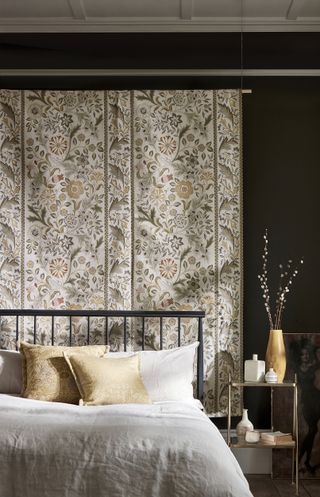 Referred to as the Godfather of the Arts & Crafts Movement, William Morris sought to celebrate the beauty of the natural world through hundreds of stylized flora and fauna prints created under the company Morris & Co. Used mainly across fabrics and wallpapers, his prints can still be bought today, alongside new designs such as this Wilhelmina Weave fabric inspired by the embroideries of his Daughter May Morris.
Why not try hanging a panel of Arts & Crafts fabric behind a bed for an alternative feature wall? It's the perfect way to bring heritage and sophisticated patterns to a period home and what's more can easily be changed with the seasons for a new look.
Love this look? We have plenty more Arts & Crafts ideas to browse.
3. Use tea-stained vintage florals for a cottage look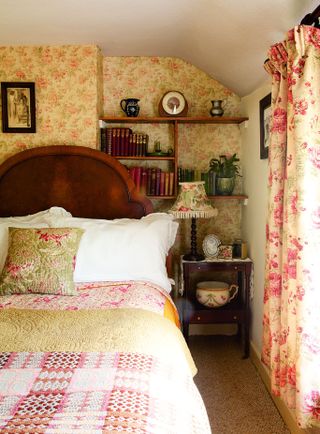 If a traditional cottage look is what you're after then you can never have too many florals. Don't be afraid to use them across walls, quilts and curtains, even in small rooms – it all adds to the quirky charm. With its aged effect, a floral wallpaper similar to one pictured below in this English cottage, would make a brilliant choice.
4. Create a vintage bedroom with Scandi scheme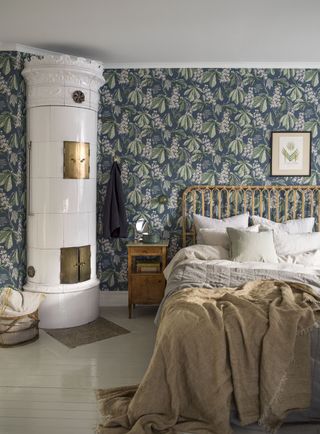 If you're a fan of the Scandi bedroom ideas, but don't want anything too modern and minimalist, try a stylized repeat floral wallpaper with white wooden painted floorboards.
Swedish wallpaper brand Boråstapeter have a huge archive of florals with a distinct Scandi feel, with some inspired by vintage originals. A retro cane bed will enhance the Scandinavian look; the original Swedish stove on the other hand might be harder to come by!
5. Go American farmhouse with florals and folk textiles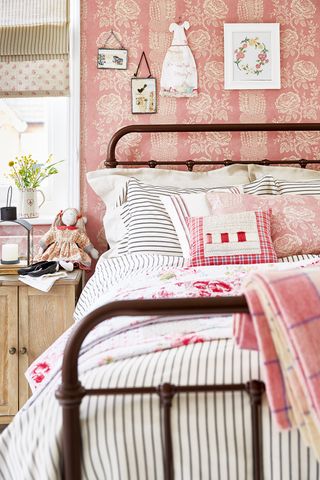 Take inspiration from the historic homes of America's rural Midwest to create a vintage prairie look. Temper wall-to-wall floral wallpaper with striped bedding and accessorize with folky artworks, patchwork textiles and classic checked quilts.
6. Use panelling to create a sophisticated feature wall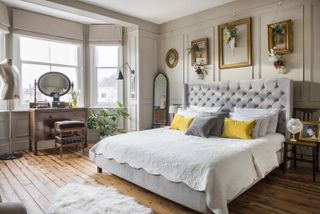 The owners of this stunning Victorian townhouse installed MDF paneling and exposed original floorboards to create a vintage bedroom look. The paneling also creates a structure for a unique gallery wall created with ornate gilt frames and hanging faux flowers.
7. Layer up faded florals for a romantic French feel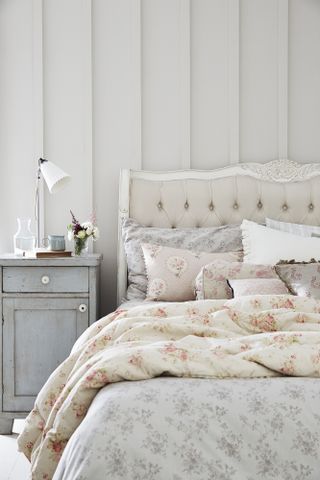 Changing bed linen is an easy way to create a pretty vintage bedroom look. Choose cushions, quilts and bed linen in soft pastels and vintage-inspired prints. Choosing delicate trails and ditsy designs will help keep the scheme relaxing.
8. Go classic vintage with a wrought iron bed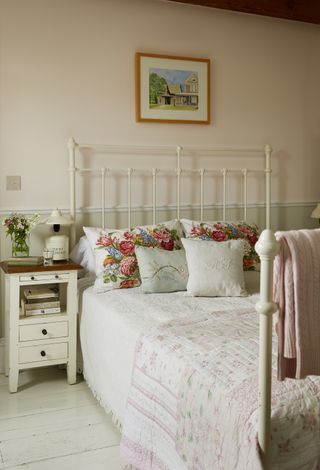 Sometimes referred to as hospital or dormitory-style beds, these classic frames are still popular today. Authentic models can be found at antique dealers but modern versions are easily available online. Though historically made from wrought iron, today there are lighter alternatives made from tubular steel if you're concerned about the weight.
9. Mix 1950s furniture and bold colour for a retro look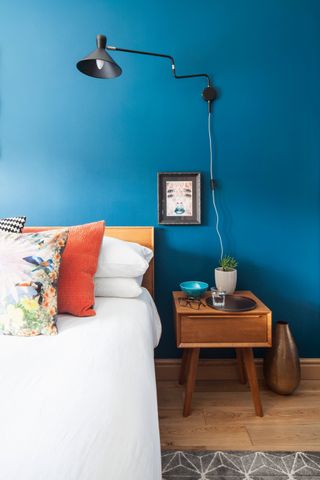 For a true Mid-century feel source original teak furniture typical of the era and combine it with bright vivid colors for a 21st-century update. Keep the rest of the room simple and let the furniture be the foucus.
Mid-century mad? We've rounded up plenty more mid-century decor ideas to inspire.
10. Create an industrial look with vintage factory finds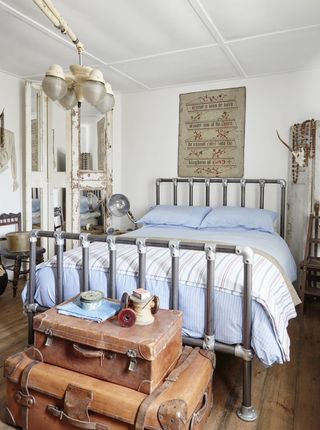 If pretty and floral isn't your thing, try swinging to the opposite end of the vintage bedroom spectrum with a rustic factory-inspired scheme.
The owner of this updated postwar home created her own bed frame using scaffolding pipes and clamps and scoured flea markets and carboot sales for old light fittings as well as old luggage to use for vintage-style storage. Mirror glass panels have been fitted into French shutter frames to create a folding mirror.
11. Go ultra feminine with antique furniture and textiles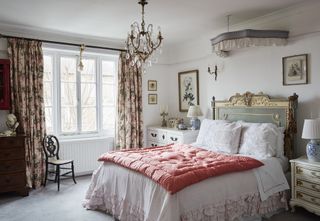 Vintage chintz provided the inspiration for this Georgian bedroom. Owner Shiela Soulsby sourced the bed, drawers and corona from antique shops while the mix of white embroidered and lace pillowcases and eiderdown came from vintage textiles fairs. Take more inspiration from this elegant Georgian townhouse transformation.
12. Create a country rustic look with wood panelling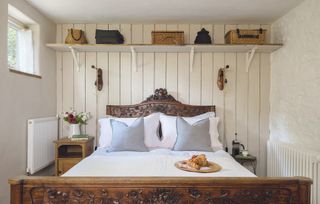 Bringing subtle texture and a vintage feel, this simple feature wall was created with old roof boards. The room is part of an extension added to a rural Herefordshire home; the homeowners chose to keep the exterior wall of the house exposed to enhance the rustic vibe.
13. Mix up eras and styles for an eclectic look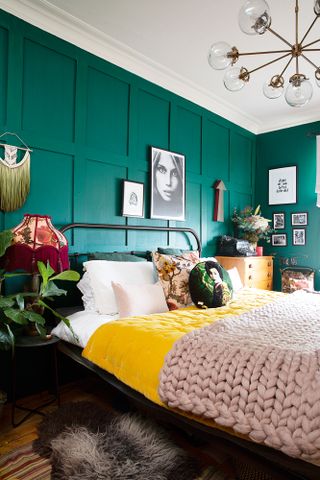 A Victoriana-style fringed lampshade and cushions partner with an Art Deco-inspired pendant lamp and DIY panelling to give this bedroom a quirky feel. Clashing colors and textures help create an air of eccentricity and curiosity which extends across the whole of the updated Victorian house.
14. Don't be afraid of vivid colors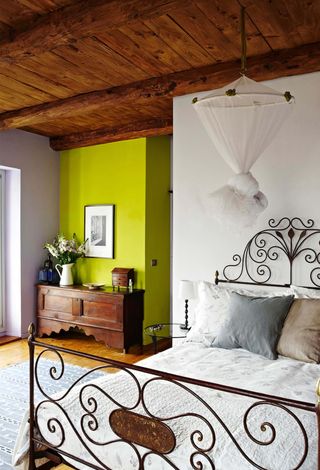 So far you have seen few bold colors, but vintage bedrooms aren't all about pastels and soft florals. Add an element of surprise with a splash of a bold color like this gorgeous lime green. Despite the brightness, it doesn't overwhelm the room or even contrast the vintage decor, you almost miss it at first glance, but it just adds something slightly contemporary to the space giving it a bit of an edge.
How can you mix vintage pieces into a bedroom?
Vintage style can be mixed with so many different styles. The rustic textures lend themselves particularly well to boho bedrooms or rustic bedrooms, but you could even add a single vintage piece into an uber-modern space as a contrasting focal point. The key is balance, picking a few key vintage pieces and mixing them with whatever overall style you want to achieve. We'd recommend just sticking with one or two styles so your room still has some cohesiveness.