Decorating with paint is the quickest and, arguably, most affordable way to update a bedroom, and the easiest way to get into DIY bedroom decorating. But which colour(s) to choose for your contemporary bedroom design – and how to apply them?
First, consider the mood you want to create: bright and cheerful, cosy and muted, or dramatic? Then, think about your bedroom's orientation: how much sunlight does it get and how will the colours you're considering look under both natural daylight and lamplight? Now think about your bedroom's size: do you want your small bedroom to feel larger or does size really not matter that much to you in a bedroom?
With the colour combination chosen, consider the ways to apply it to your walls: will you take an all-four-walls approach, opt for a feature wall, or use colour blocking to create a contemporary paint effect; or perhaps an ombre paint effect is more your style?
Getting closer to a decision? Let our inspiring ideas below help you nail it.
1. Split the walls with contrasting colours
Period bedrooms have dado and picture rails to divide the wall up into areas that can each be given a different treatment, but if your home is modern and without these authentic details, you can still zone your walls with different colours to create a layered look that's packed with interest.
Fail-safe rule? Keep the darker of the colours to the lower part of the walls and the lighter above to make the ceiling feel higher and the room bigger. And, if you're picking a bold shade like this green, opt for a non-white accent colour, like this pink, for a softer contrast.
In this bedroom, deep Amsterdam Green (lower walls) with Antoinette pink on both the upper walls and the dressing table, both by Annie Sloan. Grey has been used as a neutral accent colour, which works really well to ground the palette.
2. Highlight a feature with a different shade
Choose one strong colour – then, pick a lighter accent tone of the same colour to show off your room's features to add an extra touch of character. The paler circle around the mirror and the stripe at coving height (below) soften the effect of the deep purple paint colour; a similar approach will create a bedroom paint wall design that is unusual and striking.
The pale pink used in this bedroom is Heart Wood; the deep berry shade of the main wall is Blackberry Bush, all Paint Mixing flat matt emulsion, £25.72 for 2.5ltrs, from Dulux. Both these earthy purples work beautifully with light- to mid-toned wood.
3. Go for dramatic, deep tones
Darker paint colours work really well if you balance the rest of the colour scheme carefully: choosing pale colours for the bedding, furniture, flooring, ceiling and window dressing will be particularly important in a room that gets poor natural daylight, but will keep brighter spaces feeling airy in the daytime, too. Add in a few touches of a warmer accent shade, such as pastel pink to keep the room feeling welcoming.
Here, the pale bedding, cream rug and flooring all contrast with the wall colour in Night Swim by Valspar, available at B&Q. It costs around £25.20 for 2.5ltrs.
4. Create a coastal feel with blues and whites
Still love the enduringly popular New England coastal look? We don't blame you – it never dates and always looks fresh and clean. Here, the dado rail has been created with a pencil-thin line of red paint, crisply separating the blue and white. To recreate the effect, choose an accessory or two in the same shade of red (or whatever colour you pick) to tie the scheme together.
The blue half of the wall in this bedroom is in Light Cobalt; the red stripe and white are all from the Trade Range by Dulux. Other items seen here include a Brampton Chevron carpet in Sky, £34.99 per m2, from Carpetright.
5. Get on-trend with painted geometric shapes
Geometric paint effects are very trendy – so why not add your own graphic design to your bedroom walls with little more than a roll of masking tape and a good paintbrush? Use white as your canvas, and select some pretty pastel tones to complete the look. You may even get away with tester pots for the lesser used accent shades. Team with bedding in similar shades to complete the look.
The attractive geometric pattern in this bedroom has been created with Storm, Orchard Pink, Skylon Grey and Yes Your Honour, all from Fired Earth.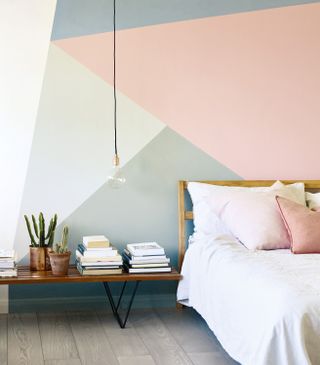 6. Create an ombre effect
A look that isn't going away in interiors or fashion, the ombre effect is a great new way to decorate your bedroom walls with paint. Choose two colours, using the darker tone at the bottom, then slowly introduce the lighter shade as you work towards the top of the wall.
In this bedroom, Vast Lake and Frosted Lake from Dulux have been used together to create a calming look. Bedroom decor by George Home.
7. Brighten a dull room with sunshine hues
Don't be afraid to try warmer, more intense shades when painting a bedroom, especially if yours faces north or east, has a small window or has proportions that make it feel unwelcoming. Picking a yellow? Stay away from citrus shades, which will be too bright, and pick earthier tones instead. Team with crisp white woodwork for a fresh look and accent with black accessories to give the room a contemporary edge.
This charming colour, inspired by ochre clays, is Humpty Dumpty by Earthborn.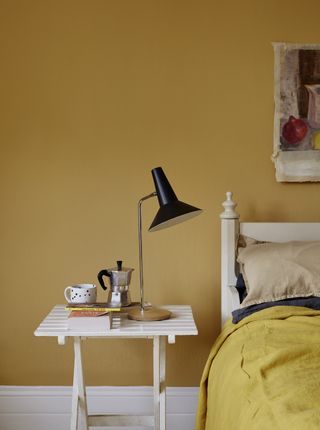 8. Bring the outdoors in with botanical green
Another colour that's on-trend for the year ahead is this deep, bold green – and it's perfect for a bedroom, whatever its size or orientation. By day, it's light enough to bounce light around; by night, it will deepen to create an intimate feel. Better still, it's a great match for an abundance of house plants.
This emerald green shade is by Dulux. It works really well with the Primrose Double Bed in Fuchsia, £745, from Button & Sprung.
9. Create a calm look with beautiful neutrals
Want your bedroom to be a haven of calm? Or perhaps you like to change the look of a room on a regular basis? If you're not a fan of bold bedroom paint colours, neutral tones will create a relaxed, spacious feel that's the perfect backdrop for ever-changing accessories.
The walls in this bedroom are painted in Skimming Stone No.241 Estate Emulsion, £78 for 2.5ltrs; floors and skirting boards in Wimborne White No.239 Estate Eggshell, £60 for 2.5ltrs, and Modern Eggshell, £67 for 2.5ltrs, all from Farrow & Ball.
Love Farrow & Ball? Explore their current best-selling colours.
10. Try chalkboard paint in kids' rooms
Do you have creative kids? Whether they like to practise maths equations or daub graffiti, they can do it on their bedroom walls if you use a chalkboard paint. Our tip? Just keep it to one wall or part-wall, and use a contrasting colour in the rest of the space. Find more great paint ideas for kids' rooms.
The red walls in this kids' bedroom are painted in Sultan's Palace (2081-20); the woodwork is Ice Mist (OC-67); and the chalkboard paint is Space Black (2119-10). Prices start from £20.50 for 0.94ltrs, all available from Benjamin Moore Paint.
11. Liven up your bedroom with polka dots
Create your own feature wall without wallpapering by painting different shapes in various colours against a pale background colour; it's a very effective and easy way to add interest to an existing scheme. Use an on-trend metallic for the dots as shown here for a touch of boudoir glamour.
In this bedroom, Pashmina has been used as the base colour, and Copper for the spots, both from Crown Paints.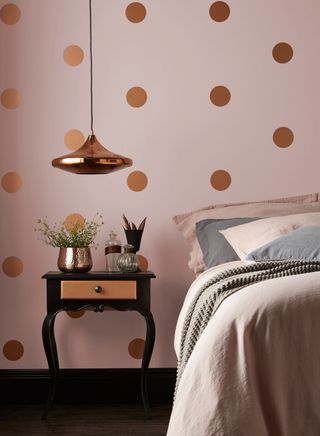 12. Create an elegant finish with painted panels
Whether your walls are tongue-and-grooved or panelled, or you're creating your own panelling from lengths of MDF pinned and glued to the wall, painting it in an authentic, period shade (which also happens to be fashionable for homes right now, too), will give your bedroom an elegant, traditional appeal that's rather smart, too. Then all you have to do is choose contemporary furnishings and accessories for the perfect mix of old and new.
This lovely deep shade of grey called Scree 227 works really well with the mustard and grey accessories and the white wall and flooring painted in Shallows 223. Both are from Little Greene.
Love grey? Find out how to use grey in your living room.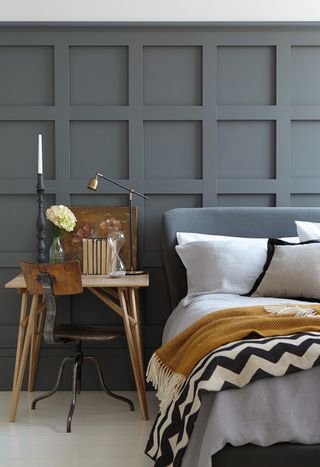 Read more