Looking for expert loft conversion ideas and advice that will give you a well-designed, cleverly thought-out extra bedroom, bathroom and even living space? Before you begin any work on your loft conversion's interior design, it's vital to get not just the structure right, but also your budget, the room's configuration, the position of windows, and of course your loft's energy efficiency.
Read our expert tips to ensure you know everything you need to so that when you come to planning your loft conversion, it runs smoothly and comes in on (or under) budget.
1. Use a loft conversion to balance out your house
If you have all the living space you need downstairs but are lacking bedrooms and bathrooms, then a loft conversion can be the perfect way to bring your home into proportion. Most loft conversions are used for an extra bedroom or two with en suite bathroom. Other popular uses include a teenage den, cinema room or home office. If your home has amazing views, you could consider moving some of the living spaces up into the new loft to take advantage of them.
2. Check your loft is suitable for conversion
Lofts with a minimum head height of 2.3m are usually seen as fit to convert, although obstacles like chimneys or water tanks, as well as the pitch of the roof, can also affect this decision.
If the roof space is less than 2.3m, don't throw away your dreams of a conversion, as there are other options available. Removing sections of the roof, or all of it, makes it possible to gain the required headspace, however, this adds to the cost and requires planning permission, unlike a more simple conversion. Alternatively, it is possible to lower the ceiling of the rooms below – again, this is more costly. You could also opt for a modular conversion – built off site and installed afterwards.
3. Make sure you get a good return on investment
Adding a room to your house should increase its value by between £50,000 and £60,000. As most loft conversions only cost between £30,000 and £40,000 to complete, this is a considerable return on investment. Michael Holmes advises on budgeting:
£1,150–£1,350 per square metre for a basic rooflight conversion
£1,250–£1,450 per square metre for a dormer conversion
£1,350–£1,550 per square metre for complex options
Find out more about planning and costing a loft conversion
4. Know the six main types of loft conversion
Subscribe to Real Homes magazine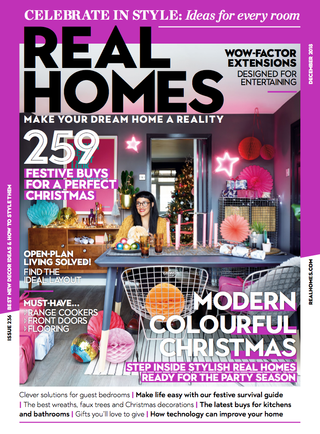 Love your daily dose of Real Homes? Then why not subscribe to our magazine to see our newest content first? Packed with fabulous readers' homes, trend features, project advice and easy updates, you'll wonder how you ever lived without it.
1. Rooflight loft conversions require the least amount of structural work to the existing space and are therefore the most cost effective. The only changes made are the addition of windows
2. Dormer loft conversions are the most popular option as they are the easiest way to add light and an increased amount of roof space with full headroom. The roof structure is altered at the sides or rear of the house to add a large, flat-roofed 'box' dormer.
3. Hip-to-gable loft conversions are most commonly found on the side of either end-terrace or semi-detached houses. The hipped (or sloping) side roof is removed and the end wall is then built up straight to form a new vertical gable.
4. Gable-to-gable loft conversions include a new box extension that spans the space between each gable end. It is worth noting that in some case you'll need to increase the height of the gable end walls to act as 'bookends'.
5. Mansard loft conversions create extra volume. The process involves the replacement of either one or both roof slopes with very steep sloping sides and a flat roof over the top.
6. Modular extension loft conversions are used where the existing loft space is unsuitable for conversion. Measurements are taken and the new rooms manufactured off site before being delivered as a module. The existing roof is then removed and the new module installed. Try Moduloft for more.
5. Get the design of your loft conversion right
You need to consider the layout of your completed loft conversion long before you start work. This means deciding where you will position pieces of furniture, the bathroom and any built-in storage.
If you plan on having an en suite, take into account the ceiling height in the space and prioritise pieces – namely the shower and hand basin – that cannot compromise on headroom.
The location of the stairs should also be considered during the early stages. Consider all possible options in order to maximise the space offered within your loft conversion. Decisions such as placing the door at the top or the foot of the staircase can also mean the difference between a boxy loft conversion and one that is more open.
When it comes to the design, there are two main options:
1. The first is to commission a designer, such as an architect or architectural technologist, to produce drawings, which can be put out to builders on a competitive tender basis. You will be able to steer the designer to create exactly what you want, but fees for what is a relatively small project may be high as a proportion of overall costs, and you'll also need to hire a structural engineer.
2. The other option is to hand the whole project over to a design-and-build contractor, who will have a designer, engineer and builders in their team. They might be less creative in design terms, but the all-inclusive price is a benefit.
6. Know the building regulations your loft conversion must meet
As a loft conversion is a 'material change of use', building regulations must be met. These cover matters of safety, including the strength of the floor, minimum headroom above the staircase, fire escapes, thermal efficiency, electrics, plumbing and glazing. The preparation for building regulations can be completed by either the designer or loft conversion company you are working with.
7. See if you loft conversion can be done without planning permission
Most loft conversions are classed as permitted development, which means planning permission isn't required, subject to the following criteria:
Maximum of 40 cubic metres of additional roof space for terraced houses or 50 cubic metres for detached and semi-detached
No extension is added beyond the plane of the existing roof slope at the front of the house
No extension is higher than the existing roof's highest part
Materials used are similar in appearance to the existing property
No verandas, balconies or platforms
Side-facing windows are obscure-glazed and open 1.7m above the floor
Roof extensions, apart from hip to gable ones, must be set back at least 20cm from the original eaves
Extensions cannot overhang the wall of the original house
Roof extensions are not PD in flats, listed buildings and designated areas, such as national parks, Areas of Outstanding Natural Beauty or conservation areas
If you do need to apply for planning permission, your architect or design-and-build firm should guide you through the process
8. Take the opportunity to improve your home's efficiency
Adding a loft conversion provides the perfect opportunity to make your home more energy efficient, as the installation of specific insulation is a requirement of building regulations. There are two forms of insulation and a building control inspector – either an independent inspector or one from your local authority – will determine which type your home requires.
Cold-roof insulation In total, 10cm of insulation is required; 7cm made up by filling the space between the rafters with foam insulation. The other 3cm of slab insulation is attached to the inside of the rafters. It's essential that a 5cm gap be left between the roof felt and insulation to allow for ventilation.
Warm-roof insulation involves foam insulation 10cm-thick fitted over the rafters before adding capping, tile battens and tiles. This is a more complex option commonly used when a roof covering has been stripped, perhaps when creating a dormer. A 10cm-thick slab of foam insulation can insulate a dormer wall, while a 10cm-thick quilt of insulation is required between plasterboard attached to either side of an internal partition wall. You'll need 10cm-thick insulation between floor joists.
9. Think carefully about the exterior
If your loft conversion will include extended sections, consider whether you want the new exterior to contrast with or complement your existing property. You could choose matching brickwork, or include rendering or cladding for a more contemporary finish.
For modern homes, frameless and minimalist-style windows are a great option. However, if you have a period property, there may be conservation requirements – such as requiring windows to sit flush with the roof – that reduce your options.
10. Accept that your loft conversion will cause some upheaval!
If you're having a basic roof light or dormer conversion, then there's no reason why you can't stay living in your house throughout the project. Most contractors will erect scaffolding and cover any sections of roof they're removing with tarpaulin. They will also start with the external work, meaning the majority of your house won't be affected until they knock through and install the staircase.
If it's a more major project, for instance where most of the roof is being replaced, then you may want to move out for a couple of weeks, particularly if the work is being done during winter. Most loft conversions will take between eight and 12 weeks to complete, while modular lofts can be installed in two weeks.
11. How you access your loft can make or break it
A design aspect that can be overlooked but is absolutely essential to get right is the transition between the existing house and the new loft space. You may not have a lot of choice about the position of the staircase, but you can influence its look. Here's what to bear in mind:
Matching bannisters and tread design to those of the existing house can make the new staircase feel like it's always been there. Ideally, its proportions should echo those of the stairs below, too.
Carpeted stairs in the rest of the house? Match it to cover your new stairs to create a seamless link.
Same goes for the wall treatment – if you can match wall paint colours or wallpapers to the hallway below, your new space will be more successful.
Read more: