Since Theresa Gromski bought her Edwardian terraced house back in 2013, she has focused her energy on transforming the interior through cosmetic changes to modernise the space and make it her own. Read on to find out how – then check out all our real home transformations for more inspiration...
Project notes
The owners: Theresa Gromski (@theresagromski), a freelance illustrator, lives here with her husband Tom, a service delivery manager, their daughter Anais, two, and Theresa's son Arlo, six
The property: A four-bedroom extended Edwardian terraced house in Bournville, Birmingham
Total project cost: Approximately £60,000
Aside from adding a generous loft extension with an en suite bathroom, Theresa hasn't altered the footprint of the rest of the house. The existing kitchen-diner extension offers an open-plan area that acts as the heart of the home, while having a separate living room and snug means there's space for the family to spread out and do different things.
Theresa's love of boho and vintage style shines through in every room, and she has curated a collection of decorative pieces over the years that add character and personality to every corner of her home. Colour and texture work in harmony to bring the space to life, and she's used artwork to tell stories of the family's travels and passions.
The house was neutral and bare when Theresa first moved in, but we love how she's successfully taken on the challenge of turning a blank canvas into character-filled spaces. Theresa reveals how she's put her creative skills to good use...
'When I bought the house five years ago, I was a single mum with a young son, so didn't want to take on a big renovation project. Having the kitchen already extended was a big plus. Ideally, I would have liked to add a bigger side return extension but budget constraints put me off, and doing it now would mean ripping out a kitchen that is in good condition.'
'The cabinetry and worktops that were fitted are from Ikea and are fairly neutral, so I could decorate the rest of the room to suit my own tastes. The chalkboard wall was originally designed as a place for the children to scribble, but now I use it as a blank canvas to create different illustrations as part of my business. I change the design regularly to fit it in around events that are happening in our lives, such as birthdays or anniversaries.
More from Real Homes
From stunning readers' homes to extensions advice and decorating ideas, each issue of Real Homes magazine is packed with inspiration. Get the magazine delivered straight to your door every month with a subscription.
'The kitchen-diner has a lovely flow and naturally directs you out into the garden. The high sloping ceiling helps create an illusion of space and it's amazing how much daylight filters in through the skylight.
'Having a separate living area was a big selling point for me when I bought the house. The developer had painted the walls white. I quickly changed this to a light grey to soften the tone slightly, and I had Hillarys window shutters installed to give a nod to the period of the property.
'The fireplace isn't the original but it provides a beautiful feature nonetheless. Tom built the window seat, which makes great use of otherwise wasted space, and also put floating shelves in the alcove.
'Because I wanted this room to remain calm and tranquil, I have kept the palette muted. I've amassed quite an eclectic collection of furniture and accessories over the years, as I love to mix the old with the new and build up a story. One of my favourite vintage pieces is the chandelier in the living room, which makes a real focal point.'
'When I was pregnant with Anais, Tom and I decided we wanted an extra bedroom and bathroom for guests, so extending into the loft made perfect sense. We had an architect draw up plans and obtained permission from the neighbours on one side with no problems, but were refused by our other adjoining house, which caused a little setback in the timescale. We altered the plans, moving the conversion 90cm off the party wall, to resolve the issue.'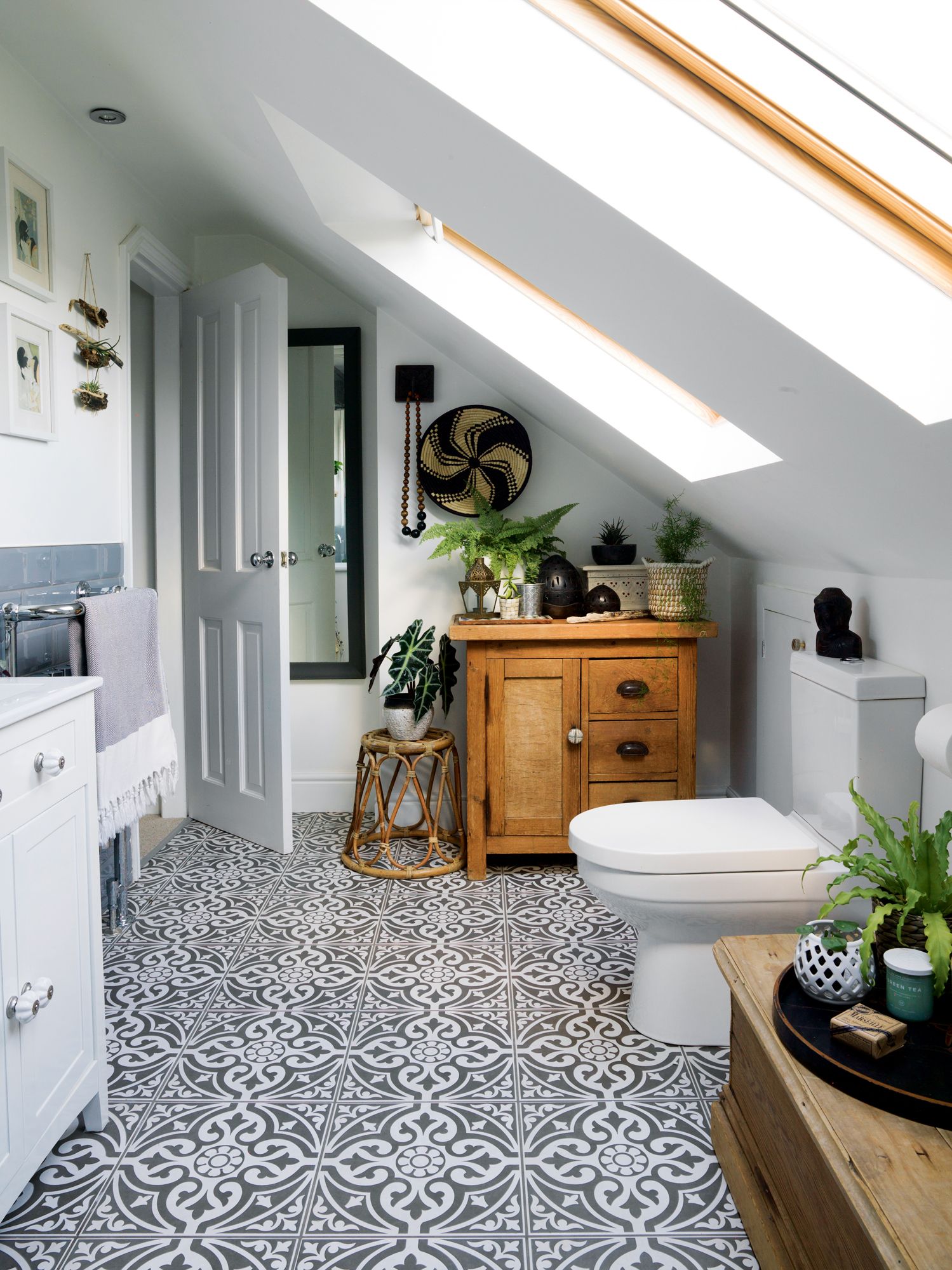 'The build took four weeks and ran smoothly – a huge relief given that I was eight months pregnant! The architect recommended installing a sun tunnel to bring light into the loft stairwell, a Juliette balcony and full-length window. It gives a great view over the garden and, on a clear day, all the way to the city centre.
'This space combines my love of all things vintage, boho and rustic. I spent a lot of time researching pieces to go in it. It doubles up as an office where I work on my illustrations; it's such a peaceful space to escape to and concentrate on my projects.'
'Skylights flood this bathroom with light so the room doesn't feel trapped beneath the sloping ceiling. Working with the shape of the extension, a walk-in shower fits in neatly at the end of the room.
'I wanted vintage-inspired tiles to tie the room in with the rest of the house, and the design I chose gives it that traditional feel. A slim vanity unit leaves plenty of floor space.
'I've included several other vintage finds, including the wooden chest from Ebay and my grandparents' wall mirror, passed down through the generations. I've found that house plants thrive in this part of the house so they have become a big part of my styling in here, too!'
'This bedroom was painted a very dark, strong blue and just wasn't to my taste. I repainted it and had custom wardrobes fitted around the chimney breast by a local carpenter to avoid the need for clunky freestanding cupboards. I wanted them to be in keeping with the property and chose a classic panelled design.
'With my heart set on having a statement bed, I managed to source the wooden sleigh frame at a bargain price on Ebay after many hours of searching. To pull the scheme together, I introduced texture and pattern through boho-inspired pieces, such as the leather butterfly chair, rattan pendant and tribal-print bedside rug. The string of festoon lights makes a great alternative to bedside lamps and the opaque bulbs give off a lovely soft glow in the evenings.'
'The layout of the house meant there was room for Arlo to have his own bedroom, with a small nursery down the corridor for Anais. Decorating them was a lot of fun, and they're constantly evolving as the children grow. I love making homemade quilts, soft furnishings and bunting using vintage fabrics.
'The cabin bed in Arlo's room has a play area underneath. Tom is planning to build a similar cabin bed for Anais when she grows out of her cot, and we'll decorate the wall with a large floral mural.'
Contacts
More gorgeous homes to browse: