Hands up if you always leave your laundry till the last minute. Yep, me too. Amidst the hustle and bustle of working life, it can be tricky to slot in this ever-essential errand. Often, it's only when we find ourselves short of socks or work shirts that our panic response kicks in, and we get the washer going. Naturally, other considerations — such as the environment — don't always figure in this rushed schedule. Certainly, they never used to for me.
But curveball: they should. And it's easier than you'd think to reduce your damage to Mother Nature. In fact, every day, new products are being designed to remove stains and keep clothing fresh without the use of harsh chemicals. And these eco laundry detergents work just as efficiently and effectively as your standard detergents, only they rely on ingenious formulas to keep your wardrobe in working order and the Earth happier than ever.
We've already rounded up our favorite eco-friendly cleaning supplies to use for cleaning everywhere from your patio to your bathroom, so we've done the same with laundry detergent. And we're talking natural ingredients, recyclable packaging, reduced plastic, sustainable solutions, and sensitive skin-friendly wonders. If you're running out of this essential, look to one of the nine best eco-friendly detergents and make this switch.
9 eco laundry detergents for natural cleaning
Why you can trust Real Homes Our expert reviewers spend hours testing and comparing products and services so you can choose the best for you. Find out more about how we test.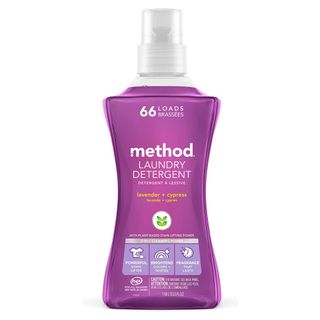 1. Method Liquid Laundry Detergent
Meet Method, the brand with a plan to improve our household chores for the better. Covering up to 66 loads, this particular product combines notes of lavender and cypress for one deliciously herbaceous scent and a cleaner, greener wash. Think plant-based stain removers and a biodegradable, hypoallergenic formula. It's a personal favorite.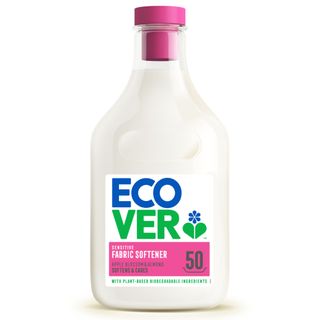 2. Ecover Apple Blossom and Almond Fragrance Fabric Softener
With a gorgeous scent of apple blossom and almond, this plant-based product will have you treasuring the smell of your laundry all day long. I was especially pleased to learn that the bottle is made from 100% recycled plastic, and is, of course, also recyclable and refillable. But look even further into the brand, and you'll soon discover that the product was made in a zero-waste factory, too. Very here for it.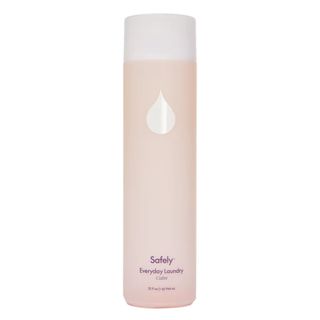 3. Safely Everyday Laundry Detergent
Beyond the aesthetic packaging, Safely's Everyday detergent has a lot to write home about. Made using natural ingredients, it contains surfactants derived from coconut and plant oils, and rids dirt from your clothing without ruining color. My favorite scent is "Calm" which smells of lavender and is perfect for washing everything from sheets to clothes. The 32-fluid ounce bottle goes a long way too, with enough detergent for 40 loads.
4. Earth Breeze Laundry Detergent Sheets
Made for sensitive skin, this formula is both vegan and hypoallergenic, not to mention, free from phosphates, parabens, and bleach. Unlike your traditional laundry jugs — often containing up to 90% water and designed with slow-composing plastic — this has no plastic packaging and uses only the water from the machine to dissolve its sheets. Just one sheet covers a full load and provides a deep clean. I'm converted.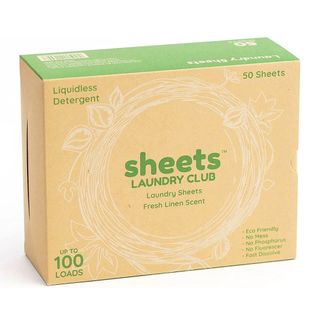 5. Sheets Laundry Club Laundry Sheets
These laundry sheets are essential to your new washing routine, reducing wrinkles and bad smells in the process. Made without harsh ingredients, they arrive in a recyclable box and work with hot and cold washes alike. They're free from dyes, and artificial brighteners, and specially formulated to clear those harder-to-reach oils and nasties that accumulate on our bed sheets.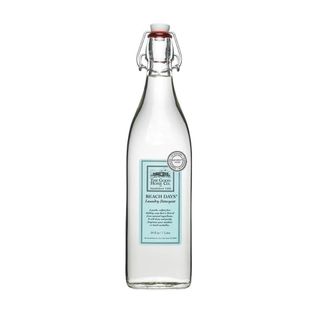 6. The Good Home Co. Beach Days Laundry Detergent
Though many detergents have recyclable bottles, this pick has a glass bottle that you will actually want to repurpose in your home. Otherwise, it also comes in a huge refill size to save money and packaging. Designed by a small business, it's made from more than 96% plant and mineral-based ingredients, and is free from sulfates. Plus, it's biodegradable. This means colors and fibers remain safe before and after washing, while stiffness is no worry at all. I'm also keen to note that it doubles up as a handy pre-treatment, too. Perfect.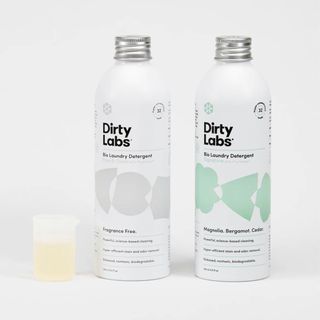 7. Dirty Labs Bio Enzyme Laundry Starter Kit
Fighting dirty clothes with a greener approach, Dirty Labs combines two versions of its Bio Laundry Detergent in plastic-free bottles. Together, with the reusable measuring cup, they form the ultimate starter kit for anyone after biodegradable, kind-on-skin enzyme-based cleaning. Light on your clothes and tough on dirt, the two detergents contain no dyes, sulfates, or parabens. One is fragrance-free, while the other is a fine blend of magnolia, bergamot, and cedar.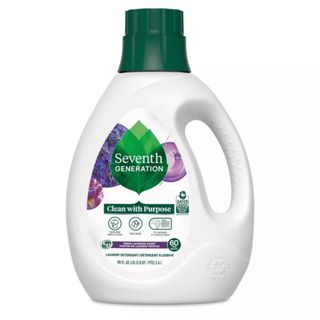 8. Seventh Generation Liquid Laundry Detergent Soap
Ticking off a host of green credentials, this cruelty-free, biodegradable product shows no mercy on stains without attacking Mother Nature. As well as containing no dyes, artificial brighteners or synthetic fragrances, it's also certified by the USDA as a Biobased product. I simply adore the lavender scent, which comes from 100% essential oils and botanical extracts, making this one divinely fragranced, oh-so-eco load.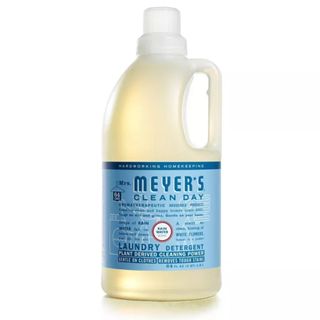 9. Mrs. Meyer's Clean Day Liquid Laundry Detergent
Tackling dirt and stains with enzymes, this plant-based formula comes in a biodegradable bottle and works in both high-efficiency and standard washing machines. This particular scent "rainwater" caught my eye (and nose), and boy, does it deliver! In fact, the softness of the scent is a welcome alternative to the often sterile smell left by many other non-eco detergents we're so used to. I, for one, am always touting the importance of smell as well as cleanliness when it comes to cleaning products. Luckily, this handles both.
Is it cheaper to wash on eco?
Provided you are running a cold wash, switching your washing machine to eco-mode is always a smart economic move. Most obviously, this is because it relies on less water and lower temperatures, thereby reducing your energy bills. But, dear reader, you might be wondering what this means for cleaning competency. In short, the wash won't be as strong, but that doesn't mean it won't be adequate. If you're using enzyme-based cleaners, for example, it's better to keep the temperature lower, anyway — as too high, and it will kill the enzymes. Should you be faced with especially caked-in, oily stains, a little pre-treatment beforehand (hand-washing) will save you from having to double wash. So, yes, it's cheaper, but a little common sense goes a long way to make it work.
What is the most eco-friendly way to do laundry?
In short, less is more. By washing less frequently, you save water and energy and probably get more wear out of your clothes than you would otherwise. Certainly, I'm a little guilty of throwing things in the wash after just one wear, when really they're still clean.
That said, sometimes you gotta wash! Here, it's about impact reduction. By washing on shorter cycles, lower speeds, and lower temperatures, you not only save money, but you also reduce your environmental impact on the earth. As outlined above, it's also important to use eco-friendly detergents, which due to their kinder ingredients, work in unison with nature, as opposed to against it. Of course, these are just some of the actions you can take to help improve your washing routine, but we've got plenty more where that came from — check out our eco-friendly laundry tips for more sustainable laundering.
Browse more eco-friendly laundry detergents...
If you want to explore more options when it comes to making your laundry day more eco-friendly, then these are our favorite retailers for picking up similar detergents:
What else to consider when buying eco laundry detergent
Washing laundry with an eco-friendly washing powder or liquid enables you to achieve a fresh, clean finish while also doing the best for our environment as you won't be using harsh chemicals, enzymes, or any artificial ingredients. There are liquid detergents as well as traditional washing powders to choose from, all of which are kind on sensitive skin so are ideal for those with allergies or baby's skin, clothes, and bedding.
Plastic-free
If you want to go all-out on the eco front, look for packaging that's recycled and recyclable or better still, nonplastic. A large bottle or box will go further, as will an ultra-concentrated solution. Just make sure you have room to store it, especially if it's to go in the cabinet under your sink.
Natural ingredients
Check the label of ingredients before you buy and look for natural, biodegradable contents as these are kind to our planet. Plant-based rather than man-made components are always more eco-friendly, and if they are organic, even better. Biodegradable means they will biodegrade easily so they won't contaminate the sea or earth where they are placed after use. Avoid anything with chlorine, bleach, artificial fragrances or additives, brighteners, phosphates, and parabens, as well as palm oil unless it's sustainably sourced.
Before you go, you might want some guidance on how to clean your washing machine so that it's working to its full potential. I mean, who knows when the last time that thing was properly cleaned?