Take a 'load off' your mind and make laundry day less of a drag with fresh laundry room paint color ideas that will totally upgrade your washing room space.
After all, ironing isn't the most riveting of chores but one we all must do. So you need the perfect paint colors to give your laundry room space a stylish spin! Whether your area is large and airy, or small and dark, there's a color wheel of possibilities to consider.
Transformative laundry room paint colors to put a spin on your scheme
'Detergent' to make your space look better? Do you dream of ironing to a background of brilliant white for a fresh and clean perspective? Or perhaps you want to liven up the monotony of tackling laundry mountains with dynamic, zesty tones like green, yellow or orange? Elyse Moody, kitchen and laundry design expert at Designer Appliances, comments: 'Rich blues are still popular in laundry rooms just as they are in bathrooms. And because your laundry space is really just for you to enjoy, colors like pinks and purples pop up too for a fun look. Black and white themes always look crisp and clean, and it's easy to find black appliances. But colors like gray, metallic gray, and sapphire blue are available in appliances too, and they really can pull a room together.'
Which paint color trend will you choose to give your laundry room aesthetic its very own 'wash day' and refresh.
1. 'Wash' you scheme in clean mid-tone neutrals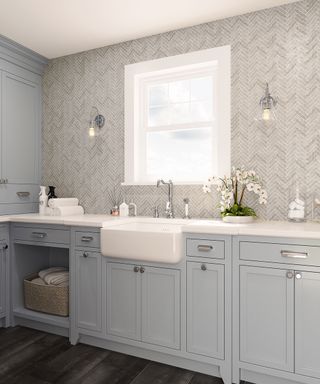 Take inspiration from cotton fresh laundry with a palette of nourishing, mid-tone neutrals, and harmonize your space with a look and feel of bright and breezy calm. Team relaxing tones like gray or 'new neutrals pastels' on walls, backsplashes, and cabinets with glass task lighting and chrome fittings and fixtures for a timeless yet modern aesthetic.
Lisa Rickert, CEO and creative director at Jolie Home comments: 'I like to keep the color scheme in a laundry room fairly neutral so that it always feels fresh and clean. Mid-tone colors, like Jolie's Misty Cove, Swedish Grey, or Farmhouse Beige are great options for cabinets or walls. Pair with woven baskets and glass containers to add texture and interest to your space while keeping things organized.'
2. Go bold with maximalist brights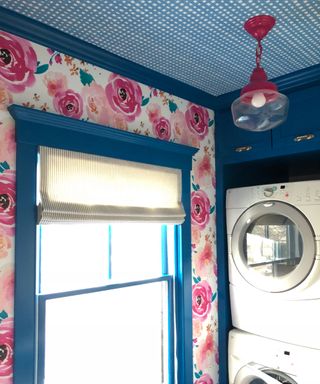 Put the fun factor into wash days with cheerful brights that transform your laundry space into a rainbow retreat of motivation. For a maximalist takeover, try color-drenching walls in a saturated shade or two, or have a pop at pattern clashing with contrast wallpaper patterns on walls and the ceiling, united with a coordinating paint shade on woodwork and cabinets.
Elizabeth Rees, co-founder of Milwaukee-based Chasing Paper comments: 'The laundry room can be a great place to experiment, whether that be with color or placement of the wallpaper. For a maximalist feel, opt to install a bold print on all of the walls that you might not consider for a more common space, such as a living room or kitchen. Another fun maximalist option is to wallpaper the ceiling, following the same rule of a light print for a dark space without natural light, or a bold option for instant interest.'
Chasing Paper's peel-and-stick wallpapers add a huge impact for a design-forward approach to decorating. Try a bold botanical or abstract design to bloom and grow the personality of your space.
3. Elevate country-inspired interiors with muted sage green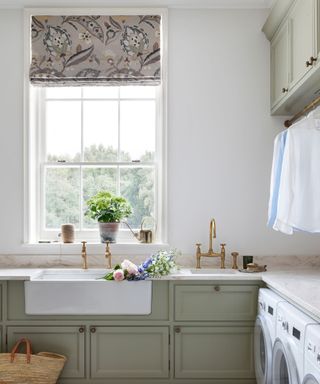 Bring the vitality of nature into your washroom with soft shades of green that refresh and nourish, without overpowering the space. Take inspiration from green kitchen ideas, and marry sage green cabinets with a ceramic utility sink and buttery smooth counters for a wholesome modern country style.
Elyse Moody, kitchen and laundry design expert at Designer Appliances in New Jersey, comments: 'We're seeing a lot of sage green in laundry rooms, just like in kitchens. It was a popular choice for paint brands' 2022 color of the year picks, and we're seeing it carry through into laundry.'
4. Magic up your space with a striking monochrome palette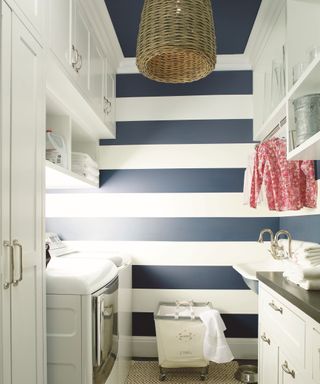 Just like crisp white sheets, give your space an impactful aesthetic with on-trend black and white. This en vogue pairing celebrates the contrast between light and dark with a graphic edge and is a great choice for perfect combo mudroom laundry designs.
If you're feeling bold, try this fashion-forward wall decor idea by painting contrasting stripes on walls using Benjamin Moore's Toucan Black and Cotton Balls. Take the stripes vertical to enhance the feeling of height and space, or opt for chunky horizontal stripes to keep a small space from looking too busy. But don't stop there. Learn how to paint a ceiling and continue the color update onto your fifth wall added wow factor.
5. Beat the laundry blues with blue sky shades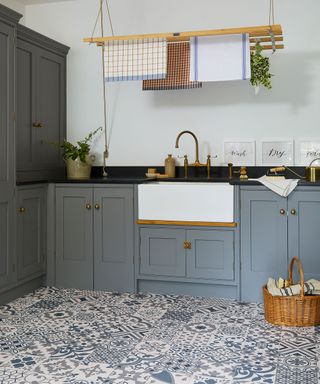 Embrace 'blue therapy' with positive shades of sea-to-sky blue room ideas, and elevate your laundry room into a wellbeing environment – well, there is water involved after all!
Will Thompson, head of product marketing at Valspar says: 'Our environment can have a big impact on our mood including the color of our surroundings. Blue tones have a biophilic nature and therefore evoke a stress-relieving and mood-boosting atmosphere.'
He continues: 'Hazy, muted, and softer shades are all grounded in the natural world and encourage us to reflect and take a moment of calm. Whilst fresher cleaner tones, such as teals and turquoises, encourage more light into a space, boosting serotonin and enhancing positive moods.'
We love Sherwin-Williams' color of the month Aleutian - a wintry blue that brings calm and quiet to create sanctuary spaces of all kinds. Whether you're seeking a bohemian haven or folklore-filled retreat, this cool blue has mastered the art of blending beautifully with any design style.
6. Create a relaxed outlook with natural tones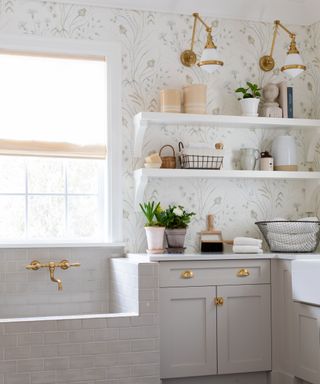 Coordinate your space in warm, natural shades like putty, stone or sand, punctuated with gleaming brass accents and styled shelves to create an understated, yet charming utility setting, brimming with character.
For a lovely design note, experts at Armac Martin, advise: 'Make a subtle statement and tie your color scheme together with patterned gray wallpaper. To achieve a radiant aesthetic team lighter tones on walls and cabinets with natural woods and warm brass hardware. Natural tones ensure the room remains light and airy.'
7. Perk-up your space with pretty pastels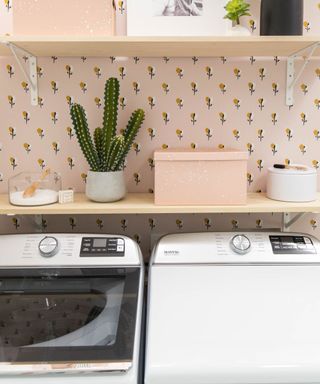 Give your utility space a playful edge with happy-go-lucky pastel decorating ideas in an ice-cream palette that includes mint, lilac, blush, coral, and soft blue. Coordinate a chosen shade on walls with matching laundry room storage solutions for a sense of continuity and calm, or experiment with tonal shades across different interior elements, like appliances and decorative accessories to give your space a dose of personality and love.
As an alternative to paint, try a fresh floral pattern wallpaper design, like these lovelies from Chasing Paper, in soft pastel shades, and radiate your space in perky, petal positivity.
8. Get lost in a dark abyss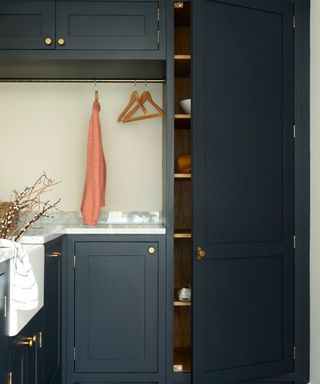 Has your black kitchen inspired you to venture to the dark side in other spaces? For an indulgent look that envelops your laundry room in a moody atmosphere, choose wilderness-inspired hues in dark indigo, forest green, or night sky noir. Darker tones add an element of sophistication, creating a lifted and opulent environment – and why shouldn't Cinderellas' enjoy such decadence on wash days?!
Al Bruce, founder of Olive & Barr, comments: 'Laundry rooms can often be a smaller space but don't be afraid to be bold, contrary to popular belief, dark colors used in a small space can make the room feel larger and welcoming. Pair with warm neutrals that will lift the space, in turn making the ceilings appear much taller and will add an element of balance and warmth.'
Darren Watts, showroom development and design director at Wren Kitchens, comments: 'Colors of a darker tone add a contemporary and dramatic feel to a room, whilst also helping to close the space slightly creating a cost environment.'
9. Keep your whites bright!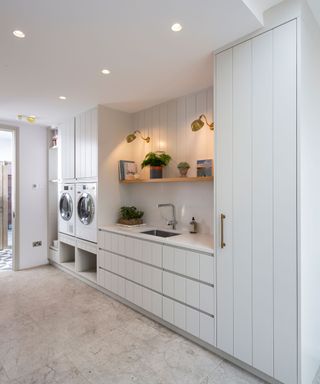 Keep things bright in white with a simple, space-enhancing palette, that bounces the light. Perfect for small laundry rooms that want lifting and lengthening.
Associated with cleanliness, freshness, and simplicity, white symbolizes new beginnings – so it's a fitting choice in a utility space where dirty laundry travels for a 'fresh start.'
For a seamless look that flows, in keeping with classic white kitchen ideas, opt for white walls, cabinets and appliances. Add a few easy house plants for verdant pops that will bring the space to life.
What kind of paint should you use in a laundry room?
Okay, so they're not exactly saunas, but laundry rooms are prone to getting humid and moist by their utilitarian nature. Just as you would in other wet spaces, use moisture-resistant paints for bathrooms on walls.
Featuring a slightly shiny finish, semi-gloss paint is easy to clean and reduces the risk of unwanted mildew developing.
What is a good color for a laundry room?
Antoinette, founder of interior design studio, Happy Your Space, advises: 'Stick to cool colors and warm neutrals in the laundry room for a crisp and clean look and feel.'
And her top 5 Paint colors for Laundry rooms include:
Benjamin Moore, Chantilly Lace
Sherwin-Williams, Buoyant Blue
Benjamin Moore, Titanium
Benjamin Moore, Stonington Gray
Pratt & Lambert's color of the year 2022, Gray Mist