Short on space? The best washer dryer combo (your) money can buy is a convenient solution when there's no room for a separate washing machine and tumble dryer. Plus, having a washer dryer in the home can help make the process of doing laundry easier and more efficient.
In order to make the buying process easier, we've pulled together a round up of three of the best washer dryers on the market in 2020, taking note of the capacity, energy rating, spin speed, finish and the dimensions of each machine, too, as these can all influence the performance of your appliance.
Considering a separate washing machine and dryer? Stop by our best washing machine buyer's guide, too.
The best washer dryers 2020
Why you can trust Real Homes Our expert reviewers spend hours testing and comparing products and services so you can choose the best for you. Find out more about how we test.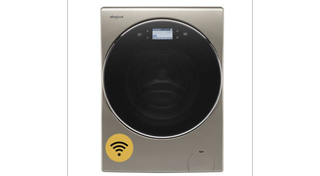 The Whirlpool WFC8090GX's smart phone connectivity makes completing a full laundry cycle wonderfully easy. But, it's a model that's best for singles or couples, since it performs best with small loads.
SmartTechnology
If you've ever left the house and realized an hour later that you left wet clothes in the washer, this is the washer-dryer for you. Because you can control it with your smartphone, you can get an alert when your wash cycle is done, and turn on the dry cycle with the tap of a screen (even if you're a hundred miles way from home).
Special cycles
As well as standard programs you'd expect from a washer, this one lets you program up to 22 specialty cycles.
Load & Go dispenser
Add detergent for up to 20 loads at a time, eliminating another step to the laundry process.
Long wash times
One thing to note before purchasing this unit is that it works best with small loads, and large loads can take up to six hours to wash and dry.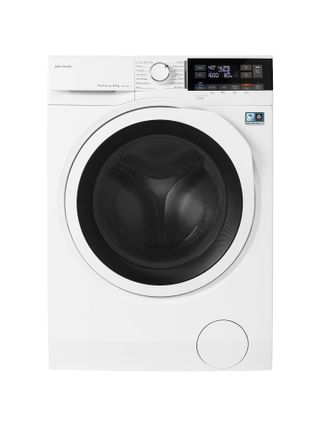 The Haier Electric All-in-One Washer Dryer Combo has been perfectly designed to be easy to use and straightforward. If you are after a good value washer-dryer that can be relied upon to get the job done with plenty of wash and dry options – minus the gimmicks – this is the one.
Reliability you can count on
Haier is known for delivering affordable quality and this machine does not disappoint. It tackles the laundry with ease, including all the usual stains.
Noise level
According to users, this machine is whisper quiet. If you are after a quiet washing machine (without the dryer option) see the best quiet washing machines.
Capacity and user-friendliness
This washer dryer can hold up to 2cu.ft. of laundry, but the manual notes that the dry function works best when the drum is half-full. That makes this a perfect pick for singles or couples who are after efficiency, but families might find this machine requires too many loads to get a household's worth of clothes clean.
The machine comes with nine pre-programmed wash cycles and three dry cycles, as well as a wash-only option. This machine also comes with a delay option so you can time your washes to suit your schedule.
Ventless drying
Like the rest of the models listed here, this washer-dryer is ventless and requires only a water hookup and outlet to operate.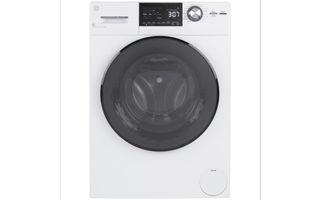 The GE GFQ14ESSNWWGE washer dryer combo has a number of innovative features designed to ensure that its washing and drying capabilities will leave your clothes looking and feeling great. Just keep reading to find out why it's made it onto our round up of the best washer dryers...
Wash cycle options
Choose from 14 different wash options for each load of laundry, including normal, whites, heavy duty, quick wash, casuals, delicates and stain wash with steam. You can also customize your cycle for soil level, temperature and spin speed.
Dry cycle options
Five drying temperatures and 14 drying cycles mean your clothes will come out exactly how you'd like them. Note, that like all washer-dryer combos listed here, getting clothes to bone dry will take around three hours.
Helpful extras
Among the handy features programmed into this machine: an auto wash and dry option that automatically sets a dry cycle based on the wash cycle, a steam wash feature, and a sanitize cycle designed to kill common bacteria and allergens.
Hoping for a smart washer? This model has optional wifi connectivity, though you'll need to purchase an extra part.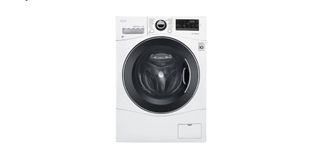 When you live in a small space, chances are you can hear everything going on in your home (and there's a good chance your neighbors can, too). The LG WM3488HW is equipped with LoDecibel technology for a quiet dry cycle.
Lots of options
The machine features nine wash cycles, including a NSF certified sanitary cycle that washed clothes at a high temperature to kill bacteria and common allergens. The four-tray dispenser features compartments for prewash detergent, main wash detergent, bleach and fabric softener, so you can customize your laundry cycle.
Convenient extras
The machine features LoadSense, which automatically adjusts water levels based on the load size, and comes with SmartDiagnosis™ technology to help you troubleshoot any problems with your phone.
Ventless drying
No vent? No problem. The machine dries clothes through a ventless condensing system that drains condensation captured during the drying cycle. A vent-free system saves space, too.
Intelligent drying sensors
While the machine comes with pre-programmed dry cycles at 30, 60, and 120 minutes, there's also an intelligent sensor system that'll dry clothes to perfection. Simply choose from more dry, normal dry, damp dry, and low temp dry.
---
How to buy the best washer dryer
Where to buy the best washer dryers
With such variety available on the market, it can be difficult to know where to get started when it comes to buying a washer dryer. We'd recommend keeping the following factors in mind.
Special wash cycles
Before you buy, consider the features and functions that are important to you, as these can all influence the performance of your appliance. If you are going for a washer-dryer to save time, you might also want to look for steam options and anti-crease settings to reduce and speed up ironing.
Vented or condensing
This is how the washer-dryer gets rid of moisture when it is in drying mode. Vented washer dryers have a hose that needs to reach an external wall, either through a whole or window. If you can't vent your washer dryer to the outside then choose a condensing washer dryer. These condense the water vapor from the drying cycle and emit down the drain pipe, as they would dirty laundry water.
Smart functionality
Perhaps the easiest way to do laundry ever? A washer-dryer with app-control capability and detergent storage, which allows you to complete an entire laundry cycle without even being in your home (of course, you still have to throw it in the machine, but that's the easy part).
What to know about washer-dryers
While washer-dryers can certainly save space and are a great option for home with limited square footage or no existing laundry, they perform differently than a standard, separate washing machine and tumble dryer. Specifically, the dry cycles will likely take a lot longer than you're used to, with some reviewers noting an average wash-dry cycle is up to six hours.
What is the best washer dryer?
To recap... when it comes to choosing the best washer dryer, the Whirlpool WFC8090GX is highly recommended. Though it's one of the more expensive options available, its large drum size and extensive selection of features make it worth the investment if you're looking for a washer dryer that really stands out from the crowd.
While you'll find our pick of the best washer dryers above, there are plenty more options available if you're not sure exactly what you're looking for, yet. Browse more of our buying guides for information:
Looking for more washing and laundry advice or information?