Knowing how to put up a shelf successfully is a must for everyone's repertoire of DIY jobs. It is easy enough if you know what you are doing, and this skill means you can transform a space both visually and practically, adding much needed storage in the process.
Our step-by-step guide will help you learn how to hang shelves on the wall with brackets – which are essential if your shelving ideas are on the creative side and likely to take a fair amount of weight. Rest assured that whether you're working with drywall, plasterboard or masonry walls, you'll be able to complete this job with every success. All without calling in (or paying) someone to help you!
Building contractor, Aaron Donovan of AD Services adds, 'Putting up a shelf is a very easy job, just be sure to plan. Before doing anything, consider the size and depth of your shelves. Don't place particularly deep shelves near doors or busy areas of the home where there is a danger of people bumping into them. Generally, shelves should be mounted at eye level.'
You can watch the video below to see how it is done, and read the steps for success.
How to put up a shelf with brackets
With the right tools, this is an easy enough job for most people who have done a little DIY. As long as you are comfortable using a spirit level and a drill, you can have a new shelf up in no time to display your favorite things.
Skill level: beginner
Cost: depends on cost of shelf
Time: 1 hour or less
What you will need
Sellotape
Counterpunch
Screws
Fixtures
Pencil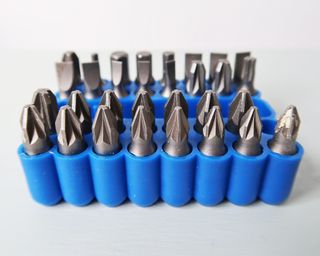 1. Check the construction of the wall
First check what kind of wall you are attaching your shelf brackets to – masonry or plasterboard? This will dictate the weight of the shelf you are going to be able to hang (not to mention its contents) and the fixings you will need. To test your wall type, knock on it; if it sounds hollow, chances are it's plasterboard or drywall.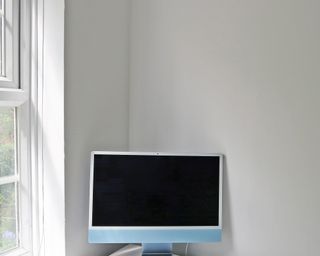 2. Choose a suitable shelf style and fixtures
If you are working with a plasterboard wall, go for a lightweight shelf for pictures or house plants. Be aware that a bookshelf maybe too heavy for plasterboard, unless you can locate the brackets on the studs, and better suited to a masonry wall. If you are hanging a floating shelf, that's a different DIY job altogether.
Top Tip: As well as being handy for storage, a shelf can add interest to a plain wall and is a great way of incorporating natural texture, a continuing interiors trend, into your room.
3. Check your wall for pipes and cables
Much like when hanging pictures yourself, run over the area using a digital studdetector to check it's free from any pipes and cables before drilling any holes. If you don't have one, then take a look at the location of sockets and taps on either side of the wall and make sure you're not going to hang the brackets where any pipes or wires might fall.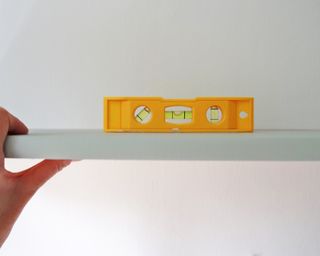 4. Mark out the position of your shelf
'Generally, shelves should be mounted at eye level. Next, grab your mounting brackets and effectively eyeball the first one, see how it looks and if you're happy with the height. The brackets are the most important part as they actually hold the weight of the shelf.' adds Donovan.
Once you've decided on the height you want your shelf, 'Mark your desired position of the bracket on the wall using a pencil. Place the tip of the pencil inside the screw holes of the bracket and make a small dot on the wall. Then, grab a level and draw a line from your first marked spot all the way over to your second bracket position. This will ensure you've got a level shelf.'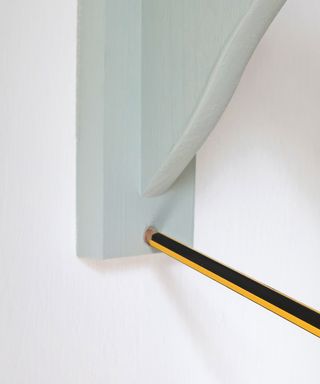 5. Prepare the wall
Using a counterpunch, tap a small dent into the centre of each mark, this will stop your drill or screwdriver from slipping. Place a small strip of Sellotape over the drill hole to stop plaster or paintwork from cracking.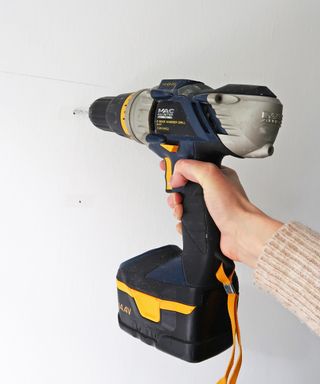 'Next comes the drilling, you're far better off drilling a pilot hole into the wall for the screws instead of trying to directly screw the brackets into place in one go. It's recommended to use a drill for this but you can struggle on with a screwdriver if you have the patience and arm strength.' Recommends Donovan.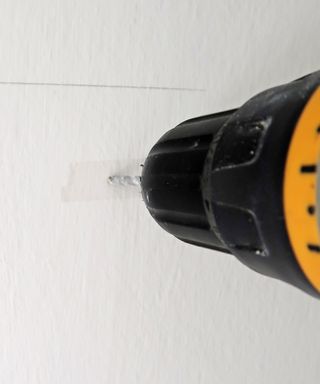 6. Fasten the brackets to the wall
'Next up, fasten the brackets to the wall ensuring that they are flush to the surface and secured tightly.' Says Donovan.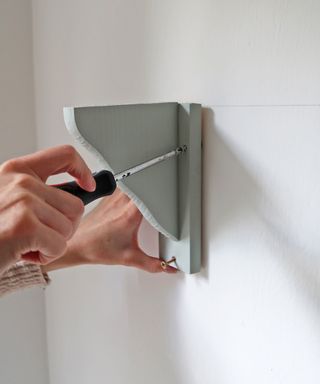 For worm-style fixings: If you are using a worm-style fixing, screw your wall plugs into the pencil marks. Place the bracket on top and use a spirit level to ensure it is vertical before loosely fixing the top of the bracket to the wall. Once you have checked again that the bracket is plumb straight, screw in the bottom of the bracket. Then go back and tighten up the top. Repeat for the second bracket.
For sprung plasterboard fixings: If you have chosen a sprung plasterboard fixing, drill holes in your marked positions. Push the fixing into the holes and then screw the top of the bracket loosely to the wall. Ensure your bracket is straight and then repeat for the bottom of the bracket.
'Double check again that they are straight and level before completely tightening.' says Donovan.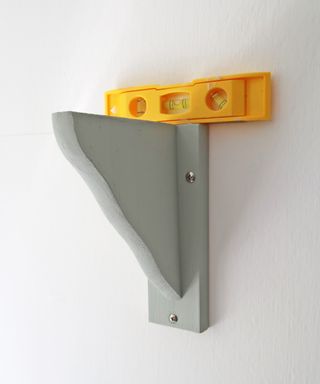 7. Attach your shelf
Place the shelf on top of the bracket, use a ruler to check there is the same overhang on each side. Once the shelf is centred, mark the position of the screw holes underneath the shelf. Drill pilot holes, using a small drill bit, into each mark. Be careful not to drill all the way through the shelf. Return the shelf to the brackets, line up the drill holes with the screw holes and screw in your fixings from beneath.
'Depending on what type of shelf you've got, this may be all the work done or you may need to screw in some additional screws to anchor the shelf.' Adds Donovan.
Top Tip: Why not add some colour to your room by painting your shelf? For a more subtle look, you could opt to paint the same shade as the wall for a colour-wash effect.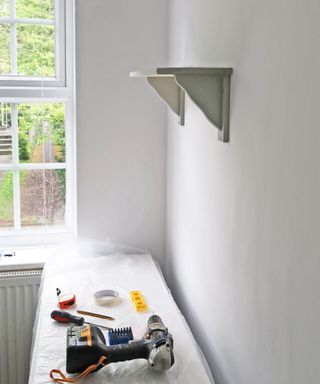 8. Check the shelf and brackets are secure
Once everything is securely fastened, wipe off any dust and get creative with styling your newly hung shelf however you'd like.
Time for a shelfie.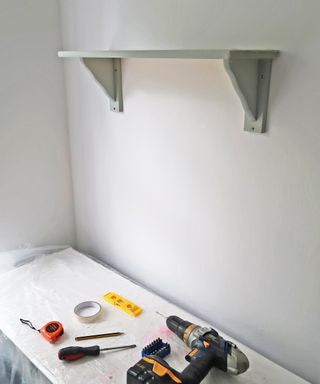 Top Tip: If you want to cover the screwheads, use a countersink drill-bit for the bracket pilot holes so the screws sit just below the surface of the wood allowing you to fill the gaps with wood filler. Once dry, you can sand the wood filler and then paint. For easier access to the screws, or if you don't have a countersink drill bit, you can cover the screwheads with paintable, push-on screw caps.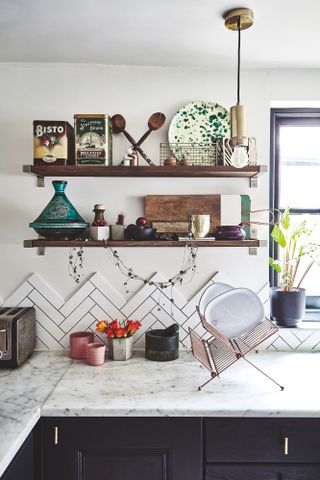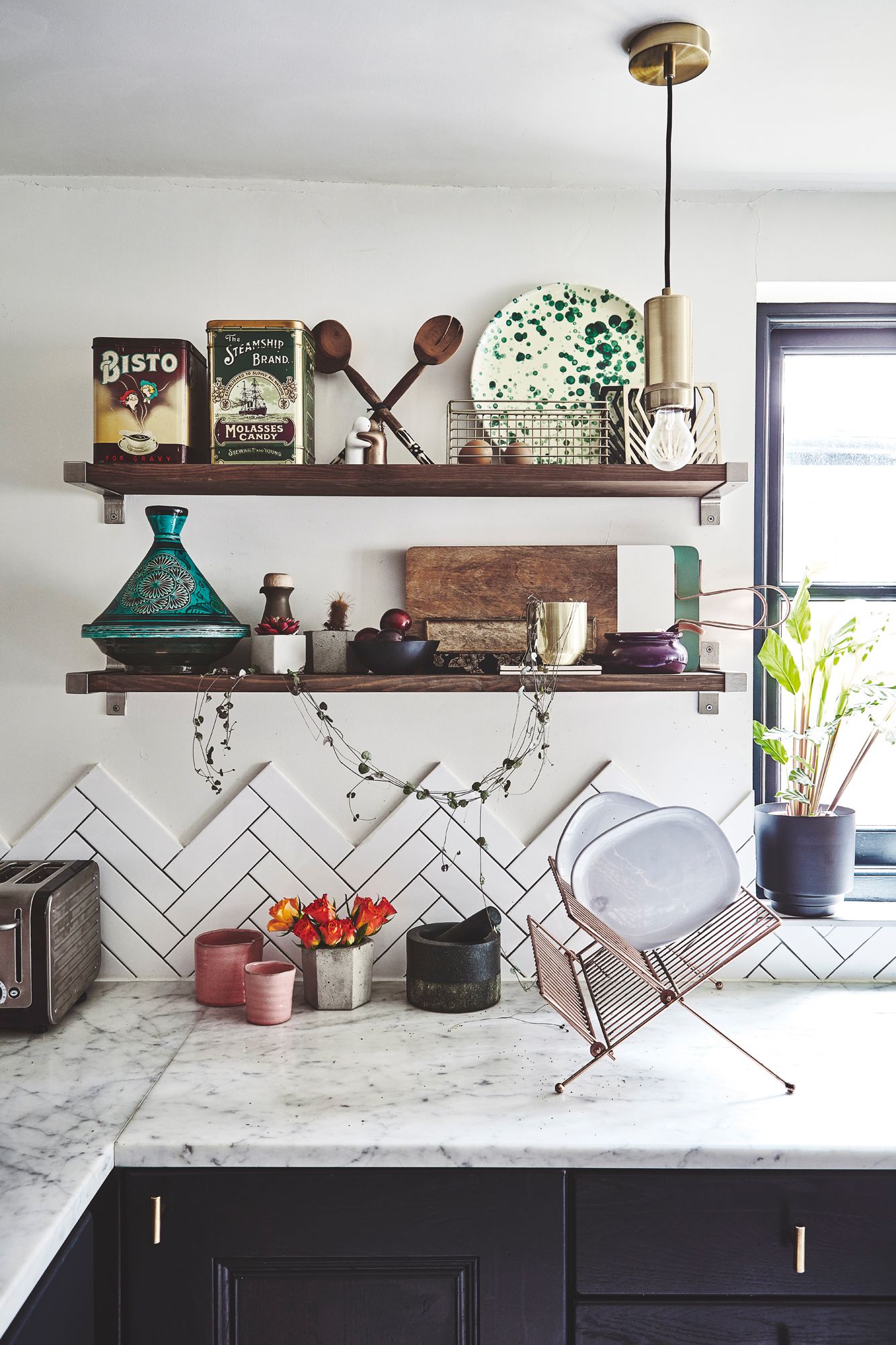 Do you need a drill to hang a shelf?
You will nearly always need a drill to hang a shelf. It is hard to get a neat finish and fix your screws properly without drilling a pilot hole. The exception is if you are using hammer-in drywall plugs, but these are only designed for very light loads.