So you need some smart laundry room organization ideas... we're here to help with that.
Or are you only at the planning stages? Check out our planning and designing a utility space expert guide.
It's everyone's dream isn't it? A large airy laundry room, with washing machine, tumble dryer, empty laundry baskets, clothes neatly folded in colour co-ordinated piles and plenty of storage...
Housekeeping guru, Martha Stewart, explains, 'A laundry room that has plenty of storage options and is also pleasing to the eye will help keep you organized. Mix and match the hutches, wall-mounted shelves, and cabinets to create a custom laundry system that works for your home.'
But we all know, the reality is that your average utility room tends to be a much more modest affair. And a dumping ground for everything that doesn't have a natural home in one of your other rooms. Or that you can't be bothered to put up in the loft. Or just away...
But that doesn't mean it can't be efficient, functional and good looking, as our handy laundry room storage ideas show.
1. Reassess your laundry storage space
Before going crazy investing in storage for your laundry room take a step back and assess the current layout of the room. Could you switch it up to make more space? A good start is to look at where your washing machine and tumble dryer are positioned – if you currently store them side by side, think about getting a cabinet that can stack them.
Alternatively, a stacking kit enables you to install a tumble dryer on top of your washing machine without any additional fixings.
Martha Stewart explains, '... the stacked European-style washer-dryer set economizes space. A shelf between units pulls out for folding items fresh from the dryer, then slides out of sight. A matchstick shade lowers all the way to the floor, gracefully hiding the utility area when guests are expected.'
2. Fit functional shelving to kit out your laundry room
Look for functional laundry room storage ideas – open shelving is a great option because you can keep everything in sight and easily accessible.
Opt for a modular storage system like Ikea's Algot system that can be customised and quickly adapted to different needs and spaces.
Peter Erlandsson, Co-Owner of string furniture explains, 'Modular, open shelving provides a great way to fit storage into small spaces. The best thing about modular furniture is that it really can be installed anywhere.'
'To make your utility feel larger, there is an age old doctrine of using light colours on walls to make your home look bigger. This is true, and your shelves need not detract from this. Using minimal materials, string ensures your walls aren't totally covered."
'Deep shelves lower down will be handy for heavier items, with shelves above head height designed to stash items you don't use often.'
3. Save space in a laundry room with an extendable clothes airer
Struggle to find space to dry your loads? Instead of desperately draping everything over your shower door, try a wall mounted drying rack that extends to meet your laundry needs and then folds away when not in use.
This clothes dryer from Garden Trading is great for laundry storage as it also has a shelf on top for storing washing powder and wooden hooks for homeless hangers.
4. Get your laundry storage organised
All it takes is a single red sock to slip through and your white load comes out looking like Baby Spice's wardrobe. Never again mourn the loss of your favourite clothes by getting yourself a laundry basket that clearly divides you lights and darks.
There are plenty of options out there and you can even fashion something yourself, but we love the vintage look of this rattan hamper from Garden Trading.
5. Invest in built in laundry room storage
A laundry room might be one of the most hardworking areas of your home but that shouldn't mean it can't be beautiful. If you have the room and the budget, investing in built in laundry storage that would work perfectly in your space will allow you to use every inch efficiently.
Schüller offer loads of beautiful storage options that have been designed specifically for utility rooms.
6. Choose laundry room storage that folds away
Another great way to avoid using up precious square footage with bulky floor standing drying racks is a wall mounted, fold away airer.
Place this rack from Pulley Maid above a radiator and you have an instant practical drying space that would work in even the most restrictive of spaces.
7. Cover up a laundry room with curtains
Let's face facts, washers and dryers are never going to be aesthetically pleasing. So cover up those eyesores really inexpensively with some makeshift curtains.
You can choose a pattern that suits your space and attach it to some net wire, keeping your bulky appliances out of sight, out of mind. Just the way we like it.
8. Don't neglect the back of your doors in a laundry room
Don't overlook the backs of doors, they can be a great place for storing smaller items, such as brushes and washing powder in baskets.
This door rack from Elfa is made up of a combination of different sized wire baskets, ideal for storing bottles of laundry detergent, fabric softener, pegs or hand towels.
Top tip: The back of the door is also a great place for storing the ironing board - get a wall mounted holder or fix on some ordinary coat hooks.
9. Create an area in your laundry room for folding
Increase efficiency by installing a space for folding and organising your laundry. This will save you having to lug all your clean washing to the nearest available clear surface. It needn't be a huge space, a countertop spanning a washer or dryer would work perfectly.
If you are really strapped for space in your laundry room, fix a fold down table or shelf to the wall.
10. Hide laundry room clutter in baskets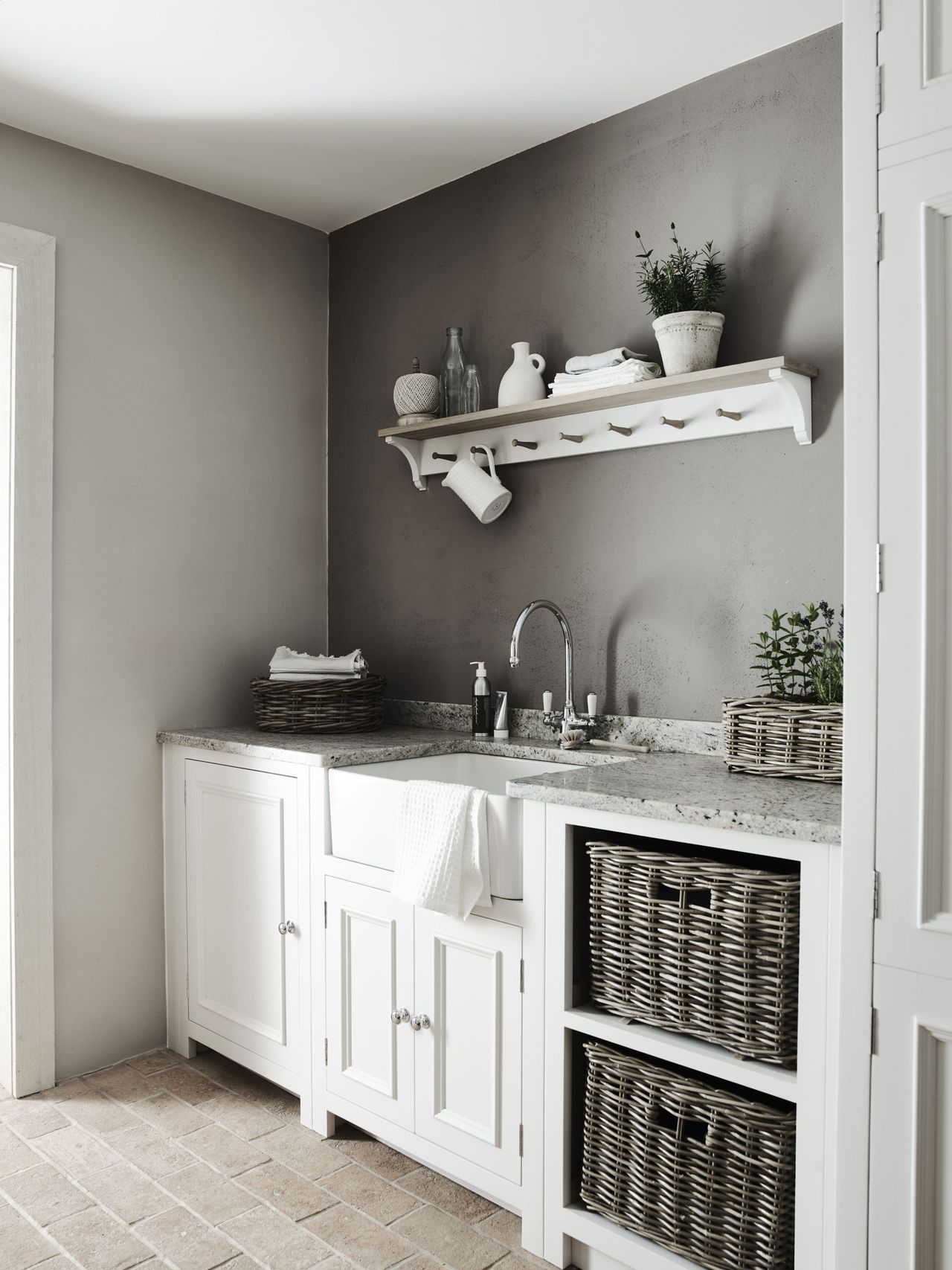 Sorry did we say hide? We meant organise. Large baskets are great for taming clean washing that's waiting to find a home or for storing your stock pile of laundry detergent. They also are really aesthetically pleasing and no one needs know that they are actually often filled with an unruly mess.
These wicker or rattan baskets are part of this laundry room designed by Neptune.
11. Use smaller baskets for laundry accessories
When it comes to getting organized in your laundry room, storage baskets are your new best friend.
Perfect for storing everything from pegs to cleaning cloths, they're ideal for clearing the everyday laundry room clutter from your countertops.
For a smart and streamlined look, line up several of the same designs on open shelving (style tip – odd numbers always look best).
12. Add a laundry room in the bathroom
No space for a separate utility room but bags of room in your bathroom design to squeeze in a laundry zone?
Keep yours neat with a sizeable cupboard to hideaway folded laundry, washing powder and coat hangers, and use the space above the washing machine for a neat drying rack..
13. Build a pet bed into a utility room
Pets and clean laundry? Sure it might not sound like the best combination but if your laundry room is more like a utility/boot room and you use it for a whole lot more that just storing your washing machine and dryer then you should consider building in a space for your pets.
Maybe they need a space to sleep at night? Or an area to go for a kip while the kids are running riot? If you've got the luxury of being able to give up a couple of cupboards then we love the idea of this cosy under-the-counter space for furry friends!
14. Pick a tiny ironing board for a small utility room
IKEA laundry room ideas are always a go to for us because they are catered to small spaces. Ironing might not be one of our favorite household chores, but we reckon even we could find a little more enthusiasm for it thanks to this mini design.
A perfect buy for compact laundry rooms, the JALL tabletop ironing board folds entirely flat when not in use so you can simply hang it from a hook on the back of a door.
15. Put up open shelves to add storage and interest
Laundry rooms are above all else practical spaces, but that doesn't mean they can't pretty too. Putting up some open shelving however is both – pretty and practical! Use them to store pegs, laundry essentials you can't live without, detergent, fabric conditioner and the likes but also decorate them too, add books, plants and ornaments to make it more your own space.
Peter Erlandsson explains, 'There are only two things you need to consider. The first is making sure your shelving is deep and tall enough to store your belongings but narrow enough that it doesn't compromise your precious square-footage.'
'The second is making sure you use a mix of open shelving and cabinet styles to create a display unit that is flexible enough to hide the things you don't want on show.'
For more shelving ideas, head over to our feature.