Owning the best washing machine your money can by will help to keep on top of the laundry. They'll take care of even your most delicate garments, remove stubborn stains and some with even wash AND dry. They're a household essential which we would really notice should it breakdown.
As with many large appliances, you'll get what you pay for (most of the time) so it's well worth doing some research into the most suitable option for your household. There is a lot to consider – from front loading washing machines to top loading washing machines – which is why we've taken the time to do a round-up of our own. We've considered factors such as drum size, spin speed, number of programmes, ease of use (including smart capabilities) and any special features which we feel could really benefit. Having a quiet washing machine is important for some households, too, so we've also taken into account the noise levels for each machine.
Keep scrolling for information about which models we think are worth your time and money.
Best washing machine 2023: the list
Why you can trust Real Homes Our expert reviewers spend hours testing and comparing products and services so you can choose the best for you. Find out more about how we test.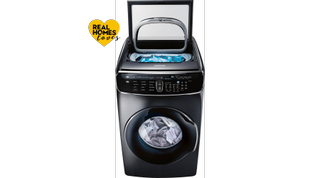 The Samsung FlexWash has claimed our #1 spot on our best front load washing machine guide. Why? It offers two separate washing drums; a top-loading 1cu.ft. drum, and a larger front-loading 5cu.ft. drum, which can be used separately for smaller loads to save energy and water, or in tandem to tackle extra-large loads. And there's more...
Large capacity and efficiency
Designed with families, heavy clothing, and bedding in mind, this machine offers a generous 6cu.ft. load capacity for times when laundry threatens to swallow you whole.
Another check in the efficiency column: The bottom washer features a superspeed cycle, which washes a full load in just 30 minutes. Need a clean uniform for the big game that starts in a couple of hours? Day saved.
Smart technology
Smart washing machines are everywhere now. This one allows you to manage your washing machine cycles, temperature, and spin speed from your smartphone, thanks to Samsung's SmartThings app. Plus, it can troubleshoot any minor issues before they become a bigger problem.
Additional features
The Samsung FlexWash steam technology penetrates fabrics more effectively than water droplets to wash your clothes, which requires a reduced rate of water consumption. The temperature level required to create steam (212°F) is much higher than a typical wash cycle (140-170°F), which is better at releasing odors and killing allergens.
And finally, we love that the black stainless steel finish is fingerprint-resistant. Because who wants to clean a washing machine?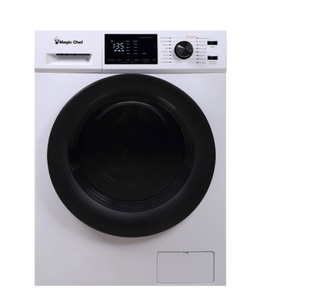 The Magic Chef 2.7 cu. ft. Washer and Dryer Combo does it all in just one compact machine.
Compact size
If you're someone who's looking for a washer/dryer combo that can fit into those smaller spaces? Rest assured, you've met your match. Stick this dream team into any apartment, vacation home, or limited-space and watch the magic unfold.
Versatility
Are you looking for a compact machine/s that offers up versatility? If so, again: this is the one-stop-shop for everything. This versatile unit boats 16 total cycles, including delicate, heavy-duty, normal, and even perm press.
Additional features
Need more? This ventless cyclonic action drying technology also allows for placement flexibility.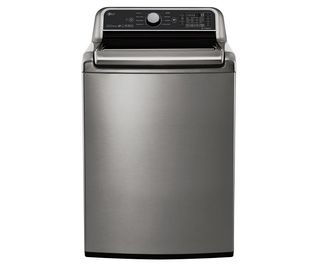 The convenience of a smart controlled washing machine can't be overstated--but if you don't want to shell out more than a grand to launder from afar, we can't exactly blame you. Which is why we love the LG TurboWash 3D.
Smart control
You have the option to control the LG TurboWash 3D with the brand's SmartThinQ app, which can ultimately help you to get better results from your wash: it'll alert you the minute your laundry is done, and also allows you to control key features on the washing machine like starting it and selecting a cycle.
Also cool: LG SmartThinQ works with Google Assistant and Amazon Alexa, so you can start your wash with a simple voice command. (Now if only we could get Alexa to do the folding).
Performance
This powerful-yet-gentle washer has a few unique technologies that make it tough on dirt, odors, and stains, yet easy on your clothes. The TurboWash3D technology causes forceful water streams that rub clothes together to create a deep scrubbing, and 6Motion technology, which uses up to six different motions in each wash cycle to help get clothes clean.
Extras
The washer is packed with them. A few of our favorite features include Lo-Decibel quiet operation, energy-saving cold-wash technology, and an easy dispense system that allows you to pour in your detergent, bleach, and fabric softener all at once and releases them at the right time.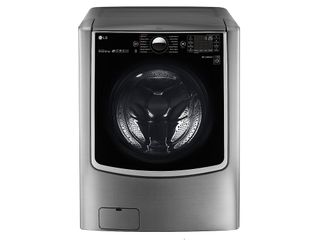 If you've got a big family, then you'll be hard-pressed to find a better washing machine than the LG WM9000HVA.
Excellent capacity & energy efficiency
Like the Samsung FlexWash, the LG TWINwash package gives you two separate compartments for tackling double the laundry (or a fraction of it, you decide). In the LG model, the second drum isn't built in, and instead sits underneath the washing machine. The SideKick comes with a remote for easy operation, but we still find Samsung's top-loading design to be more convenient.
This model was rated one of Energy Star's most efficient of 2019, and its high energy rating and load-sensing water usage means running costs are low despite the washer's high capacity.
Smart technology
The machine is wifi-enabled and compatible with LG's THINQ® app, which allows you to control it from your phone.
Wash options
The LG WM9000HVA features 14 different wash programs, including ones for delicates, towels, and bedding, plus speed wash, heavy duty, and sanitary cycles. The Allergiene cycle operates at a high temperature and is designed to kill most common household allergens.
The LG SideKick also features a dedicated cycle for activewear, so you can extend the life of your yoga pants, sports bras, and performance gear.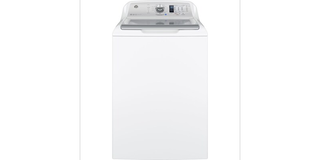 Our pick of the best budget washing machines, the GE GTW685BSLWS is all about no-frills functionalities.
Wash cycles to suit your load
With a solid energy rating and 4.5-star reviews all-around, this is a good value model with a variety of specialty programs such as active wear, quick wash, auto-soak, and a dedicated Oxi cycle that's designed to work with the detergent for supreme sanitation. There's also a special stain guide for the washer, with pre-programmed settings for five common stains including blood, tomato, wine, dirt and grass.
It also has a timer delay which allows you to set the wash at a time that suits you. Always useful if you're getting ready to head out.
Speed and noise level
This machine will spin your clothes at 800 rpm. Unlike many of our other best washing machine picks, this one has no noise-reduction technology, but reviewers still agree that it's quiet.
Extra handy features
The glass lid is soft-close for a quiet, shatterproof shut. Also, many reviewers were thrilled with the machine's deep fill and soaking options, as the option has become harder to find among high-efficiency washing machines.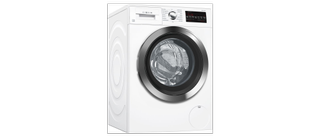 It's kind of amazing how much oomph is packed into this pint-sized washing machine. Although the Bosch 800 series washing machine is only 24" (the same size as our no. 5 best compact washing machine pick from Miele), it can wash five men's dress shirts in just 15 minutes, and has an EcoSilence motor that's extra quiet but still manages to deliver a powerful 1400 rpm (one of the fastest we reviewed).
Eco-friendly, speedy cycles + good wash results
One of the few 24" models that's rated by Energy Star, the Bosch 800 series uses sensor-controlled automatic washing programs and ActiveWater technology to ensure efficient energy and water usage.
The washer features a wave-shaped drum, and adjusts its rotation direction based on load type: it uses steeper edges for heavy duty washes, and shallower edges for delicates, so it's gentle on your clothes when in cycle.
Lots of wash cycles
The Bosch 800 series has 14 built-in wash programs that should literally cover any type of laundry you've got. A few highlights: permanent press, quick wash, hand wash/wool,whitest whites, sanitize, and a super quick 15-min wash. It also has a drum cleaning feature.
Smart technology
The Bosch 800 uses the brand's Home Connect smart technology, which lets you start your laundry with your phone. Its EasyStart feature also guides you through selecting the best setting for your clothes you don't have to guess.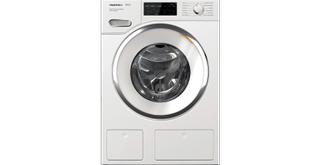 This washing machine has proven popular and is now out of stock. We're not sure when it'll be back again but don't worry: our handy pricing widget will show you when it's next available to buy.
Tight on space? Try the Miele WWH860WCS W1, which is our top-rated compact washing machine. This front-loader is not only stackable, but it shaves about 3"- 4" off of the depth and width of more standard size washing machines, and up to 13" off the height (perfect if you're adding a dryer below!)
Design
At first glance, this Miele washing machine looks just like any other - a white cube with a door. It's not until you switch one on and its touch-screen display springs to life that it really livens up laundry time. Everything is controlled by the touch screen, and the tasteful LED lighting in the drum gives a pleasant view of the gleaming inner stainless steel construction.
Combined with its quiet and efficient ProfiEco motor, this washing machine doesn't cost the earth too as it comes in with incredibly low annual energy costs.
Smart control
The Miele mobile app can work across all Miele smart home appliances; from coffee machines to the washing machine. This means that you'll be able to get notifications about what your appliance is up to, and control it remotely too.
Performance
One of our favorite features of the washing machine is its TwinDos detergent-dispensing system, which features two integrated laundry detergent containers that automatically dispense the perfect amount of laundry soap for each load. And for that extra little 'boost' to clean or soften, there's Miele's CapDosing system, which features individually-portioned detergent capsules which are incredibly convenient for specialty laundry applications or adding in a detergent booster.
The machine also offers a long list of cycles in the options menu with settings like Eco, QuickIntenseWash, and single wash for a solo piece of laundry.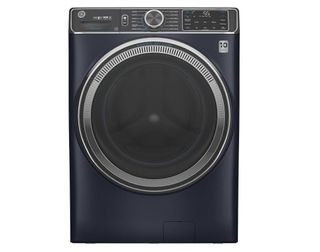 This washing machine has proven popular and is now out of stock. We're not sure when it'll be back again but don't worry: our handy pricing widget will show you when it's next available to buy.
Most modern washing machines have features intended to help prevent musty-smelling clothes, and some have special cycles to sanitize clothes and eliminate allergens. Of all these appliances, we feel the GE GFW850SPNRS does the best job of meeting those special needs.
Odor-free features
The GE GFW850SPNRS has an unparalleled collection of features to keep your clothes from smelling musty and even prevent allergens from lingering in your wash. These include special venting to eliminate moisture, which keeps both the washer and your clothes smelling clean; an antimicrobial treatment inside the drum; an internal water heater and steam settings to really deep-clean your fabric; and a special sanitizing, allergen-killing cycle.
Eco friendly
It's also quite eco-friendly, with SmartDispense technology that holds up to 32 loads worth of detergent and automatically dispenses just the amount needed, every time; a 35-minute time (and water) saving cycle. If you have a very small load, it can even wash and dry the whole thing in your washer — no need to hustle home, or even into the next room, and swap your clothes into the dryer.
Wi-Fi enabled and smart
The GE GFW850SPNRS is also Wi-Fi compatible, so you can control and monitor it remotely; and it works with voice control via Alexa and Google Assistant.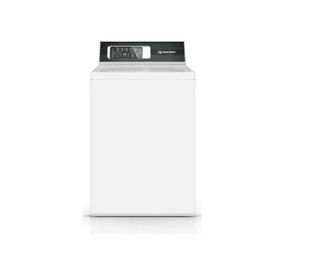 This washing machine has proven popular and is now out of stock. We're not sure when it'll be back again but don't worry: our handy pricing widget will show you when it's next available to buy.
This top load washer from Speed Queen is the buzzy new model that users are loving. Here, this system not only delivers the best wash available but also takes care of your clothes.
Top-of-the-line design
Designed with a durable stainless steel tub to ensure that your clothes are gently handled while guaranteeing long-lasting, dependable performance. The auto-fill system provides an effective wash by making sure that every load uses enough water. The tub and agitator work together to create a gentle wash action that moves the maximum amount of water through the clothes.
Multiple preset cycles
If cycles are your concern, rest assure that this model has them all. There's Heavy Duty, Normal Eco, Perm Press, Delicate, Handwash, Bulky, Rinse & Spin, and Spin cycles, totaling eight variations to select.
Additional features
Additionally, it comes equipped with a Favorites Cycle where you can save your customization for later use. The Extra Rinse option is available when you need to provide an additional rinse to the selected cycle.
Things to consider when purchasing the best washing machine
Front-loading or top-loading washing machine?
We're partial toward front-loaders in most cases. Front-loading washing machines are excellent for tight spaces — think, in a closet or a bathroom — since they can be stacked with a dryer to save space. They're also the obvious choice for under countertops or inside built-in storage that would prevent you from opening a top-loader.
And finally, front-loaders don't have agitators (that column-like structure in the center of top-loading washing machines). That's notable for a few reasons: For one, agitators take up a lot of space, so you'll often get more washing capacity in a front-loader than in a top-loader with an agitator. Also, washing machines with agitators are harder on clothes than those without. If preserving your clothing for the long-haul is important, a front-loader may be the way to go.
Some high-efficiency top-loader models come without agitators; if that's the only thing stopping you from purchasing a top-loader, you may want to look for a model with no agitator instead.
All that said, front loaders do have their drawbacks — mainly that they're more difficult to load and unload because you have to bend down to pull clothes out or put them into the water. If you have mobility issues you can add a pedestal to the base of the washer to raise it up, but you may still find a top-loader easier to use.
Special wash cycles
The most important thing to consider when buying a washing machine is the type of laundry you wash on a regular basis. Some washing machines come with special programs to tackle pet hair, tough stains on sportswear, work gear, and school uniforms while washing machines with short wash cycles are a great bonus for when you're in a hurry.
It's worth taking time to consider which of these settings will best suit your usual laundry needs. If you find yourself spending a lot of time pre-treating and even post-treating stains, we recommend considering a machine with advanced stain removal.
Don't forget about an eco wash mode to tailor your water and energy consumption to be kind on the planet, and with that, an eco-friendly laundry detergent will go hand in hand.
Spin speed
The higher your washing machine's spin speed, the better it typically is at extracting water from the clean clothes — but if it doesn't have special noise-reducing technology, those high-speed spins can get noisy.
Load size
The size of your average load of laundry will influence the size of the drum you need. If you're washing for a large family, 5 to 6 cu. ft. will do. An average family needs 4 to 5 cu. ft. washing capacity, and 2 to 4 cu. ft. is big enough for a single person or a couple.
Noise level
Quiet washing machines are a good option if your laundry will be housed in a centrally located closet or off a master bedroom, for example. Look for washing machines with vibration control or noise reduction technology to ensure your machine doesn't cause a racket.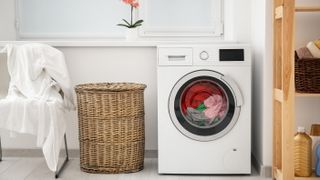 Energy Star ratings
Some washers come with eco-friendly features to reduce unnecessary energy and water use. Look for an Energy Star rating to signal energy efficiency, along with features like timer delay, sensor-based washing, and half-load capability for more eco-friendly operation.
Some washing machines also offer auto detergent dispensing, which detects how dirty your clothes are and adjusts the wash program and detergent accordingly for the most resource-efficient wash.
Smart washing machines
Some of the best washing machines come with WiFi connectivity, so you can operate them from your phone. Far from a gimmicky feature, this capability is perfect if you're tired of coming home to a washing machine full of musty-smelling clothes.
Smartphone compatibility can also be a lifesaver — or at least a floor-saver — if your washing machine starts leaking because you can receive notifications about the error in real-time on your phone.
Plus, selected models can do everything from ordering more detergent to selecting the amount of washing liquid and water each cycle needs. This means you'll reduce your water and energy consumption — and with that your annual bills.
Our top-rated washing machine is a smart model, but if you're looking for more options we'd recommend heading over to our specialist guide: what is a smart washing machine, and do I need one?
If you want more tips on how to buy a washing machine online, keep scrolling.
How often should I replace a washing machine?
A washing machine will usually last around 10 years. If yours is more than eight years old and is showing signs of wear or poor performance, first book a service and ensure you maintain it well with cleaning (use our guide to cleaning a washing machine to find out how). If poor performance persists, think about replacing it.
The initial cost of buying a new washing machine can be painful, but, depending on what sort of appliance you had before, an energy-efficient replacement could net you significant savings on your energy and water bills.
What is the best washing machine?
To recap... we rate the Samsung FlexWash washing machine as the best washing machine you can buy. It's smart, has the extra-large capacity, and is eco-friendly.
However, there's no way around the fact that the Samsung FlexWash is pricey — which is why we also want to highlight the LG TurboWash 3D. For under $800, this washing machine is packed full of special features that typically reserved for higher-priced models, including smartphone connectivity and voice-control compatibility.
You've reached the end of the page. Jump to the top ^