The best wallpaper ideas will see all the walls of your home covered in elegant and cool design. Whether you're wallpapering walls yourself or getting a decorator in, the end result is sure to look incredible when you find the perfect paper. Add vibrancy to all four walls, or bring color to an alcove, to your cloffice or even to your full on home office (lucky). It's not all about damask and floral prints (although they still are a favorite) this wall covering has gone above and beyond into the realms of mid-century, grandmillennial, geometric and nature-inspired looks to tempt all interior design enthusiasts...
Patrick O'Donnell Farrow & Ball Brand Ambassador notes 'We all know wallpaper is a big commitment, but the payoff is oh-so-worth it. Wallpapers – especially handcrafted designs, which are printed with paint – can add texture and interest to any room, so look for designs that will stand the test of time, from delicate small motifs that add subtle interest to large-scale prints that deliver drama, glamour, or both in equal measure.'
1. Wallpaper the pantry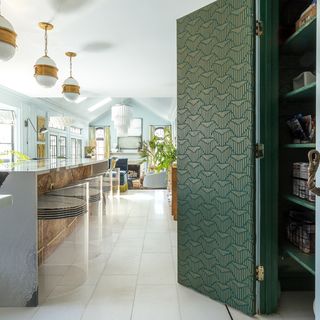 @jewelmarlowe gave her pantry a glow up with glamorous, green, geometric print Hygge & West wallpaper. Adding an extra ounce of energy and luxury to a trad home, take inspiration and see where your best wallpaper ideas could take you.
2. Small delicate print wallpaper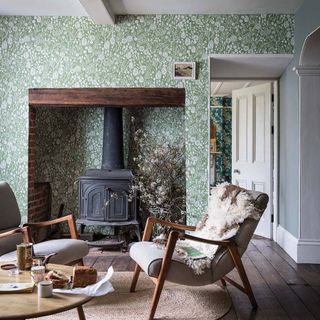 A meadow-esque print by Farrow & Ball creates a relaxed, convivial setup in this cozy space. Taking it behind the stove adds depth. 'Small prints and delicate stripe dragged papers, are such useful decorating tools to create a soft backdrop to a room, elevating a plain wall from something flat and lifeless to a more nuanced character. For a rural retreat, try the delicate Uppark, a pretty but not twee floral that would sit beautifully in a bedroom.' Says O'Donnell.
3. Go geometric to enhance a small space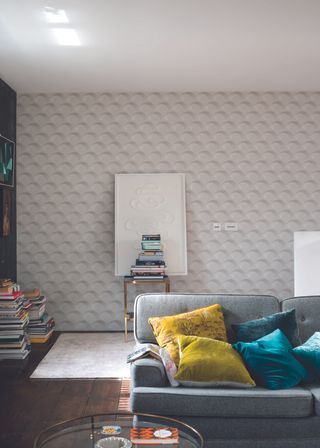 A graphic geo print adds interest and space to a small room, without overloading it. 'Try some sharp geometrics. Statement prints – such as Arcade with its curvaceous deco motif, or the interlocking linear form of Enigma – will add drama to any room, whether you choose to paper just one wall or all four.' Says O'Donnell.
4. Nod to nautical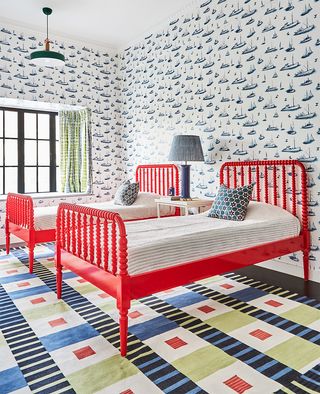 Let little ones wind down thinking of vacations by the sea, all while adding some healthy outdoor vibes to your interior design scheme. Melissa Andersen, Director of Marketing at Hygge & West says about decorating children's spaces with wallpaper, 'Kids' spaces are one of our favorite rooms in which to use wallpaper! We're firm believers that kids' rooms can feel both age-appropriate and aesthetically pleasing—the two are not mutually exclusive. The right wallpaper pattern will grow with your child, and can provide a gorgeous backdrop against which their little personalities can shine. We love our peel and stick wallpaper for kids rooms—if little hands make a mess, it's quick and easy to peel off the damaged strip and apply a new one. Our pre-pasted wallpaper is also a fantastic option—it's simply to apply, easy to clean, and GREENGUARD Certified. And if damage is a concern, you cannot go wrong with a wallpapered ceiling. It's the perfect way to encourage daydreams and spark imaginations!'
5. DIY Peaches 'n' cream wallpaper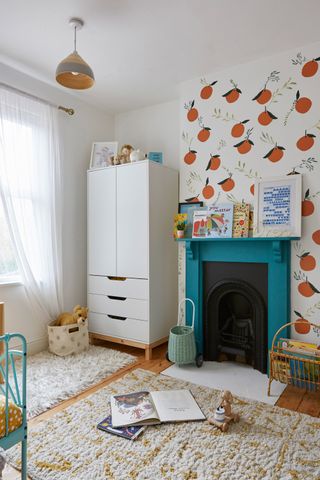 Real Homes' winner of the Best Makeover award used wall stickers to cleverly recreate a wallpaper idea she's spotted. The peaches motifs create a fruity statement in Jessica Clark's vibrant home in Leicestershire, England.
6. Pastel wave wallpaper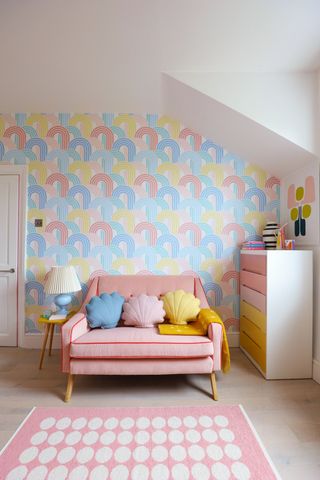 Geraldine of LittleBigBell blog chose this wallpaper to brighten up the background of her Zoom calls and to complement the other peach, mustard, mint and bubblegum colorways going on in this cute and vibrant space. You can shop the Wave After Wave wallpaper at Lust Home.
7. Daisy chain wallpaper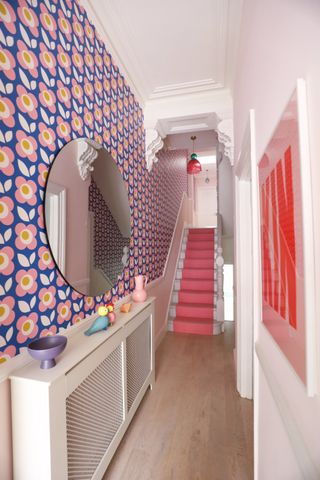 LillteBigBell continued with more color throughout the home. Pink and cobalt blue retro floral print wallpaper from Lust Home brightens up this cute hallway. Pairing perfectly with the bright stair runner, wall art and neutral colored trim.
8. Make it mid-century with your wallpaper design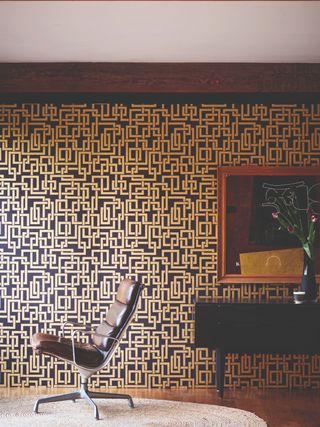 Striking but also cool, this gold metallic print brings all the mid-century modern vibes to this home office. We'd work here.
'While a bold choice, it acts as a wonderful foil for the minimalist setting and doesn't swamp the otherwise sparsely curated room. Notes O'Donnell on the Enigma wallpaper available from Farrow & Ball.
9. Blue motif wallpaper ideas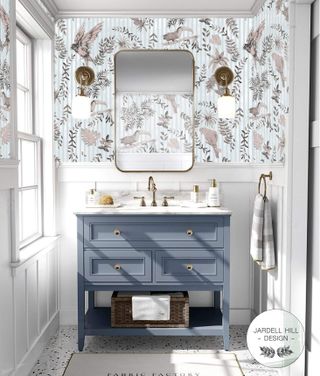 A subtle blue background with an opulent hand drawn motif brings luxury vibes and sophistication to this bathroom. Shop the look at Jared Hill design.
10. The golden touch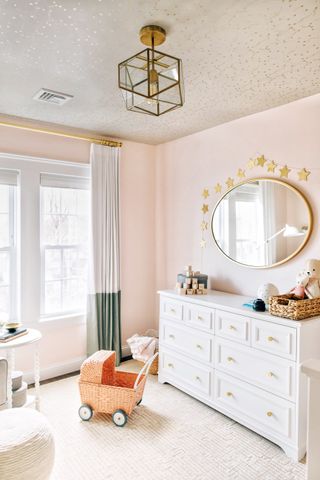 Starry print wallpaper adds another luxurious gilded accent to this children's bedroom – without the spend of course. Being so delicate, it's an ideal design to take onto your ceiling. 'Get creative - Don't just think of wallpaper for your four walls – have fun and think outside the box. For a dramatic design statement, apply striped wallpaper to the ceiling as well as the walls.' Says O'Donnell.
11. Dark crane accent wallpaper in the bedroom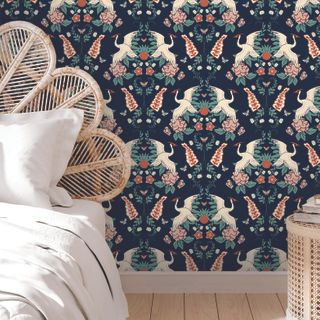 Dark yet colorful crane motif wallpaper is in-keeping with the bohemian vibe of this bedroom, filled with natural materials and wicker accents.
12. Palm blue feathered wallpaper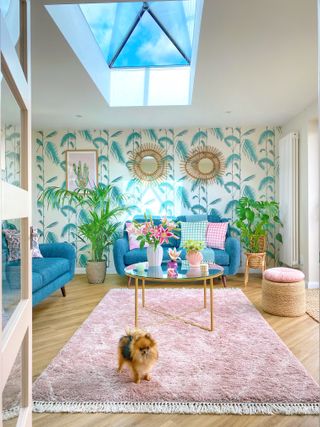 Helen of @homewithhelenandco created a vibrant topical paradise in her lounge. Perfect for that pooch and inviting for any house guests also. 'As the weather can be pretty miserable here in the UK, we wanted to create a sunny atmosphere indoors. I'm a real sun worshipper, so I love sunny interiors with a view out over the garden. I like a bit of a boho vibe with a colourful, tropical twist, which is why I was so drawn to the wallpapers we've used in our house.'
13. Double up on the same wallpaper in clashing colors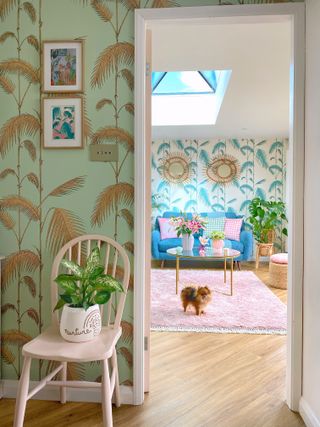 The contrast of wallpapers from one room to the creates levelled interest and decorative flow. 'We've used the Palm Leaves wallpaper by Cole & Son in our hallway and living room in two different colours. I like to see the double wallpaper effect as I look through into the living room from the hallway.' Adds Helen.
14. White but embossed wallpaper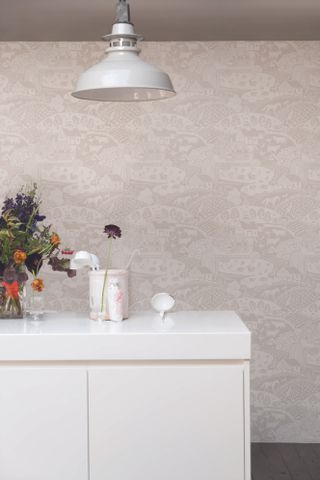 An embossed white wallpaper adds character to an all-white kitchen space. 'Wallpaper can be an unexpected design note in a kitchen adding interest and a certain softness against the hard surfaces. Your design choice can be discreet such as patterns like the Yukutori and the delicate Blostma or more dramatic like the large scale Hegemone. You can even zone an area within your kitchens, such as the dining area illustrated with our rhythmic pastoral design Gable - perfect for more Rural kitchens as it echoes of farm and fields.' Adds O'Donnel.
15. Damask wallpaper with a tribal vibe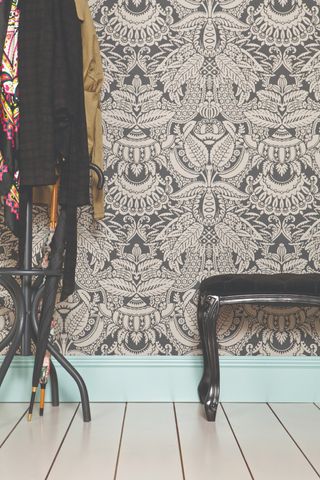 Large motif damask prints never cease to bring elegance, be them in the bedroom or the hallway. This design combine clashing colors and powerful shapes for a tribal vibe, clashing with the more delicate, trad features in this hallway. 'Damask designs are enduringly elegant and still going strong 200 years after first appearing in interior designs.' Adds O'Donnell, recommending this Orangerie print from Farrow & Ball.
16. Bright mint green wallpaper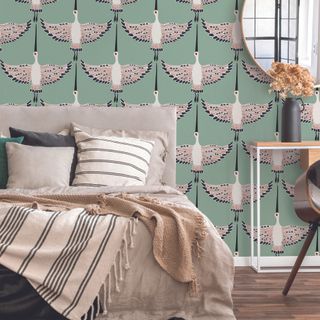 Liven up your sleeping space with animal motifs against a bright mint green backing. We love this crane print, sure to help you out of bed when you need it.
17. Jungle wallpaper for maximalist interiors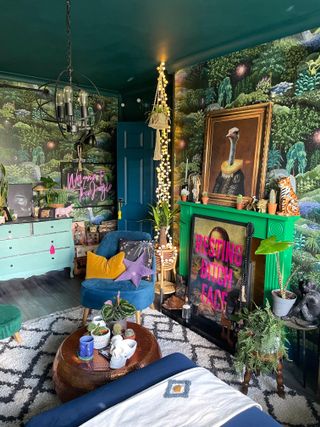 A dark jungle wallpaper print brings more life to this already maximalist living room setting. 'I wanted to create a tropical jungle vibes place to relax in an evening' notes creator Pixie of @eclectichunkydoryhome. The wallpaper? '… it's from wallpaper direct and the brand is Linwood fabric.'
18. Light wildlife inspired wallpaper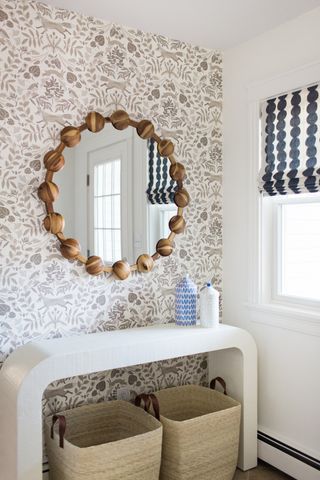 Light forest animal print wallpaper gives this small utility space a whimsical feel, ideal for day dreaming on laundry duty. Space created by Interior Design Studio @samanthaspappas using Hygge & West wallpaper.
19. Art nouveau wallpaper designs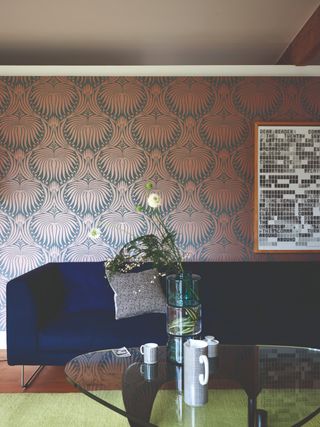 Lotus wallpaper by Farrow & Ball in copper brings a gorgeous 19th-century feel to this modern and glamorous lounge space. Warm it up with a cozy color and metallic notes whether you're looking for trad or contemporary wallpaper ideas.
20. Subtle and nature-inspired wallpaper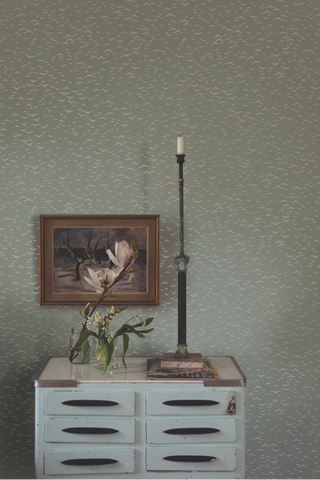 A delicate and discreet print lets other objects speak for themselves. Yukutori in cabbage green by Farrow & Ball sets a demure tone and brings that vintage cabinet and the other characterful objects to life.
21. Playful patterns for kids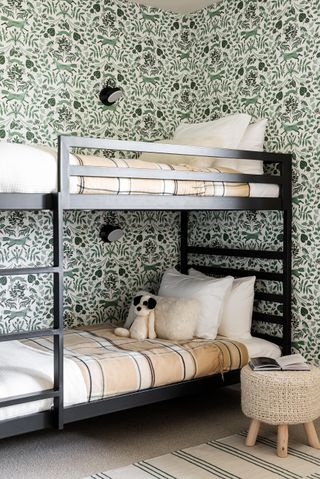 A densely packed wallpaper print needn't be reserved for the master bedroom. This botanical look adds style and warmth to bunks, paired perfectly with woven textures and neutral colors. Space created by @hudsonandbloum using Hygge & West wallpaper for clients who wanted an 'affordable, functional & fun' look.
22. Contrasting wallpapers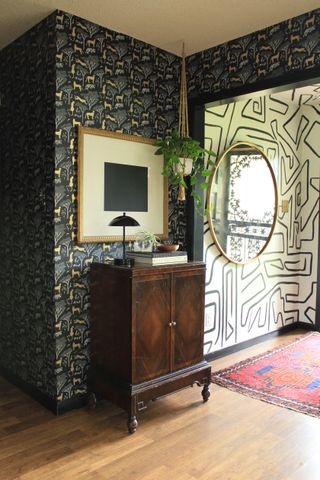 Dark wallpaper creates a dark, boutique feel and just enough drama in this hallway space. Helping the lighter colored wallpaper area adjacent (and it's cool graphic print) pop. These rooms have such different finishes but their styles also complement each other in a very artistic way.
'Pair lightly painted wood panelling with a beautiful reflective wallpaper to bring light and depth to your walls. Add mirrors either as a central piece or as an accompaniment to your other wall hangings to maximise the way that light is reflected around the room. And last but not least, team your papering choice up with bold, vibrant artwork to add a bit of colour to your interior styling.' Recommends Sam Cobden of i want wallpaper.
23. Wildflower wallpaper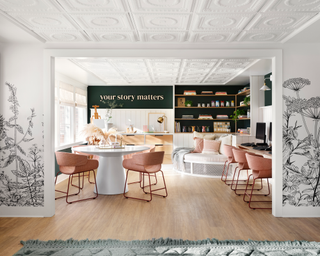 Wildflower wallpaper makes for a magical entry into this open plan space. Joanna Gaines chose this for its nod to comfort, perfect for a stylish family-orientated space.
24. Really retro wallpaper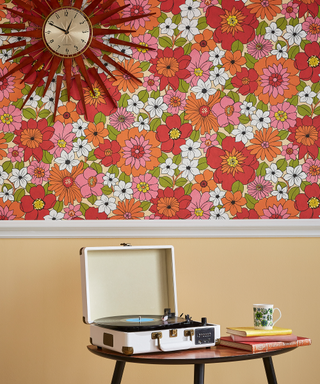 A retro flower power print teamed with a record player will bring nostalgic sentiment to all types of home. Graham & Brown's bold, 60s-style 'flower power' wallpaper is striking in a hallway and sure to brighten up a snug room too.
25. Hot colored wallpaper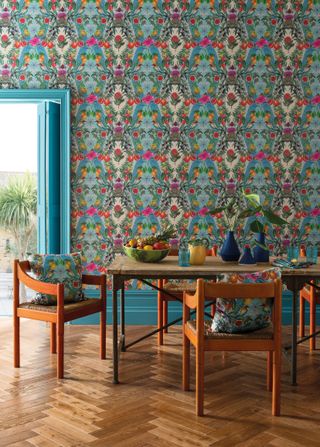 Hot colored florals are the new way to let nature into your home's interior design. Think a clash of bright pinks, teals and greens – they must all be seen together for maximum effect and, are not just reserved for maximalists either...
26. Big and botanical wallpaper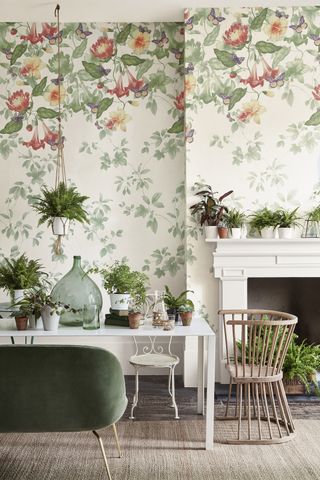 Team light and airy green botanical wallpaper with house plants and natural materials to create an indoor green space like no other as done with this Little Greene print.
27. Big leaves wallpaper for your bathroom ceiling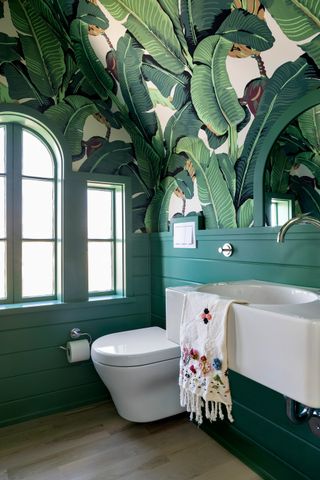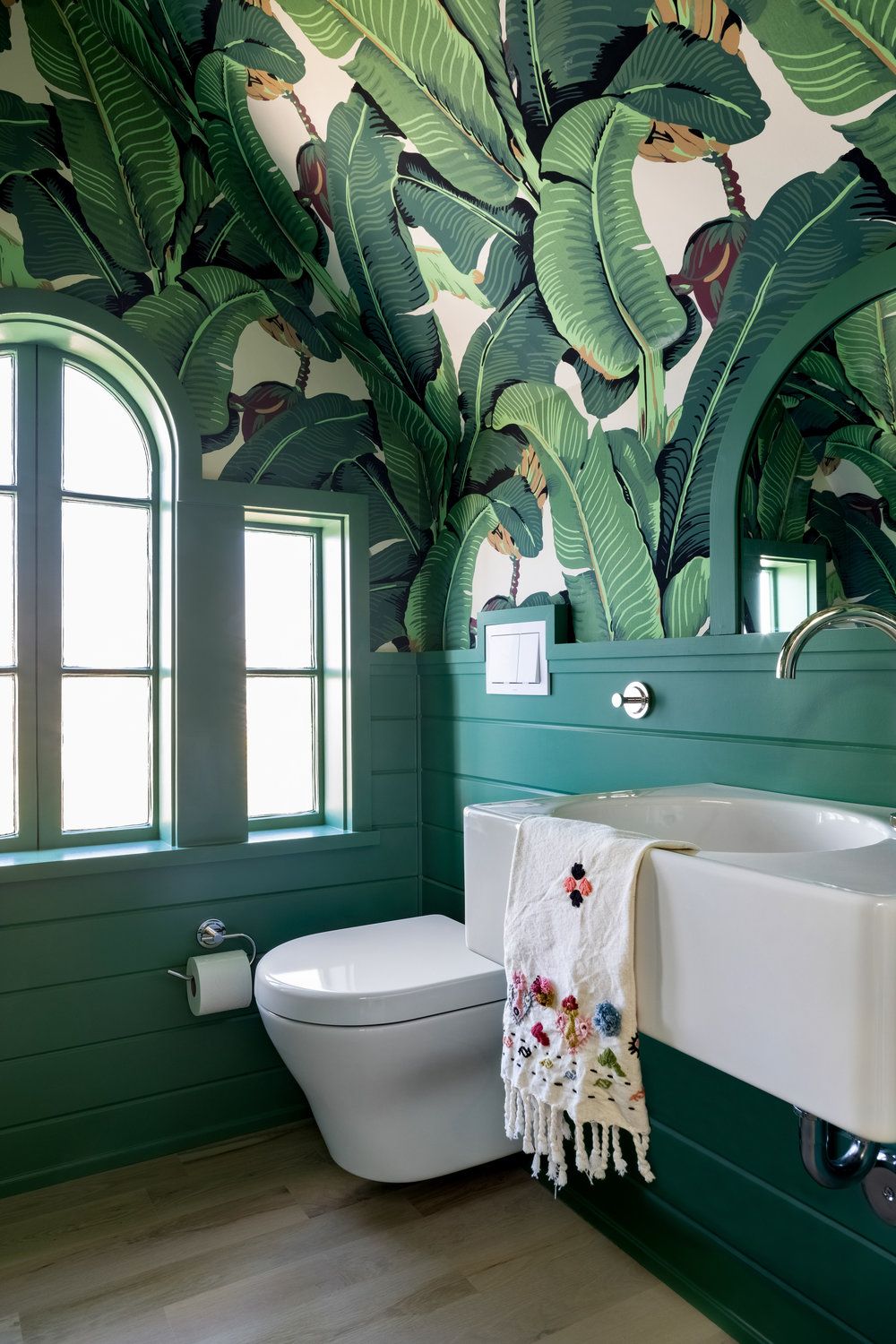 Wallpaper ideas work in bathrooms too. Wallpaper the ceiling for a maximalist finish and to create a real decorative statement. Match your walls in a similar hue for a cohesive look.
28. Characterful wallpaper in a contemporary kitchen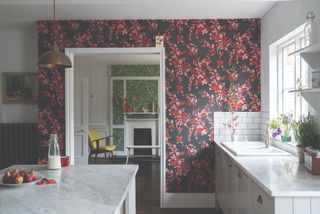 Warm up a modern kitchen with a berry colored paper on a black background. Hegemone's floral pattern blooms in all directions to add movement and a touch of vibrancy to this space.
29. Bring pattern into a hallway with a blossom print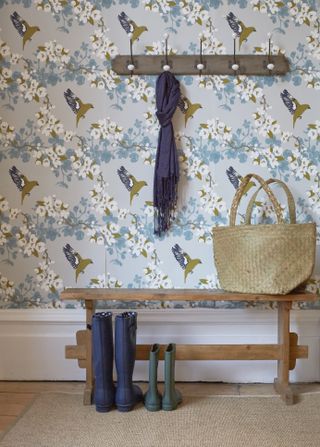 Inspired by native flora and fauna, this pretty design incorporates the greenfinch on a backdrop of pale blue sky and apple blossom. The design has a contemporary twist and the simple colors make it easy to accessorize with. Team it with warm wood for a modern rustic feel.
30. Traditional floral wallpaper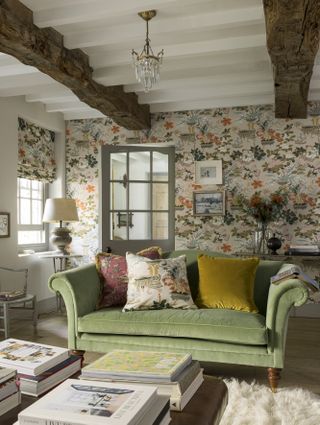 This gorgeous design was sourced from an early 20th century printed linen document and features chinoiserie scenes of Chinese floral arrangements and urns. To create a cohesive look, copy the style in this beautiful living room – the wallpaper, blind and cushion (forefront) are all in the same design. The apple green sofa pulls the scheme together and the accessories look great too. The walls have been left white to allow the wallpaper to be the focal point.
31. Romantic wallpaper ideas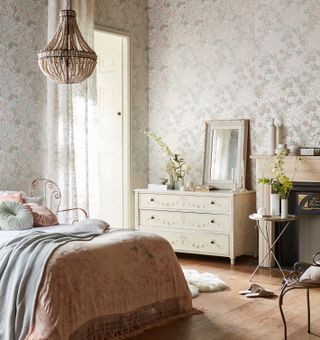 Bold and bright isn't everyone's thing - and that's okay, in fact, a more subdued colorway can be equally as striking in terms of wallpaper ideas, especially in the bedroom. This classic Morris wallpaper has a beautiful floral design that has a metallic finish which catches the light. It looks elegant and refined in this vintage style bedroom with its ornate furniture and accessories. Chose pieces that are off white, blush and the palest green to match the hues present in the wall covering.
32. Dot to dot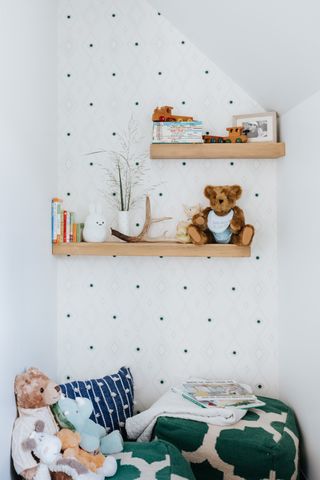 Add a playful touch to what may seem like blank space with a simple but effective dot to dot wallpaper print. Wallpaper by Hygge & West.
What wallpaper is trending for 2021?
We spoke with chasing paper founder Elizabeth Rees' about the latest wallpaper trends for this year and the best ways to use them in different areas of the home. 'We are seeing much more vibrant and bold prints being incorporated into homes this year versus years past. I think the days of all white everything are gone, and people are really starting to embrace color and mixing prints. We have also seen a continued interest in anything "grandmillennial." This is a trend that we have seen continue to gain momentum over the last few years. Wallpapering all walls of a room is a moniker of this trend; and is something we are seeing a lot more customers leaning towards versus the accent wall, which was an older trend that we see fading.'
Which wallpaper is best for living rooms and bedrooms in particular?
'For bedrooms, we love something a bit darker and moodier. Bedrooms are a perfect place to create a cozy and calm environment that can be achieved by deep, rich color palettes. For living rooms, we would recommend going a bit more classic or timeless, especially if your home is more open concept.'
Are there any stylistic differences to note when choosing designs for particular areas of the house?
'The size and openness of a space is always going to inform your print choices. Wallpaper works best when it feels cohesive with the rest of the home. So if you are looking into a smaller space like a powder room - perhaps you will want to go for a bolder print, but think about the wall color in the hall or room that transitions into the powder room and try to have the palettes work together.'
Which wall is best to wallpaper if doing just one?
'If doing an accent wall, it's most common to do the "feature" wall, meaning the wall that frames and draws you into the room the most. However we are seeing our customers moving away from doing accent walls and doing pops of paper in closets for a pop or print or wallpapering the entire space for a more finished look.'
Roll on up.