Get wacky and wonderful with washi tape ideas for home decor, walls, and furniture. Washi tape is a fun, budget-friendly, and effective way of adding playful color and pattern into any space. Plus if you change your mind, it peels off without leaving any damage – ideal for renters.
From jazzing up plain stationery with bright grids to creating impactful geometric shapes on furniture, or framing art prints with cheerful borders, where there's washi tape, and a sprinkling of imagination, it's possible to transform just about anything. Who doesn't love easy craft ideas to try at home?
Get crafty and colorful with DIY washi tape ideas
Why you can trust Real Homes Our expert reviewers spend hours testing and comparing products and services so you can choose the best for you. Find out more about how we test.
Beril Yilmaz, architect, designer and writer, Garden Furniture Sales, says: 'Washi tape wall décor is a great way to add some color and texture to your space without making a commitment. It is perfect for renters since they can simply take it out when they decide to move out.'
'It is very easy to turn one of your walls in your living room to an accent wall with washi tape. It is common to use black or colored tapes to create a geometric design on a white wall. Alternatively, you can use gold or silver tapes on colorful walls to create a spark. If you are not a fan of geometric designs, you can always go with vertical or horizontal stripes.'
'Another alternative is to create a shape and place it in a certain pattern on your wall. Triangles, arrows, crosses, or diamonds are perfect to create a pattern.'
'Finally, you can try creating a wall mural using washi tape. A colorful mountain view would be perfect for your kid's nursery to add playfulness to the space.'
Simply pick your favorite washi tape designs (Amazon and Etsy have zillions of options), and get the tape-therapy on with these bright delight, must-try ideas…
1. Create a stunning seasonal backdrop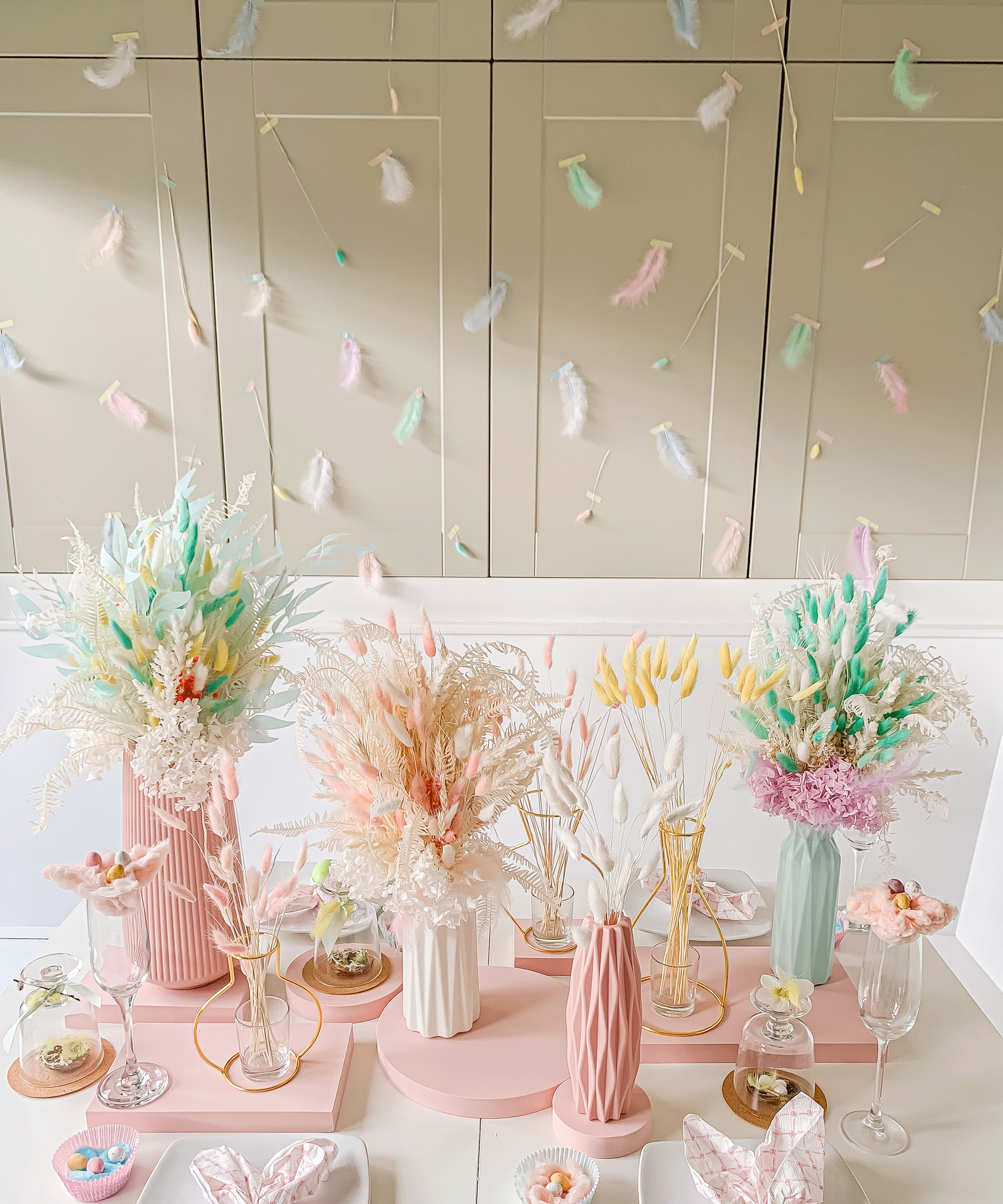 This featherly fabulous Easter decor idea by Oh So Kel, features pastel feathers fixed with washi tape to create a simple yet truly stunning backdrop that can be applied to mirrors, kitchen cupboards, and walls.
2. Frame art prints with washi tape borders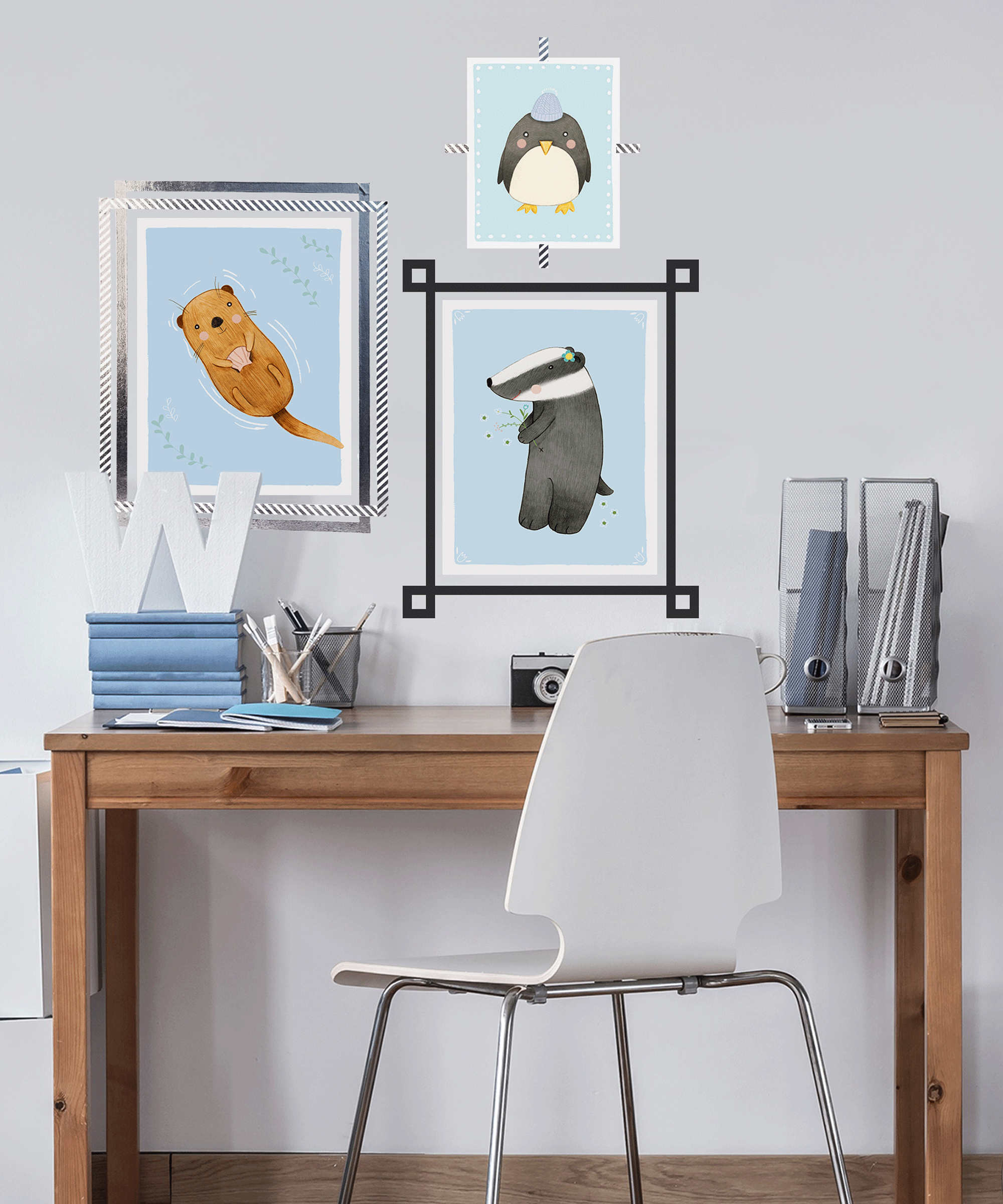 Elevate a gallery wall idea in bedrooms, hallways, and home offices with mix and match washi tape designs in different border styles.
Lily Wili, founder, Ever Wallpaper, says: 'Washi tape can be used to create a border around a photo or painting. This is a great way to add some personality and flair to your artwork. You can use different colors of washi tape to create a unique look.'
She continues: 'Alternatively If you're looking for a fun and easy way to spruce up your walls, try out some washi tape portraits! You can use different colors and patterns to create a unique look for your home. Plus, washi tape is easy to remove if you decide you no longer want it on the wall. So why not give it a try?'
3. Pepper walls in playful polka dots!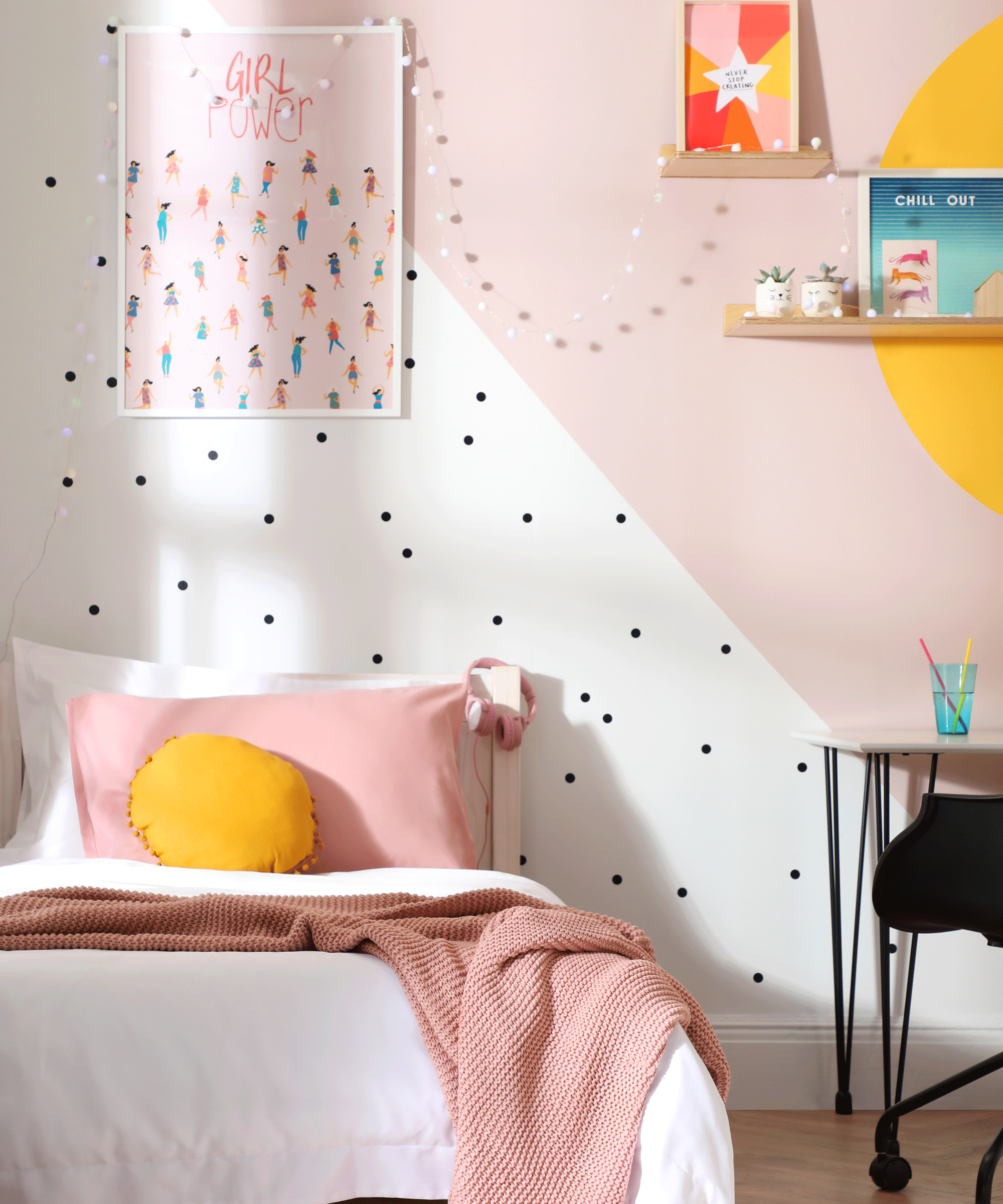 For a simple and FUN kid's bedroom idea, scatter and stick washi paper dots in large or small scales (or both) over one section of the wall - avoid covering the entire wall to ensure that the finished look remains playful, and not confusing!
Wili recommends sticking washi tape to the wall in different colors to create a fun pop of color. 'Washi tape is a great way to add some fun and color to any room. You can use it to decorate the walls, ceilings, and even floors! Try sticking it to the wall in different colors to create a pop of color. You can also use it as a way to keep your walls from being too plain.'
As shown here, pair this simple DIY idea, with an easy child's room paint idea to add contrast and dynamic to the space. Wallpaper who?!
4. Trim presents with washi tape for a personal touch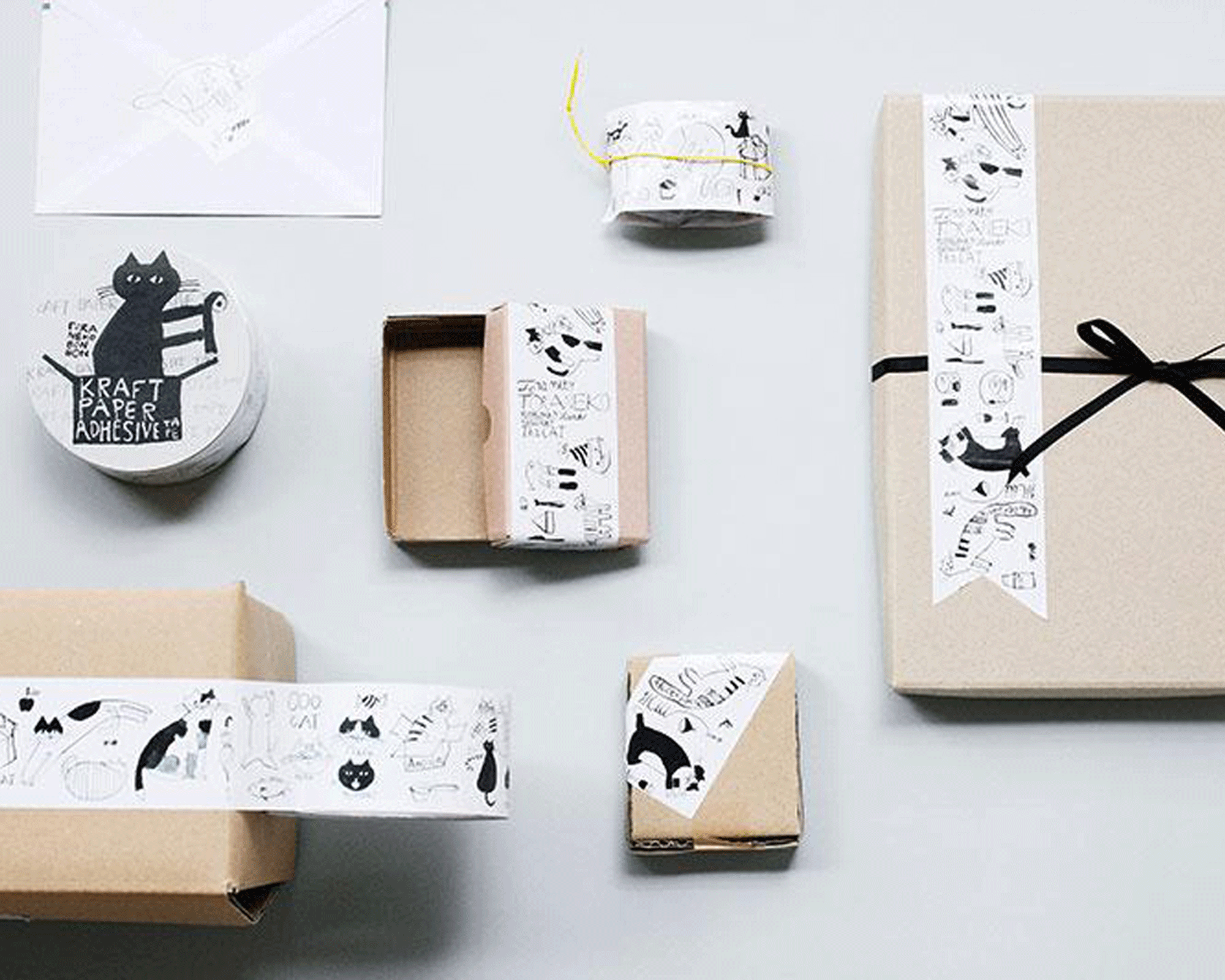 Make what's on the outside count as part of the thoughtful package deal, with this personalized gift wrap idea. Add simple strips of washi tape to plain wrap or boxes for an instant pop of color, pattern texture, or pair washi tape with ribbon or twine for an added detail. To give presents a contemporary twist, you could even try cutting washi tape into geometric shapes and creating a modern, minimalist pattern.
5. Protect surfaces with washi tape coasters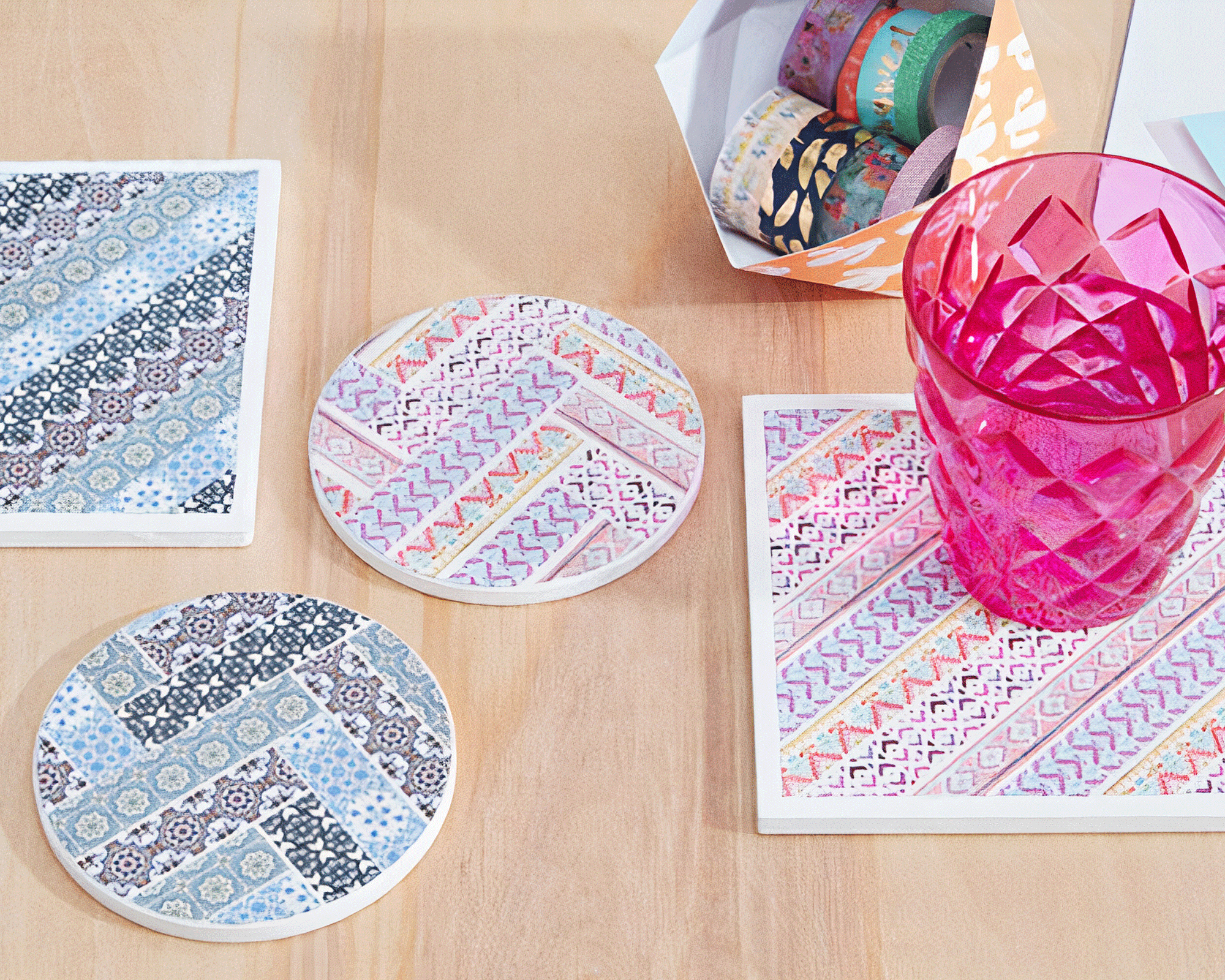 Washi tape is perfect for adding a quick personal touch to almost any product! These easy tiles and coasters make cute gifts, wedding favors and brighten up any home. Follow Hobbycraft's guide on how to make washi tape coasters, and perk up your upcycled coffee table with pretty pattern pops.
6. DIY washi tape clip magnets using clothespins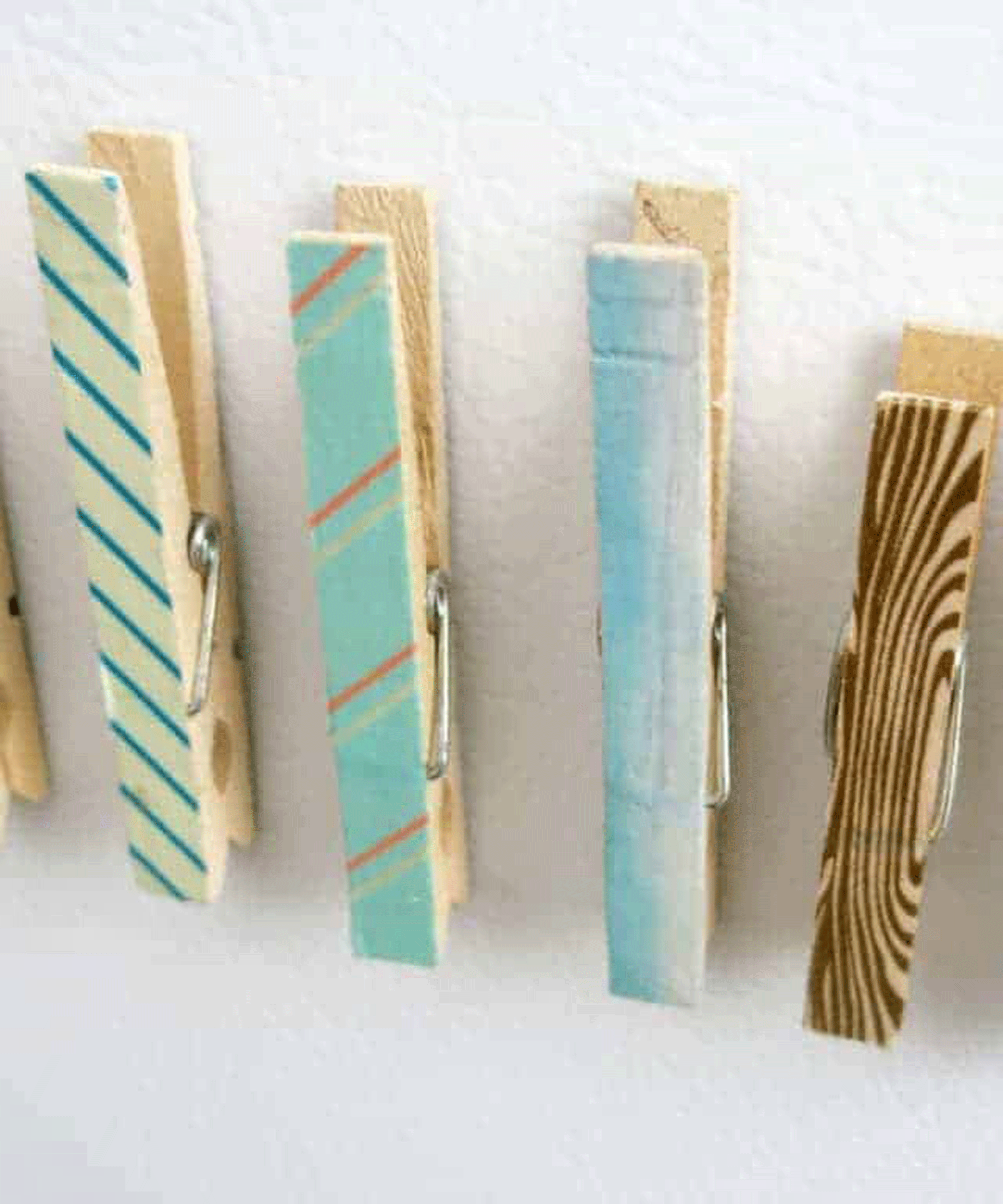 For a quick and inexpensive craft idea, make clothespins magnets with washi tape to display notes and photos on your fridge. Follow MakingManzanita.com's easy tutorial, and get the whole family in on the fun.
8. Washi tape mood tracker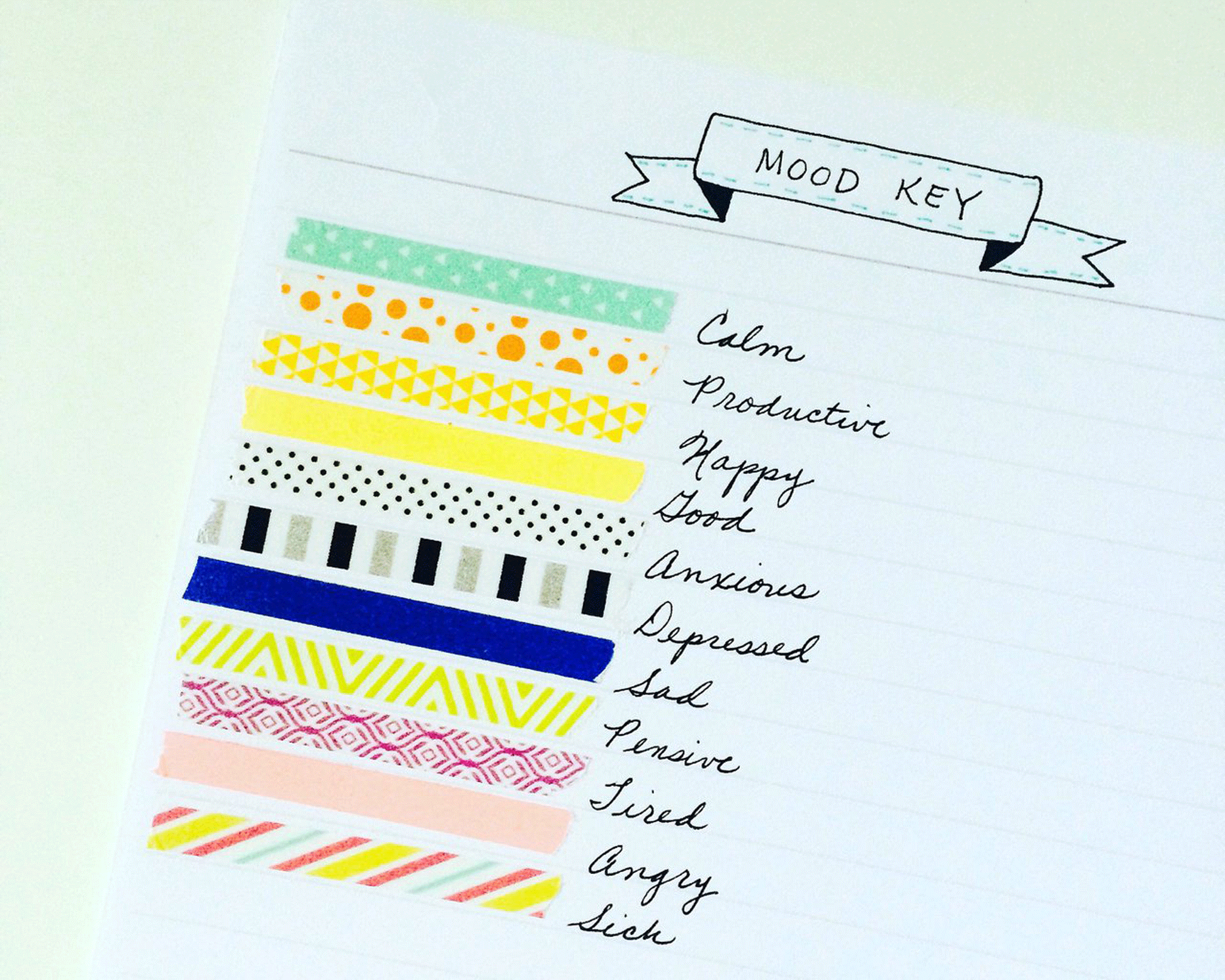 Introducing the Washi mood tracker from Craftic. Perfect for journaling advocates, keep track of daily, weekly, or monthly mood patterns with a different color to represent every swing from sunshine happy to need a cuddle sad.
Learn how to make a washi mood tracker today, and start the day with a smile.
8. Upcycle furniture in a jiffy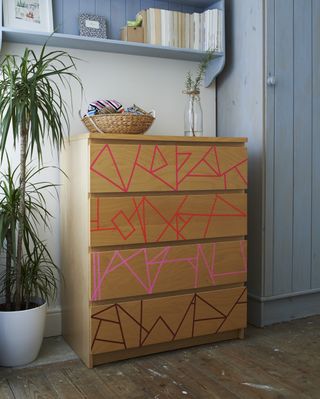 Give your furniture a new lease of life with this super quick and easy DIY project...
You will need:
FIND MORE DIY FURNITURE PROJECTS
This project was taken from Wooden Furniture Hacks by Hester van Overbeek, published by CICO Books and is available on Amazon.
Washi tape (it's a low-tack, decorative tape)
Chest of drawers (or you could adapt this DIY for other pieces of furniture)
Step one: decide on your washi tape
Think about what colors and patterns go well together. Here it's a chest of drawers that are being upcycled, so a color for each drawer has been used. By lining up the reels of tape next to each other, you can decide which combinations you like best.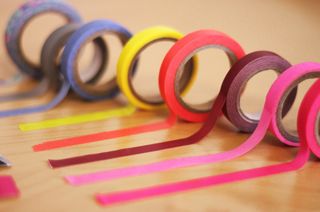 Step two: start sticking
Start sticking lengths of tape to your drawer, making different sized triangles, squares, and other geometric shapes. Press the tape on by sliding your finger over it. Washi tape is made from paper and sometimes needs a little help adhering correctly. Cut the ends of the tape in neat straight lines for a professional finish.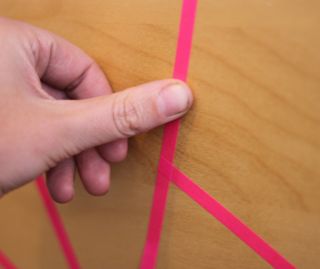 Continue to press the tape on by sliding your finger over it.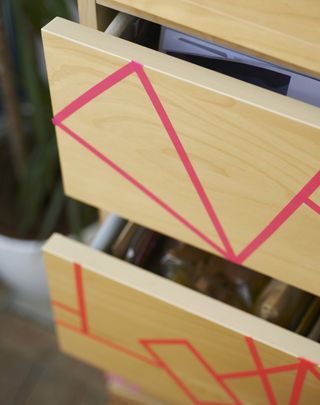 Step three: repeat for the other sections
Simply repeat the process on the remaining drawers, using different colored tapes to complete your design.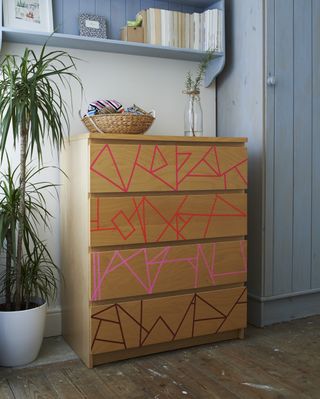 What can you do with washi tape?
Wili says 'Washi tape can be a fun and easy way to add an accent to furniture in your home. It's versatile, affordable, and easy to use. You can use washi tape as an accent on pillows, cushions, and other pieces of furniture. You can also use it as a decorative border on walls or as part of a mural.'
Washi tape is awesome for anyone that rents as it's a cheap, quick way to add personality to your space, 'This versatile adhesive can be used to create any design you want, and it's easy to apply - so you can get creative without having to worry about any messy mistakes.' Continues Wili.
What is washi tape?
Washi tape is a decorative adhesive tape made from traditional Japanese paper (wa meaning 'Japanese' and shi meaning 'paper') that's great for craft or journaling.
And if you're wondering what's so great about it, the stationery experts at Paperchase, say: 'Unlike western paper which is made from tree pulp, washi comes from Japanese shrubs. Typically, it's made from ganpi, kozo, mistumata, or sometimes hemp, but it can be fashioned from almost any plant.'
'The fact that washi tape is made out of highly renewable resources and is biodegradable means it's a great addition to your new sustainable lifestyle. So yes, you can recycle your washi tape!' Making it an awesome way to wrap an eco-friendly gift for even more green-living points.
'No need to wield any sharp scissors, washi tape is easy to tear by hand which makes it a great kid-friendly resource and for the scribblers out there, it's easy to write on if the plain paper is too "done" for you.'
'It's durable, it's waterproof AND heatproof – in case of water-bottle-in-bag leakage, craft-time-wine spillage, or if for whatever artistic reason you need to take a hairdryer to your journal (no judgment, you do you). And it will peel off without damage to be used again, giving it great value for money and a tick in the waste-reduction box.'