Looking for design ideas for your garage conversion? Making it look like a natural part of your home, and less like a converted garage, is vital for its success and your home's future saleability. Before work starts, commission scaled drawings of the finished project, indoors and out, and include details such as power sockets and furniture layout.
Find tons of design advice, inspiration and garage conversion ideas below – and for step-by-step practical information, check out our expert guide to planning a garage conversion.
1. Replace garage doors with consistent architecture
Ensure the brickwork, materials and windows replacing the garage doors match well with the existing house. Ask builders to fully tooth and bond the new brickwork into the old.
Often, the top of the garage door is lower in height than the other doors and windows on the ground floor. Consider whether you will be able to match the brickwork or external materials if the garage door opening requires reducing in size. In this case, you can choose to go for an architectural contrast, such as below.
Find out more about transforming the exterior of your home to get the finish just right.
2. Position the interior door correctly
Design the position of the interior door to the new room in the right place. 'It's best to consider what the ideal position would be, rather than going with the existing door if there is one,' says Nigel Lewis. Work out how the door's position will affect the furnishing of the new room – it's no use positioning it in an ideal place in the hallway if it makes the new room awkward.'
3. Get natural daylight into your garage conversion
If you can fit in extra windows to make the new space feel more like a room and less like a conversion, do so. If the garage faces the garden, replacing one wall with floor-to-ceiling windows or folding-sliding doors will make it feel wider and much more spacious, but do consider how this will restrict the layout of the room.
4. Pay attention to your room's proportions
The cheapest way to visually change the proportions of the room is by using paint colours that make it feel bigger and brighter. Keep windows uncluttered, and hang mirrors to reflect light and stretch the space visually. Shop for furniture that matches the room's proportions; if it's too big, the room will feel cluttered. Invest in good storage, too.
However, because garage conversions tend to produce long, thin rooms, you might choose to take more drastic measures to create a room with more pleasing proportions. One way is to fit deep storage cupboards or a shower room along the narrowest inner wall; the other way is to create a cloakroom at that end of the room, accessible only from the hallway.
5. Convert your garage into a kitchen diner
If your garage adjoins your kitchen, knocking through into the space to create a bigger, brighter kitchen-diner will give the best results in terms of usefulness and financial investment. If you do this, be prepared to plan very carefully to get the design details right. It's vital that the new room doesn't have the feel of a boxy converted garage.
'For this project (below), the owners wanted a stylish and functional kitchen and to open up the existing space to the outside area,' says Lucy Eckersley.
'To bring in light, we replaced the steel lift-up garage door with glazed folding-sliding doors'.
In designing the kitchen, the main problems were making the room feel cosy and welcoming, plus the limited space available, as the owners wanted to include a table, chairs, and a feature breakfast bar.
Find out more about designing the perfect kitchen in our guide.
'They chose the Avant black and white kitchen from Second Nature, adding colour with a vivid green splashback and bar stools. Corian worktops have been shaped to fit the curved units. The build and kitchen together cost £24,000.'
6. ADD A UTILITY ROOM AND CLOAKROOM
When a garage adjoins a kitchen or hallway, it will be very useful as a utility room. Use it for everything from laundry to extra storage and, if possible, squeeze in a downstairs cloakroom, too. Depending on your needs, you might even be able to devote half of a large garage to utility and leave the other half for a car. Or, you could split the room to create half utility, half playroom, for example. For a utility, underfloor heating will be useful for keeping the room warm and dry, while good ventilation is also a must.
Read more about planning and designing a utility room
7. Convert a garage into a home office
A home office is best sited away from the main living space if you have a family who will want the TV on while you try to work. If, however, it doubles up as a homework space, having it near to where you'll be most of the time can be very useful. It will need plenty of natural daylight to make it welcoming during the day, but invest in good blinds if it is south-facing, and ensure the heating is sufficient.
'As a detached garage, the building (below) allows me to maintain a degree of separation between home and work life, while also providing a space for the kids to do their homework in the evenings or at weekends without distractions,' says architect Paul Day.
'It is somewhere I work from occasionally, and provides a place to store my wife's paperwork. We also use the room to keep our personal filing, so it doesn't clutter the rest of the house. Wireless networking allows us to link all the home computers and share the broadband connection.
Wireless networking may need additional equipment to boost the signal to reach detached garages, depending on the distance from the house. Also remember that home offices may be liable for business rates – find out from your local valuation office. A similar conversion would cost around £8,000 to £10,000.
Find out how to design a home office in our expert guide.
8. Convert a garage into a playroom
For a garage off a kitchen-diner or living space, this is the perfect use for families with young children. Include a TV, too, to help keep your living room much more of an adult space. Good daylight, ventilation and lots of practical storage will all be must-haves. Bear in mind that children grow up very quickly, so when you're converting for this purpose, think five or 10 years ahead to how you might use the room, then, too. For example, a teenage den will keep your living room just for you.
'The original garage (below) wasn't used very much by the owners, so they asked the architects to create a useful space the whole family could enjoy,' says Jude Tugman of Architect Your Home. 'The garage doors were replaced with two windows in keeping with the period of the house, and the new room is accessed from the main hallway, just inside the front door.
'Inside, a mezzanine level was created to house a sleeping/lounging area. Beneath, built-in cupboards hide away the room's clutter – and even house a space for a sink and kettle. Sofas and a TV finish the room off perfectly. The work cost around £40,000.'
Check out these playroom design ideas for inspiration.
9. Design a home cinema room
Perfect for partially converted garages, cinema rooms can be converted without the need for windows, although sound-proofing will need to be good. Future-proof the room by installing a window anyway and fitting good blackout blinds.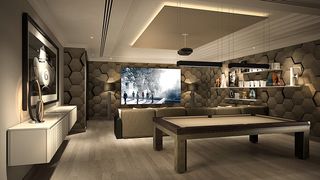 10. Convert a garage into a bedroom
With a small garage off a living space or hallway, converting it into a spare bedroom for guests will be a good idea, but the room will be much more practical if you swap a conventional bed for a wall bed or sofa bed and fit in a desk or exercise space to double the functionality. The downside to a downstairs guest bedroom might be lack of access to a toilet or shower room. So, if there is enough room, squeeze in a space-saving wet room.
'We halved our large garage and now use the rear part as a spare bedroom,' explains Ben Rousseau of the room below. 'The bedroom was created with a new blockwork wall and insulation, and by cutting light wells into the patio above to bring in light – although the front of the garage is ground-floor level, the rear space is below ground.
'We can't watch films very loudly in our living room as it's below our daughter's bedroom, so we decided to combine the new bedroom with a cinema room, and it now features a fantastic 3D screen and surround sound speaker system.'
'To make space for an en suite to the new room, we moved back a ground-floor toilet, situated off the hallway, and knocked down the wall of the utility, which has become the en suite and the bedroom entrance. The work cost around £15,000 in total.'
Read our guide to designing a bedroom to get your project just right.
11. Convert a garage into a living space
If your family is growing (or growing up), you'll begin to need extra living space to cater to everyone's tastes and needs. A converted garage that your kids can use – whether for gaming, relaxing or entertaining their friends – will be invaluable. Kit it out with plenty of slouchy seating (sofa beds will be particularly useful) and a flatscreen TV to create a versatile space that they'll gravitate towards. The downside? The older children become, the noisier they get, so ensure that the sound-proofing is up to the job.
'The garage conversion to this Edwardian property (below) was planned as part of wider project to reinvent and extend the house so the owners could have more space,' says architect Ben Parsons.
'The original garage was converted into a playroom, with a connection to the rear (south-facing) family room. A new garage was then built on to the side of this new room, with a new first-floor extension above.
'We designed the new frontage so that it would blend in as seamlessly as possible with the house and complement the original composition and materials. The whole project cost around £180,000, with the garage conversion itself costing around £20,000.'
Find out how to design a living space to get your conversion room how you want it.
12. Build a home gym
Ideal for a room that leads off a hallway or kitchen, a home gym will need to be fitted with air conditioning or a window that can be opened to keep it fresh. Add a flatscreen TV and mirrors to make it feel like a real gym, and devote the back of the room to a shower space.
Read more about how to build a home gym in our guide.
13. Build an annexe for guests
Converting a garage into an annexe is best suited to an unattached, probably double, garage because it will give both you and the occupant – whether an ageing relative or regular guests – privacy and space. Depending on your arrangements, you will have to fit in a shower, possibly a laundry room and kitchen, plus a generous bedroom/living space. The room will need lots of natural light, and you should consider how it will be joined, if at all, to the rest of the house. At the very least, you might want a covered walkway between the two buildings.
Read more: