Portable kitchen island ideas can be the perfect solution to small cooking spaces that still want all the style and function that a built-in island has to offer. These hardworking features can zone a space and provide an extra work surface plus, additional storage, too. Not forgetting that even if your island is on wheels, it will still make for a sweet sociable hot spot where family and guests can gather round.
So there is no need to fret if your kitchen space is on the compact side, as freestanding and portable designs make some of the coolest and most convenient small kitchen islands around.
Portable kitchen island ideas
Offering all the benefits of a permanent fixture, with added flexibility and convenience, Sara Mosele of Sara Mosele Interiors, comments: 'Portable islands are good for smaller spaces where everything has to have multiple function. An island that can become a table when moved to the dining area, or stay in the kitchen depending of what you need is versatile. IKEA is pretty famous for their moving islands.'
Available in a range of sizes and kitchen island styles to suit every home, make your portable design a central hub, or 'float it' to wherever suits to configure a layout tailored to your space and needs.
1. Expand the visual real estate of your kitchen with a utility island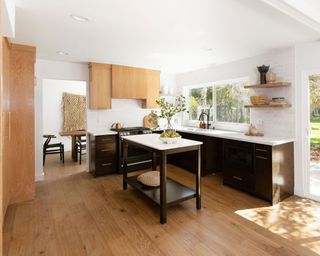 The size of a kitchen island can make or break a space. And, if your kitchen doesn't have enough room for a built-in island unit, the often overlooked smaller sibling, aka the utility island, is a fantastic way to add value and get the most out of your space.
Jessica Rae Sommer, senior creative director at Maverick Design, an interior design firm that's part of Wedgewood Homes, comments: 'Utility islands have a lackluster name but can add a surprising amount of value to a home. Similar to a regular kitchen island, they work by increasing workspace, adding a storage area and expanding the overall visual real estate of your kitchen, which can translate into dollars earned when you sell. They also offer a connection point and gathering space where people can congregate comfortably when entertaining. When looking to add a utility island, consider investing in a quality furniture piece that will give visual interest and hold up to the wear and tear of daily use.'
2. Let your island roam free on wheels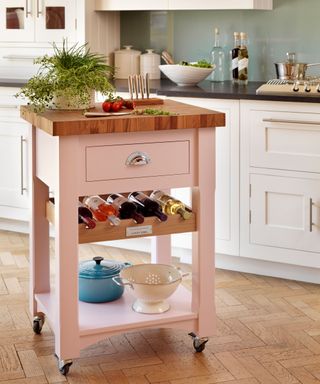 Just as the majority of us have adopted a flexible approach to modern working, apply the same philosophy in the kitchen, with a kitchen island on wheels that moves when, and to wherever, you want it. Especially handy in smaller spaces where space is limited, mobile kitchen trolleys allow you to free up precious floor footage in a nifty nudge, to suit the task – be it food prep, cooking or dancing – at hand. Not to mention, they bring a welcome addition of surface space.
3. DIY a design with crates to store and move goods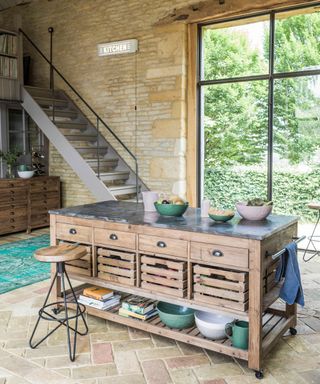 Welcome farmhouse character into your kitchen space with a versatile storage island handcrafted from recycled wood, on vintage-style castor wheels for easy movability. A mottled limestone kitchen island counter top makes a practical and tactile work space for kneading dough and rolling out pastry, whilst portable crates allow you to neatly store and transport anything from root vegetables to colanders, pots and pans.
4. Incorporate a breakfast bar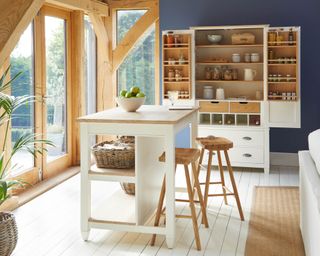 Get the most use from your portable kitchen island with a combination design that incorporates kitchen island seating ideas on one side and storage on the other. Coordinate your island with matching modular furniture for a cohesive look, or make it a focal point in its own right with a stand-out, color contrast finish for maximum impact.
5. Choose a compact design that's big on creative storage solutions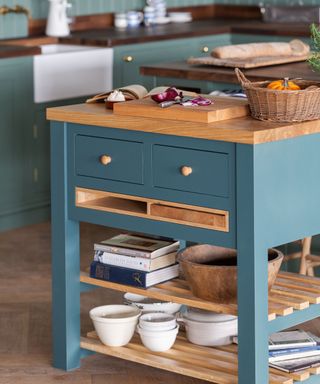 A freestanding island can be anything you want it to be – so long as it's detached that is. With this in mind, consider zoning smaller spaces with a compact harvest table or bakers table, designed with a multitude of innovative utility features to maximize its use.
'Harvest table or bakers tables are great options for those who are tight on space as they can easily be positioned around the kitchen to suit the task in hand. Perfect for smaller kitchens, harvest/butchers tables come with a range of creative storage solutions, such as built-in chopping boards, oak slat shelves and easy-access drawers, as well as wooden worktops for that extra counter space,' advises Al Bruce, founder of Olive & Barr.
6. Bring in tactile texture with natural materials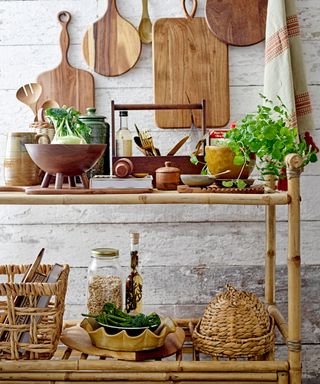 Celebrate the beauty of imperfection with a console table island made from bamboo or natural materials, rich in grain and pattern. Raw materials connect us to the natural world, lending a wholesome, organic and comforting aesthetic. Particularly favorable in kitchens that crave a rustic, homely look and feel, a freestanding bamboo design adds warmth to a space, breaking up uniformed cabinetry, whilst being lightweight to easily move as, if and when desired. Adorn your natural island with a plethora of artisanal wooden boards, glass storage jars and reactive glaze-ware canisters, to create a sustainably focused focal point that's as beautiful (from origin to aesthetic) as it is functional.
7. Add a touch of history with a reclaimed or repurposed design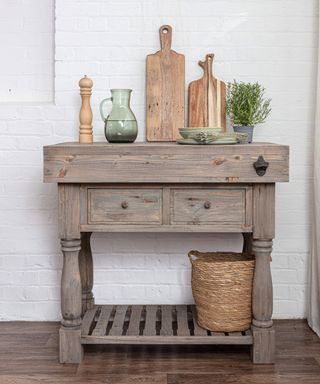 Elevate your kitchen ideas and design scheme with a sturdy, beautifully built and made-to-last antique with a story to tell. A gloriously grainy, reclaimed wood butchers block will grace kitchens of all shapes and sizes, adding chunky charm and textural interest.
For a quick and creative DIY kitchen island ideas makeover on a budget, consider upcycling or repurposing a pre-loved item of furniture that you already have at home. For instance, a wooden dresser or slim table with drawers can make a lovely, improvized island with built-in storage at hand.
8. Integrate a pet bed into your island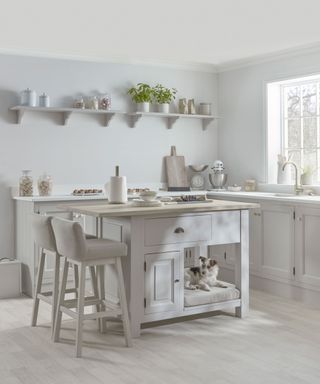 They're around our feet twenty-four-seven, especially when there are potential tip-bits to be had, so why not treat your favorite furball to a resting retreat to await their rewards in crumbs?
Create a styled, coherent space with all the appeal of a sturdy, well-crafted collection, for your furry friends to stay close. A pet bed kitchen island is a lifestyle, as well as a design choice, with space-saving potential and a sleek, timeless look, to cater for all members of the family – two legged and four legged.
9. Combine a wine rack into your island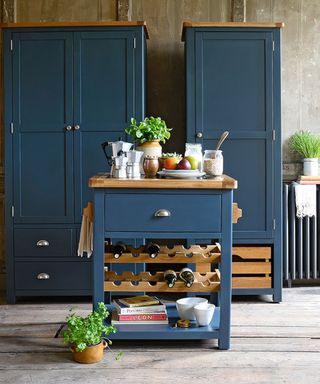 We can't all afford the luxury or space of a wine cellar, but for more modest, sociable homes that love to entertain and appreciate the finer things in life, a compact island that packs a whole lot of storage into a small footprint, ticks a lot of boxes. Opt for a design that thoughtfully integrates a whole range host of options, including a drawer to organize kitchen utensils, a wine rack, and an under-shelf for all of those cook book saviors, rails with hooks for kitchen linens at either side, and a heat resistant top, that keeps its cool in times of cheese board preparation.
10. Lend a gentle industrial feel with a wood and zinc contrast console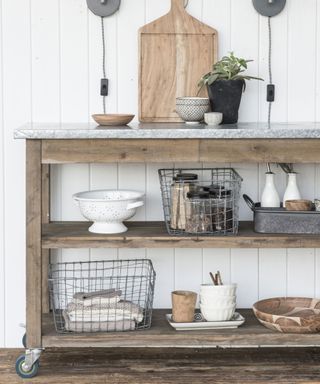 A distinctive rustic zinc top console featuring a weathered wood contrast will definitely stand out from the crowd in an industrial style kitchen. Choose a design with open shelves to happily fill with treasured kitchenalia and beloved books – creating an attractive display and rustic highlight in any home. And if you fancy switching things up through the shifting seasons, simply wheel your utilitarian hero from the kitchen to the hallway or utility room, depending on whatever takes your fancy.
What is a moveable kitchen island?
Portable or movable kitchen islands add extra counter space and storage solutions to any kitchen. Islands on wheels or freestanding islands can be repositioned to specific needs and space requirements, as and when required. Portable kitchen islands are a fantastic, multifunctional option in smaller kitchens where space is limited and a flexible configuration is favored.
What portable island options are best for small kitchens?
In smaller spaces and compact kitchens, a butcher's block or utility trolley can provide the same functionality as a fixed kitchen island, but on a much smaller footprint. Choose a design with built-in storage solutions so that you can utilize space and maximize use.