Designing a bedroom is fairly simple, but designing kids' rooms is a whole different matter. It should be a fun project and, from a very early age, their ideas will be part of the list of requirements, but long-term thinking is also key to success. It really pays to plan for a decorating scheme, and the furniture that goes in it, that will last for – or at least need rethinking – five years. This level of planning will help your budget go further, and should help you avoid costly mistakes.
Find out more about designing bedrooms and get tons of inspiring ideas, too. Expecting a baby? Find out how to design a nursery in our essential guide.
Of course, kids' needs and tastes will change, and room swaps between siblings or even with you might take place if new family members arrive and as individuals grow up. However, if you consider each of the room's ingredients in turn, you'll discover many of them can be future-proofed.
Ready to start a kids' room project? Follow our guide and we'll take you through all the steps necessary to create a room with flexibility built in that'll be a hit with them as well as you. And when you're done, check out our kids' room design ideas and children's small bedroom design ideas for tons of inspiring ideas to copy.
How to choose kids' bedroom paint
Before you think about paint colour ideas for your kid's room, consider the type of paint you're going to use:
Matt emulsion will create a flat finish. Look for wipe-clean versions rather than traditional matt paints to keep the walls in a good state for longer.
If you want a finish that's more resistant to marks and scuffs, opt for paints that can be scrubbed clean.
Chalkboard paint can be a huge hit in kids' rooms. Use it over a noticeboard-sized area, or even a whole wall.
Paints that do not give off fumes (low VOC) or durable paints are the most sought after. Here, we have selected some of the best paints for kid's rooms
When it comes to colour, painted walls have the advantage of being relatively quick and easy to update in future. Bear in mind, though, that the darker the shade, the more coats you're committing to for a colour swap.
Colourful paint finishes will give the room a personal stamp kids will love. Bear in mind, though, that if they ask for a certain shade but already have bedlinen and decorative accessories in the same hue these won't stand out against the walls. A striking colour may not work harmoniously when the next passion comes along, either. One alternative is to try engineering a more sophisticated compromise – for example, raspberry or amethyst instead of pink.
Neutral paints have the advantage of longevity and can make future room swaps quicker as the colour won't need to be changed to suit the new occupant. But don't forget that pale shades – while a flexible backdrop for colourful accessories – are more easily marked, so cleaning, touch-ups and full-on re-decorating will be more frequent.
Focus on kids' room wall decor
Wallpaper is another route to giving a kid's room personality. Many children's wallpapers are bold and busy, so don't feel obliged to use one on all four walls if it's going to look overwhelming or make the room feel too small. Instead, try hanging it on a single wall or perhaps two.
Don't just think dedicated children's wallpaper, either. Patterns including geometrics can look just right, and usually come in a range of colourways from bold to more subtle shades to suit the age of the room's owner. For example, grey wallpaper in an interesting pattern offers a brilliant backdrop for an evolving scheme.
Murals are another eye-catching alternative. They work like a feature wall created with wallpaper, but you can size the design (rather than working with standard rolls of wallpaper and pattern matching). Themes include animals, birds, maps and charts, astronomy or architecture, as well as patterns.
Simpler to use, wall stickers can add interest to children's rooms, and are easy to remove when they tire of the design. There are versions available to please kids from nursery age to sophisticated teens, so don't just consider them for little ones. Be bold in scale, either with a single image or in creating a group as they'll tend to look lost otherwise.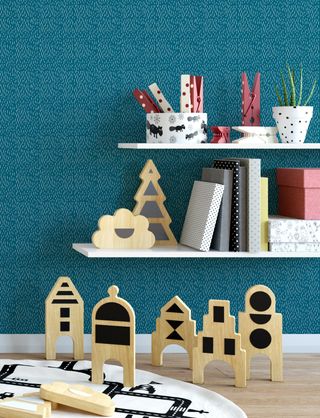 Pick the right kids' room carpet or flooring
Carpet is warm and comfortable underfoot and to sit on. It will cushion falls and is forgiving when items are dropped on it. It can also provide effective noise insulation – useful when kids are playing. On the downside, carpet can get stained so spills should be blotted immediately then gently cleaned. Polypropylene is dirt and stain resistant and often marketed for kids' rooms, but an 80% wool and 20% manmade fibre carpet is durable, moisture and dirt-resistant, so don't rule it out if you prefer to boost the natural element. If your child suffers from allergies, carpet is not recommended – try one of the hard flooring options below instead.
Vinyl flooring that's good quality is warm, hard wearing, easy to clean and forgiving as a surface. It's available in brilliant colours, if you want to make the floor the focus, as well as more subtle shades, or opt for the neutrality of a wood-look vinyl.
Rubber flooring is a practical and good looking option for kids' rooms. It's soft and comfortable and a really durable surface that's easy to keep clean. It also provides good noise insulation. There's a wide choice of colours.
Laminate is a functional flooring alternative for a child's bedroom. A good quality version will stand up to wear and tear, and is easy to look after.
Wood is natural and easy to keep clean. Solid wood and good quality engineered wood floors can be sanded and refinished if marks are made, so last for many years, and timber will continue to look good while other room elements change. Although wood has some shock absorbance, it won't match carpet for this and will be more noisy.
Find a kid's bedroom rug design
If you pick either a hard flooring option like wood or laminate for a child's room, or want to brighten up a plainly carpeted floor, layer a rug on top. Flat weave or short pile rugs are easiest to keep clean and both wool and cotton are soft and durable.
Whichever type of rug you choose it's vital to make sure it isn't going to slip. Underlays and grips designed for the purpose will prevent accidents.
Kids' room rug designs range from the themed (which might only be a hit for a very short time) through traditional motifs like stripes, spots and stars, to plain blocks of colour that won't get into competition with patterned wallpaper. Once again, if making the decor last and the budget go further is key, the more classic the design, the better.
Pick kids' bedroom curtains, shutters and blinds
Shutters are a popular choice. Solid shutters are very effective at keeping daylight out to prevent sleep disruption, making them a particularly strong contender for a place in younger children's rooms. They're available painted as well as in wood finishes. Both these or slatted shutters will look good and last for years to come.
Blinds are functional, too. Choose black-out blinds to block light effectively or go for a more decorative fabric with a black-out lining. Venetians offer good light control and can help avoid glare on screens. Blinds that operate on a spring or are motorised are designed to be child safe, as are those with breakaway cords. Otherwise, fit a separate safety device to keep the cord out of the way.
Curtains bring the soft drape of fabric to a room and can introduce a touch of colour or pattern. Cleaning will be more time-consuming than that required for shutters or non-fabric blinds, however. Blackout lining is available, but it won't block out all of the light, so team with a black-out blind to make the room darker.
Window film is a great supplementary option, too, if your child's room is overlooked.
Which kids' bedroom lighting?
Just as in other rooms, children's bedrooms should have a range of light sources for flexibility.
Ambient light for the room is usually provided by a ceiling pendant, down lights or track lighting. You might want to hang a pendant with an attractive shape (to throw interesting patterned shadows), or in a beautiful colour. If the design leaves the room without adequate all-over light, supplement with down lights.
Bedside lights may need to offer different functions at different stages. For younger children, a nightlight can provide a comforting glow. For reading a bedside lamp that's bright enough to avoid eyestrain is vital. The bulb should have an output of around 400 lumens.
Desk lights need to illuminate the whole desk area, including computer screens, and the bigger the expanse of desktop, the taller the lamp needs to be. A design that can be angled is useful to direct light to the current working area whether screen or paper. Kids need less light than adults, but look for around 450 to 900 lumens.
Decorative lighting can be a great way to personalise a scheme. Fairy lights around a bed frame or plug-in LED strips are low-cost ways to keep up with changing tastes.
Check out our selection of the best kids' bedroom lamps and find out more about creating a good bedroom lighting scheme in our guide.
Buy the best kids' room beds
Toddler beds are practical because they're low to make climbing in easy, and are designed to prevent kids rolling out. After that, it's down to aesthetics with a choice between more whimsical offerings and plainer wood or wood-look designs.
Extendable beds are sized for toddlers but pull out to keep up with growth, so they'll fit for longer.
Full-size single beds will be practical for many years (and handy as a guest bed after that). Guard rails can be added to avoid rolling out. Consider a design that incorporates a pull-out under bed for sleepovers to save space.
Double beds are worth considering for kids of 10 and upwards if there's room. A divan with built-in storage in the base can prove extremely useful as their stuff accumulates.
Raised beds can be space-savers, adding storage and/or a desk underneath so that even a box room can be well-equipped. Even if the floor area isn't limited, one of these can make the room more interesting with its themed design or because there's curtained-off play space below.
Bunk beds are space-saving for room sharers, or ready for sleepovers if the room has just one occupant. Top bunks should be reserved for the over sixes and the mattress shouldn't be so thick that it allows them to roll over the barrier. The ladder should be securely fastened, too.
Storage beds include those with built-in drawers and roll-out containers underneath as well as raised beds with matching chests of drawers and shelving below. Also consider an ottoman-style bed with capacious storage that can be accessed by lifting the mattress for older children.
Day beds are designed in sofa style with a support along one side as well as a headboard and footboard so they're a comfortable place to sit during the day as well as a sleep space. Some have built-in storage, too.
Mattresses should provide adequate support and keep up with their growth. Like adult mattresses even if it still fits, it's important to change the mattress around every seven years so it continues to do the job it should. Make sure it's compatible with the bed whether it's a divan or a frame design if you're purchasing the two separately.
For little ones, don't forget waterproof mattress protectors, too, and dress up a new bed with our selection of fabulous children's bedsheets and duvet covers.
Select kids' bedroom furniture
After furniture that lasts? Follow these guidelines:
Shelves are more useful than hanging space in wardrobes for younger children.
Choose a design that allows the insertion of a rail later.
If you're short on floor space in older children's rooms, look for a wardrobe that incorporates drawers and a hanging rail in one piece of furniture.
A painted finish can make a wardrobe or chest a bold focal point for younger children, and is easy to update with a neutral colour in a few years' time.
Maximise storage opportunities with bedside tables that have drawers.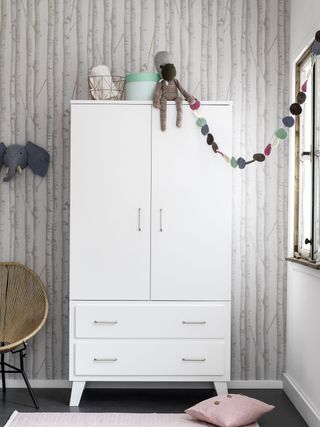 Corral clutter with the best kids' bedroom storage
Kids' room storage needs lots of forethought, whether you're thinking toy storage or clothes' storage.
Adjustable shelving is a must-have for a successful kid's room design. That way it can adapt to books, photos, mementoes and more when toys are left behind. It needs to be safely fixed to the wall and accessible, of course – anything unreachable won't be used.
A mixture of open and closed storage is best. It's important they can have favourites on show at every age, but being able to shut the door on stuff that's used less frequently will help keep the room more ordered.
Modular furniture is a good idea as new units can be added as collections grow.
Chests are useful for medium to larger toys when they're little, and anything from old schoolwork to out-of-season clothes in later years. They double as seating, too – add a seat pad for comfort. Alternatively try a specifically designed window seat with a lift-up lid, or an upholstered storage ottoman.
For younger children's rooms easily moved bins (perhaps with castors) and baskets will help you sweep the clutter off the floor and out of the way swiftly.
Transparent drawers will help kids find the toys they're looking for more quickly.
How to get kids' room design right when they're sharing
Bunk beds aren't the only option for room sharers, and an alternative strategy can even prevent squabbles. If you prefer the idea of two singles but they won't fit alongside each other, try them at right angles with a bedside table in the corner.
For a more substantial division between areas of the room put up a half wall or use modular shelving, curtains or screens as separation.
Consider different decor styles in each half. Colours can be complementary while creating distinct looks.
More fab ideas for kids' rooms