Using beautiful wall coverings is an easy way to transform a kid's room from something a little plain and predictable, into a space they'll love to spend time in. The best children's bedroom wallpaper ideas as you can imagine, are full of personality. They tend to be fun and carefree but that's not to say that they can't add style or even complement the rest of your home's decor too...
Using an array of colors and spirited patterns is a great way to inspire young minds, while older kids will jump at the chance to express their creativity with a striking design of their own choice. Here's how to select the best wallpaper ideas for your little ones.
1. Have fun with bold color and pattern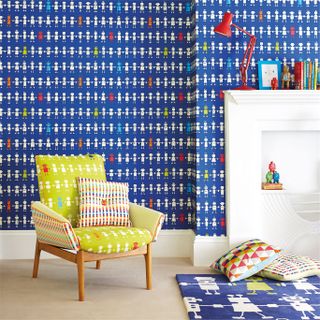 Keep kids' rooms classy but fun with a neat geometric wallpaper design and a bold background color. Combine with a colouful rug and cushions for an extra pop of interest.
Available with a blue, green or neutral backdrop, this Reggie Robot wallpaper by Harlequin features rows of mini robots to create the effect of a striped wall.
2. Foster a love of nature with a forest print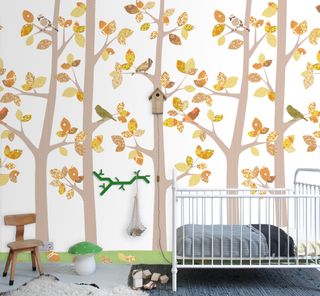 A children's bedroom wallpaper print that's close to nature will offer a little escapism and fuel even more interest in outdoors exploring, animals and plants. So think of the walls as an opportunity to delight and entertain, but also to educate them.
3. Add a little texture for a multi-dimensional effect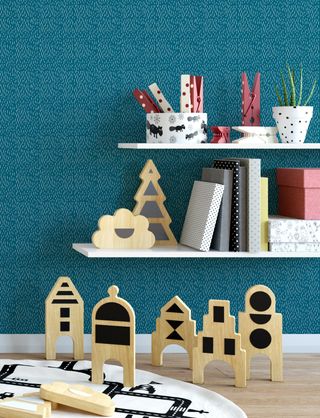 Textured wallpapers are fun and useful for visually enhancing a small room. Kids will love their tactile look. Pick a colorful option for younger kids' rooms and something monochrome for older children.
4. Go coastal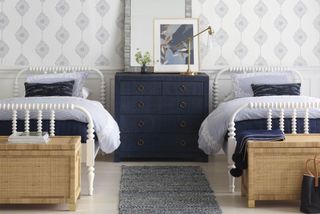 If your kids love the beach (what kids don't like the beach?) take them back to gorgeous those family summer vacations eating ice cream and playing about in the sand with a coastal vibe wallpaper. The delicate pattern of the Luna Stripe wallpaper by Serena & Lily is sure to have kids and adults alike daydreaming and it works well with pared back, neutral decor.
5. Sci-Fi classic
No childhood is totally complete without a little Sci-Fi. Let your kid marvel at superhero characters – we couldn't help ourselves – all day long with an imaginative motif print that defines the rest of the space perfectly.
6. Clash of the prints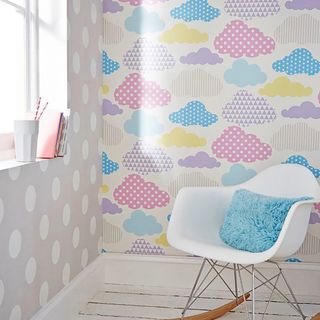 Pastels are an enduringly popular choice for kids' bedrooms and they work well as accent wall ideas too. Pair yours with another wallpaper print that is more neutral in color but still busy with design for an eclectic finish. We love the dreamy Marshmallow Clouds design from Graham & Brown.
7. Pick a wallpaper to match your child's interests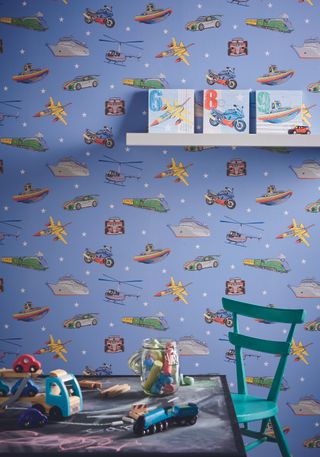 When kids are interested in something, whether it's animals, cars, or playing nurse, they can't get enough of their new interest. Encourage them to explore their favorite activities with a matching wallpaper.
8. Enhance playtime with an activity wallpaper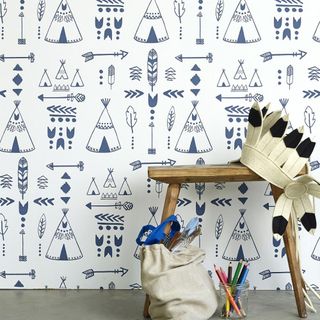 Bring outdoor play inside with this stylish Teepees wallpaper from Hibou Home. It's also a paste-the-wall design, which makes it very easy to hang.
9. Choose a bold print for a statement wall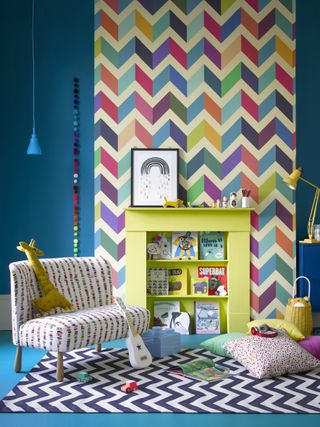 The great fun of decorating kids' rooms is that patterns and colors don't need to match. Indulge your child's love of bright color with a bold geometric print. Experiment with different patterns by wallpapering just one statement wall. Any soon to be teens will also love the grown up feel of the space.
10. Inspire their drawing skills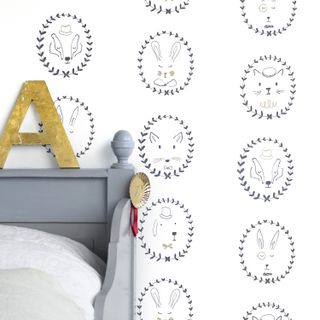 If you prefer a subtle look in neutral tones, go for a wallpaper in a monochrome print. It can still be playful and fun, but will not overpower an understated kids' room decor. What's cute about the design of Portraits Wallpaper by Hibou Home is that kids will love trying to recreate those animal motifs, hopefully on paper rather than the wall!
11. Pick a versatile pattern in older kids' rooms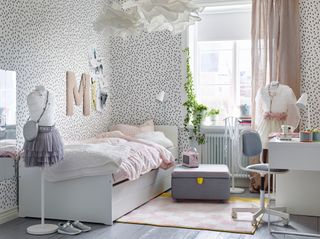 Older children will want a more grown-up wall treatment; this doesn't mean that only plain white wall will do: choose a wallpaper with a graphic design, such as asymmetrical polka dots, and it should see you through most of the teenage years.
For a similar polka dot wallpaper design, try the Dots Black & White Wallpaper from Graham & Brown.
13. Dinosaur colors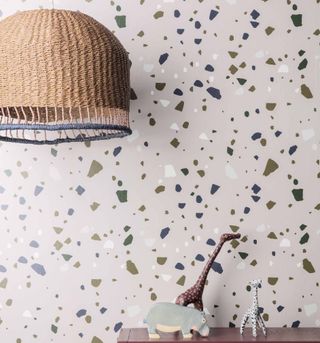 Tune into their love of dinosaurs (and into your love of earthy colors) with an abstract print that picks up on those lovely hues.
This terrazzo print will work really well in older children's rooms also and will appeal to kids that like drawing and painting too. Choose a wallpaper with a neutral background color for a sophisticated look that will work with most furniture sets.
14. Pick a wallpaper that tells a story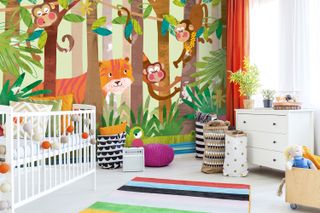 Nothing keeps little kids occupied like a good story. With a storytelling wallpaper, getting them to imagine that they are inside a fairytale will be easy and effortless.
We love the very colorful 'Monkeys' Wallpaper Mural by Clare Wilson Studio, available at Wallsauce.com.
15. Don't be afraid of pink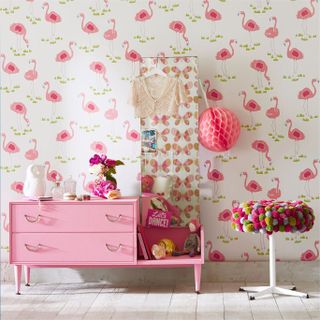 Pink is a firm favorite of many children – and rightly so, it's a warm, welcoming shade. If you can't stomach an overly pink bedroom, but your child loves the color, pick a wallpaper with pink accents, then pair with a pink chest of drawers.
Our pick of wallpaper pink is the wonderfully named Felicity Flamingo wallpaper from Scion, available at Wallpaper Direct.
16. Choose a wallpaper design that will grow with them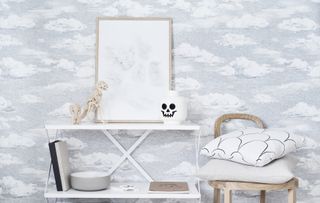 Most kids' room wallpaper designs will need replacing several times while your kids are growing up. If the prospect of renewing the children's room wallpaper every few years does not appeal, choose a design that is not exclusively for kids' rooms and it should accommodate all age stages.
The Classic Seasons Winter Snowdrift Wallpaper by Sian Zeng is a keeper – even after they've grown up.
17. An educational map mural design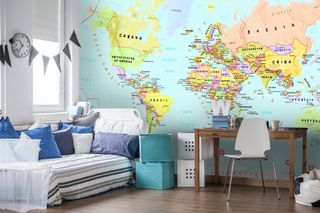 What better way to help you kids learn the map of the world than having it up on the wall? The light blue background is a bonus, since it will work with most bedroom designs.
A variety of Children's Map Wallpaper designs is available from Wallsauce.com.
18. Decorate together with wall stickers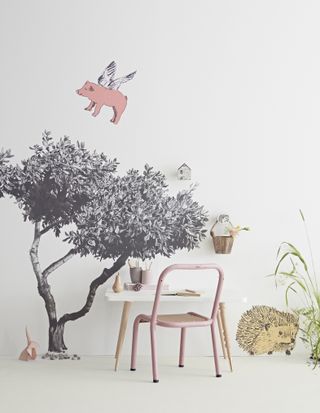 Make a fun day of decorating the bedroom together with your kids (and perhaps even get them into DIY projects along the way!) with wall stickers.
The Croatian Fabric Sticker Sets from Sian Zeng are easy to reposition and remove, and are eco-friendly, too.
19. Go for a super-cute design – if it matches your child's personality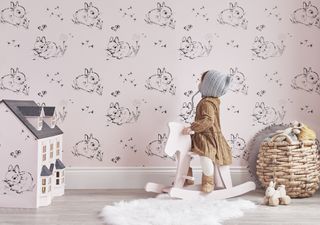 If your child is a delicate, sensitive soul, and their favorite thing to do is to quietly play with their pet bunny/kitten/puppy, why not reflect their sweet personality in your choice of wallpaper?
The Little Bunny wallpaper in pink by Bear & Beau is delicate and oh, so cute.
20. Neutral looks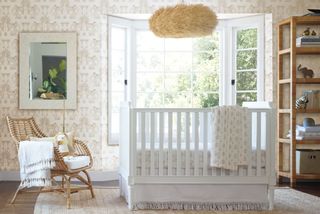 A gentle hue and print means that the other gorgeous elements in your kids space can all play a part in creating a cozy setup. This nursery is calm and serene with natural materials and some accent design features to still add a touch of grown up style to it.
Time to dream 🙌