On the hunt for the best single bed that you can buy? There's no one-size-fits-all with single beds as much like all other furniture as it's down to personal style. Rest assured though that we can help you find something to suit your home decor style –and also the size of your room. Whether it's something for a modern home or a Scandi-style bedroom, or perhaps you're going for a boho look? Either way, we've got a range of styles for teeny bedrooms, larger spaces, smaller children, adults and even a few single beds that double as savvy storage.
Think grown-up options for teenagers, elegant sleeping spots for solo sleepers, plus playful kid-friendly designs. In other words: there are more single bed options on the market than you might expect. To make this choice simple, we've rounded up our pick of the best single beds from some of our favourite retailers. We've listed them below, so get browsing now and choose wisely.
Searching for a different size bed? See our best beds guide for more stylish recommendations. If you're redecorating, head over to our bedroom ideas hub page for some design inspiration.
The best single beds out there
Why you can trust Real Homes Our expert reviewers spend hours testing and comparing products and services so you can choose the best for you. Find out more about how we test.
1. La Redoute Jimi Platform Shelved Bed
La Redoute Jimi Platform Shelved Bed | £299 at La Redoute
A cool single bed that boasts an on-trend retro design, La Redoute's Jimi bed is shelved at the bottom, for everything from their books to their favourite cuddly toys to sit. The low slung base and tapered legs are so in right now (think pallet bed without the discomfort). Plus, you can even move where the shelf sits, from at the end of the bed to the top, in place of a bedside table. Kids, adults and even kidults will love this single bed. We do! Just remember that it doesn't have a headboard, though...
Remember to check the price at La Redoute. Quite often, this retailer has a sale on so click through in case this bed is discounted. You can also bag a great price using one of our La Redoute discount codes.

2. Made Roscoe Single Bed
Made Roscoe Single Bed | £349 at Made
This delightfully stylish single bed is from Made, and it comes in a gorgeous Aegean Blue colour. With bold luxe legs that are made from traceable timber, this solid base even features room underneath to store seasonal clothing, toys or an entire bag collection. It has a fabric, rounded headboard that's tall so as to make a statement, plus the bed itself is rounded for a softer look.
3. Versailles Day Bed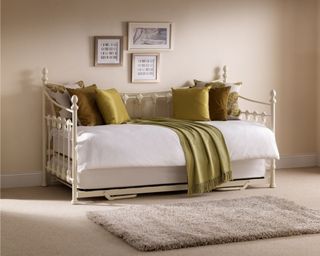 Julian Bowen Versailles Metal Frame Day Bed | £299 at Cuckooland
If you're looking for a single bed that suits the needs of a spare room, but don't want to fork out for a sofa bed, a day bed can make a lovely alternative. Style with extra cushions and throws when not in use as a bed and this stylish bed is instantly transformed into a space to relax. The best bit? The Versailles Day Bed can extend into a double bed, should you wish.
4. Habitat Platform Single Bed Frame
Habitat Platform Single Bed Frame | £80 at Habitat
This space-savvy platform bed is ideal for those who need something to place inside a smaller bedroom – whether spare or main. It comes in a single size as well as a double, not to mention that it's super budget-friendly. There's plenty of space for storage underneath, whether for spare bedding, toys, a shoe collection or anything else. With no headboard or footboard, this single bed ought to fit inside any size room – awkwardly shaped or not. With a minimalist frame, it will also seamlessly blend in with any modern, contemporary or minimalist decor scheme. We love!
5. La Redoute Katsuki Child's Rattan Bed with Base
La Redoute Katsuki Child's Rattan Bed with Base | £475 at La Redoute
This gorgeous single bed will be sure to make a statement inside any room – small or large. With a rounded headboard and footboard, it cocoons you for a restful night's sleep, plus it sits atop a total of 8 feet for the ultimate stability. Not just for boho-style homes, this rattan bed works well in colourful interior schemes and rustic homes alike, as well as stylish Scandi style homes. While it also comes in a cot bed size, we're totally gutted that it's not available in a double or king size.
6. Habitat Pandora Single Ottoman Bed Frame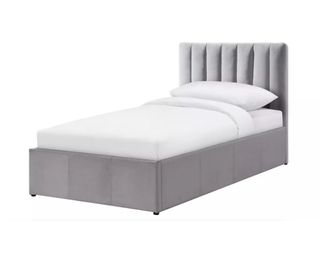 Habitat Pandora Single Ottoman Bed Frame | £270 at Habitat
Simple yet understated, this ottoman bed frame features heaps of hidden storage underneath to carry your clutter in style. Just pop it open from the foot of the bed to reach your belongings or hide them away. Upholstered in a soft velvet fabric, this single bed has an undeniably comfortable headboard that boasts a tubular design to inject sophisticated vibes into this room. Choose from a subtle grey or inject a pop of colour into your bedroom with the blush pink version. Perfect for teens, or for a teeny room that you want to look elegant at the same time.
7. Furniture123 Arlo White Teepee Bed Frame with Pull Out Storage Drawers
Furniture123 Arlo White Teepee Bed Frame with Pull Out Storage Drawers | £289.97 at Furniture123
This uniquely-shaped bed is the stuff of Instagram dreams. The kids will love it, and so will you thanks to its space-savvy features. Not only does it boast two drawers for their pyjama collection and their spare bedding sets to live, but it's a fun shape and you can decorate it with everything from fairy lights to faux foliage and flowers. It's also low down so you needn't worry as much about smaller children sleeping on it, plus it comes in your choice of white or grey. Sturdy, too, and its unique teepee design means they can't jump up and down on it and make your downstairs lighting shake. Win-win!
8. Nox Aspen Single Bed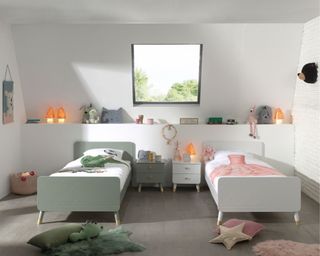 Nox Aspen Single Bed | £279 at Room to Grow
Stylish and functional, this wooden single bed boasts a slatted base and angled feet, plus it comes in your choice of a plain white or a playful olive green. With chevron detailing to add texture and style to a smaller room, as well as gold-effect feet, this bed will be sure to stand out. It even has a high headboard and a low footboard meaning it will sit neatly both in the middle of a room with a bedside table on either side, or pushed up against a wall with only one bedside table to save space.
9. John Lewis & Partners Wilton Child Compliant Bed Frame
John Lewis & Partners Wilton Child Compliant Bed Frame | £175 at John Lewis
Part of the sought-after ANYDAY range, this John Lewis child compliant bed frame is a testament of budget-friendly, high-quality and stylish furniture. Just take a look at its solid pine wood frame, high slatted headboard and the mountains of space underneath the bed that's for storage. Take your pick from a grey, white or natural finish and either spruce this bed frame up if it's being placed inside a neutral bedroom, or leave it as it is if it'll be living in a fun, busy space. Either way, it suits a range of home decor styles, especially modern and contemporary, as well as Scandi.
---
What to consider when buying a single bed?
Size
An obvious first step is to make sure you have enough space for your bed. Bear with us, though, as this doesn't just mean widthwise and lengthwise. While the standard single bed measures 3 feet wide by 6 foot 3 inches long, don't assume this is the amount of space they'll take up. A thicker headboard can mean the bed protrudes further into the room than you expected, so take time to ensure that your bed frame fits the space you have in mind for it.
Also be sure to bear in mind if you want one or two bedside tables – and if these will fit inside your room along with the single bed you like. Opt for a single bed with no footboard to give the illusion of more space, and if you really are tight on floor space you could go for a headboard-less bed, too.
Sleeping two in one room? Browse our best bunk beds shopping edit for some space-savvy inspiraiton.
Bed frame or divan base?
When it comes to buying a single bed, you have the choice between a bed frame and a divan base; both have their individual considerations.
Single bed frames come with one of two types of slats: static or solid, which remain as they are and provide solid support; or sprung slats, which bend in response to weight being put on them, returning to form when weight is removed.
Divans are a solid, legless platform that sits flush to the floor, and many include storage in the form of drawers or a lift-up platform that reveals a hollow base. This makes them a good space-saving solution for small rooms, especially those without a wardrobe or cupboard.
---
Where to buy a single bed?
Still searching for the single bed of your dreams? Click below to shop more of the best single beds, by retailer. There are plenty of options out there.