Finding the right bed frame is important, yet choosing a double bed frame can be a fine art, especially when trying to blend it in with your existing decor. Whether you're a traditionalist looking for a double bed with a beautiful wooden slatted or spindle headboard, or perhaps you are a fabric aficionado lusting after the right combination of colour and texture? Either way, we have found the best double beds around.
We've scoured our favourite retailers to bring you the best double beds. Featuring a range of products from the likes of John Lewis, unique items from Made and faithful picks from Furniture Village, you can rely on our list for inspiration. Sleep easy knowing that choosing your next double bed is sorted.
Searching for a different size bed? See our best beds guide for more stylish recommendations. If you're redecorating, head over to our bedroom ideas hub page for some design inspiration.
The best double beds
Why you can trust Real Homes Our expert reviewers spend hours testing and comparing products and services so you can choose the best for you. Find out more about how we test.
1. Habitat Clanfield Double Bed Frame
Habitat Clanfield Double Bed Frame | £350 for a double size at Argos
This affordable yet striking oak bed frame is super solid with an angled headboard. It'll soon become the focal point of your bedroom thanks to its retro-styled warm walnut wood grain finish. Perfect for modern, mid-century modern, skandi and contemporary homes. A great all-rounder, we say. It even has sprung wooden slats for your mattress to sit atop, while there's space underneath this bed for storage.

2. Dunelm Vivian Bed
Dunelm Vivian Bed | £599 for a double size at Dunelm
The luxury looking Vivian Bed by Dunelm comes in three delightful colourways – grey, ink or rose. Sitting on metal angled feet with plenty of room underneath for storing clothes and shoes, this suede bed is the perfect example of form and function. It has a curved headboard that's plush so as to cushion your back while you are sitting up while in bed, plus it's scalloped for added effect. It has a spring slatted base, too, while there's a matching ottoman and even chairs available. Talk about make a statement...
3. Bensons for Beds Kora Upholstered Bed Frame
Bensons for Beds Kora Upholstered Bed Frame | £349.99 for a double size at Bensons for Beds
Choose from blue, pink or grey and use this minimalist double bed frame to inject some colour wherever you may need it. Upholstered and curved, it even boasts a luxe velvet finish. Included comes two sets of feet – one light oak set and one walnut set, so that you can switch things up every now and then. It's spring slatted for extra comfort, too, while it's spring slatted for your comfort. It even comes with a one-year guarantee – winning!
4. Hashtag Home Wieze Platform Bed
Hashtag Home Wieze Platform Bed | £105.99 for a double size at Wayfair
Small budget? Teeny bedroom? This sturdy steel frame from Wayfair is the best double bed for you. It takes up little to no space since it sits flush with your mattress – no headboard or footboard. While you can use the space underneath the bed for storing your out-of-season clothes or hiding your shoes. It's admittedly basic although perfect for minimalist or contemporary homes, just make sure you decorate your bed with a lot of cushions and blankets and you're all set.
5. MADE.com Alana Double Bed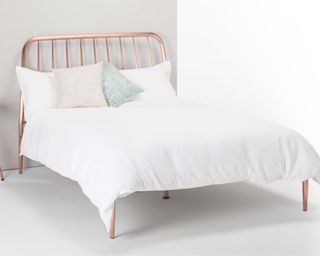 MADE.com Alana Double Bed | £399 for a double size at MADE
Simple yet elegant, this double bed frame is certainly an all-rounder. Its appearance is very traditional, yet it plays with angles and shapes to give it a completely modern twist. This frame itself is very minimalist, and with its light, reflective copper colouring it should give the illusion of more space and light. The only downside to this bed frame is the metal headrest, which will require strategic positioning of your pillows to provide any level of comfort – just something to bear in mind. It also comes in brushed brass.
6. John Lewis & Partners Pillow Bed Frame
John Lewis & Partners Pillow Bed Frame | £599 for a double size at John Lewis
Aptly named the Pillow Bed Frame for a reason, with a plush headrest and a solid oak frame, this double bed is the best of both worlds. Choose from a pink or grey headboard which is padded to soften the blow on your back when sitting upright in bed, and marvel over the European white oak frame. Said frame boasts a matte lacquer finish and curved corners, as well as under bed storage for bags, pillows or storage boxes to live. Sprung slats offer great support from evening to dawn.
7. Argos Home Kaycie Double Bed Frame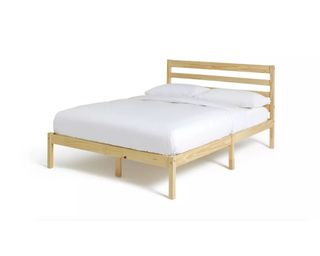 Argos Home Kaycie Double Bed Frame | £100 for a double size at Argos
This super affordable bed frame from Argos can be left as it is, for a relaxed and simple Scandi vibe. Alternatively, though, you could paint it a colour to match your bedroom scheme. It sits on six legs and it has a wooden slatted base, plus it has 23cm of clearance space underneath the bed. If you do want some smart storage, you can buy matching drawers that slide under the bed, and if not then why not roll out an oversized rug under there? Understated and a total bargain.
8. Habitat Blissford Four Poster Double Bed Frame
Habitat Blissford Four Poster Double Bed Frame | £400 for a double size at Habitat
Live out your Bridgerton dreams thanks to this four poster bed frame from Habitat. It comes in black, white and two shades of wood – plus it ought to make your ceilings look higher, and your room look larger. With plenty of space underneath the bed for storage purposes, this double bed screams (whispers) sophistication, and its clean lines mean it will shine in any modern or contemporary setting. For a royal touch at a reasonable price tag, there's no other double bed frame out there.
9. MADE.com Kano Double Platform Bed with Storage Drawers
MADE.com Kano Double Platform Bed with Storage Drawers | £479 for a double size at MADE
Clean lines and rounded corners make up this platform bed from MADE.com. It's ideal for smaller rooms since it doubles as storage, with space for displaying your reading material, plus two drawers for storing your bedding. It sits on the floor for a relaxed vibe, so just bear in mind that it's low down, while you can select from pine, walnut stain pine or a white finish. Practical, relaxed and comfortable, what more could you want?
10. Ercol Teramo Bed Frame
Ercol Teramo Bed Frame | £1,260 for a double size at Furniture Village
While it's easy for a wooden bed frame to adopt a straight-laced, regimented appearance, this number from Ercol has been given plenty of character and charm to make it a great addition to any bedroom. Made from quality light oak with matching grains and textures, this bed emanates quality and superior design. Part of the charm is its shapely spindle headboard, although some people may find they prefer slats rather than thinner bars. There's also a range of matching furniture to give your room a Scandi-esque appearance.
Remember: Furniture Village quite often have a sale on, so head there to check just in case this bed frame has been discounted.
11. Furniture123 Khloe Double Side Ottoman Bed in Silver Grey Velvet
Furniture123 Khloe Double Side Ottoman Bed in Silver Grey Velvet | £529.97 at Furniture123
Searching for a new double bed frame that's both stylish and highly practical? Whether you have a small amount of storage space or you simply just have too many clothes, this ottoman bed from Furniture123 is fab. With contemporary vertical stitch detailing on its tall headboard and footboard, this striking velvet bed comes in grey, beige, mustard yellow, navy blue and baby pink. The best part? The bed lifts up from the right or left side (depending on your bedroom layout) to hide and store anything from clothes to shoes, bags, spare bedding – plus more. It's even soft to the touch with a sprung slatted base.
Check out the Furnniture123 website to see if they have a sale on, as this double bed frame could be discounted.
---
What to consider when buying a double bed?
Size
Sitting slap-bang in between a single bed and a king-sized bed, a double bed is an ideal solution for single sleepers craving for more room and couples who don't quite have the space for anything bigger. There's often a lot more choice when it comes to choosing a frame for double beds, with its W135cm x L190cm mattress sizing giving designers more scope to come up with something extra special.
Shape
Double bed frames come in various different shapes, with footed and unfooted bases, solid or slatted headboards and open, solid or sleigh styles being the most common stylistic variations.
Those who want their bed to be a dramatic centrepiece may want to opt for something with a striking headboard – perhaps something that's velvet or a uniquely shaped headboard? If you want to create the illusion of more space, go for a bed that has no footboard, and for something with space underneath as they allow for natural light flow.
---
Where to buy a double bed?
Didn't manage to find a double bed in our shopping edit? Don't you worry. Whether it's something specific that you have pictured in your head, or you'd just like to keep browsing double beds, click through below to shop by retailer.