In search of a toddler bed to tick all of your boxes – and to make bedtime slightly more fun? The transition from baby to a toddler can seem to happen in the blink of an eye, and they're sure to let you know all about it when it does. An indignant baby on the cusp of toddlerhood is a force to contend with, and the one thing guaranteed to outrage them is being put to bed in a cot they feel they've outgrown.
That's where toddler beds come in, and the best toddler beds can be worth their weight in gold. After all, if they're happy to sleep in it, it means a bit of peace, and that's something you'll want to treasure before you blink again and they're suddenly teenagers.
What distinguishes toddler beds from cots is their lack of high-sided bars. Instead, they usually feature a guardrail or cutout detail to stop little ones rolling out during the night. They also sit lower to the floor, allowing children to climb on board by themselves, and thus build their confidence while they're still working on growing those long legs.
After that, it's pretty much all down to design, so keep reading below for our list of the best options for your home, no matter your interior style. One thing's for sure: these toddler beds are all practical and stylish.
Visit our best toddler mattresses buying guide to complete their toddler bed with a comfortable base. Head over to our kids' bedding sets shopping edit to dress their new bed.
The best toddler beds
Why you can trust Real Homes Our expert reviewers spend hours testing and comparing products and services so you can choose the best for you. Find out more about how we test.
1.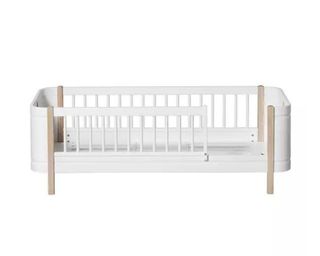 Oliver Furniture Wood Mini+ Kids Junior Bed
With subtle curved edges and an elegant design, the Wood Mini+ Kids Junior Toddler Bed from Oliver Furniture would make a gorgeous addition to any child's bedroom. Made from solid birch and finished in white; this Scandinavian inspired bed is the perfect introduction to the grown-up world of the big bed, although a bed guard can be added just for some extra safety. Once they've outgrown their junior bed, it can easily be used as a day bed with some cosy cushions! Or you could even convert it into a low loft bed with the optional conversion kit, creating extra storage space or a secret hideaway.
2.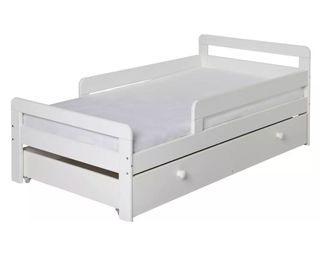 Habitat Ellis Storage Toddler Bed Frame
This storage bed teaches toddlers two-fold: first, to get used to their first-ever big kid bed; and second, to tidy up. It might sound like magic, but it's surprisingly simple. The guard rail adds a bit of a buffer for kids who are still getting used to not having cot sides, both reassuring them and ensuring they don't take a tumble on those first few nights. Then there's the storage drawer, which makes this toddler bed ideal for small rooms and means it really earns its keep – you might want to store extra blankets in there, but it could easily double up as toy storage. Check out our Habitat discount codes to bag the best deal.
3.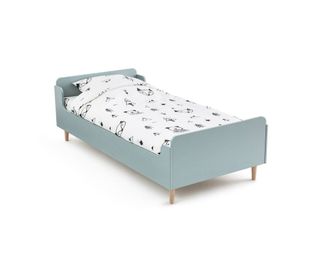 This toddler bed comes in your choice of grey green or plain white, while it's the perfect fit for Scandi-style homes. With angled wooden feet, it sits low enough for your little one to reach, plus it has storage space underneath for toys and books. With a rounded headboard that cocoons them and wraps around the bed frame for support, it even has a lacquer finish. Stylish and practical – and also a bargain!
4.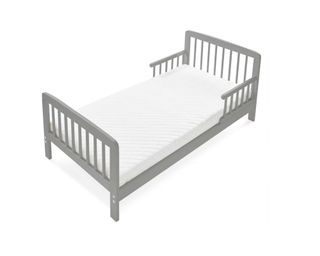 We've all heard about the hype around Aldi's toddler bed, but we're here to explain why it's so popular if you hadn't already guessed, that is. First of all: it's a total bargain at less than £60. It also boasts a stylish grey finish, whilst included in this price comes a suitable toddler mattress for a restful night's sleep (for them and you!). With a slatted headboard and footboard, it even boasts rails to keep them cocooned as they sleep, and there's some under bed storage for shoes and more to be tucked away. This is an online exclusive, although it's forever selling out. Try and get your hands on it whilst it's in stock, we say...
5.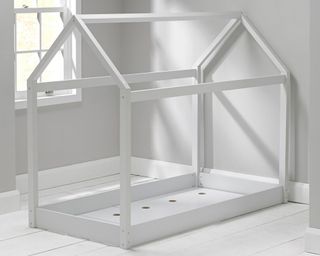 Choose a slightly fun toddler bed for your small human to make bedtime a slightly easier experience for you, for instance, this house-shaped bed frame. It sits on the floor so that they can't roll off for safety purposes, while you can decorate it with anything from fairy lights to faux foliage. It also comes in black, and it's ideal for those who are going for a minimalist, modern or perhaps Scandi vibe in their kids' bedroom. The best part? Once they inevitably grow out of this toddler bed, you can push it into a corner and use it as a reading nook or another play corner. Winning!
6.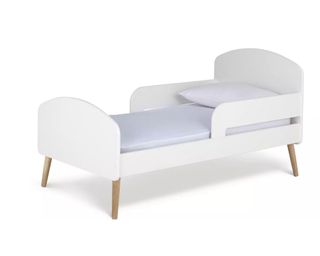 Habitat Bodie Toddler Bed and Kids Mattress
An understated toddler bed for a very reasonable price tag, this one from Habitat ticks all our boxes. It features under bed storage space, it's rounded so as to be safe inside their room, it has side guards to prevent accidents and it even looks the part. Sitting atop angled pine legs, this bed ought to blend in with a range of interior styles. The best part? It comes with a Silentnight toddler mattress included in the price tag, which is foam-free, chemical treatment free and hypoallergenic.
7.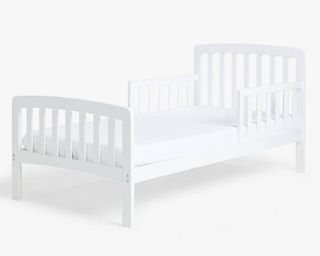 John Lewis & Partners Elementary Toddler Bed
If it's a budget-friendly buy you are after, to transition them from their cot to a single bed, then this toddler bed from John Lewis is perfect. It's under £100 and super sturdy thanks to its pinewood construction – and thick wooden legs. Hide their clutter underneath, and place this toddler bed in the middle of a room thanks to its side frames that can prevent rolling. What more could you want?
8.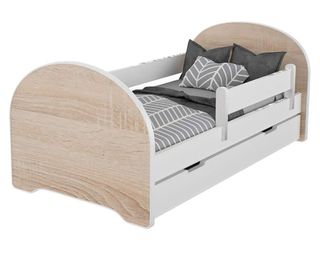 MEBLEX Children Toddler Bed for Kids
A toddler bed with built-in storage? We're sold. Somewhere to hide the LEGO you're forever standing on and hissing about, and also their impressive bed sheet collection. Plus, there's the bonus that this toddler bed actually looks nice. Practical and pretty! One side features a complete rail while the other has half a rail for easy access and extra protection. A rounded headboard and a rounded footboard sit at either end of this bed, and it even comes with a 7cm thick mattress included. Place it in the middle of a room in the corner, wherever suits you best, and sleep well with peace of mind that your little one is being cocooned by this fab toddler bed.
---
Where to buy a toddler bed?
Still searching for the right toddler bed for your little one? Click through below to shop tonnes of toddler beds by retailer.