Designed to withstand Blu Tack stains, scratches, chips, and all manner of other (often mysterious) marks, our pick of the best paint for kids' rooms are durable, wipeable, long-lasting and available in a whole host of shades. Hurrah!
So, if you've already decided on a colour scheme for a kid's bedroom, the natural next step is to begin thinking about which paint you're going to use, as there are more options available that you might immediately assume.
Still not decided on your dream scheme? Browse our gorgeous paint colour schemes for kids' bedrooms.
1. Dulux Easycare Washable & Tough Matt Emulsion Paint
Hard as nails, and washable too, this Easycare paint gets our top spot
Specifications
Best for: Stain-resistant
Finish: Matt
Drying time: 4 hours
Coverage: 13m² per litre
Reasons to buy
+ Stain-resistant, liquid-resistant and washable
'Washable' and 'tough' are arguably the magic words when it comes to decorating children's rooms, and in that arena, Dulux's Easycare paint literally does what it says on the tin. Said to be 20 times tougher than the brand's standard offerings, it's designed to repel liquid, so you have a chance to quickly wipe them away before they have a chance to soak in, leaving you with unsightly spots. If something a bit tougher gets on there, this paint is designed so that you can remove marks without risking damage.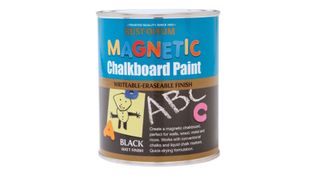 2. Rust-oleum Magnetic Matt Chalkboard Paint
Chalkboard-style magnetic paint for decoration without damage
Specifications
Best for: Creative kids
Finish: Magnetic
Drying time: 30-60 minutes
Coverage: 5m² per litre
Reasons to buy
+ Hang pictures and draw without damaging walls
This seemingly magic paint doesn't just turn your child's bedroom into one huge, scribble-ready blackboard, it's also magnetic, meaning they can adorn those four walls with anything they want (within reason) without damaging the paintwork or the plastering. An easy way to adjust to their changing tastes, it's a low-commitment and fuss-free means of self-expression for your budding Picassos. If they'd find an all-black room a bit oppressive, why not paint one wall for a real feature?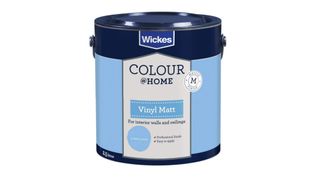 3. Wickes Colour @ Home Vinyl Matt Emulsion Paint
Goes up in a flash, and dries to a tough finish
Specifications
Best for: Easy application
Finish: Matte
Drying time: 2-4 hours
Coverage: 13m² per litre
Reasons to buy
+ Excellent opaque coverage
Not many of us have the spare time to apply millions of coats in the hopes that the new paint will cover the dark shade that preceded it, and Wickes know that, which is where their ultra-opaque vinyl matt emulsion steps up. Reviewers say it goes on beautifully, is easy to apply and quick to dry to a flawless, full-coverage finish. Where it really comes in useful though is in its wipe-clean finish, making smears and rubbed-away patches a thing of the past, even with the most determined of mess-makers. Brilliant.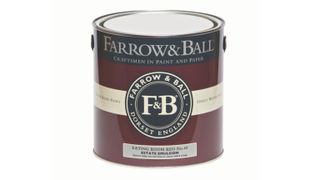 4. Farrow & Ball Matt Estate Emulsion Paint
Non-smelly, non-smudgy, and stunning, this is a great bet for kids' rooms
Specifications
Best for: Wipeable
Finish: Matte
Drying time: 2 hours
Coverage: 35m² per 2.5 litres
Reasons to buy
+ Low-VOC and low-odour formula
This Matt Estate Emulsion from Farrow & Ball is surprisingly well-suited to a room that sees a lot of punishment, whether of the accidental kind or the 'adventures in finger painting' kind. Its chalky matt finish is not only less likely to show up mucky smudges in the first instance, it's also designed to be fully wipeable, so any marks can be dealt with efficiently. Nervous decorators will no doubt be pleased to hear about its eco-friendly water base too, and love the lack of smell from its low-VOC formula.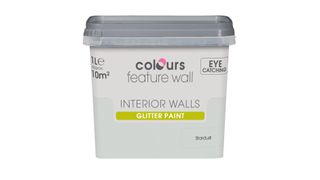 5. Colours Feature Wall Emulsion Paint
With just a hint of glint (or more if you like) this buildable wall paint comes up a twinkly treat
Specifications
Best for: A hint of glamour
Finish: Glitter
Drying time: 2-4 hours
Coverage: 10m² per litre
Reasons to buy
+ Subtle, buildable sparkly finish
Reviewers were blown away by the effect of this glitter paint, saying that while the effect is subtle for much of the day, it really comes into its own when the sun hits it and it gives off a wonderful lustre. If you're not too keen on the idea of painting your kid's room in stimulating brights, this is a lovely alternative that adds some texture and interest to the soothing neutral tones. Users loved the colour Stardust, a soft grey with particles of silver glitter, although they did note that you'll need to set aside the time for two coats. However, by all accounts, the results are worth it.
Looking for more kids' room inspiration?