If you are after small kids' bedroom ideas, then we have you covered right here.
We know you must have visions of gorgeously decorated kids room ideas that ooze creativity but are tidy and practical at the same time, but let's face it that's a tricky ideal to achieve, whether you're working on grownup bedroom ideas or spaces for little ones.
These tiny bedroom ideas not only look great but they are also ACHIEVABLE and are in it for more than just the Instagram post.
So don't let the challenge of a tricky room put you off, because we happen to be experts in transforming small awkward spaces into fabulous rooms, don't you know?
1. Embrace coziness in a tiny kids' room
Think back to your den building days, piling up all the sofa cushions and blankets to create your own little space. Well, take that idea and upgrade the sheet fort to encompass the entire room.
Use a bed canopy, plenty of cushions and throws and put up some fairy lights to turn a small kids' room into a den-like space. Bliss, and easy to incorporate into a kids' bedroom design, whatever your budget.
2. Create a light color scheme that grows with them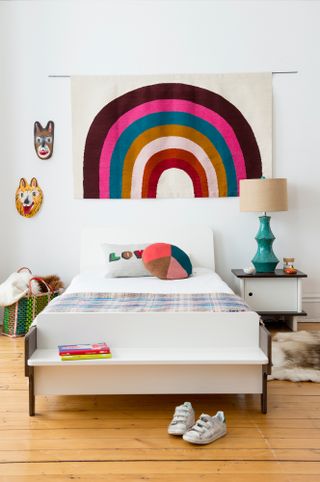 Just because they said they love Minions today, that doesn't mean they will love them next week. So, how to design a kids room?
To avoid constantly having to repaint the walls or strip off blue and yellow wallpaper, opt for a scheme with staying power.
Obviously listen to their suggestions, but always keep one eye on the future by picking a neutral color that will serve as a blank canvas to more decorative accessories, and the ever changing preferences of the room's occupant.
The other plus side? Light neutrals make small bedroom ideas look larger too.
3. Go for a multi-functional storage system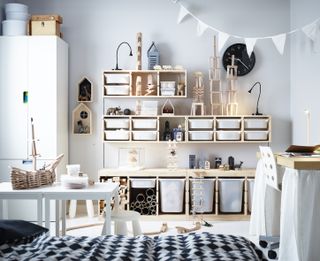 We all know that the key to a well organized bedroom is good storage, but nowhere is it more important than in small children's rooms. We say the best way to go is a multi-purpose bedroom storage idea that can be adapted to suit your space and storage needs, and their changing needs.
Ah, trusty Trofast. Where would parents be without you? This IKEA system is really versatile and there are so many elements that can be changed up as your child grows.
4. Or introduce versatile storage baskets instead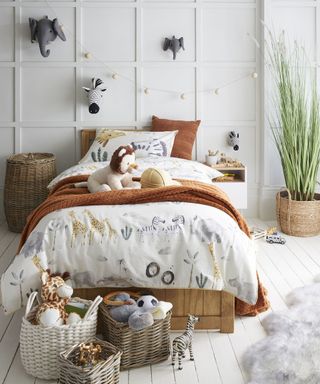 If the aforementioned multi-functional storage system seemed just a little too high maintenance, then why not opt for some woven baskets?

Simple, yet effective, these bohemian storage ideas are effortlessly chic and can be used for a multitude of purposes.
Use as an alternative to toy storage ideas or to organize dirty laundry for fuss-free tidy-up time.
5. Wallpaper the ceiling in a small space
If you're looking to add depth to a small space for a kid, then including pattern is a great route to take.
Yes, we may have said to keep the walls simple as possible, but the ceiling is a perfect place to add color and pattern to a small child's room without it overwhelming the space.
You could of course just paint the ceiling or take some inspiration from @thehousethatgreybuilt, and use a bold print wallpaper that has a limited color palette. You can find similar wallpaper to this playful cactus print on Etsy.
6. Invest in multi-functional furniture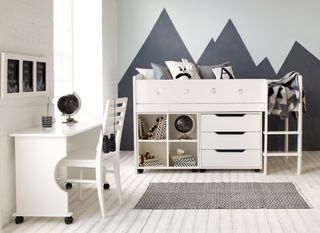 Furniture in any small space has to work hard, so make sure you choose pieces that can double up as something else. A chest of drawers that can also be a changing table, a toy chest that doubles as seating, a bed that can be used for toy storage. You get the idea.
This bunk bed idea from Little Folks Furniture is one of our favorite small kids' bedroom ideas as it's a chest of drawers, bookcase, desk, and a bed, all in one. Literally, what more could you want?
7. Get creative with a chalkboard wall
We are aware that doodling on the walls is usually strictly forbidden, but painting a chalkboard wall is a way for kids to customize their own tiny bedroom.
It's also a great idea if you are decorating on a budget, because you can easily DIY one yourself, just check our step by step guide to creating a chalkboard wall to find out how.
8. Save space (and add extra storage) with picture ledges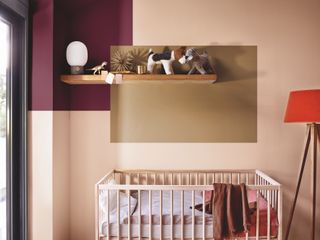 Picture ledges and wall mounted shelves work wonders in small rooms, they take up barely any space but can display a ton of decorative accessories that are so essential in, especially small, kids' rooms.
Use them to display your child's favorite books, toys and knick knacks – adding personality to the space plus some handy extra storage, win win.
Bear safety in mind though – don't position anything heavy or electrical at a height where little ones will be able to reach them and pull them down on themselves.
We have a handy guide to how to install a floating shelf if you like the look of this styled but small kids' room.
9. Make use of an alcove in your kid's small bedroom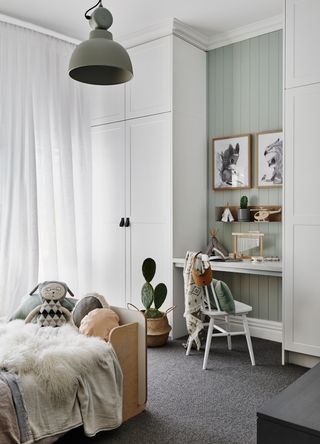 As children get older they are going to need a space to get homework done, or at least pretend to get homework done. Finding space to squeeze in a desk can be tricky in a smaller bedroom for a child so look for neglected spaces that could be put to good use – alcoves are perfect for this – then install a small desk or even a shelf and you've got a work space.
No alcove? No problem. A wall mounted drop down desk with a few wall shelves will create a mini workstation and won't take up too much precious square footage.
10. Use wall stickers as (temporary) artwork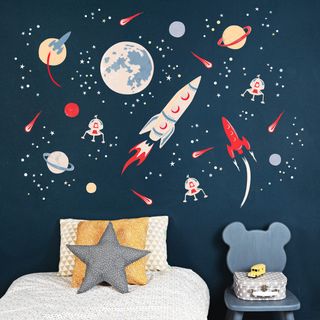 Easy to put up, inexpensive and (usually) pretty easy to remove, wall stickers are a great addition to small kids' rooms and are sure to add flair. This is where those beloved minions can some into play, since stickers' peel-off properties means you can give in to their ever changing obsessions and just switch up the stickers as they grow up.
There are tons of different brilliant wall stickers designs out there, but what kid wouldn't love these space themed wall stickers from Koko Kids?
11. Choose practical window treatments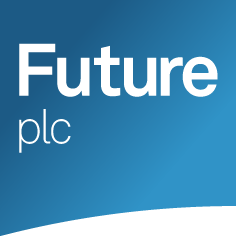 Curtains are a must, and particularly lovely in smaller sized children's bedrooms, as the soft drape of fabric will only add to the whole cozy vibe we mentioned earlier.
But, if space is limited blinds or shutters are always your best bet. Solid shutters are ideal window treatments for children's bedrooms should you want to block out light completely, if your child (and by extension you) don't get much sleep easily.
Blinds are functional too, just make sure you choose one with a black out lining and fit a safety device to keep the cord out of the way.
12. Layer the lighting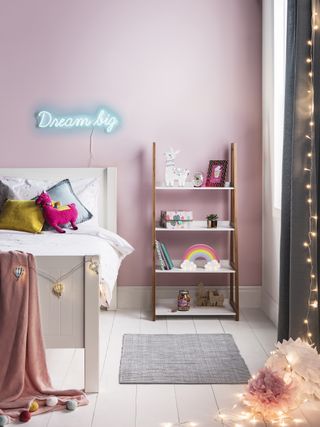 Every child's room will see a lot of different activities, no matter what size it is. From dreaded homework sessions and play dates, to bedtime reading and (hopefully) sleeping, so make sure you have multiple bedroom lighting ideas to cater to all of these even if you're tight for room!
If your child's space has a desk, make sure there is focused task lighting nearby, and then incorporate softer lights around the room for more relaxed activities.
As this will not only be functional, but layering bedroom lighting will add dimension to help expand a kid's smaller bedroom also.
And, if you can, always have a bedside light that your kid can turn off themselves to avoid those 'mom can you turn light off?' moments, everyone is happy!
13. Go bright and bold with your color scheme
While the general rule for small spaces is to keep thing light and neutral, we think you can make an exception in a small kid's room. This tends to be the room in the house where you can really be brave with your color choices, so pick out something bright and bold, like this wonderful orange. Copy this small kids' room idea and just paint part way up the walls so the color doesn't overwhelm the small space.
14. Paint your kid's bedroom furniture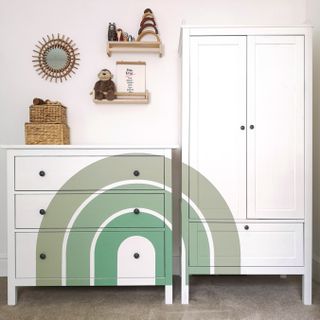 In a child's small bedroom you do often find furniture has to sit side-by-side to fit it all in, but that needn't be a bad thing when you can paint a rainbow across them!
For this all you need is masking tape and a some paint, mask out the shape and paint in between the gaps. And hey presto, an easy peasy design that differs from a feature wall idea.
15. Go for stripes – they look cool and expand the space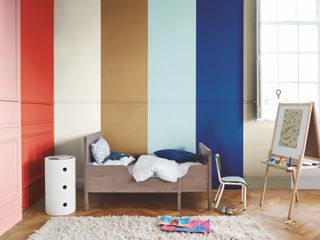 If you are after small kids' room ideas that are not only going to look fab but actually make the space feel bigger, stripes are a good place to start.
We love the look of this rainbow room (can you tell we love rainbows right now?), and you can DIY this wall paint idea at home really easily again just using some masking tape to mark between the stripes.
16. Have fun with color, texture and pattern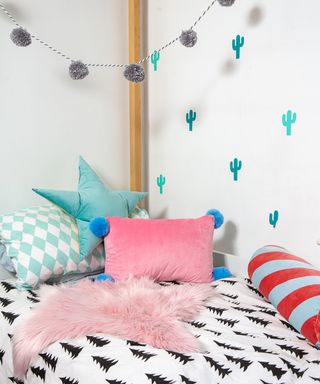 If your small kids bedroom idea doesn't warrant splashing out on high-ticket items such as a bulky chest of drawers, then you can still inject some fun into your children's room with colorful soft furnishings and accessories.
Celebrate the space with cushions, duvet covers and to add some dazzle to your sprog's scheme. From harlequin print to candy stripes, there's no such thing as too much print in your little one's lair.
A pom pom garland will also add playfulness to your infant's interiors.
17. Zone a small shared kids' bedroom with wall paint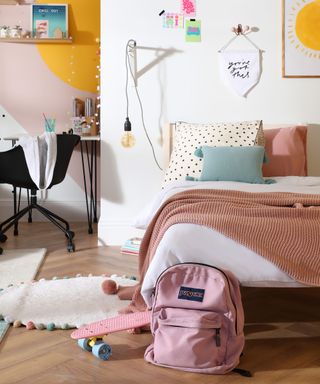 For many parents, trying to find a home with a big enough room for their child, can be a challenge. So how do you tackle a shared bedroom idea?
Whether revising for exams, doing homework or just doodling, a separate study space for an older child can come at a premium price when real estate is involved.
So when it comes to distinguishing sleeping from other activities, paint is a cheap and relatively easy way to zone a room.
In this girls bedroom idea, pink and yellow are used in generous swathes to create a wall decor ideas to break away from the bed space.
18. Introduce a statement bed idea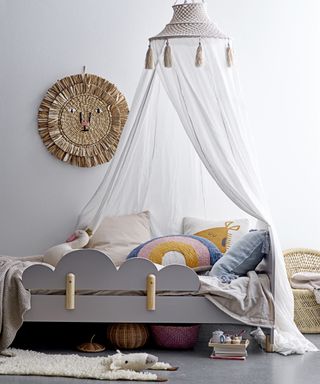 Designing a small kids bedroom idea can be a tricky task. But if there's one thing that's relatively consistent - it's the size of bed frames and standardized mattress sizes.
So while you may have to get the measuring tape out for wardrobe storage ideas, you can almost be certain a single bed swap-out is a relatively low-risk decision.
This adorable Nihla Bed by Bloomingville is the perfect junior bed for your little sweet pea!
Crafted from Pine and MDF, this luxury natural wood bed complements any bedroom theme and features a supportive cloud-shaped bed guard to keep your angel safe and sound, so there'll be no bumps in the night.
Create the ultimate fortress or cozy nook with a cool cotton canopy.
19. Paint the door a different color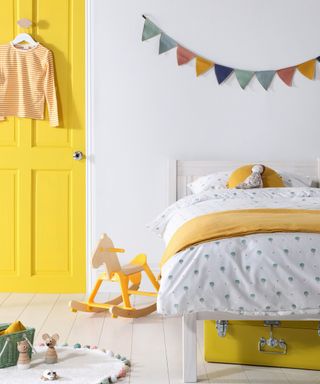 Painting a small kids bedroom idea with a primary color is one way to make an impact. But if the thought of an all-over yellow or bright blue bedroom idea makes you wince, then let us open the door to creativity by...erm...painting the door.
To execute this idea like an interior designer, keep the rest of the room, including any wall decor ideas pared back. Then style with similar-colored items. We like the look of the under bed trunk and rocking horse as a seating idea.
The bunting above the bed provides the right amount of contrast. As does the pastel pompom detail on the play mat.
20. Add a potted plant to introduce a biophilic feel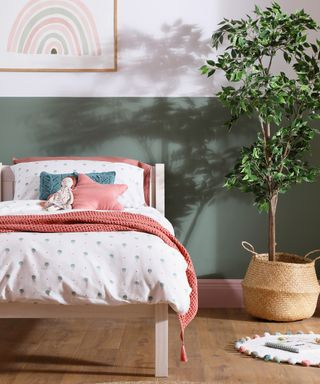 While they are popular in the living room, bathroom and garden, houseplants in a small kids bedroom can be a stylish and educational part of the room.
Teaching them valuable skills about responsibility, watering a potted plant can have be beneficial for your brood's well-being and self-development.
Contrary to what you've been told, having a few plants in the bedroom will not release enough carbon dioxide to be harmful.
So whether you choose a miniature succulent, or make a statement with a large palm for a jungle vibe, get your girl or boy into the indoor gardening spirit. Add a lick of moss or sage-hued paint for a cute green bedroom idea that'll capture your kid's heart.
21. Add a statement mirror idea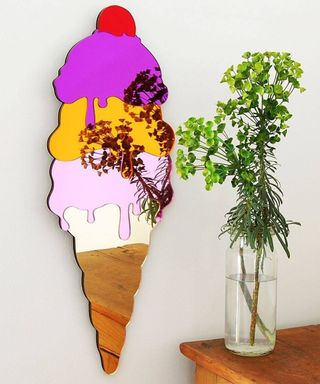 Dripping with playful seventies style, this shimmery wall mirror idea by Bride & Wolfe depicts a classic melting ice-cream cone with a bright red cherry on top.
This mirror, available to buy from Antipodream looks great as a vibrant mirror in a small kids bedroom idea.
This reflective art object is made from shatterproof wood-mounted mirrored plexi-glass. What's more, a steel hook on the back makes it easy to hang and move.
22. Use a large rug as a wall hanging idea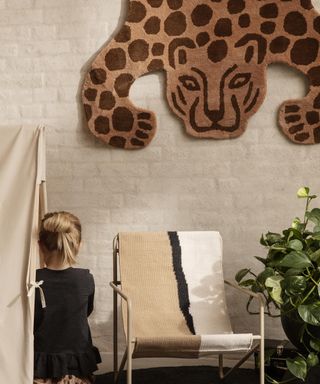 If you're looking for a roaring small kids' bedroom idea, but are falling short on floor space - we've just the thing.
By using a large rug displayed on a wall, you can create a lively wall hanging idea. What's more, because it's nice and thick, it won't blow off the wall when a breeze comes through the window.
Just be sure to affix it to the wall securely. We don't want leopards jumping onto your little one's in the middle of the night now do we?
This Safari Tufted Rug designed by Ferm Living can be bought online at Nest.
How do you decorate a small bedroom wall?
'In a small room, it's great to be able to change the design once in a while.', says Peter Erlandssom, co-owner and director of string.
'Sleek wall shelving provides you with plenty of flexibility both practically and aesthetically, meaning you can achieve a completely new look whenever you like.
'There is an age old doctrine of using light colors on walls to make your home look bigger.
'This is true, and your shelves need not detract from this. Using minimal materials, string ensures your walls aren't totally covered.'