You might be sleeping on the same pillows your parents bought you years ago, but it's probs time for a fresh pair. Whether you've moved into a new place or are just looking to refresh with some comfy bedding, choosing a new pillow shouldn't be left to chance. In fact, it's something of a science.
And believe me: I've tried out many of the best pillows and can safely say finding the right pillow for me has made a huge difference. When I now sleep overnight at a friend's or stay in a hotel, I miss the pillow I sleep on at home (especially when my friend is accustomed to thin, flat pillows, ugh). Though it took some trial and error before finding my favorite, there are some helpful tips for choosing the right sleep surface for you.
There's filling, size, and price to think about, as well as a few other factors. So I've spoken to the experts and put together a handy guide to help you decide. It won't be long 'til you're floating off into dreamland.
How to choose a pillow
1. What's your sleep style?
Why you can trust Real Homes Our expert reviewers spend hours testing and comparing products and services so you can choose the best for you. Find out more about how we test.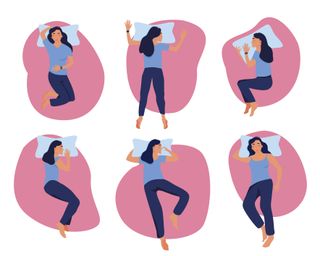 You might have latched onto the importance of this when browsing our reviews, but your sleeping position does influence which type of pillow you should choose. Whether you're a side, back, or stomach sleeper, you'll need a different level of support to get the correct spine alignment. That said, everyone fidgets during the night, so just use these guidelines as general rules rather than strict ones. Everyone will have an individual preference at the end of the day.
Side sleepers generally like a fuller (taller), firm pillow, which matches the gap between the head and mattress and the width of your shoulders, in other words. A thinner pillow for between the knees can help relieve back pain in side sleepers, too.
Back sleepers may prefer a flatter (lower) pillow. Memory foam pillows suit back sleepers as they match the shape of your head and allow you to sink in evenly, meaning your neck won't be strained.
Stomach sleepers might like a soft, almost flat pillow or none at all. Placing a thin pillow beneath your stomach/pelvis area might help you avoid back pain as well.
Toss-and-turn sleepers will need a pillow that adapts to all these sleeping positions. For the Goldilocks happy medium, it should be a supportive one of medium height.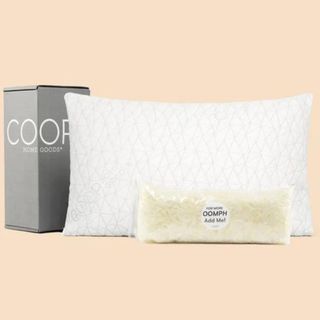 For side sleepers
Coop Home Original Adjustable Pillow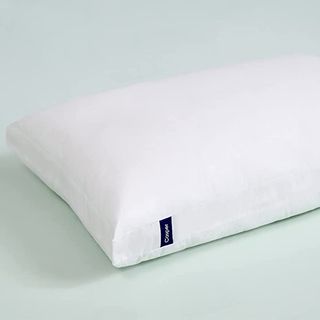 For back sleepers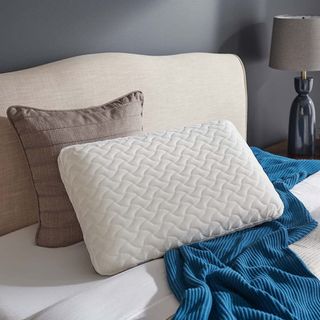 For front sleepers
Tempur-Pedic TEMPUR-Cloud Pillow
2. Choose a pillow to suit your mattress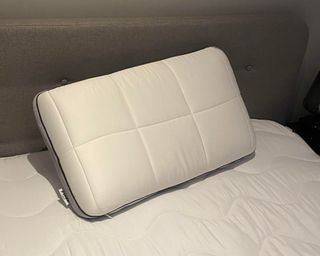 Yup, the mattress you sleep on does matter when you're choosing a pillow. As a general rule, you should choose a soft pillow for a firm mattress and a firm pillow for a soft mattress. It's all about the alignment both can offer in response to the surface below, but it will also depend on your personal preference, especially if you already suffer from back aches or are a light sleeper.
Use our guide to choosing a mattress to find out more about which type suits which sleep position.
3. Sleep with one pillow or two?
Side sleepers will know what we're talking about. Two thin pillows can often be much more comfortable than one large one, right? I certainly think so. However, it's advised that you only ever sleep with one pillow. Sleeping on more could strain your neck. It's just vital to ensure that the one pillow you do choose keeps your neck in perfect alignment at all times (or as close as possible). However, you might like to have an extra pillow on hand for reading or watching Netflix in bed.
4. Find the filling you like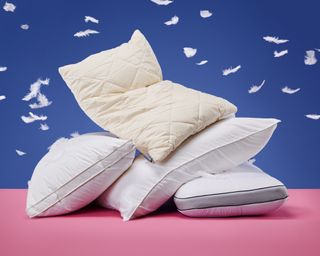 Which pillow filling you'll find comfortable is quite subjective, but as a rough guide, here are a few pointers to consider.
Pillows come in a choice of feather, down, latex, microfiber, memory foam, and, more unusually, wool and cotton fillings. Don't just consider the filling type, but the "fill power," too. The higher the number, the plumper the pillow. And, the more tightly packed it is, the longer it might last. Down and synthetic pillows are lighter than memory foam and latex pillows.
Memory foam pillows offer even, firm support. The longest-lasting of fillings (up to three years), they can be a great buy for back and side sleepers who need lots of neck support. Hot sleepers are recommended to stay away since memory foam is known to trap heat.
Feather and down pillows are supportive and comfortable and will stay that way for longer than synthetic fillings, which also makes them more expensive. They can be fully machine-washed, too, which is a bonus, but they will flatten over time.
Microfiber pillows are the cheapest option to try, with many feel-like-down options offering a great budget-friendly alternative. They're naturally hypoallergenic and can be popped in the wash and dried to be back on your bed before bedtime. They might not last as long as others, but the price means you can replace them more often.
Hybrid pillows: Yes, there are hybrid options available, which are often a mix of both foam and microfiber. Known for offering a perfect balance between firm and cushy, they work for all kinds of sleepers and are quickly becoming the go-to pillow preference.
Wool pillows are making a comeback. Wool makes a great filling since it's naturally hypoallergenic, breathable, and cool to sleep on. It offers firm support, therefore wool pillows are ideal for anyone wanting something soft yet supportive. They will flatten over time, though.
Latex pillows: The eco-friendly option we love, latex pillows are similar in look and feel to memory foam but are kinder to the planet. They are more expensive but are a great choice for all kinds of sleepers.
Here are a few of our favorite picks for each filling type: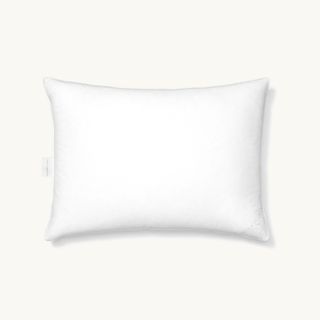 Down pillow
Boll and Branch down pillow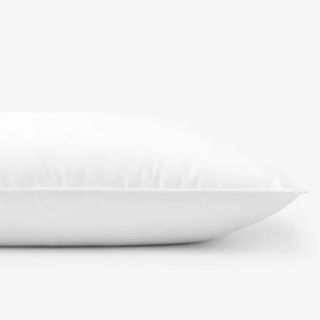 Best microfiber pillow
Company Essentials LoftAIRE Pillow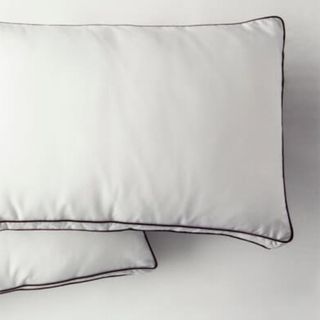 Latex pillow
5. Pillow size and shape
So most pillows will come in a standard size, which is no problem as they should cater to your needs given the correct filling and firmness. But if you do have the chance to choose a size preference, then do. "We don't all wear the same size shoe so what we lie on at night shouldn't be one size fits all either," says James Leinhardt, sleep and posture expert and founder of Levitex. "Choosing the right size pillow for you is ensuring the best possible sleeping surface for an optimized sleep posture."
Choose the size of the pillow based on how big you are, the size of your bed (one too small may mean your head slips in between the gaps), and whether you have any special requirements. If you suffer from neck pain, for example, there are plenty of contoured pillows to cushion the right areas. A V-shaped pillow is perfect for snorers who need to sit a little more upright, and U-shaped ones are popular during pregnancy for extra support.
When to buy a new pillow
Curious about how often should you replace your pillows? Most experts would recommend getting new pillows every two years unless they have become visibly worn before then. A great way to tell they're past their sleep-by date is if the pillow has lost its form. You can test this by folding it in half and seeing if it springs back to shape. If your pillow simply just needs a good clean, our how to wash pillows guide offers expert advice and tips on how to make your pillows last longer.