Want to build an extension for between £30,000 and £50,000? Making the most of your existing property by extending for under £50,000 can make a lot more financial sense than selling up and moving on. And you can still add significant value, even in the current climate – if you choose the right project.
You may have big plans to undertake a house extension, but how far will your available budget stretch? Before making plans, you need to get an idea of what can be done with the money you have available.
Here, we explain the types of project that can be achieved with a budget of £30,000 to £50,000. Find out more about extending a house in our ultimate guide.
How much does an extension cost?
Our extension cost calculator will help you accurately budget for your house extension, but, as a rough guide if you are planning a single storey extension, expect to pay (for building work only):
Around £1,500 to £1,900 per square metre for basic quality;
From £1,900 to £2,200 per square metre for good quality;
Between £2,200 and £2,400 per square metre for excellent quality.
What kind of extension can you build for between £30,000 and £50,000?
This will comfortably allow you to create a substantial house extensions including loft conversions, garage conversions or basement conversions, large single-storey extensions and even a modest two-storey extension. Here, we also show great examples of homes extended for between £30,000 and £50,000.
Add an orangery-style house extension
A traditional-style house extension option, an orangery is designed to be in keeping with a period house and measuring 30m², would cost between £1,250 and £1,450 per m² depending on location. A room measuring 4m x 7m would be ideal for a dining or sitting room and, in many instances, would fall within permitted development rights and so not require planning permission.
Find out how to plan and design an orangery in our guide.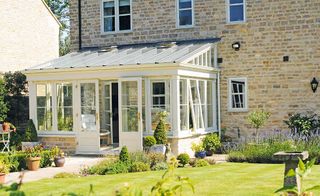 Convert your loft space
As well as offering valuable extra living space, loft conversions give one of the best returns on investment you can get when it comes to extending.
And because most loft conversions are generally allowed under permitted development rights, there's no need to go through the lengthy process of obtaining planning permission.
The cost will vary depending on size, but is usually between £30,000 and £50,000. A typical conversion with a rear dormer in a mid-terrace property costs around £35,000. You'll find small companies will usually charge 10 to 15 per cent less than large companies.
Find out more about planning and designing a loft conversion in our guide.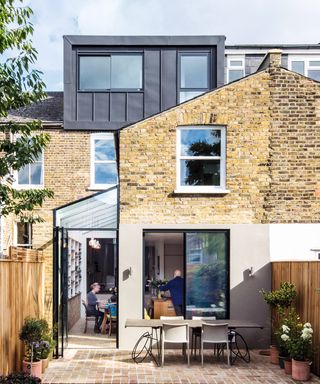 Extend your house with a garage conversion
An attached double garage measuring 28m² could be turned into extra living space at a basic cost of £850 to £1,050 per m². To then integrate this space into the existing house by removing the partition wall – replacing it with an RSJ – add around £5,000 to the cost.
If the space were to become a new kitchen, the cost of new units must also be added at around £5,000 upwards, depending on the kitchen supplier chosen. Your permitted development rights mean a garage conversion will not usually require planning permission, but it must comply with building regulations as the project would constitute a material change of use.
Read more in our beginner's guide to garage conversions.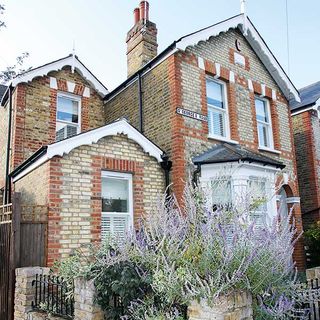 Extend downwards with a cellar conversion
An existing cellar measuring around 35m² could be converted into an additional living room or home office at a cost of around £850-£1,050 per m², including damp proofing (a tanking membrane) and insulation.
Adding a new lightwell and window would cost an additional £4,000-£5,000. Cellar conversions come under permitted development rights but, as above, this is a material change of use. For details of specialist cellar-conversion firms, try basements.org.uk.
Find out how to convert a basement or cellar.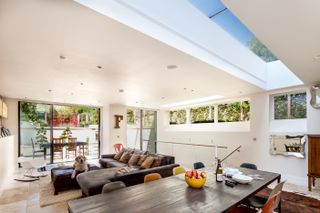 Add a side return extension
A side return extension is a good way to incorporate often unused or under-used garden space into your home, creating a much larger, open-plan room that's ideal as a kitchen diner living space combined. This type of extension is also the perfect opportunity to bring more light into what is usually a terraced house, with large rooflights, panels of glazing and French, bi-fold or sliding doors creating a bright, contemporary home.
Budget for £1,050 to £1,450 per m², although bear in mind that large expanses of glazing will bump up the cost significantly.
Find out more about planning a side return extension in our guide.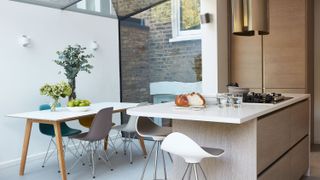 Add a single-storey house extension
Subscribe to Real Homes magazine
Love your daily dose of Real Homes? Then why not subscribe to our magazine for the amazing price of just £5 for five issues? Packed with fabulous readers' homes, trend features, project advice and easy updates, you'll wonder how you ever lived without it.
This level of outlay could be sufficient to create a substantial single storey house extension, 30m² to 40m² – budget for £1,050 to £1,450 per m².
This might be enough to extend by around 4m right across the back of a typical semi or detached house, with either a flat or low-pitched sloping roof – as a single storey or side return extension, both ideal for creating a large open-plan kitchen-diner.
A contemporary design with folding-sliding doors, glazed roof lanterns and large floor-to-ceiling glazing units would cost £1,800 to £2,200 per m², so on the same budget, the scale of the space may need to be reduced to around 23m².
Many single-storey side extensions and rear extensions will fall within your permitted development rights, which will help keep costs down somewhat, but always check. And building regulations will apply.
Don't forget to add on professional fees, and to calculate interior fit out costs carefully.
Find out more about planning, designing and costing a single storey extension in our guide.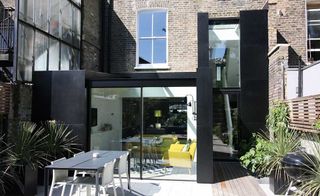 For more room try a double storey house extension
More cost-effective than a single storey house extension because it doubles up on the use of the foundations and roof – two of the most expensive parts of a build – a two-storey extension on this budget could measure up to 30-40m² (both floors). At the rear of a property, this would typically extend the kitchen with a new bedroom above.
Many such extensions projecting no more than 4m from the rear of the original house are covered by permitted development rights, but a two-storey side extension will require planning consent – and don't forget building regs.
Find out all you need to know about adding a double storey extension in our guide.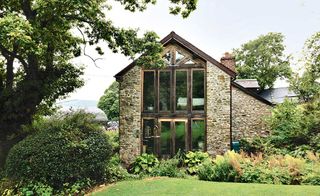 Need more extension advice and inspiration?