Fitting a door canopy or a porch can transform the exterior of your home – and needn't cost a fortune. What you choose should really reflect the period of your house and its existing materials, whether you want to add a porch to create more hallway storage opportunities or simply build a canopy to add character to a traditional home.
What does a door canopy cost?
The simplest option is to fit a door canopy or door surround as these can be fixed to existing walls and need no structural alterations. It can be done on a DIY basis by two people, takes around half a day and costs £400 to £600. You can buy canopy kits from timberdoorcanopies.co.uk, starting from £250.
Timber porch kits need felt, a batten, roof tiles and lead flashing, which will add £200 to £300 to the cost. Lightweight glass fibre (GRP) canopies and surrounds are cast and decorated as a finished product. The lead Regency-style canopies and painted timberwork look convincing, but it is harder to recreate slate or clay tiles in GRP. Prices start from £400 from house-martin.com.
Fitting a door canopy
The wall around the doorway must be cleared of climbing plants or debris and needs to be stable.
GRP canopies have flanges ready for fixing, which are drilled at roughly 300mm centres. Brackets are fixed to the walls using 100mm frame fixings, drilled and plugged. The canopy is fitted over the brackets and secured to the wall through holes in the flanges. Lead flashing is then cut into the walls and dressed down over the flanges, or the canopy is sealed around the edges.
Adding a porch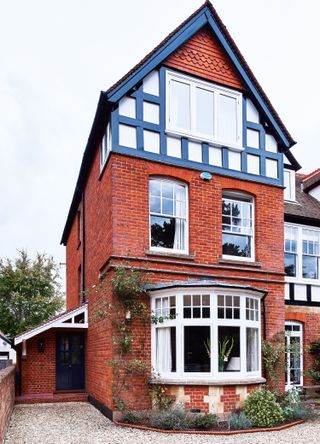 Adding a porch on the front of your house will give character to a featureless frontage as well as providing extra, practical storage space indoors. It is especially worth considering if your front door opens straight into a living room rather than a hallway.
Think carefully about design; the porch should be constructed in a style that suits the original architecture and in proportion with the size of the house.
When designing an enclosed porch, consider the impact it might have on the natural light that flows through your existing front door – you may be able to improve the amount of daylight with a well-considered design.
What does a porch cost?
A brick-built porch with a new front door can cost anything from £3,000, depending on size and materials.
Wall-hung timber porch kits are less expensive than enclosed designs, but will transform a flat frontage, especially if climbers are trained around the structure to help it blend in. Expect to pay around £1,000 for a kit.
Rules and guidelines
The work doesn't need planning permission providing it is permitted development (find out more at planningportal.gov.uk). If there are no structural alterations, it doesn't require building regulations approval.
More on transforming your home's exterior: