Making the most of your existing property can make a lot more financial sense than selling up and moving on. And you can still add significant value, even in the current climate — if you choose the right project. It's time to consider the options open to you, depending on how much you have to spend.
There are worthwhile improvements you can make to your house for a lot less than £20,000, of course, but if you can raise a budget in this range, you could convert a modest loft, turn a single garage into a living room or add a small extension or conservatory.
Do you need planning permission?
It's always best to check with your local authority's planning department, rather than assume you won't need permission. But for a clearer idea of what will and won't require consent, plus guidance on Building Regulations that you may need to adhere to, visit planningportal.gov.uk for detailed information.
If you're not sure if your extension is covered under permitted development, or if you need to apply for planning permission, try our free planning permission tool
Cost effective ways to extend your home
1. Room-in-roof loft conversion
Converting the loft space of a typical 89m² three-bedroom terraced house would cost around £1,000 per m², depending on where you live. This will create a new room measuring 22–28m². This is enough space for a good-sized double bedroom, possibly with a small en suite shower room.
Planning and costing a loft conversion
Such a project would likely be covered by permitted development rights (PDRs) and so would not require planning permission, though the work would have to comply with Building Regulations. This is a job for a building contractor or specialist design-and-build loft company.
2. Above-garage extensions
Building a first-floor extension over an existing garage is more cost-effective than building a new ground-floor extension, providing the existing foundations can take the load (an engineer or surveyor can advise).
You'll also need a designer and contractor. An added bonus is that no garden space is sacrificed, but in most instances you will require planning permission from your local planning department, with the application fee costing £172.
A 17m² extension above a typical attached single garage would cost £900–1,500 per m². Building Regs would apply, of course.
3. Single-storey side or rear extensions
A budget of £20,000–30,000 would only be sufficient to build a new single-storey extension of around 20m², at a cost of £1,050–1,450 per m². This would be sufficient space to extend an existing room, or to add a good-sized home office or utility to your house. Most such extensions would be covered by your permitted development rights.
How to add a rear extension under permitted development
How to raise money for your house extension
If you have a good credit rating and substantial equity in your home, then by far the cheapest option will be to extend your existing mortgage or take out a new deal.
If you do not have sufficient equity to be able to raise funds via a remortgage, a secured loan is the next best option. For the best deals, visit price-comparison websites such as moneysupermarket.com and shop around.
Case study: £22,000 Sun room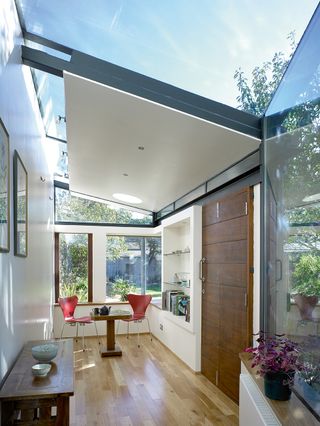 Anne and Jim Gilchrist replaced an old scullery and coal bunker on their terraced house in Edinburgh with an architect designed contemporary sunroom. The couple could have achieved more space with their £22,000 budget by choosing a classic timber-and-glass conservatory, but they are pleased with the resulting high-quality, individually designed space, which is integral to their house.
Architect: crichtonwoodarchitects.com,
Lead photo: Reportage