Want to build an extension for between £50,000 and £90,000? Making the most of your existing property by extending for under £90,000 can make a lot more financial sense than selling up and moving on. And you can still add significant value, even in the current climate – if you choose the right project.
You may have big plans to undertake a house extension, but how far will your available budget stretch? Before making plans, you need to get an idea of what can be done with the money you have available.
Here, we explain the types of project that can be achieved with a budget of £50,000 to £90,000. Find out more about extending a house in our ultimate guide.
How much does an extension cost?
Our extension cost calculator will allow you to pinpoint an accurate budget for your house extension, but, as a rough guide if you are planning a single storey extension, expect to pay (for building work only):
Around £1,500 to £1,900 per square metre for basic quality;
From £1,900 to £2,200 per square metre for good quality;
Between £2,200 and £2,400 per square metre for excellent quality.
WHAT KIND OF EXTENSION CAN YOU BUILD FOR BETWEEN £50,000 AND £90,000?
With an extension budget of between £50,000 and £90,000, you could achieve larger scale extensions, such as double storey additions, or you could take on a unique build to totally transform your home life. Perhaps a large loft conversion, a kitchen extension, a stand-out glazed extension or a basement conversion. Here, we take you through some of the options:
A kitchen extension with space for lounging too
Building a kitchen extension is the perfect opportunity to improve the entire ground floor of your home, with a simple change of layout, the introduction of natural light and the addition of appliances that could make your life easier.
If you have the space, plan to create an enhanced room that doesn't just including kitchen and dining areas, but zone for lounging, too. It's also really worth maximising the connection of the new room to the garden with bi-fold, sliding or French doors.
Prices will vary depending on the work you carry out, but as a guide, plan for between £1,200 to £3,000 per m² and upwards for building work; £17 to £200 per m² for a new kitchen.
Find out more about kitchen extension costs in our dedicated feature. And discover all you need to know about building a kitchen extension in our guide.
A large loft extension to expand your bedroom count
Extending the loft on a large semi-detached house and converting the existing roof space will cost £850 to £1,450 per m² and, at this budget level, you could add two good-sized bedrooms and a bathroom, or one very generous master suite with dressing and shower rooms.
In England, quite substantial loft conversions are still covered by permitted development rights. Larger conversions and those involving the addition of a window facing the highway will require planning consent. Building regs apply to all work.
Use our guide to converting a loft to find out about all the practicalities involved.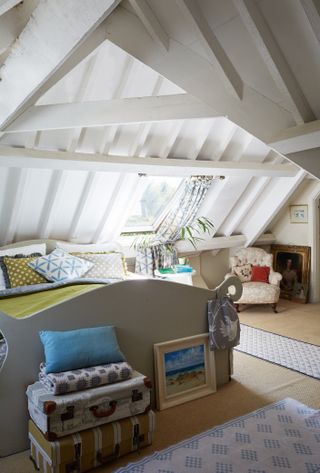 A value-adding double storey side or rear extension
Two storey side or rear extensions are more cost-effective than single storey extensions, coming in at around £1,320 to £1,620 per m² for a standard build, so with this budget you could extend by at least 35m² – sufficient space to add a large kitchen and/or living room extension on the ground floor, with two new bedrooms and a bathroom above.
A large two storey extension is likely to require a planning application, so approach your local authority about this and for its advice on building regs.
Find out more about planning, designing and costing a double storey extension in our guide.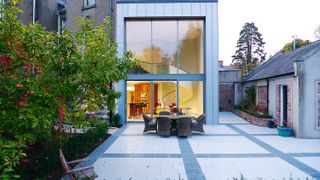 A side return extension
Subscribe to Real Homes magazine
Love your daily dose of Real Homes? Then why not subscribe to our magazine for the amazing price of just £5 for five issues? Packed with fabulous readers' homes, trend features, project advice and easy updates, you'll wonder how you ever lived without it.
A side return extension is a classic way to enlarge a Victorian/Edwardian semi-detached or terraced house; some of these extensions go straight out to the side, across the full width of the property, filling in the alley alongside the kitchen; others go sideways and outwards; where space is available, side return extensions can even be combined with a second-storey extension above the original kitchen, creating an additional bedroom.
The trick to creating a successful side return extension is to find a balance between enhancing the internal space without sacrificing too much garden. It's also important to ensure that the house doesn't become unbalanced, with a large living area downstairs but few bedrooms upstairs. For this reason, it's worth considering a side return extension in conjunction with a loft extension.
This type of build involves opening up both the original rear and side walls of the kitchen at the back of the house, inserting steel beams so the new and old spaces become one. Such a project may also involve adding a small downstairs cloakroom/utility room and diverting the existing drains with the addition of a new inspection chamber in the garden.
While a single storey may come under permitted development rights in England, extending on two storeys and right up to the boundary is likely to require planning permission wherever you live. As usual, remember that building regs must be observed.
Find out more about planning a side return extension in our guide.
A glazed extension
Glass extensions are very impressive and can work with any style of building, including period homes, but can cost £3,000 to £4,000 per m². A large budget should be sufficient to pay for an extension measuring 15 to 20m², however, enough for a small dining or living room at the back or side of a property. Because of the specialist engineering involved, it is perhaps best to hire a specialist design-and-build firm – try GlasSpace or IQ Glass. They will handle building regs; a small extension is unlikely to require planning consent.
Find out more about planning a glass extension in our guide.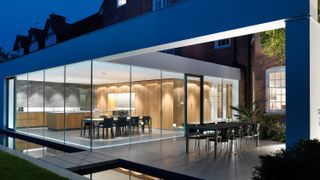 A basement conversion
Converting a basement is just about the most expensive way to extend, but in a high-value area and with all other options exhausted, it may be the best option. At a typical cost of £3,000 to £4,000 per m² including light wells, even such a large budget will not go very far, creating perhaps a 15 to 20m² basement – ideal for a home office or cinema room.
For a design-and-build firm, try Orbital Basements or The London Basement Company. For information on cellar conversions and basement extensions in general, contact The Basement Information Centre.
Find out more about converting a basement in our guide.
Read more about extending: