Looking for traditional flooring ideas, whether for a old house that you're giving an authentic look, or for a modern home that you want to create a period feel for. But what to choose: carpets; wooden flooring; stone; or manmade tiles?
With so many options, deciding on traditional flooring for period homes can be a bit of a challenge. So, if you're feeling overwhelmed with the number of options on offer, have a look through this selection of our favourite traditional flooring for period homes; we guarantee you'll find something that you love and that's perfect for your home.
For more advice, read our guide to choosing the right flooring materials; and don't miss our flooring hub page for buyer's guides on every imaginable flooring subject.
Traditional wOODEN FLOORING
Timelessly beautiful, wooden flooring is one of the most desirable features in a period property due to its authentic, natural appearance, durability and warmth underfoot. We've compiled the best designs for your home.
Inspired by the vastly popular Nordic trend, paler finishes for wooden floors are becoming increasingly popular in British homes of all ages. Complementing a more minimalist design scheme, grey and light-toned floors add a modern flair to a period home. If you love Scandi style, then take a look at our 10 cosy Scandi room design ideas.
Honey-toned oak flooring is perfect for rooms that you want to feel relaxed and welcoming. It also beautifully complements any original oak features such as wooden doors, beams and furnishings.
Use our guide to picking the best wooden flooring for more in-depth, practical advice.
1. Go for quality with solid wood flooring
Ageing gracefully, natural wood flooring reveals a characterful differentiation of shades between each board. Made from a single piece of real timber, the wood is cut straight from the tree and then shaped into planks. It has a long life expectancy, offers timeless appeal and, if desired, can be sanded and refinished many times. However, unlike engineered flooring (see below), solid wood is not always compatible with underfloor heating. Use these guides to find out more about solid wood flooring:
2. Pick reclaimed timber flooring for an authentic effect
Reclaimed timber is the closest you can get to authentic solid wood flooring in a period home. Having had a longer life than newer boards, reclaimed wood is less likely to split as it has been exposed to both hot and cold environments for many years and so will have already expanded and contracted to its full potential. This makes it stronger and more durable than its modern counterparts, and the denser grain means the wood is less likely to warp. Its authentic colour variations and aged quality gives a reclaimed floor a unique personality.
The Main Company is one of the few companies in the UK that offers engineered wooden flooring made from reclaimed timber. This enables you to have the rich, authentic qualities of reclaimed wood on a more stable board that is also compatible with underfloor heating. Each board is meticulously worked by hand, and prices start at £125.40 per m². Find out more about reclaimed wood flooring in our guide:
3. Choose tough and elegant engineered wood flooring
Engineered wood flooring is constructed of a wear layer and multiple base layers. The wear layer is comprised of real wood, such as oak or walnut; below this are base layers, usually made from cheaper or composite wood, which are attached to the wear layer to provide stability and strength.
Once laid, there are no obvious differences between engineered and solid wood floors but, due to only having a wear layer of timber, engineered boards are more cost effective, though they can only be sanded once or twice in their lifetime. Another benefit of engineered wood is that it is perfect for pairing with underfloor heating.
For more practical advice about choosing engineered wood flooring for a traditional look, read our guides:
4. Select elegant parquet wooden flooring for a traditional style
Perfect for living rooms in Georgian townhouses, Arts & Crafts cottages and contemporary Victorian renovations, parquet flooring is a geometrically designed pattern of wood flooring. Created using smaller staves of wood, rather than planks, it can be either solid or engineered. The most common pattern to lay is the crossed 'herringbone' design, although the block form allows you to create bespoke patterns as well as the more traditional.
Traditionally regarded as a flooring style of aristocrats, parquet has become a popular choice for all homes thanks to modern milling methods. Admired for the flourish of pattern it subtly injects into any room. Find out more in our guide:
5. Pick affordable wood-effect laminate
If you love the look of wood but want something a little more budget friendly, luxury laminate wood-style flooring will achieve a similar finish at a fraction of the price. It is simple to install and compatible with underfloor heating, while its waterproof qualities make it well suited to bathrooms.
Laminate flooring is comprised of multiple layers of melamine resin and fibre board. This is then covered by a very high-resolution photo of real wood, which can be extremely realistic, and is sealed with a layer of clear protective film. Though laminate only offers the illusion of a solid wood floor, it is popular due to its low cost, durability and ease of installation and maintenance.
Find out more about laminate flooring in our guide:
6. Go sustainable with bamboo flooring
Bamboo is a less traditional option, but its popularity is on the rise due to its sustainability and resilience. Although it's actually a type of grass, it has a unique grain pattern (similar to wood), which can be worked into boards. Bamboo flooring is water-resistant but it is not totally waterproof and so is not recommended for use in bathrooms.
With an appearance and texture that could easily be mistaken for solid hardwood, this carbonised strand woven bamboo flooring is twice as hard as oak and will withstand the wear and tear of a busy family kitchen. Find out more about choosing flooring below:
Traditional STONE FLOORING
With a variety of colours, veinings and textured undulations, stone is a timeless flooring choice that will work in most rooms of the home. Take a look through some of our favourite choices then go on and check out our expert guide to choosing real stone flooring for more in-depth advice.
7. Pick colourful slate tiles to brighten any kitchen
A cost-effective option that is durable and in keeping with a rustic design, slate is a characterful choice for a period home. It is also a good conductor of heat, so works brilliantly with underfloor heating. Uncalibrated slate has not been levelled and so requires 'bedding up' on installation to ensure a level finish, meaning the fitting is best left to a professional. However, calibrated tiles are pre-levelled and showcase the rich earthy colours in a distinctive layout. Find out more in our guides:
8. Opt for sandstone flooring for a Victorian hallway
Formed of sand that has been deposited and compressed, sandstone is an extremely hard material that also has beautiful surface details. It is, however, very porous and so benefits from priming with a suitable sealant to ensure its longevity. If your hallway's original tiles have long since been ripped up by previous owners, sandstone makes a great replacement; it will give the hallway a bright, smart feel that busy, original tiles don't. Find out more in our guides:
9. Choose traditional limestone flooring for a characterful country kitchen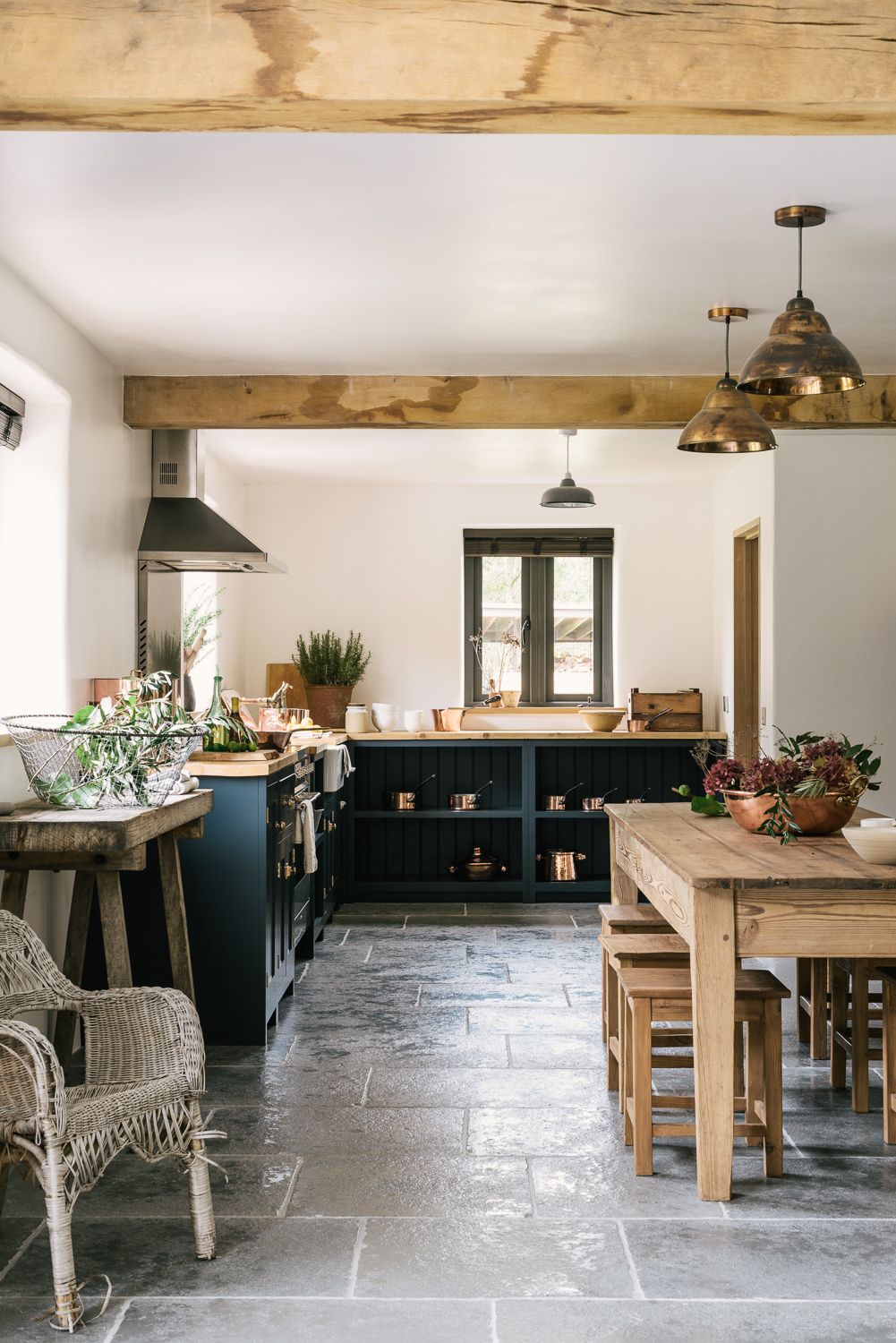 Limestone ages beautifully, making it a popular choice for traditional and modern homes alike, although its slightly worn finish makes it particularly well suited
to rustic cottages. Opting for a darker shade of limestone adds an on-trend touch to a kitchen, while making it less susceptible to staining and marks than lighter-coloured alternatives. Find more information in our guides:
10. Find reclaimed stone flooring to blend seamlessly
Opting for reclaimed stone enables you to get the closest you can to a traditional floor that has been walked on for centuries. It is essential to use a good sealer on the stone to prevent degradation; selecting a sealer with a matt finish helps to retain the floor's authentic aged appearance.
If you decided that reclaimed flooring is perfect for your home, make sure you take a look at how to maintain and repair old stone floors.
11. Find travertine flooring for country-style homes
Travertine flooring is known for its honeycomb structure and visible surface pitting, which adds a unique quality to each individual tile and creates an impressive overall appearance. It looks particularly beautiful in country cottage homes. Bear in mind that previously unexposed holes may become visible through general usage and will need refilling with a suitable resin.
12. Marble flooring offers timeless elegance
Used in ancient buildings for millennia, marble elevates any room and comes in a spectacular range of shades and veining. Particularly stunning in bathrooms, marble's dense nature makes it perfect for polishing, with the glassy finish being a popular option. However, marble also lends itself to being honed (where the surface of the stone has been ground to a smooth, flat, consistent surface) or tumbled (where tiles have been put in drums to soften and age the edges and surfaces) for a more rustic effect.
13. Pick Marble-look flooring for glam on a budget
Despite the many positives of a real marble floor, it is often accompanied by a high price tag, which becomes particularly notable when marble's delicacy is taken into account. For a more affordable and hardwearing option that still allows you to achieve the gorgeous colour variation and veining effects of the stone, opt for a porcelain marble-effect floor.
14. Unusual pebble effect flooring
Better suited to smaller spaces, a characterful, tactile floor is perfect for
a bathroom or en suite. This Peppermint Pebble flooring, £49.29 per m² from Mandarin Stone, introduces plenty of colour variation, while the uniquely textured surface provides extra interest and luxury to your sanctuary.
Traditional CARPET designs
Carpet is certainly the most comfort-enhancing option, making it a popular addition to living rooms and bedrooms. From organic natural fibres to rich sumptuous wools, find out which styles and materials will work best in your home. For more in-depth advice on costing, sourcing and fitting carpets visit our how to choose a carpet guide.
15. Dare to choose light carpet shades
Neutral, lighter-coloured carpets can be a challenge to keep clean, particularly for younger families or those with pets. Man-made materials, however, as opposed to more natural alternatives, can withstand more vigorous cleaning methods. This means you can keep your new carpet in pristine condition, no matter what shade you choose. Check out our guide for the best way to clean carpets for more on this.
Twist-pile carpets are a good choice since they are woven with twisted fibres, giving them a resilient texture, so are able to withstand lots of wear and tear, yet provide a comfortable surface underfoot.
16. The natural choice
Seagrass cannot be bleached or dyed, but instead the yellow and dark green colour variations are the result of different harvesting times. Once fitted, the colour develops a richer intensity in response to its environment, so therefore every seagrass carpet is unique. Find out more about choosing natural flooring in our comprehensive guide.
17. Choose a dark coloured carpet for drama
Dark-coloured carpets have a reputation for making rooms look smaller, but opting for a colour midway between light and dark (above) can create a cosy environment if used in a small room, and can make larger spaces feel less imposing. A truly dark carpet (below) can look stunning in a dramatic room scheme, and is also much more forgiving of stains and markings. Be inspired by more dark and dramatic decorating ideas in our design gallery.
18. Add interest with bold colour and pattern in carpets
While bold patterns can be overwhelming in small spaces, a brightly coloured or ornately patterned carpet creates an inviting focus in larger rooms. Team with neutral walls and furnishings to prevent the room from feeling too busy.
19. For durability, choose coir carpet
The most durable of carpeting materials, coir is perfect for high-traffic rooms or areas where other natural fibre carpets would quickly degrade. As it's also extremely environmentally friendly, coir is becoming an increasingly popular option. It is more water resistant than other carpet materials, which makes it ideal for hallways, kitchens and areas next to exterior doors.
For more advice on flooring, take a look at: