If you need to know how to choose bathroom tiles for a brand new bathroom design, or to revamp an existing room then you have come to the right place. Tiles can do many things, they can protect walls in baths and showers, even behind the basin, and the obvious benefit of tiles is that they decorate a space like nothing else can. A clean and modern update may be exactly what you're looking for, and whether you want to choose natural stone, ceramic, porcelain or glass (plus there's a multitude of shapes and finishes to choose from too), you'll be able to find clarity in our guide and discover the best tiles for you to use in your bathroom.
For more inspiring bathroom ideas, head over to our feature.
How to choose the material of bathroom tiles
The condensation and splashes of a bathroom rule out some tile materials, but still leave plenty of choice – real stone tiles or manmade tiles are particularly popular. While natural stone has character, care requirements are higher and the tiles will need resealing over time to maintain the protection. Generally, manmade tiles are great if you are decorating a bathroom on a budget. While they're easy to look after, they do lack the uniqueness of stone.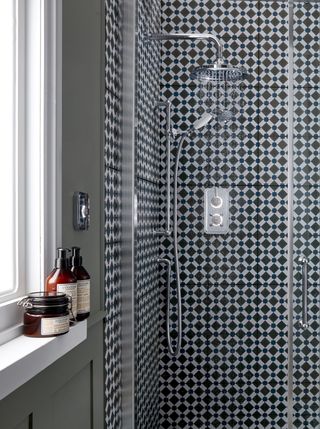 Natural stone bathroom tiles
Marble looks opulent with the veins of colour running through it making it rich interest. Depending on your preference, it's possible to choose from a range of colour tones varying from dark to light, as well as both subtle and striking veining patterns.
Both floor and wall marble tiles are available, but polished marble should be avoided on the floor. Ensure it's sealed correctly and that spills are wiped up immediately – check out our guide to the best mops for floor tiles to help your marble floor keeps its lustre.
Travertine has warm tones. While the stone has natural pits that give the tiles individuality, opt for filled travertine to stop water penetrating. It can be used for both floor and wall tiles, but should be sealed to protect the stone.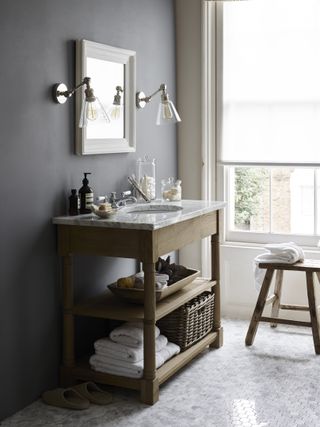 Limestone is enduringly stylish. Pale finishes – that still look warm – are popular, but it can be dark in colour, too. The stone should be sealed. Limestone is softer than other natural stones, so can be scratched. For this reason, it's perhaps best saved for the floors of your en suite rather than the family bathroom.
Slate is a sound choice if you want darker tones for walls or floor – both at once would probably be overpowering. Once again, it needs to be sealed. It's slip-resistant, so consider it for a bathroom used by those who are less steady on their feet.
Manmade bathroom tiles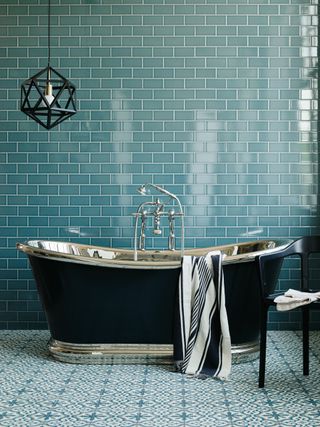 Ceramic tiles are an affordable covering, and easy to look after. They aren't as hard wearing as porcelain tiles, but a bathroom isn't a high traffic area, so they can be laid on floors as well as walls. Always verify that a particular ceramic tile you're interested in is suitable for the floor, however.
Porcelain tiles are denser than ceramic, extremely hard wearing and simple to look after. They're suitable for both floors and walls.
See our guide to ceramic and porcelain tiles for more info.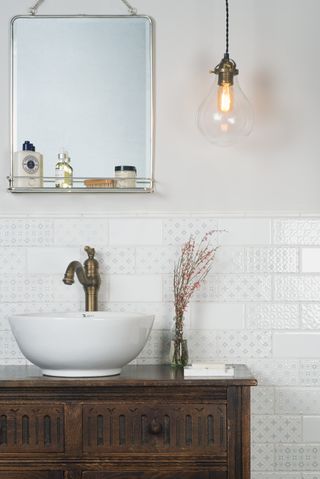 Gloss tiles reflect light, and are great if you are designing a small bathroom as they make the space feel bigger and brighter. A further advantage of a gloss finish is that it's easy to wipe down. On the downside, though, smears will show up on the shiny surface.
Matt tiles include those that look like other materials such as cement, stone and wood, as well as simple non-shiny finishes. An advantage of matt tiles is that they don't reveal water marks so easily.
For plenty more beautiful bathroom floor tile inspiration be sure to check out our information page.
How to choose tiles for bathroom walls and floors
The same tile can often be used on the floor and walls of a bathroom – most frequently natural stone or porcelain. The effect is spa-like and sleek and, when pale colourways are used, it's space-enhancing.
If you want a gloss tile on the wall and a continuous appearance, look for a range that offers the same tile in a matt finish for the floor to avoid slip hazards without sacrificing continuity.
Consider also using the same tile but in a different format for subtle variation. For example, you could choose a square version for the floor and rectangular for the walls, or vice versa.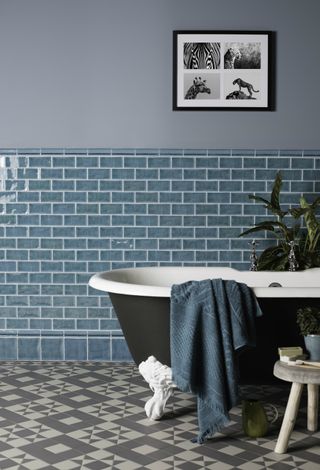 If you like the idea of contrasting wall and floor tiles, there's a world of opportunity. Try colour on the walls and a quieter finish on the floor; make cleaning easier with a dark floor tile and light walls; pick pattern for one surface and plain for the other, and so on.
The tiles shapes can contrast as well as the finishes. Metro wall tiles are a trend that shows no signs of going away and these can work happily alongside square tiles on the floor, for example. Likewise mosaic tiled walls can harmonise with a different format on the floor.
Don't forget either that porcelain tiles that look like wood can make a warming addition at floor level alongside a conventional tile finish on the wall.
Create decorative effects with bathroom tiles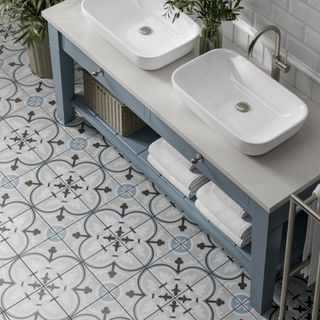 Using the same tile on all the tiled walls of the bathroom is only one possible strategy. A shower wall could become a feature in a patterned tile, or one that contrasts in colour or shape – or make a feature of the wall above the basin or twin basins in the same way.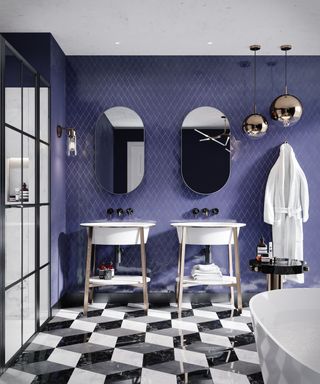 Mosaics can also be fixed to zone particular areas of the bathroom, or used as eye-catching borders. Choosing a different colour of the same tile above and below dado level can also look smart. Textured or textured-effect tiles can also create another dimension to bathroom design set against all the smooth surfaces of the room.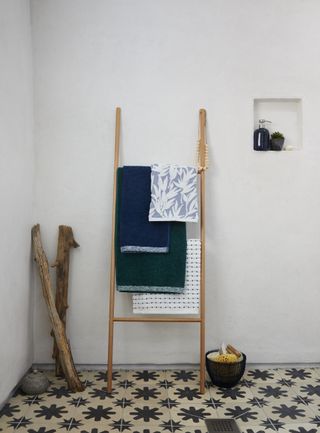 Tiles for small bathrooms
Tile size shouldn't be determined by bathroom size, despite what you may hear. A small bathroom can actually benefit from a large tile. With fewer grout lines the walls and floor are less cluttered and the room visually expanded. Of course, smaller tiles shouldn't be ruled out either and can dress up even the tiniest of bathrooms.
Do think light-reflective tiles for small bathroom walls. That's not only a matter of gloss rather than matt, but also going for light colourways. Find more tips in our guide to choosing the right size tiles for a small bathroom.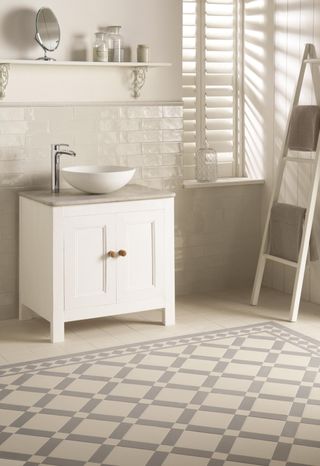 Select the best grout for bathroom tiles
Gone are the days when white grout was all that was on offer for bathroom tiles. Choose it for a clean and sparkling look, but consider also coloured grouts, such as grey, which can have a less clinical appearance. Check out these ideas, too:
Contrast but complement grout colour with tile colour to make a more complex pattern on the wall.
Use very dark grout around light-coloured tiles to emphasise their shape.
Perk up an all-white bathroom with an energetic grout hue such as yellow or pink.
Remember to go for mould-resistant grout when you're fitting bathroom tiles to prolong its life and make bathroom cleaning less of a chore.
Use our guide to choosing the best grout and adhesive for your tiling project.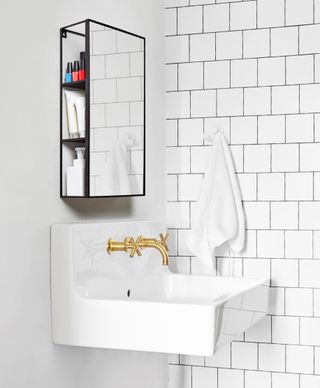 Who can fit floor and wall tiles?
A competent DIYer can fit wall tiles and tile a floor, but bear in mind that porcelain is much harder to cut than ceramic, while natural stone is costly, so a professional installer can be well worth the spend.
Looking for more bathroom inspiration?