Hallway flooring needs to be many things. It's got to look nice, it's got to feel good to walk on and it's got to be easy to clean. We really do ask a lot, so if you're wondering how on earth to decide which is the best hallway flooring to meet all your needs, we can help. We cover all the options here so you can make a practical (and stylish) choice...
Find more inspiration with our hallway ideas. Then, if you need more advice on choosing other types of flooring, head to our dedicated hub page.
What choices are there for hallway flooring?
Why you can trust Real Homes Our expert reviewers spend hours testing and comparing products and services so you can choose the best for you. Find out more about how we test.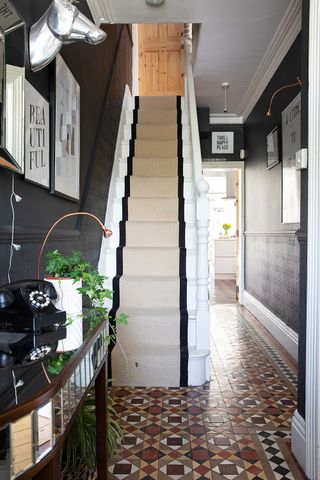 It may be a demanding space, but there remains a huge range of flooring suitable for a hallway. Knowing the best hallway flooring for you really depends on the space you have.
You'll need to select between hard flooring and floor coverings that are more forgiving underfoot. Think about color as well. Do you want a floor that's available in a dark hue that won't make what's tracked in immediately obvious? Prefer pattern for the same reason? Alternatively, you may favor a pale finish that can make a dark hall lighter. Or lay tiles diagonally to make the hallway look larger? How do you prefer to clean the hall floor? Is vacuuming sufficient or do you like to be able to mop as well?
Hard floor coverings for hallways: flooring tiles and more
If you want hard flooring that's suitable for a hallway, floor tiles, wooden flooring, and laminate flooring are all worth investigating. On a budget? Think about vinyl flooring, which is an affordable cushioned surface alternative to tiled floors in hallways.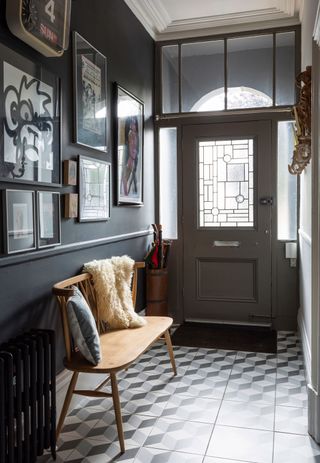 Hallway flooring tiles are a popular choice. Select from natural or manmade floor tiles. If you are choosing natural stone floor tiles, bear in mind that not all are suitable for high traffic areas. Speak to your supplier to be sure that a particular stone tile will cope with the workload of a hall, and be aware that it will need ongoing care. The advantages of real stone? Natural beauty and a unique floor.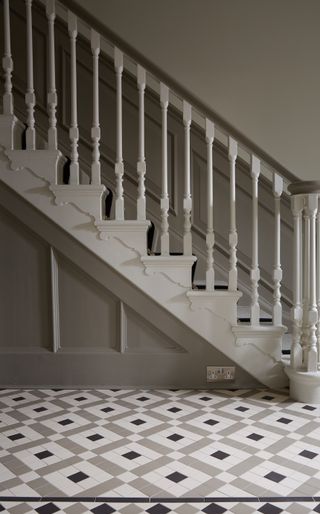 Manmade hallway tiles may not have the individuality of stone, but they are still an attractive and practical option. Ceramic tiles are hard wearing and easy care, and porcelain tiles are extremely durable. Encaustic tiles can bring period style back to a home that's lost original features and a lively pattern will keep the hall looking good for longer between cleans. In an older house, it's worth looking under the carpet as you can restore old encaustic floor tiles.
Find out how to choose the best floor tiles in our guide.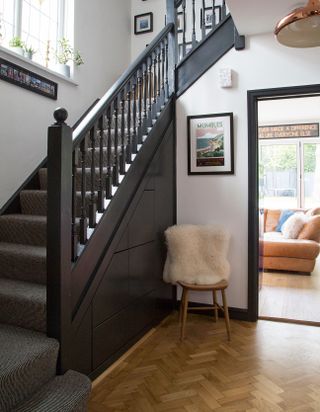 Wooden flooring in a hallway can be a good option, too. Mid-toned finishes and dark woods will be more forgiving in terms of showing up dust, while pale wood will demand more work but can help the space look more expansive. The best wood flooring has lasting style and durability, and the advantage of wood flooring is that it can be refinished if any damage occurs over time.
Don't just think wooden boards for hallways. Parquet makes for a handsome hall floor because plenty of the design will be on show rather than covered by furniture.
If you are stripping your wooden floorboards back, it's likely that you'll be tackling the stairs in a similar way – unless, of course, you choose carpet (see below). Use our guide to stripping and painting stairs for advice and pretty ideas.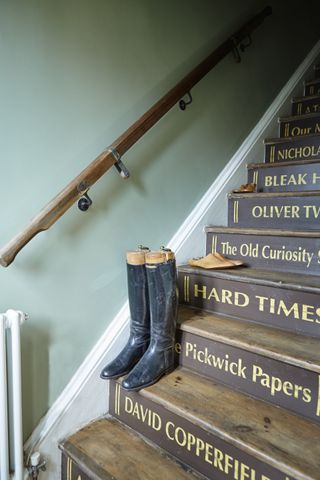 Engineered wood is an alternative to solid wood for hallways. Made from several layers, engineered wood or composite wood is designed to be more stable in response to changes in humidity than solid wood. The best quality designs can be refinished if they become damaged.
Find out how to choose the best engineered wood flooring.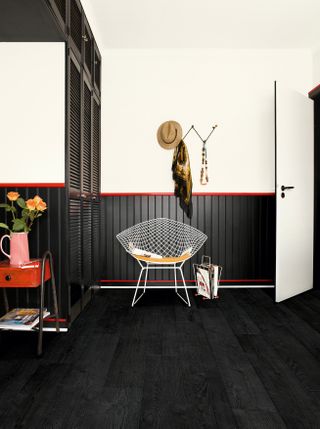 Laminate hallway flooring can create the look of solid or engineered wood in the hallway at a lower price point. The best laminate flooring will stand up to the wear and tear it's subject to in the hall. Stay away from the cheap options which won't wear well.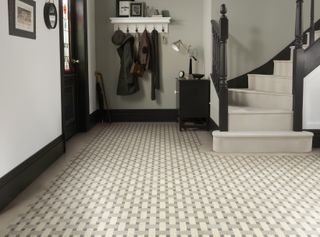 Vinyl flooring in the hallway can reproduce the look of wooden boards or parquet, stone, or patterned tiles. It's softer and quieter underfoot, so might be the way to go to cut down on clatter when the family troop in and out. Vinyl flooring is a breeze to clean as well. Like laminate, good vinyl flooring is a cost-conscious buy. It is also easy to cut to shape in unusually shaped hallways, and many modern vinyl tiles are compatible with underfloor heating.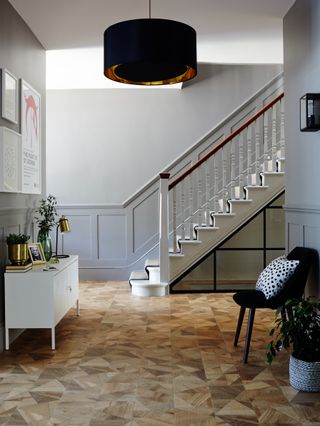 Carpet and natural flooring for hallways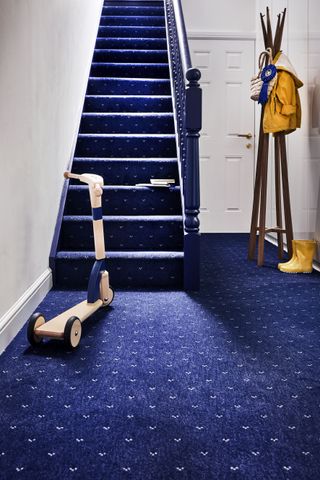 Warmer and softer underfoot than hard floorcoverings, carpets and some of the plant-fiber flooring options can be a success in a hallway, particularly up the stairs and on to landings.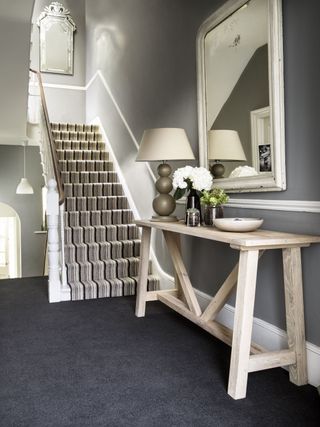 Carpet is the hallway flooring choice for many homeowners. Carpet can't be mopped if shoes or paws bring mud in, but carpets can have good resistance to soiling and be hard-wearing enough for hallway life. Try a wool-rich version (80 per cent wool, 20 percent manmade fibres). If you prefer a synthetic fibre, choose a carpet made from polyamide – it's moisture and grease repellant, making it a good option for large families with bikes and wellies.
Carpet is also a good noise-dampener. Pattern, including stripes, can make an impact in the hall and will look nice between vacuuming sessions, just make sure you know how to clean hallway carpet properly to keep it that way!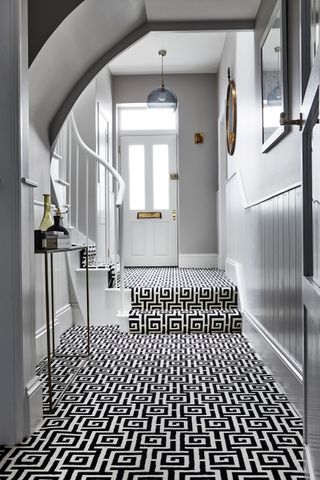 Natural flooring is made from plant fibers and has a pleasing texture that can add subtle decorative interest in the hall. Not all natural flooring is suitable for a hallway. However, look for sisal and coir, which are tough enough to take the traffic. Coir comes in golden tones and will keep their look, while sisal comes in a wide variety of colors.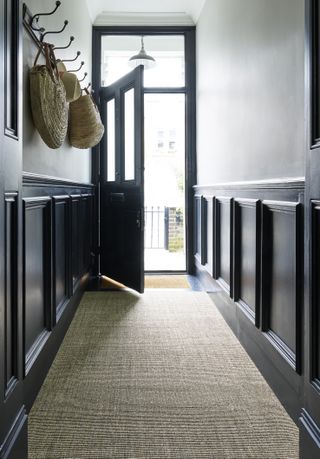 Runners make for a more relaxed (if smart) look in a hallway. Match – or co-ordinate – it with that of your stairs for a cohesive look, and bear in mind that stripes, like these below will visually lengthen your hall, a bonus if you're always on the hunt for small hallway ideas.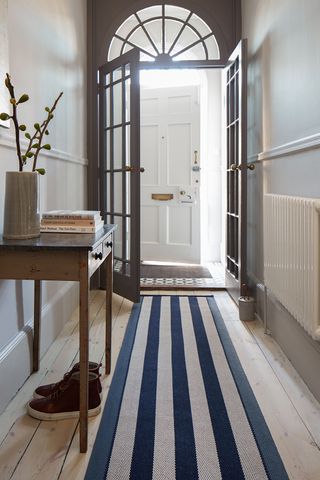 Laying hallway flooring with underfloor heating
Hard hallway flooring such as stone, porcelain, and ceramic tiles combine effectively with underfloor heating and provide good heat output.
Solid wood flooring can be suitable for use with underfloor heating, but check with your supplier. Composite wood should be compatible as well.
High-quality laminates and vinyls can be used with underfloor heating.
Carpet can also be combined with underfloor heating, however the carpet and underlay needs to conform to the maximum TOG (thermal resistance) rating specified by the heating manufacturer.
Top tip: Whichever hallway flooring you choose always lay a doormat at the entrance to your home to prevent grit from damaging the floor covering and to prolong its life.
Find out everything you need to know about underfloor heating in our comprehensive guide
Painting hallway flooring
If your hallway floorboards are looking the worse for wear, or you simply want an update without the huge cost of replacing your entire flooring, have a go at painting floorboards yourself. It's actually quite easy and will improve the resistance of your wooden flooring to the high traffic in this area.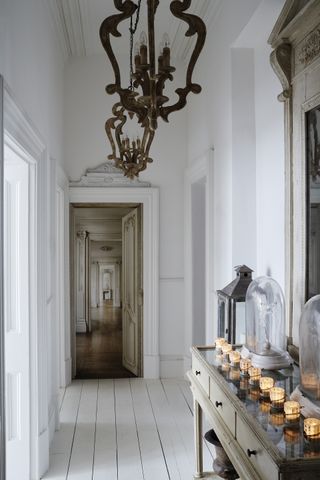 Looking for more hallway inspiration?