We have some big plans for those small bedroom flooring ideas. If you haven't already, now is the time to start mapping out a blueprint.
Even though confined spaces can cause dwellers to flinch, there's no need to sweat the (literal) small stuff. With a few design hacks and clever tricks, your modest square footage can feel grander than you ever thought imaginable.
Thanks to designers' generous advice, we have a feeling these small bedroom ideas will be contagious.
5 small bedroom flooring ideas, according to pros
While yes, when it comes to maximizing space in a small bedroom, designers are mad for vertical storage. They're constantly encouraging us to look up and utilize a blank space with shelving and tall furniture. But that's not to say what's below should be neglected.
"The floor, often overlooked, can be a game-changer in small bedrooms," says designer Artem Kropovinsky.
Let the experts show you how.
Artem Kropovinsky is an interior design expert and founder of Arsight, an award-winning interior design studio based in New York.
1. Add neutral-colored rugs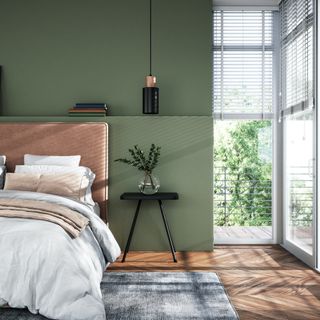 Alexandra Cooper, architect and interior designer at Planner 5D, is one of the many professionals in the field who is all for eye candy on the floor, especially when working with a small area.
"Use large rugs to visually expand the floor space," she says. "It also adds warmth and comfort to a room."
Opting for a light-hued shade will make a tiny bedroom feel airy and bright, according to Carlie Gasia, a certified sleep science coach—but only if you go for the correct size.
"It's not a good idea to use rugs that are too small, which can make the room appear choppy and cramped," she notes.
If possible, the best location for your rug would be under the bed, but if that isn't a doable—as it's one of the preferred small bedroom storage ideas—runners would also do nicely.
"Get two runners on either side [of the bed], which can add some flair and are also practical to warm up your feet when you jump out of bed in the morning — and they take up less space," says Alex Bass, the founder and CEO of Art Advisory and Interior Design Studio Salon 21.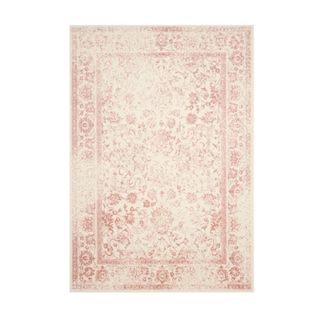 No backing
Medallion Loomed Rug in Ivory Rose
Price: $110.99
Dimensions (ft.): 5'1" x 7'6"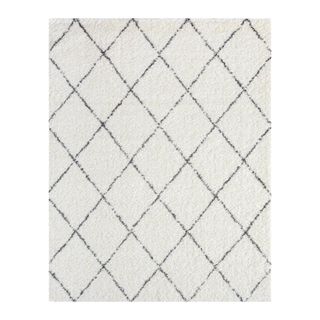 Stain resistant
Asine Performance Creamy White Rug
Price: Was $160, now $77.99
Dimensions: 5'3" x 7'3"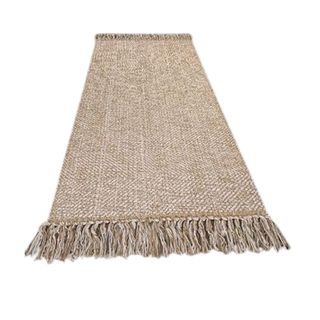 Pair with rug pad
Reversible Collive Hallway Runner Rug
Price: $29.99
Dimensions: 2' x 6'
An architect and interior designer with seven+ years of experience working in architectural firms and online interior design, Alexandra's experience is extensive: from large office and educational projects to small and detailed residential projects. She has lived and worked in Uruguay, Spain and the US.
Carlie Gasia, is a certified sleep science coach at Sleepopolis, a site dedicated to bringing readers the most comprehensive sleep-industry information on the web.
Alex Bass is an art curator and interior designer. She founded Salon 21 to fill a void in the social experiences available to her demographic interested in arts and culture and access to new talent. Alex graduated from Columbia University, majoring in Art History and Business Management, and continued her education at the Sotheby's Institute of Art in London for Art Business, culminating in the development of a comprehensive business plan for Salon 21.
2. Choose the correct furniture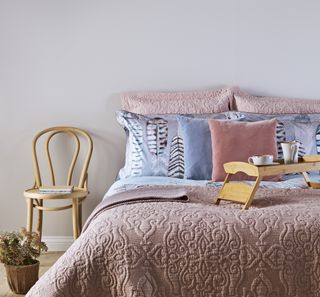 Before figuring out where to put a dresser in a small bedroom—and potentially a desk, a chair, etc.—you have to figure out what can fit in the room and house your essentials. This is another time when vertical space comes into play.
"Tall, slender furniture can draw the eye upward, emphasizing the room's height over its footprint," says Carol Wilson, a home decor writer at YouComfort.
Throughout an extensive career in home décor and textiles, Carol Wilson has developed a nuanced and comprehensive understanding of the field. Working alongside some of the industry's notable names in bedding has been a truly enlightening journey for the YouComfort writer.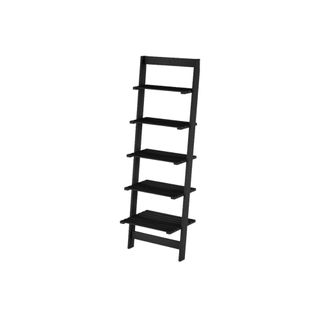 Wall mount
Lavish Home 5-Tier Ladder Bookshelf
Price: $62.99
Dimensions (in.): D11.5 x W16.25 x H50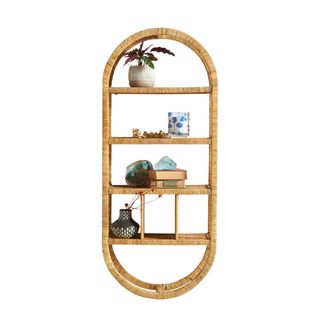 13.25lbs./shelf
Selena Rattan Shelving Unit
Price: $248
Dimensions (in.): H42.25 x W17.75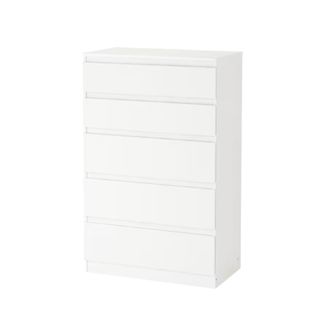 Anchor to wall
Price: $129.99
Dimensions (in.): D 15 3/4 x W 27 1/2 x H44 1/8
3. Utilize wall space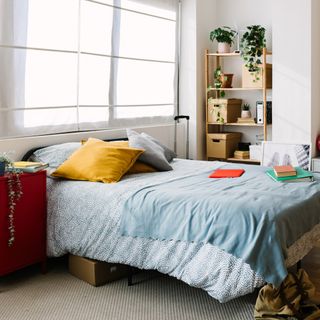 You know that rep vertical storage is getting? Turns out, it's worth the hype, whether you're making room for floating shelves or putting up a long ladder shelf to house your trinkets.
"Remember, vertical space is just as crucial," Wilson adds.
Keep this in mind as you mull over small bedroom layout ideas.
4. Choose the right tiling or paneling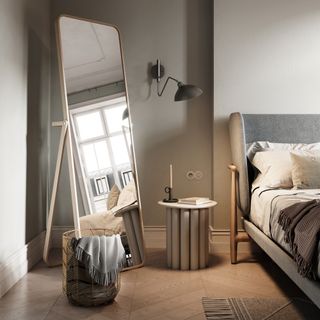 If you opt for microscopic tiles or floor panels, chances are, it's going to enhance your room's tininess. Might as well opt for a bigger selection to trick your eye.
"Choosing wide-plank flooring or large-format tiles offers fewer visual breaks, creating an impression of continuity," Kropovinsky notes.
5. Add a mirror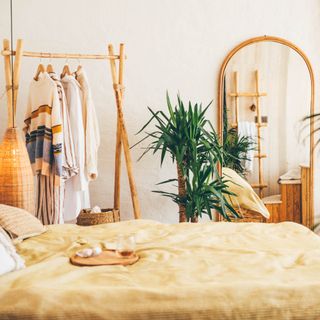 Though you'd think figuring out where to put a mirror in a small bedroom is more of a "wall" thing, it can affect the floorspace, too.
"When the goal is to make spaces appear grander, the minutiae matter," Kropovinsky says. "Placing a mirror opposite a window can work wonders, amplifying light and seemingly extending the room's boundaries."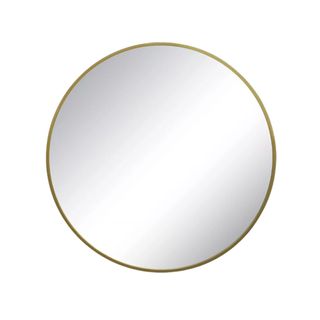 Mounting hardware included
28" Round Decorative Mirror
Price: $60
Dimensions (in.): D28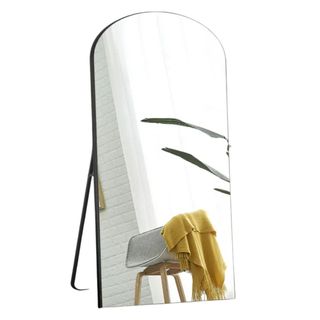 Black or Gold
GLSLAND Full Length Mirror
Price: Was $86, now $75.90
Dimensions (in.): 21 x 64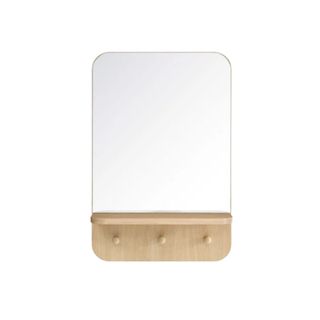 wood grain laminate
Rectangle Wood Wall Mirror
Price: Was $112, now $59.33
Dimensions (in.): D 4.5 x W15.5 x H23.5
FAQs
What is the trend for bedroom floors?
Designers believe that bedroom floors, particularly for small rooms, should include large light-colored rugs to make the space feel airier and brighter. Ideally, it should be placed under the bed, but if that is not an option, designers suggest placing runners on both sides of the bed. Additionally, the wood paneling/tiles should be large, otherwise you'll start feeling like the space is cramped.
What is the best small bedroom layout?
Small bedroom layout ideas involve being practical and stylish.
"Space is at a premium in small bedrooms, so I recommend a layout focused on pieces that add functional storage without a large footprint," says Todd Saunders, the CEO at FlooringStores.
Though it all depends on the room itself, we recommend a few tricks for styling a small layout: utilize wall space efficiently, make a statement wall, and take advantage of the large closet for storage, to name a few.
---
Have all the basics covered? Now let the experts help you style a small bedroom.