It's essential that you know how to clean a carpet if you're committed to keeping your home looking its best. Carpets feel soft and luxurious underfoot, keeping your floor warm. They're also a tad more high-maintenance than hard flooring – though the upkeep is worth it if you just love the feeling of soft carpet under your feet.
Our step-by-step guide to cleaning carpet will make it simple and hassle-free process. At this time of year, cleaning your carpet is also a great way to keep pollen at bay, limiting allergens and reducing hay fever symptoms.
If you're not sure whether it's worth investing in a machine carpet cleaner, take a look at our video test below. Then, find more step by step cleaning guides and hacks on our dedicated hub page.
How to clean a carpet
Jump for more advice on how to clean carpets
For successful home carpet cleaning, it's important that you choose the right products to get the job done properly. From there, it's worth taking the time to clean your carpet thoroughly. Below we've covered everything from cleaning carpet stains to carpet shampooing and more to get your carpets looking clean again.
We'd recommend using the following products:
1. Clean your carpets regularly
Ideally you should wash your carpets every three to four months using a domestic carpet shampoo machine.
If you have kids and pets rolling around a lot it may be a good idea to wash your carpet more often than every three months. In fact, you might like to read our guide to cleaning up after dogs and cats for more specific carpet-cleaning tips and advice.
2. Buy the right carpet cleaning products
To clean a carpet well you will need a decent carpet cleaning solution (check out our list of the very best). You will also want a machine to clean with as these are designed to give a deep clean without soaking or damaging the carpet. Have a read of our guide to carpet cleaning machines if you're not sure what to choose or see the list below.
If you can, buy a shampoo that includes a carpet protector – for example Scotchgard – as this will help protect your carpet from future stains.
For wool carpets. choose a cleaning solution that is wool safe. This way you will know it has been tested and approved for carpet care specifically on wool (all Vax cleaners are wool safe).
3. Hire a carpet cleaning machine
If you don't want to buy your own carpet cleaner, you can also hire a machine such as the Rug Doctor from B&Q. They're usually £30 for a 24 hour rental including detergent.
4. Clear the floor
The first thing you need to do before you begin cleaning your carpet is clear the area as much as possible. Stack chairs upside down on the table, remove rugs and any small objects that are lying around. It's important to ensure that small objects won't be sucked up and damage the vacuum cleaner.
Try and remove any dents and impressions left on the carpet by heavy furniture by rubbing an ice cube over the area.
5. Freshen up a smelly carpet with bicarbonate of soda
It's officially our favourite natural deodoriser – sprinkle it on carpets for at least 15 minutes (but preferably an hour) before vacuuming, and that lived-in smell will disappear.
Don't miss our guide to cleaning a whole house with bicarbonate of soda. And find more ways to get rid of household smells in our guide.
6. How to clean a carpet with vinegar
Start by tackling any stains – but always do a patch test first to check your carpet can take it.
Make up a solution of one part white vinegar to three parts water. Use a plant mister to spray it on to the carpet and leave for a few minutes so it can do its work. Blot with a clean microfibre cloth, following the essential rule that you should never, ever scrub at a stain.
Once the carpet's dry, it's time to tackle the whole of it. Clear furniture out of the way, and sprinkle the carpet with baking soda. Leave for a few hours, but overnight if you can. Vacuum thoroughly. The added bonus? Your carpet will smell fresh, too.
7. Vacuum the carpet
To remove any surface dirt, quickly vacuum the area before you begin carpet washing. This will also stop your carpet washer getting clogged up.
Want to know how to vacuum like a pro? Check out our guide. Need a better vacuum cleaner to get the job done thoroughly? Don't miss our vacuum cleaner reviews and buyer's guides – we've found the best vacuum cleaners, whatever your needs.
8. Remove and pre-treat carpet stains
Ideally, you should remove any stains from your carpet such as tea, wine and ketchup as soon as they happen. Treat the stain with a carpet cleaner straight away, as this will lift out the liquid immediately. Our favourite methods include:
Iron out stains in the carpet by soaking a cloth or flannel in water, placing on the stain and running a hot iron across it. The heat will start to break up the stains, making the carpet easier to clean. This is a great way to remove spilt wax too.
If you do not have a carpet cleaner available, blot (don't rub) the stain until you have removed as much of it as possible. Dilute the stain with warm water mixed with a small amount of white vinegar and blot some more.
If the stain in question is of organic origin, and especially if it's the result of a pet-related accident, consider using an organic stain remover, such as the Ecos Stain & Odour Remover. We've used it on all kinds of stains, from food stains to pet urine, and it really works. As with other stain removing products, ideally apply sooner rather than later.
Remove any tough marks and stains you can see with a pre-treatment before you begin deep cleaning your carpet. A treatment such as Bissell Pre-Cleaner would be ideal. This will loosen the stain making it easier for your carpet cleaner to fully wash it away.
Top tip: test any stain removers on an inconspicuous section of carpet as soon as you buy. This will save you from potentially ruining your carpet in a panic when a stain occurs.
9. Leave your stain remover to work its magic
Patience is an important part of home carpet cleaning. So, once you have applied the pre-cleaning solution to your carpet, leave it to work its magic for 15 minutes. Be careful not to over-wet the carpet as this could make dye from the underlay seep through.
10. Prep the carpet cleaning machine
If you are using a carpet washer for the first time, read the instructions carefully and make sure everything looks like it's in good working order. Rinse the tanks and check the filter and brush bar are clear. If there are any obvious problems consult the equipment's manual.
11. Fill the carpet cleaning tank
To begin, simply fill the water tank on your carpet washer with warm water and your choice of cleaning solution.
Do this with the machine unplugged, then plug it back in using a socket as close to the door as possible as this will be your end-point.
12. Get cleaning the carpet
For successful carpet shampooing, start in the far corner of the room and work your way back to the door. This will prevent any accidental soggy socks!
Move backwards and forwards, slowly holding down the trigger to spray the cleaning solution. Release the trigger and pull the washer backwards over the carpet. Continue moving backwards and forwards, repeating up to four times in each area.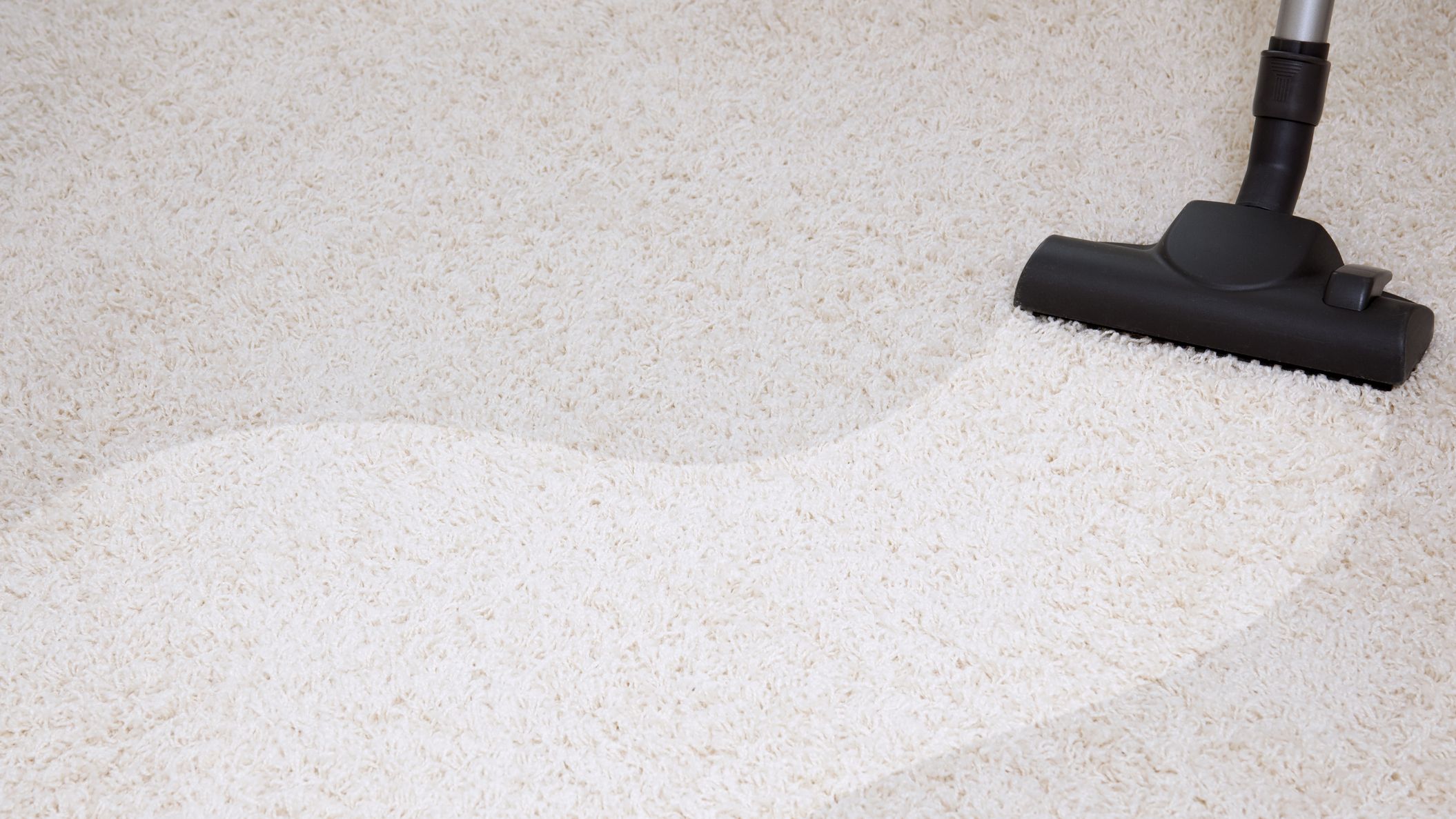 13. Let the carpet dry
To dry your carpet open the windows and ventilate the room with fresh air. If it's too cold for that put the central heating on and leave for a few hours to speed up the drying process.
Enjoy your new perfectly clean carpet for longer by taking your shoes off as you walk through the door...
Testing carpet cleaners
We tested four approaches to cleaning carpet in a bid to see which is best at tackling red wine and pasta sauce stains. These included:
Vax Platinum Power Max Carpet Cleaner
Vanish Carpet Mousse
An eco-friendly baking soda solution
White wine (well, it is an old wives' tale for removing red wine)
Watch our short video (above) to see which performed best, and for some handy tips on cleaning carpet stains.
How to get blood out of carpet
If the blood is still wet, first blot it carefully with kitchen roll to remove as much of it as possible and to stop it spreading.
Then apply cold (not warm or hot) soapy water to the stain with a white cloth. Blot and rinse, ensuring you are not transferring bloody water back on to the stain. If the stain is large, work inwards towards the centre rather than outwards, which will spread the stain.
Either way, you may need to refresh the water and/or cloth regularly. Repeat until the stain is gone.
How to get dried blood out of a carpet
If it has completely dried – and it does dry quickly – use a stiff brush to loosen it, being careful not to spread the blood across the carpet.
Vacuum up the loosened surface blood, then apply cold (not warm or hot) soapy water to the stain with a white cloth. Blot and rinse, ensuring you are not transferring bloody water back on to the stain. This might mean refreshing the water and/or cloth regularly. Repeat until the stain is gone.
How to remove a stubborn blood stain from a carpet
A stubborn, dried stain may need more than just water to remove it. Make a paste of one part baking powder and two parts cold water, and dab it on to the stain with a cloth. Leave for half an hour, then wipe off the residue – if it has dried, you can vacuum it up.
If this doesn't work, (after patch testing) apply a mixture of half a cup of warm water and a tablespoon of household ammonia with a sponge. Blot the stain with kitchen roll until the carpet is just about dry. Now use a clean sponge dipped in cold water only to wet the stain. Blot dry.
Alternatively, swap to a carpet cleaning product. We think the best carpet cleaning product you can buy is the Dyson Zorb Powder: it just needs to be sprinkled on your carpet and 20 minutes later, vacuumed up. The best every day carpet cleaning product is Astonish Fabric Stain Remover. It's quick-acting, easy to use and also very affordable and easy to get hold of.
How to get red wine out of carpet
1. Use kitchen roll to dab and blot the red wine until it's almost dry.
2. Then flush it with carbonated or soda water. Dab and blot again.
3. Flush the stain again with the water, then repeat the drying process. In our experience, that should do it, although sometimes you can finish the job off perfectly with a good quality carpet cleaning product.
4. If the wine stain has fixed, you can still attempt to remove it with the fizzy water method – flush then blot, flush then blot. Failing that, you may need to try a carpet cleaning machine or call in a professional.
What not to do: Swap the soda water for white wine – it's as effective at setting a red wine stain as salt is.
How to get slime out of a carpet
The method you take differs slightly if the slime has dried or is still wet. Follow these steps for best results.
1. Wet or dry, remove excess slime from carpet with a spatula. Take a flat kitchen spatula, slip it under the slime, wet or dry, and transfer it on to a a few pieces of newspaper placed just to the side of the slime.
If the slime spillage is large and in one place, work from the outside inwards so that you don't spread it around the carpet. Get as much of it up as possible, then dab with kitchen paper to remove more. Dab very gently – you don't want to push the slime further down into the carpet pile.
2. Vacuum up dried slime before going further. If you've just discovered the slime and it's been there a while, it's likely to have dried at least around the edges. Once you've removed the majority of it with the spatula, take a small stiff brush to it (an old toothbrush or nail brush will do) to loose the dried slime. Then take the vacuum cleaner to the dried slime (not the wet, that won't do your vacuum cleaner any favours) and remove as much of it as possible.
3. Start to clean the slime out of the carpet. There are various different cleaning solutions you can use to remove the slime – but always do a patch test first to ensure what you use doesn't damage the carpet (we suggest trying it out on a patch beneath a permanent piece of furniture, such as a bed or sofa. We favour white vinegar, but you can also use rubbing alcohol or WD-40 to do the job of breaking down the slime. Our advice? Use what you've got to hand to get the job done as quickly as possible – as long as the patch test works well.
Open the windows, then apply the cleaner wearing rubber gloves, wetting the area that was covered with slime. Leave for at least 10 minutes to soak and soften the dried slime, and to remove any dye that has seeped into the carpet.
4. Now clean off the carpet cleaner. Find an old towel, soak it in hot water, squeeze it out then blot the carpet to remove the cleaning product and any slime. Repeat until you are happy that you have removed both. Blot the carpet with a dry towel or kitchen paper. Keep the windows open will the carpet dries. Once the carpet has dried properly you can judge whether you need to repeat the process.
How often should you clean your carpet?
Sorry to be the bearer of bad news, but you actually need to get the vacuum out every day. Yep, you heard that right. To bust the dust and keep the pile standing to attention, you need to have a quick vacuum every day. Save the corded vacuum for a weekly deep clean and invest in the best cordless vacuum cleaner for daily cleans. You'll add years to the life of your carpet. And cleaning counts as exercise, right?
Cleaning carpets: what not to do
Now we've given you plenty of tips on how to clean a carpet, here are a few things you should avoid doing:
Don't use vinegar undiluted on carpet stains: Never pour neat white vinegar directly on to a stain as it will just soak in, spread the stain and could damage the fibres.
Don't use hairspray to treat ink stains: There are loads of so-called cleaning hacks that claim a spritz of hairspray will get rid of pen or ink stains, but it really won't. In fact, it can damage the carpet fibres and attract dirt.
Don't use bleach on natural carpets: Never, ever use bleach on a wool carpet or you'll end up with pale blotches. If you're not sure what your carpet is made of, make a bleach-water solution and do a tiny patch test in a corner using an old toothbrush.
Don't use white wine to treat a red wine stain: yep, that one's a myth.
Don't use water on carpet stains: Grabbing a wet cloth might seem like an obvious choice, but it can actually do more harm than good. Water can cause the stain to spread and seep deeper into the carpet pile.
How to get gravy out of carpet
Gravy happens. Especially around Christmas, when people will walk around the living or dining room with their plates, often after a few drinks. Gravy is bad news for light-coloured carpets, but there is a trick to get gravy stains out of carpet – dry cleaning solution.
Begin by blotting out as much of the stain as possible with a dry cloth or paper towels; then sprinkle a little of the dry cleaning solution and gently blot it in with a white cloth; do not use coloured ones as they will transfer onto your carpet. Keep blotting until the stain has disappeared.