Live in an old home and wondering how to clean stone floors? Stone floor tiles can lose their sparkle over time, and the grout can discolor. Fortunately, most types of stone are easy to care for and keep clean with some simple maintenance.
The type of stone in this particular project is travertine, so if you're cleaning marble or another type of stone like limestone, check the product suitability and if possible, contact the original supplier for advice on the correct products to use. From deep cleaning stone floors to how and why to seal natural stone tiled floors, we have all the know-how and instructions for you to follow below.
We spoke to Harriet Goodacre, Brand Communications Manager and Tile Consultant at Topps Tiles who says, 'Natural stone is particularly absorbent so when choosing any type of stone, it's important to consider the end use. All natural stone needs to be sealed before use to ensure it doesn't absorb moisture or dirt and avoids staining, the sealing requirements differ between materials.'
How to clean stone floors
You will need…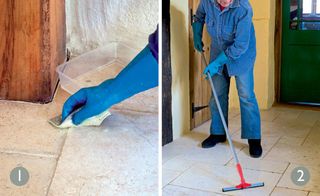 Can you clean stone floors with vinegar?
Although cleaning with vinegar can work on other floor types, it's acidic and will eat away at the surface of your stone flooring. It should be avoided at all costs along with any other acidic solutions containing white vinegar, lemon or ammonia.
1. Prepare carefully before starting
If possible find out what products were used when the tiles were originally laid. Always test new products on an inconspicuous part of the floor first, such as a dark corner. Use products as directions state and wait for a few days before tackling the main floor to check there are no adverse reactions.
2. Choose the right products
When cleaning and sealing real stone floors, use a detergent formulated for calciferous stone (travertine, marble or limestone) as general floor cleaner may contain acid that can etch the surface. Dilute detergent with water in a ratio of 1:5 and apply generously with a sponge; use a long-handled squeegee for larger areas. Try a stronger solution if very dirty.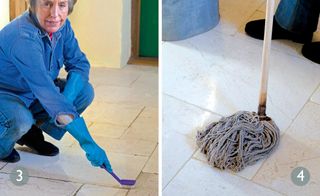 3. Scrub away at ingrained dirt
Allow the product to work for 10 to 20 minutes, periodically scrubbing badly stained areas. The grouting, being rougher than the stone, is particularly susceptible to ingrained dirt and grease. Experiment with different types of brush – we found a nylon bristled washing-up brush worked very well.
4. Wipe up residue and rinse
Wipe away the dirty cleaner. Rinse using your best mop and a bucket of clean water. Go over the stone floor tiles with an old towel to reduce drying time. Once dry, check if the tiles need to be resealed by leaving a few drops of water on the surface. If water soaks in, the floor needs an application of impregnator.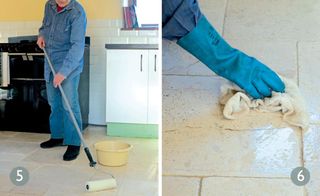 How to seal stone floor tiles
Keep your stone floor tiles looking good for longer by sealing them. Goodacre says 'There are different types of sealant depending on the type of stone and its finish, for example unpolished versus polished, so it's important to purchase the correct sealer with your tiles. Replacing your sealer depends on the stone chosen and the wear and tear it goes through, is it used in a particularly wet area or a busy hallway with constant dirty footprints? If so you might want to consider resealing your type of stone every six months to ensure the avoidance of staining.'
1. Apply a stain prevention layer
Before sealing your floor tiles they must be completely dry. Leave for several days if possible.
Working in small areas, apply impregnator evenly with a long-handled foam roller until the surface is wet. Add more as necessary, ensuring the floor is uniformly wet for between five to 15 minutes. The impregnator must be absorbed by the stone.
2. Remove any excess solution
After 15 minutes of application any impregnator remaining on the surface of the floor tiles must be removed and not allowed to dry on to the surface. Remove excess with a squeegee and a clean cloth – a tatty cotton T-shirt is just the job. Check over the whole surface to ensure there's an even finish.
3. Stay off the floor until surface is dry
Don't let anyone walk on the floor until it is dry. This depends on temperature but after one to two hours it should be safe to walk on in socks. Treat the floor with care, don't cover with rugs, or move furniture about, and wipe up spills immediately. The treatment can take three days before it is fully cured.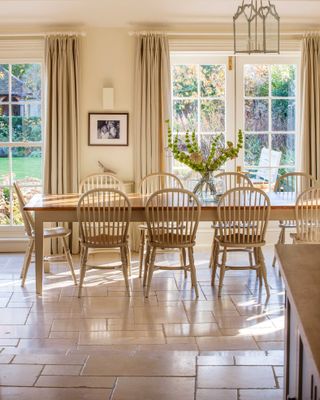 How to maintain stone floors
Sweep stone floor tiles frequently to protect against dirt and mop up spills as they occur. A regular wash with a squeeze of cleaner will prolong the life of the sealant and add lustre. Once a year check the stone for porosity using a few drops of water, and apply protective solution when required. A special cleaner for stone floors is best. Goodacre suggests 'Once your tiles are sealed you need to regularly maintain the sealant on the surface as it will wear away over time. It's especially important to prolong the life of your sealer by using the correct cleaning products. Always use a PH neutral cleaner and a damp cloth, or on natural stone floor tiles, a steam mop.'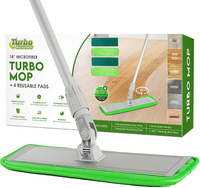 What a result.