Scandinavian design was just made for this time of year. We don't want to go on about autumn vibes too much, but we have noticed the nights are getting shorter and just slightly cooler, and it really doesn't take much for us to want to pull out the blankets, pile up the rugs and light allll the candles.
So to indulge in this need for it to be winter already, we've rounded up some gorgeous Scandi room ideas that are perfect for giving your home an autumnal update...
Want more design ideas for every room of your home? We've got a load more over on our hub page...
1. Swap solid kitchen cabinet doors for curtains
The Scandinavians are really clever at counter-balancing the hard surfaces in their homes (think wood flooring rather than carpet for example) by adding layers of fabrics to their schemes. In a Scandi kitchen, it's typical – and rather lovely – to have cushions on dining chairs and curtains instead of base cabinet doors.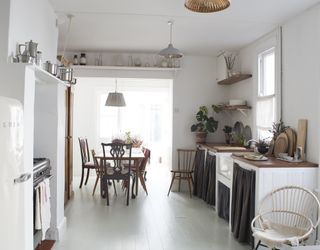 2. Add touchable texture with bedlinen
Scandinavian design is often inviting, so choosing fabrics – whether bedlinen or sofa throws – in textures that make you want to reach out and touch them is the perfect way to create an interesting looking, cosy-feeling room, a real must in a bedroom. Love this?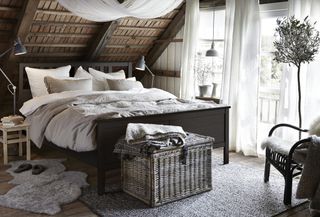 3. Dine like the Scandinavians
Perfect for an open plan kitchen diner and living space, the go-with-anything approach to Scandi style dining might include a scrubbed wood dining table and bench combo. Find more gorgeous traditional dining tables like this in our buyer's guide.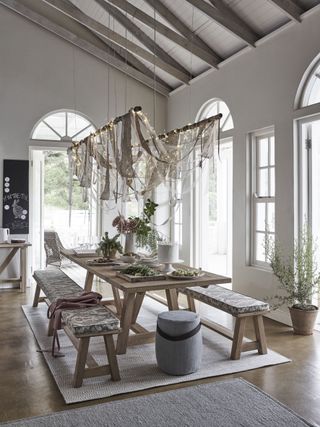 4. Accessorise like a stylish Nordic
Soooo much to love about this room. If you're going all white (or all black and white), having a few house plants will bring life and colour to the room; adding pictures will bring interest and make the walls advance, which is a clever trick to make a monotone scheme feel cosier.
Discover all the best house plants and find out how to hang a gallery wall in our guides. Oh and if you love the look of this home, take a tour and find loads more inspiration.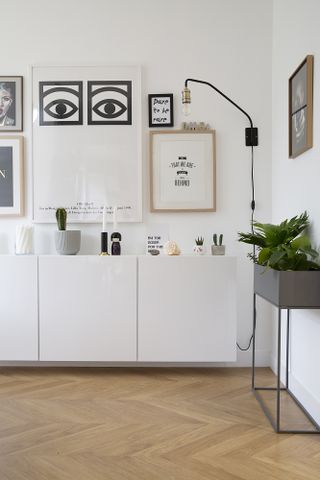 5. Opt for a muted colour palette
When it comes to choosing a sofa for a room with a Scandinavian design, whether your style is contemporary or traditional, look for furniture with clean lines and low backs. Want an on-trend colour scheme that will fit in with living rooms of all period styles? Go for smokey pastels.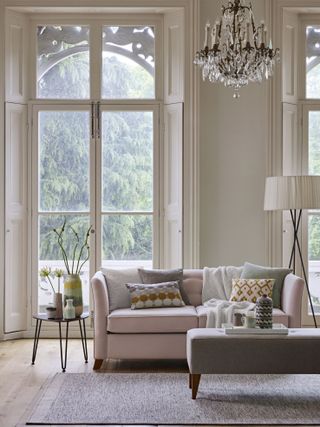 6. Embrace hygge... in other words, light the fire
A stove is a sure-fire (excuse the pun) way to warm up a room – even in summer when it's not lit. Black stoves look fab, of course, but white or cream ones really embrace the Scandi look. Find the best stove designs in our inspirational gallery.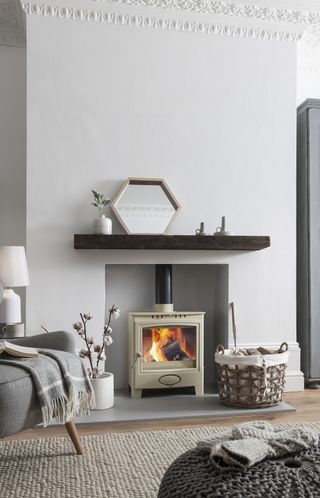 7. Add plenty of comfort with layering
Remember what we said about Scandinavian design being about texture and comfort? Instead of going for lots of matching accessories, building up a collection of non-coordinating throws will add visual interest with their different textures and colours.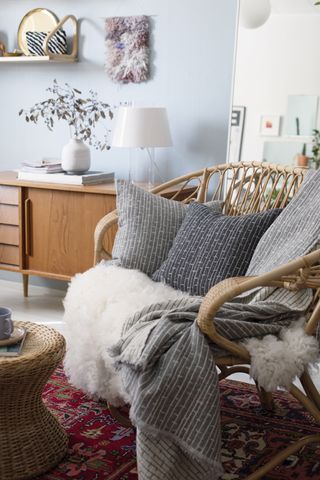 8. Throw down plenty of rugs
You can transform the look of a room really quickly with a new rug – plus swapping them from room-to-room will allow you to transform each space each year, without extra expense. The trend for rugs now? It's all about layering them, too – very Scandinavian design-friendly.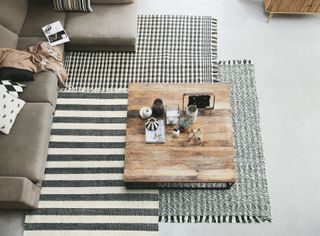 9. Rely on candles for extra lighting
You can't beat the warm glow of a candle (never left unattended while burning, obvs) for adding a golden glow to an all-white room scheme. Thick church candles sat upon sturdy carved candlesticks will be more inviting than minimalist designs. For the most lovely smelling autumn/winter candles to further add to all the hyggeness, head over to our buying guide.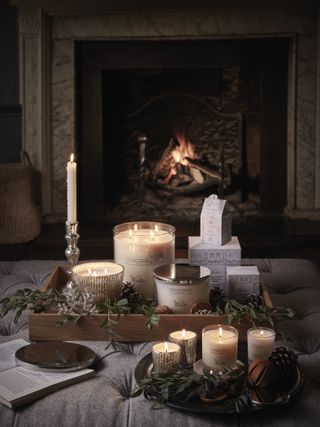 10. Pick the right cool colour scheme
Scandi design schemes tend to err on the side of cool colours... but which is best for your room? Here's a quick rule: east- and north-facing rooms will look better with warmer shades (think cream rather than white, pale pink rather than blue), while west- or south-facing rooms can take cooler colours, too, such as blue or grey.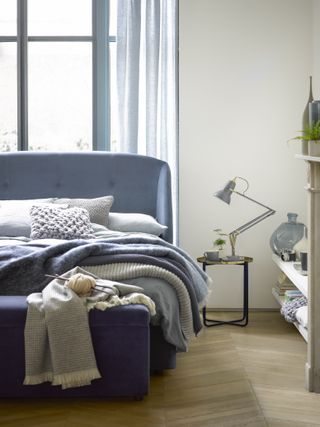 11. Add extra interest with accessories
The Scandis are the masters of accessorising if you ask us (how on earth would we survive without Ikea..?), so why not follow suit to complete the look? The key is to mix and match old and new, curio and run-of-the-mill. Just keep the colour palette simple.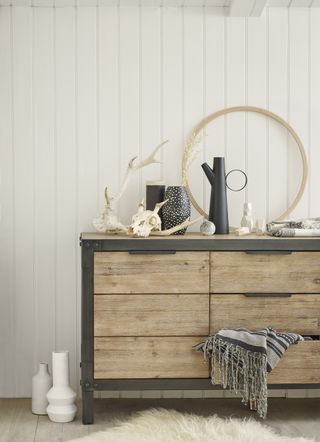 12. Mix and match materials
Want to mix and match materials on a larger scale than just with accessories? Here's one way to do it: with unmatching dining furniture. As long as the colour palette and proportions are constant, you can get away with just about anything. Find more fab contemporary dining chairs in our buyer's guide.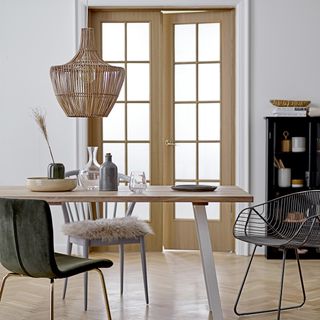 13. Mix an match different Scandinavian designs too
What we love about Scandinavian design that there are so many variants, all of which are kind of opposites. You've got very modern, minimalist Scandi style for example but then there is also that more traditional, super cosy, folksy look. Both very different, both equally cute, so why not mix them together?! Take a tour of the rest of this gorgeous home and you'll see exactly what we mean.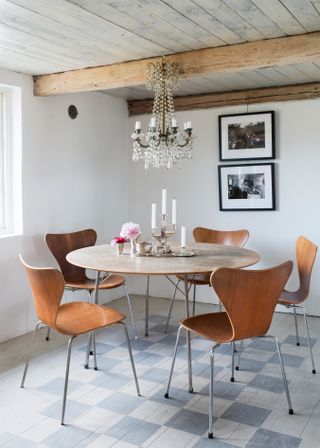 14. Choose a cosy carpet
We all love a rug over scrubbed floorboards, but with a Scandi-style bedroom or living room, you can be forgiven for going a little off piste with a carpet. It might not be the norm in Scandinavia, but you can't beat a bit of comfort underfoot, right?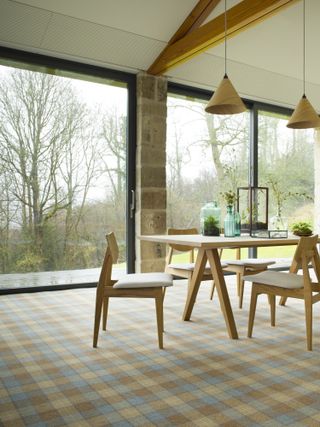 15. Don't forget the faux fur
A faux fur or two is a must-have when it comes to channeling Scandinavian design, especially if your room has plenty of hard surfaces. The plusher the better, they will make seating look inviting, and the odd faux fur rug at a bedside can't hurt either...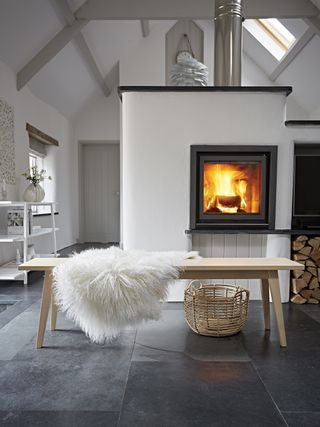 16. Add texture with wood panelling
Wood panelling will bring texture, interest and warmth to a room with few authentic features. You can fit wood panelling or MDF panelling and paint them – or cheat and choose a convincing panel-effect wallpaper. Find out more about wall panelling in our guide.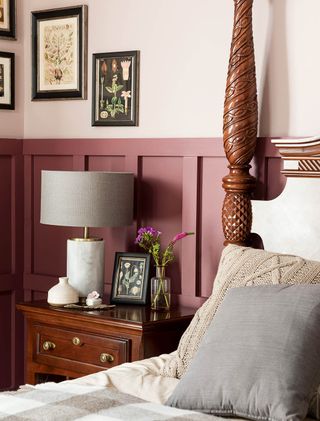 17. No logs? No problem
We love the rustic look of piles of logs dotted about a home, but if you don't actually have the room, or come to think of it, a fire, why not pinch some ideas from this gorgeous new-build log cabin and fake the look instead? While you make think that this is a roaring fire surrounded by freshly cut logs, it's actually a TV with Ikea's Margareta fabric pinned behind it. Very clever.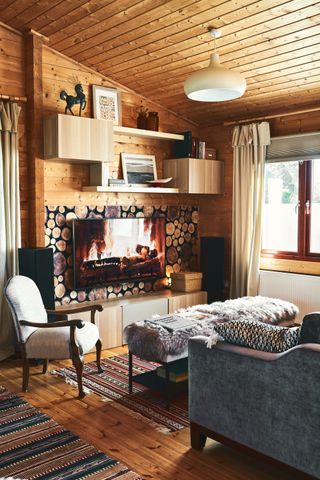 18. Maximise natural light
When the days are short and the nights long, you have to make the most of what little sunlight there is. Modern Scandinavian homes are often designed to face the sun, with large windows capturing the best of the day's light. Of course where large expanses of glazing are involved, you need to think thermal efficiency, too. Choose windows with great thermal performance (on an exposed site we would recommend triple glazing) and efficient heating. We love how much warmth this Stovax woodburner brings to a minimalist, light-filled space.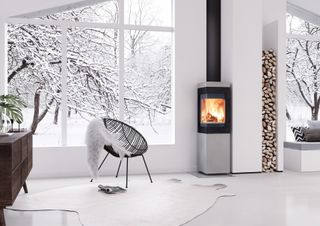 Want more decorating inspiration?