Simple and oh-so-stylish, the Scandi look is one of those design trends we aspire to achieve in our homes. And why not – it's the epitome of contemporary style, simple and affordable to create and sooo easy to live with. Plus, it works in every single room, from living rooms and bedrooms to bathrooms and kitchens.
The key? To layer up with lots of different textures using natural materials, including wicker and basketwork, and with piles of comfort-inducing accessories, from rugs to throws and cushions. Keep the colour palette limited to whites, greys, blacks, blues and soft pastels and team with pale toned wood, too. Warm up each room with gorgeous faux fur, and invest in low lighting and fairy lights placed on mantles, woven around staircases and used as a table decoration.
Want more design ideas for every room of your home? We've got a load more over on our hub page...
1. Swap solid kitchen cabinet doors for curtains
The Scandinavians are really clever at counter-balancing the hard surfaces in their homes (think wood flooring rather than carpet for example) by adding layers of fabrics to their schemes. In a kitchen, it's typical – and rather lovely – to have cushions on dining chairs and curtains instead of base cabinet doors. Check out @weissmacherei for more Scandi-style loveliness.
2. Add touchable texture with bedlinen
The Scandi look is often inviting, so choosing fabrics – whether bedlinen or sofa throws – in textures that make you want to reach out and touch them is the perfect way to create an interesting looking, cosy-feeling room, a real must in a bedroom. Love this? See more Scandi style bedrooms.
Puderviva quilt cover and two pillow cases in natural, £55; Fårdrup rug in grey, £10; Hemnes bed frame in black/brown, £175; Aröd work lamp in anthracite, £40; all Ikea.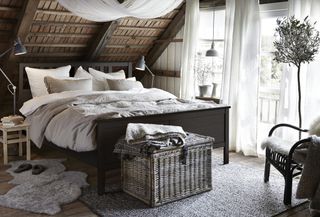 3. Dine like the Scandinavians
Perfect for an open plan kitchen diner and living space, the go-with-anything approach to Scandi style dining might include a scrubbed wood dining table and bench combo. Find more gorgeous traditional dining tables like this in our buyer's guide.
Arundel oak table, from £1,485; Milo barrel stool, £315; Arundel oak bench, from £445; all Neptune. For fairy lights, try Ikea's Särdal LED lighting chain with 12 lights, £3.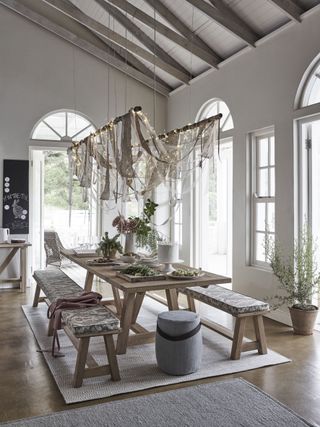 4. Accessorise like a stylish Nordic
Soooo much to love about this room. If you're going all white (or all black and white), having tons of house plants will bring life and colour to the room; adding pictures will bring interest and make the walls advance, which is a clever trick to make a monotone scheme feel cosier. Loving this room from @bohostyleliving.
Discover clever ways to display house plants and find out how to hang a gallery wall in our guides.
5. Opt for a muted colour palette
When it comes to choosing a sofa, whether your living room style is contemporary or traditional, look for furniture with clean lines and low backs. Want an on-trend colour scheme that will fit in with living rooms of all period styles? Go for smokey pastels.
The Gastard sofa from the House Collection in Blossom, £1,090, Willow & Hall.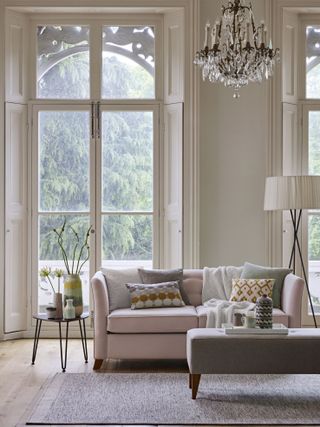 6. Embrace hygge... in other words, light the fire
A stove is a sure-fire (excuse the pun) way to warm up a room – even in summer when it's not lit. Black stoves look fab, of course, but white or cream ones really embrace the Scandi look.
Ecoburn Plus 5 widescreen multi-fuel stove in sandcastle, from £1,115, Arada Stoves.
Find the best stove designs in our gallery.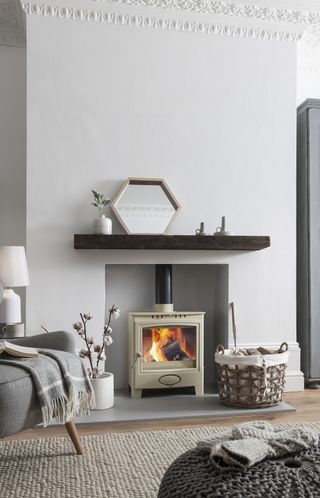 7. Add plenty of comfort with layering
Remember what we said about texture and comfort? Instead of going for lots of matching accessories, building up a collection of non-coordinating throws will add visual interest with their different textures and colours.
Accesories, all The White Company.
8. Throw down plenty of rugs
You can transform the look of a room really quickly with a new rug – plus swapping them from room-to-room will allow you to transform each space each year, without extra expense. The trend for rugs now? It's all about layering them, too – very hygge friendly.
Atelier Note (stripe); Atelier Coco with orange detail; Atelier Tweed; all from £299, Woven.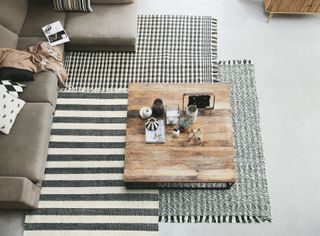 9. Rely on candles for extra lighting
You can't beat the warm glow of a candle (never left unattended while burning, obvs) for adding a golden glow to an all-white room scheme. Thick church candles sat upon sturdy carved candlesticks will be more inviting than minimalist designs. Once again enjoying @weissmacherei's Scandi-style fabulousness.
10. Pick the right cool colour scheme
Scandi schemes tend to err on the side of cool colours... but which is best for your room? Here's a quick rule: east- and north-facing rooms will look better with warmer shades (think cream rather than white, pale pink rather than blue), while west- or south-facing rooms can take cooler colours, too, such as blue or grey.
Jasmine king size divan in lagoon, £1,095; plain blanket box in lagoon, £425; both Button & Sprung. Iggy metal tray side table, £75; Safira ceramic vase, £28; both Oliver Bonas. Pebble cushion in storm, £25; washed linen slot top voile panel in slate, £35; both John Lewis & Partners. Abban blue and grey reversible throw, £45; Esterban grey round recycled glass vase, £30; both Habitat. Bedding and throws from a selection from Secret Linen Store.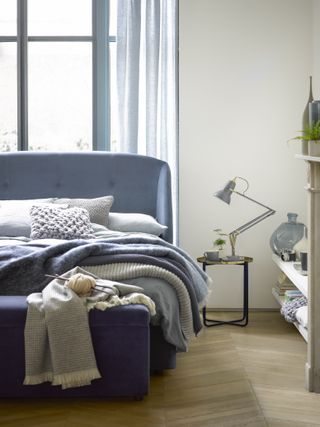 11. Add extra interest with accessories
The Scandis are the masters of accessorising if you ask us (how on earth would we survive without Ikea..?), so why not follow suit to complete the look? The key is to mix and match old and new, curio and run-of-the-mill. Just keep the colour palette simple.
Brunel sideboard, £499, Out & Out.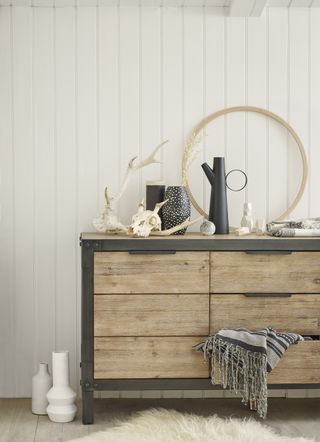 12. Mix and match materials
Want to mix and match materials on a larger scale than just with accessories? Here's one way to do it: with unmatching dining furniture. As long as the colour palette and proportions are constant, you can get away with just about anything. Find more fab contemporary dining chairs in our buyer's guide.
Sacha rattan hanging lamp, £225, Goretti Laura rubber wood dining chair in grey, £140, Vivi wire lounge chair in grey, £395, Winry oak top dining table, £1,355, all Out There Interiors.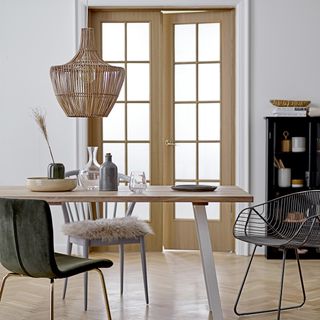 13. Choose a cosy carpet
We all love a rug over scrubbed floorboards, but with a Scandi-style bedroom or living room, you can be forgiven for going a little off piste with a carpet. It might not be the norm in Scandinavia, but you can't beat a bit of comfort underfoot, right?
Abbotsford in heather Kilgour, from £69.99 per sq m, Brintons. For similar furniture, check out the West Elm Mid-century furniture range at John Lewis.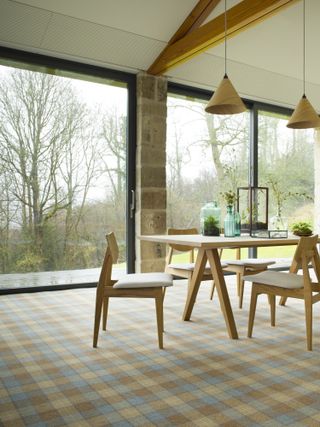 14. Don't forget the faux fur
A faux fur or two is a must-have in a Scandi style interior, especially if your room has plenty of hard surfaces. The plusher the better, they will make seating look inviting, and the odd faux fur rug at a bedside can't hurt either...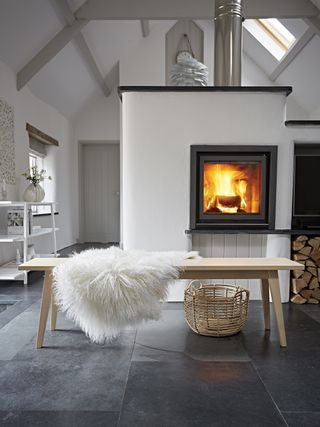 15. Add texture with wood panelling
Wood panelling will bring texture, interest and warmth to a room with few authentic features. You can fit wood panelling or MDF panelling and paint them – or cheat and choose a convincing wood-effect wallpaper. Find out more about wall panelling in our guide.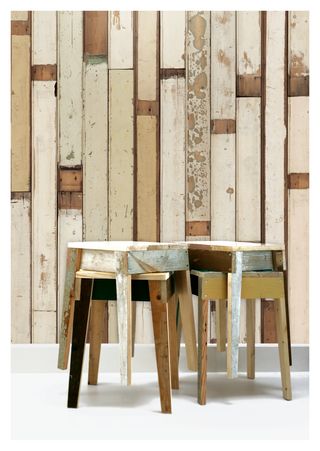 16. No logs? No problem
We love the rustic look of piles of logs dotted about a home, but if you don't actually have the room, or come to think of it, a fire, why not pinch some ideas from this gorgeous new-build log cabin and fake the look instead? While you make think that this is a roaring fire surrounded by freshly cut logs, it's actually a TV with Ikea's Margareta fabric pinned behind it. Very clever.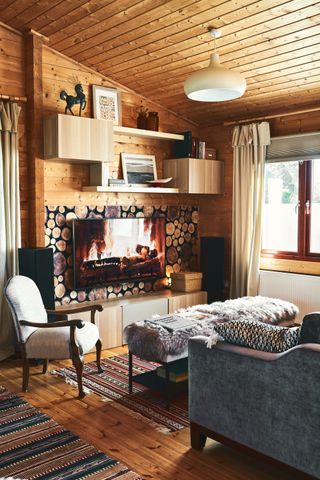 Want more decorating inspiration?