Different types of stone flooring will work in most rooms, whether you have a contemporary or a modern home. Natural stone tiles in kitchens is actually one of the most popular looks. While they make a beautiful option for bathrooms and hallways also. And, it's not just looks that make natural stone flooring a solid choice either.
From the palest marble and limestone to the darkest slate and granite, the design possibilities of stone flooring are vast and many are very durable, making them one of the best types of flooring materials to choose if you want to add value and character to your property.
Is natural stone good for kitchen floors?
Why you can trust Real Homes Our expert reviewers spend hours testing and comparing products and services so you can choose the best for you. Find out more about how we test.
Natural stone flooring used in kitchens will provide both style and functionality. Durable, long-lasting, granite is a popular choice that's often used for countertops too while limestone will give a warm rustic finish and it will not wear down easily either. Ideal if your kitchen space gets a lot of footfall.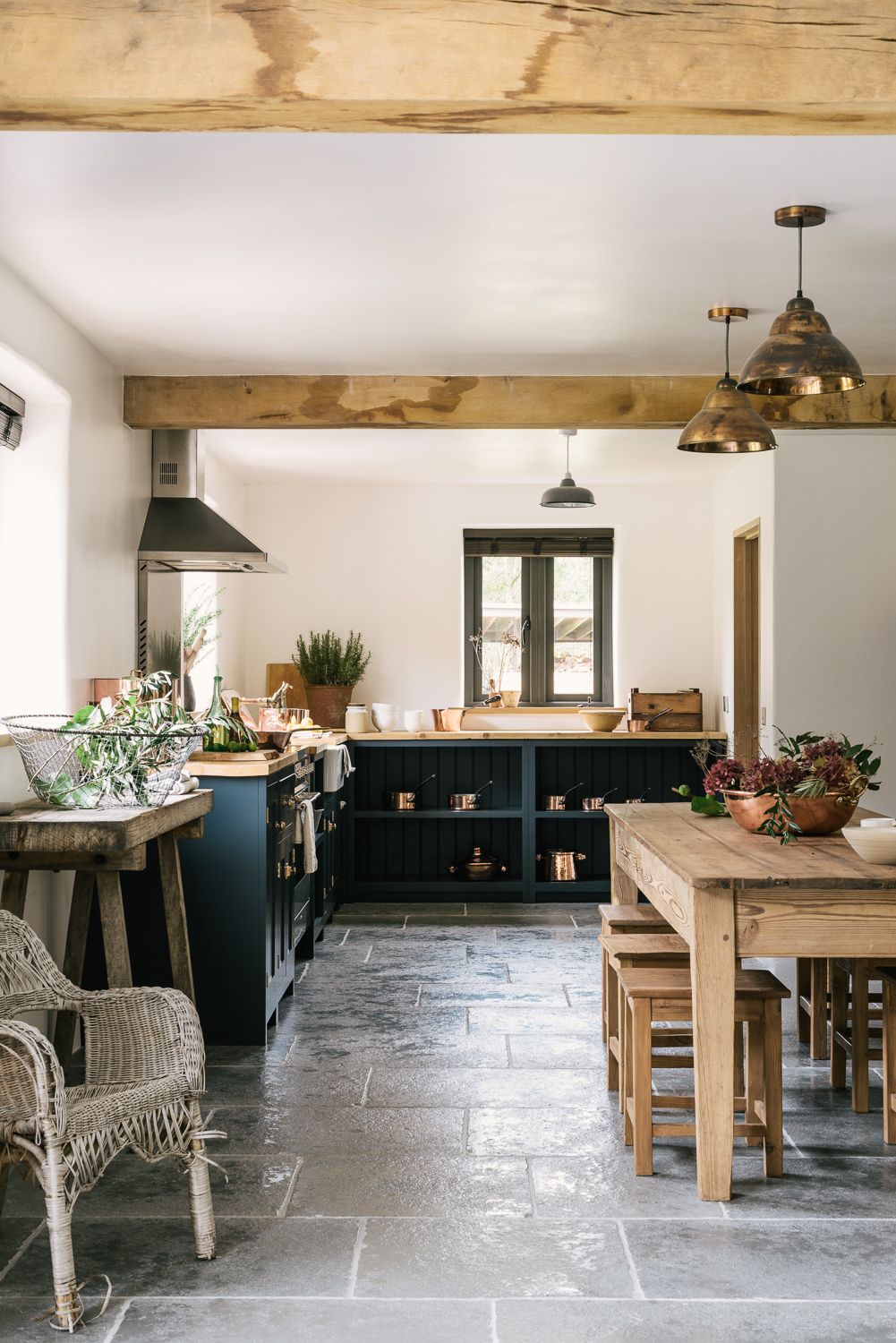 How much does natural stone flooring cost?
Prices vary enormously and will depend on the grade and quality of the stone. But, this is usually one of the downsides to natural stone flooring as prices compared to other types of floor tiles are elevated. Most stone is newly quarried but reclaimed slabs are available, which, although considered more environmentally friendly, are usually more expensive. Expect to pay upwards of £30 per m² from a high-street or national retailer and up to and over £500 per m² for high-grade or rarer stones.
In the US you can expect to pay anything from $8 to $18 for just installation. With more unique designs costing more.
Which is the best stone for flooring?
Stone floors are widely considered to add value to a property, but choose wisely as once laid you won't want to change them for years. The most durable option is granite while many would say that marble is the most popular (albeit expensive) option.
1. Granite
Available in a wide spectrum of colors, often with mineral specks or subtle veining granite is a flexible choice that can be adapted to most house styles. And as it's very durable it will work in high traffic areas like a hallway also. It comes in different finishes, but it is the polished form that fully reveals the colors and patterns. Colous range from blue and purple shades through to grey and olive green, and they often include rusty red markings.
Granite floor tiles typically cost from £30 per m²/ $4/sq. ft. ($4 /case)for basic and uniform, black small format tiles. Expect to pay, on average, between £50-£70 per m²/ $14 for larger format tiles, that have a more interesting and colorful finish. The limitless variations of granite flooring colors and textures means that it is hard to put a price on some of the rare examples available. It is very possible to spend in excess of £150 per m²/$200 /sq.ft to find the perfect patterning for your floor.
2. Slate
Easily split into various thicknesses and available with a textured finish, slate works well in wet areas like bathrooms and kitchens (depending on who's cooking!).
Slate sits at the cheaper end of the spectrum, costing as little as £10 per m²/$3.49/sq. ft. ($34.89 /case) from a high street or online supplier, up to £50 per m²/$11.00/sq. ft. for interesting colors and textures from specialist suppliers.
3. Marble
Starting its life as limestone, under certain conditions its components crystallize to form the veins typical of marble. In its purest form, it can be found in a wide range of other shades, from various greys through to green and black.
Marble floors come in at a similar price to granite, with an equal number of variations in color and texture on the market. It's as great in a kitchen as it is in a bathroom. Expect to pay from £50 per m²/$10.99/sq. ft for the most basic tile, to as much as £150 or £200 per m/$77.42/sq. ft. ($232.25 /case)² for decorative tiles or tiles with specialist color-ways and finishes.
4. Limestone
Occurring in many tones, from nearly white to the more common warm honey, as well as rarer greys and dark browns Limestone is often a rustic. Textures range from even-grained stones through to smoother types with fossils and coarser, open-textured varieties. Some can be polished to resemble marble. It can scratch easily as it's quite soft so be careful in kitchens. However, as it's resistant to mold and bacteria, it works really well as a bathroom flooring option.
There is a lot of variation in the price of limestone tiles. The cheapest you will come across are around £30 per m² for a basic option, the average price is between £50 – £80 per m²/ $2-$11 per sq. ft, but much like granite and marble, you can end up spending up to £200 per m²/($200.00 /case)².
5. Travertine
Travertine has a porous surface with small holes that give it a sponge-like appearance; higher grade, premium travertine has fewer pits with a more vibrant color. It can be sourced ready-filled from some suppliers; otherwise it will need to be filled in situ. When installed correctly, travertine is one of the most durable stones for bathrooms and showers.
The cheapest travertine options are very affordable, starting from around £15 to £30 per m²/$468/case and giving a similar effect to limestone. The most you will look at spending on travertine tiles is around £70 per m²/ $50.30/sq. ft, $133.02 /case.
Which natural stone finish should you choose for your tiles?
The finish you choose will affect the overall look of your tiles and, as a result, your room. This glossary tells you what's what in floor tile finishes.
Honed – a smooth, matt surface for a natural look.
Tumbled – an aged or distressed finish created by the tumbling process, which uses a machine with water and stones to give softer edges.
Riven – stone, usually slate, is split to expose the natural texture for a rustic look.
Brushed – a finish that is created by stiff bristles for a slightly rough appearance.
Hammered – the surface has been finished with a pocked effect.
Pillowed – a description used for stone that has soft, rounded edges.
Polished – smoothed for a glossy finish.
Flamed – a textured, non-reflective surface produced by a flame; sometimes referred to as a thermal finish.
What are the disadvantages of stone flooring?
The things to look out for when you're considering natural stone flooring in your home is the cost and the maintenance. Some types of stone need more regular sealing as they are porous and run the risk of fading and cracking. You should also pay attention to their durability as some types of stone flooring scratch more easily than others. Additionally, they can also be very difficult and expensive to remove.
Stone tiles can be cold and hard underfoot, and this needs to be considered when deciding where to lay it. In a south-facing room, stone will adopt the ambient temperature and warm with the sun, but if you have a north-facing room that has the potential to become cold, a stone floor may not be the ideal choice. This said, you can soften a stone floor with a rug.
China and glass will almost certainly break if dropped on a solid stone floor. Some polished surfaces can be slippery in bathrooms, but there are textured tiles with non-slip finishes. The best way to find out if a floor covering is suitable for your space is to ask your supplier; if your selected tile isn't appropriate, they will be able to suggest a similar option that is.
Are stone floor tiles compatible with underfloor heating?
Solid stone floor tiles are the perfect partner for underfloor heating because of the ease at which it absorbs and emits heat. This can be especially useful in a bathroom or kitchen. Not only will it feel pleasant under bare feet, but it is also an effective way of reducing the risk of damp because of the constant ambient temperature in the room.
How to lay stone floor tiles
It is possible to tile a floor yourself if you're a keen DIYer with the correct tools, time, patience and you don't mind making one or two mistakes. For the sake of a weekend's work, you could use the money of installation costs elsewhere. If you do decide to lay it yourself, do your homework first or at least have a professional assess the job for you.
This said, many suppliers recommend professional fitting for natural stone, so if you're not confident in your abilities it may be worth getting the help of a professional if you want the perfect finish – especially if you've spent a lot of money on your natural stone floor tiles.
Other considerations include whether your joists will take the weight of large tiles or thick flagstones – timber floors may need strengthening.
Where to find a reputable tiler
Ask your supplier if they offer a fitting service or if they can recommend a local tradesperson. Otherwise, the websites checkatrade.com (opens in new tab), ratedpeople.com (opens in new tab) and trustmark.org.uk (opens in new tab) are good places to start.
How to maintain natural stone floor tiles
Natural floor tiles will need to be sealed to prevent damage, staining, and to avoid repairing stone floors yourself. Your supplier or installer will be able to recommend the most appropriate products to use and should provide you with advice on looking after your chosen material. Once you have the correct product, cleaning stone floor tiles is a simple job.
Using cleaning products that aren't recommended can leave behind a film, which can attract dirt and may need chemical removal at a later date. Regular sweeping will keep loose dirt away and, if needed, stone can be professionally cleaned and restored.