When it comes to flooring, old and original wooden floors are charming additions whether your style is traditional or contemporary and industrial inspired. If your original wooden floor is not currently in prime condition or you want to install insulation or underfloor heating, it's worth taking some time to restore and renovate, using our handy guide for advice and guidance.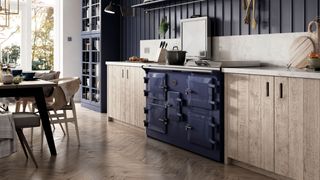 Insulating and levelling an old floor
Older materials were designed to be "breathable" and to absorb and evaporate moisture from the whole surface area. When a non-breathable material, such as a thick rug, is laid over the top damp can occur as moisture is prevented from evaporating. A similar outcome will occur if an unsuitable layer of insulation is positioned beneath your flooring.
In order to insulate underneath a floor covering without interfering with their ability to breathe, opt for a mixture of natural hydraulic lime binders (NHLs), or insulating aggregates. Both of these materials, unlike many modern impermeable systems, have the ability to absorb and emit moisture. They can also be installed successfully with underfloor heating.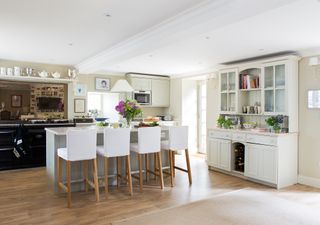 Follow these steps to successfully install insulation:
1. The floor will need to be dug up to the required depth before the ground is levelled and compacted.
2. Add a layer of expanded clay beads, followed by a breathable membrane and then a limecrete.
3. Cover this insulated layer with underfloor heating (if desired) and a lime-based screed.
4. The resulting breathable, insulated floor can then be finished with the original flooring material.
5. Remember that any polish, sealants or finishes must also be breathable.
6. A cork-edge insulation can also be used around the perimeter of the walls to prevent "cold bridging" – a weak spot in the insulation.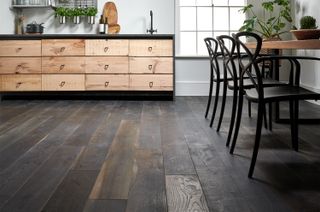 How to repair a wooden floor
If you're a confident DIYer, repairing a wooden floor is a task that can be achieved with relative ease. This said, it's always worth seeking the advice and assistance of a floor restoration specialist if you feel uncertain – you can expect to pay somewhere between £20-£35 per square metre they restore.
1. Scrape off any glue or adhesive on boards, punch any exposed nails down to below the surface using a nail punch, and remove staples.
2. Nail down loose boards and replace any broken ones with those of the same finish.
3. Fill gaps — large gaps can be filled using a thin strip of wood glued into position, while smaller gaps can be filled using papier-mâché covered in water-based wood dye to match the floor.
4. Lastly, sand the floor using our handy guide for advice. Sanders are available to buy or hire, but check the grade of sandpaper you will need, which will depend on the state of the floor. Wearing goggles and a sand mask, sand with the grain for even floors, or diagonally at about 30-40 degrees for uneven, moving side to side.
5. In the case of parquet flooring, if sections are badly damaged or loose, they can be taken up and replaced with new before the whole surface is varnished or sealed.