If you're keen to learn how to tile a floor but worried you won't get a very good finish, then we're here to help. Tiles are a great choice for flooring in your kitchen, bathroom or hallway thanks to their durable nature. Sure, tiling a floor can seem like the kind of job where you need to call in the professionals, but if you're a competent DIY-er, you use this step-by-step guide and video to help you through the process. From where to start to the best techniques for exceptional results, we've the tools you need to save money by doing it yourself.
Whether you go for solid stones like granite and marble, handmade terracotta or quarry tile ideas or cost-effective but stylish options like porcelain and ceramic, floor tiles can even be the right choice for living room and bedroom flooring, especially if you pair them with a thick, soft rug... Ahh.
Where do you start when tiling a floor?
When tiling a large area such as a floor, thorough cleaning, measuring and preparation are crucial to achieving a perfect result. James Upton of DIYTileGuy says, 'First, you want to determine what type of surface you are going to be tiling on: a concrete floor or a wood-framed floor with a crawl space underneath.
If you have a concrete surface then this can be tiled over directly. However, a concrete floor will typically need to be flattened and have any cracks treated with an appropriate membrane.
If you have a wood floor then you will need a tile underlayment installed before you can install the tile. The two most common types of tile underlayment are a tile backer board or an uncoupling membrane such as Schluter Ditra.'
Follow these steps for a great finish…
1. Gather tools and materials
You will need:
2. Check and prepare the floor surface
Take time to ensure your floor is even, ensuring that there are no bumps or cracks and that the surface is thoroughly cleaned, using a degreasing agent, such as sugar soap, if required.
Make good any areas that are damaged before going any further and ensure the surface is completely dry before you proceed to the next steps. Wooden floors may need over boarding, concrete floors priming and uneven floors will need to be leveled before tiling with a suitable leveling compound. Refer to the adhesive instructions for further assistance.
3. Start in the right place
Be aware of your exits and access to your floor. We'd recommend starting in the center and working your way out towards the corners so that you won't have to tread on freshly laid floor tiles unnecessarily. If you're tiling a bathroom or kitchen floor where you need access at all times, consider tiling one half of the floor one day, letting it dry and then moving onto the other side.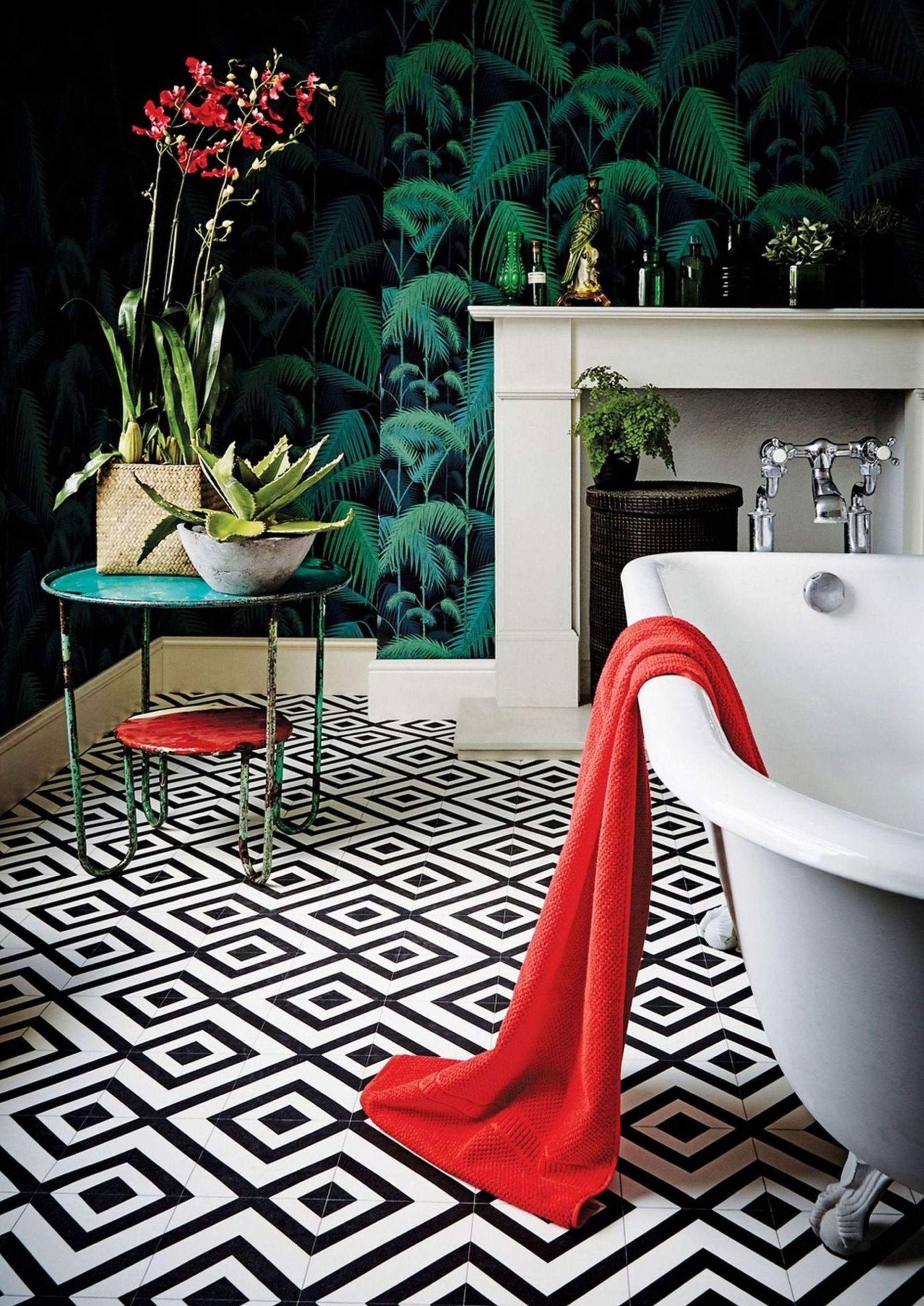 4. Prime the floor if required
So long as the surface you're tiling over is in good condition you should be able to tile onto it, even if you're tiling over an already tiled floor. Depending on the type of tile and adhesive you use and the condition of your floor, you may need to prime the surface. Ask the tile manufacturer for what's recommended for your particular tile. If the floor is dusty you should prime it with PVA adhesive, letting it dry before you tile.
5. Measure up
With chalk or a pencil, measure a center mark between the opposite walls or units and draw a straight line down. Don't assume that the opposite walls are equal in size, as a lot of rooms aren't perfectly square. Repeat this by measuring the centre of the line that you draw. Lay the square onto the centre line and centre mark to draw a line 90° to the first line.
6. Dry lay the tiles
Starting at the middle point, dry lay a row of tiles in both directions up to the wall and make sure you include 3mm tile spacers so the tile joints are even. If there is only a thin piece of tile left at the wall, re-arrange the centre tile so there is a larger section of tile, which will be easier to cut.
Remember, leave about half a tile or more as it can be difficult to fit smaller sections of tile at the edge. You may need to remark your lines on to the floor to fit the setting out until it works. When measuring, make sure to leave enough room for the grout joint and sealant.
7. Cut tiles to fill any gaps
When you're happy with the layout, cut the required tiles, which will make laying them quicker. You can use a manual cutter for straight cuts, an electric cutter for more complex designs such as right angles and curves or a tile scribe for small, thin tiles. For the best measure, you can place a tile on top of the last full tile, and mark with a pencil where the overlap is, this is where you need to cut. Make sure you leave enough room for the grout joint and movement joint
8. Prepare the adhesive
Mix the recommended tile adhesive/mortar in a bucket according to the instructions on the bag. Then, working off your set out lines or from a straight edge, spread the adhesive on the floor, holding a notched trowel with a minimum 8-10mm notched size at a 45 degree angle and drag across the floor to spread the adhesive evenly, ensuring the notches are in the same direction. Only cover a small area at a time – approximately one square metre – as the adhesive will begin to dry once applied.
Upton adds, 'To install your tiles, you want to use a tile mortar that is appropriate for your tiles. Bigger tiles need mortars called "LFT" mortars which stands for Large Format Tile. Spread the mortar with a notched trowel and comb the mortar all in the same direction. Bigger tiles require bigger notched trowels.'
9. Lay the tiles
Place the first tile firmly on the bed of adhesive, press down and twist and slide it into place to ensure the adhesive sticks properly (for larger tiles, you may also need a thin layer of adhesive on the back of the tile to make sure they're properly secured).
Upton also recommends this 'Additionally, the back of the tile should have mortar spread on it with the flat side of the notched trowel to promote a good bond. Then place the tiles into the mortar and wiggle them a bit to collapse the ridges in the mortar. Once the tiles are dry the grout can be installed.'
Use a spirit level to check the tile is flat and insert tile spacers along each edge at regular intervals, before repeating the steps as needed. If you're using extra large tiles (anything larger than 60cm x 60cm) use self-levelling clips and wedges as well. Wash down the surface using a clean, damp sponge, as you go to keep the tiles clean of adhesive.
10. Leave to dry and prepare the grout
Leave the tiles for three to four hours, or overnight to give the adhesive time to set. Then, to prepare the grout, which should be the right type for the tiles you've chosen, mix the grout powder with water in a bucket as required. It's best to mix a little at a time to grout the tiles in batches, as it will harden quickly.
11. Apply grout
Remove the tile spacers and clean the joints to remove any excess adhesive. Hold a grout float at a 45 degree angle and evenly spread the grout in between the tiles ensuring you have tiled the joint. Work in small areas to ensure you have enough time before the grout hardens. Once all the joints between the tiles are grouted, leave to dry for around 10 to 15 minutes before wiping the tile surface with a damp sponge, but don't put too much pressure on the grout joints.
You may need to wipe the surface again later to get rid of any residue. After another 60 minutes, when the grout has hardened a little, use grout profiler at a 45 degree angle and press down on the joints and drag across to take off any excess grout and smooth it off. Wipe the tiles again to ensure they're completely clean.
12. Finish with sealant
Finish with a silicone sealant around all the edges with a silicone profile and smooth the edges for a tidy result. Try to not use the floor/use it as little as possible for about 24 hours to ensure a solid finish.
Do you always start in the middle when tiling?
Upton says, 'Common tile layout advice is to center the tile in the space. This advice tends to work in big, open rooms but when it comes to smaller rooms, like a bathroom, it's better to look for focal points.
For example, in a small bathroom, it doesn't make sense to center the room when there's a vanity and toilet on one side of the space. It's better to have a full-sized cut opposite the toilet and a small cut behind it where no one looks.
Additionally, it's generally best to start with a full-sized tile in the doorways. Doorways are always clear, visible space and the first thing someone sees when walking into a room.'
Tile away!