Ellie and Nick's house rabbits were as important to their kitchen extension design as their young daughter, Tia. The couple wanted a space that would work for Rocco and Flannie's free-roaming needs as much as the humans in the house, and top of the list for everyone was a flexible, open-plan space that could accommodate the family as they grow.
Enlisting the help of architects Nimtim, the couple have created a bright extension that works for all the family. Clever ideas like a 'hutch' door for the rabbits sit alongside touching additions like Tia's tiny footprint set into a splashback tile. Ellie reveals how they created their dream kitchen.
Are you feeling inspired to add on to your home like Ellie and Nick have? We have masses of ideas and helpful advice on what to do and where to start in our feature on kitchen extensions.
For more real home transformations, head to our hub page.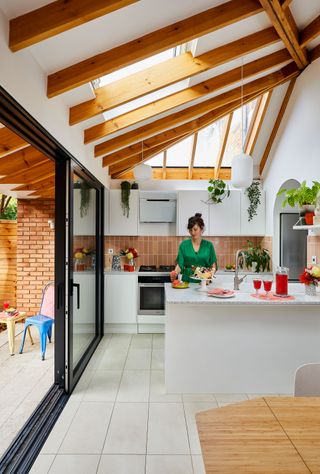 Profile
The owners Ellie, a designer specialising in ceramics and glass, her partner, Nick, a social media consultant, their daughter, Tia, and pet rabbits Rocco and Flannie
The property A three-bedroom Edwardian end-of-terrace in Bermondsey, London
Project cost £200,000 for extension and whole house renovation
'There were lots of defects in the surveyor report when we bought this house,' says Ellie. 'The windows were broken so you couldn't open or close them. There was a small extension built by a previous owner but it was constructed badly. The roof was in a bad state and we were concerned about leakage. We decided that if we were going to fix it, we might as well do it the way we wanted to.'
'We looked online at some projects we liked, contacted the architects and met with them to get ideas and rough price points. It was Nick who met Nimtim to begin with – they were a winner because he really liked their dog! All the signs pointed towards us going with them. We liked their style, their attitude, and their people, too.'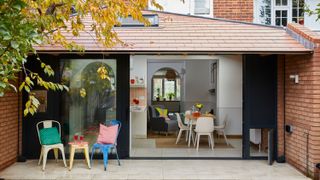 'We were specific in terms of what we wanted, but we didn't know how to express it in terms of materials. We needed something to prevent the rabbits from nibbling the skirting and edging – an issue in previous properties – and we wanted an open layout so we could easily monitor them. Nimtim showed us examples of what could work and we played around with layouts until we settled on something we loved.
'We wanted a herringbone oak floor to tie in with the arts and crafts history of the house, and we used exposed beams to add warmth. The space needed to be bright and airy, too. We're not British so we're not used to the lack of natural light. We were like, "Give us as much as possible!" – hence the big skylights and the sliding doors.'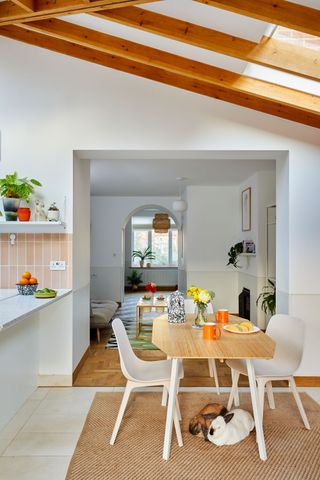 'Because we had Nimtim and weren't going through the project alone, we were more relaxed about the process. We were more than happy to pay the architect fee – Nimtim's guidance took a massive load off us in terms of stress.
'In any project, there's some things that go unanticipated, but that's just the way it goes. One thing we regret is not including the garden in the original renovation. We wanted to get finished and moved in as fast as we could, then think about the garden at a more convenient time – but now, we realise it might have been easier to do it all at the same time to save extra fuss and make the two spaces feel more connected. Mostly, we took our time to think about things. Every compromise we had to make, we were happy to do.'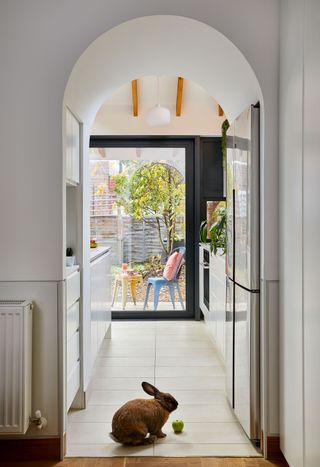 'One of the projects Nimtim showed us had tiles made bespoke by a ceramicist. Nick looked at me and said, "You're a ceramicist – you could make the splashback tiles". It gave me something to do while Tia was at nursery so I wasn't just going crazy at home! We added her handprints and footprints to some of them. We made her and we made the extension, so this was a nice way to combine the two.
'Nimtim's solution to the rabbit problem was to add a line 90cm up the wall, under which everything was made rabbit-proof. The paint is washable and they used recessed oak skirting to prevent nibbling. It was an expensive undertaking but it works really well – Rocco and Flannie never go near the walls, and it's a nice decorative feature.'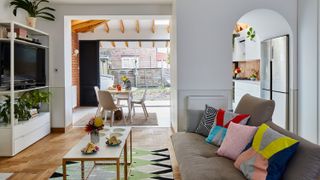 'We were trying to think of what we could do with the room in the middle
of the ground floor. It needed to be something versatile while our family grows. We treat it as a flexible space. It's a living area and playroom during the day, a guest bedroom when family come to visit, and maybe another bedroom in the future.
'My favourite part of the house is the kitchen – there's a lot to love about it. We also love the terrace because we can sit outside and enjoy the garden even when it's raining. Going open-plan has given us a lot of freedom. Everyone can do what they want, and I don't have to worry about Tia because she's always in sight. It takes away the anxiety of having a young child – and two mischievous rabbits.'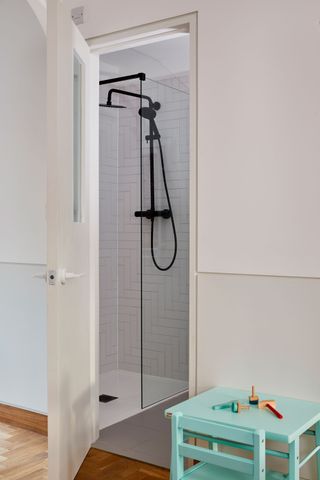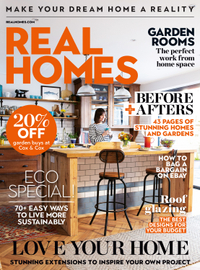 Subscribe to Real Homes magazine
Want even more great ideas for your home from the expert team at Real Homes magazine? Subscribe to Real Homes magazine and get great content delivered straight to your door. From inspiring completed projects to the latest decorating trends and expert advice, you'll find everything you need to create your dream home inside each issue.
More reading: