If you're designing a small kitchen, every element that you bring into the space counts, and that includes any kitchen tiles you choose. Finding the proper small kitchen tiles can mean the difference between a kitchen design that wows, and one that falls flat.
Abbas Youssefi, of Porcelain Superstore (opens in new tab), says, 'You have two options with a small kitchen – try and make it feel big or try and make it feel cozy. Large format floor tiles with matching grout will increase the sense of space. If you want to make your kitchen feel cozy, go for warm colors that work with your cabinets.'
It's really important to choose the right-sized tiles to make it feel as big and bright as possible. But it's not just about size: dark tiles used in the wrong part of the kitchen can make it feel smaller.
Conversely, tiles that reflect light are a great way to make the kitchen feel lighter, while laying floor tiles diagonally can make it look wider and longer.
Another trick to make a small kitchen feel bigger is to use the same wall and floor tiles. Rectangular tiles laid vertically will make the room appear taller; lay them horizontally and the room will seem wider or longer.
Color is also an important factor: using a color palette that seamlessly flows from the tiles to the units will create a cohesive look. If your units are white then use pops of bright mosaics as a backsplash or under cabinets to add personality.
Want more clever tile design ideas to make your kitchen feel larger? Read on...
1. Replace tiles with glass bricks
This is the perfect tile idea for small kitchens – replace your backsplash with glass bricks to give your space more of an open plan feel.
The glass will allow plenty of light through too and make the space feel less blocked off from the rest of the house.
2. Tile a whole wall in a small kitchen
We've sure we have said it before; keep things simple in a small kitchen, but actually we are going to hold up our hands and say we were wrong, bold patterns and colored tiles can work really well in a small space.
A small geometric design like this one almost blurs the edges of the room to create the allusion of a bigger space.
3. Pick on trend grid tiles
And bright colors can work too. This sunny yellow gives a life to the dark, dramatic cabinets, and the simple grid design with the square tiles is a huge trend for 2021.
If you are going with this layout, pick a tile that has a bit of texture to stop it looking flat.
4. Choose marble tiles for a light luxurious look
Marble kitchens are another big kitchen trend for 2021 and you can bring a touch of this luxury material into your space with tiles.
They needn't be real marble either obviously, if you doing up your kitchen on a budget there are some gorgeous marble effect tiles you could choose instead.
Check out that herringbone pattern too...
5. Pick tiles with colors that blend with your cabinetry
If you choose backsplash tiles for your kitchen that tone with the color of your kitchen units, you'll create a space that looks bigger than it would with a color contrast.
Need to learn how to tile a backsplash? Laying them in a grid pattern like this creates vertical and horizontal lines that conjure up a visual trick of their own: making the space they occupy feel larger.
6. Choose tiles with a reflective sparkle
If you've fallen for a dark-colored wall tile, see if you can find it in a finish with a reflective quality. Any material that reflects light will create an impression of space as it will bounce the light around.
We love the luxurious look of vintage mirrored tiles (check out Rough Old Glass (opens in new tab)), but if you are after something more subtle, tiles with a slight metallic sheen will have a similar effect.
7. Create diagonal lines
Laying tiles diagonally – or choosing grid-laid tiles with a diagonal pattern – is another easy way to create the space-stretching visual trick, perfect for a limited area of backsplash that you want to feel larger.
8. Paint the wall behind the tiles the same color
Remember what we said about choosing tiles that tone with cabinets? If you match their color to that of the wall behind as well, you'll create that important space-stretching effect you're after.
On a budget? You could always paint your tiles to match your kitchen walls, it's really easy, just check out our guide to painting tiles.
9. Limit dark colors to beneath cabinetry
Another color trick? Putting dark colors below waist/cabinetry level and light colors above will help make a small space feel larger.
These dark, metallic tiles are in the perfect spot, plus their sparkly finish reflects light, adds depth and interest, too. Win win.
10. Use a herringbone pattern to stretch space
With the diagonal tile-laying trick in mind, the herringbone pattern will work the same trick and give you an on trend look.
This pattern tends to be busy, so pick toning tiles rather than ones in contrasting colors for a small kitchen design.
11. Love pattern? Keep it to one area only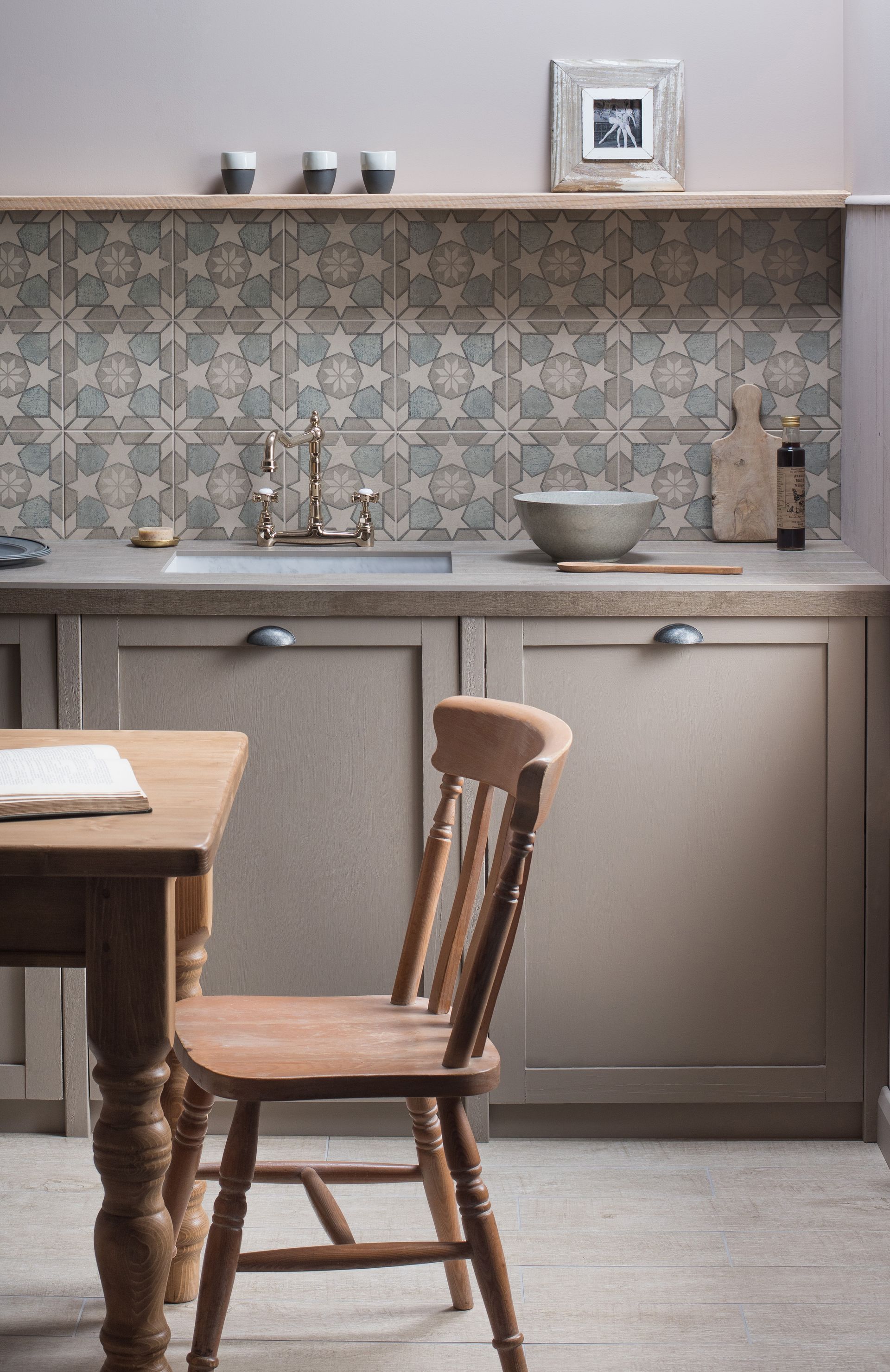 In a large kitchen you can get away with splashing pattern on both walls and floors; in a small kitchen, it's vital to keep pattern to one area only if the room is to feel spacious.
12. Lay a diagonal pattern on the floor
Remember the diagonal tile trick (again)? It works great on walls, but it has even more impact on kitchen flooring, lengthening and widening the entire room (visually, at least).
13. Use the herringbone tile trick on the floor, too
Just as it does for the walls, a herringbone pattern on the floor creates lines that draw the eye outwards, making the kitchen floor look wider and longer.
The benefit of choosing a gloss finish tile, too? Reflected light makes the room feel bigger and brighter.
14. Make your backsplash a focal point
Sometimes you don't need to work magic with visual tricks and reflective surfaces – choosing a bold, brightly colored or beautifully patterned backsplash tile can create a feature wall that draws the eye. That alone can make the room's proportions negligible.
Inspired to go bold with your backsplash? Just check out these stunning backsplash ideas.
15. Make a narrow kitchen feel wider with stripes
You can use tile designs to make a narrow galley kitchen feel wider – simply create subtle bands in horizontal lines across walls.
You can create a similar trick with vertical lines – in this case making the room feel taller. Keep the contrast between the tiles minimal; anything too overpowering will have the opposite effect.
16. Opt for terrazzo to create the illusion of space
Abbas Youssefi, of Porcelain Superstore explains, 'My go-to for giving the impression of space would always be to use terrazzo. They are such a versatile tile, and the pattern just breaks-up the wall and gives the illusion of more space.'
We love Porcelain Superstore's Arlo tile (opens in new tab)s in this matte red kitchen. The moody terrazzo fleck is a great backsplash and also acts as a feature wall idea which packs a punch.