There is always a sense of anticipation when you approach a house that could be 'the one'. For Clare Pater, she knew that two years of looking for a home were over as she sat outside in the car. And her confidence wasn't shaken when she finally entered and discovered it was an 'absolute disaster' inside.
With a limited budget to tap into and a head full of plans for the rooms, interior designer Clare called on her near-Olympian skills for tracking down bargains in order to put together a home that oozes designer quality. She reveals how she did it, and the secret savings she's made that have fooled visitors as they admire the high-end look…
Inspired to tackle your own project? We have masses of ideas and helpful advice on what to do and where to start in our feature on house renovation. For more real home transformations, head to our hub page.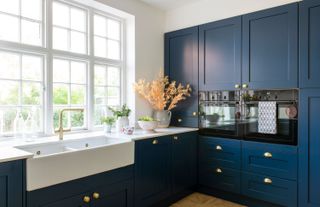 Profile
The owners Clare Pater, an interior designer (novanilla.co.uk), lives here with husband Jake, a partner in a commercial property company, their children Amelie, Asher, and Ava, and Oscar, the labradoodle puppy
The property A 1950s detached four-bedroom house in Hendon, London
Project cost £50,000 for then house renovation
'We wanted to stay in the area – the kids are at school and we have lots of friends round here – but we needed more space and somewhere a little quieter,' Clare explains. 'I'd done up our house already and wanted to do it all again, so I was ready for a project. This came up and we fell in love with it. I drove up outside with my dad the night before the viewing, and I knew without going inside that this was the one.'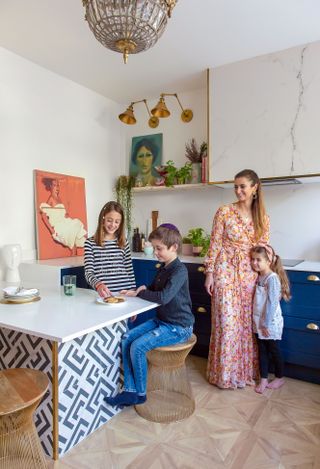 'Even when we went inside and it was an absolute disaster. It looked like it hadn't been lived in for years but, sadly, it had been right up until we saw it. It was filthy, things were broken, there were weird paintings on all the walls; all sorts of mad things. There had been a divorce and I think the husband had been living in the front room, and the family in the rest of the house. It was miserable but we could see the potential.'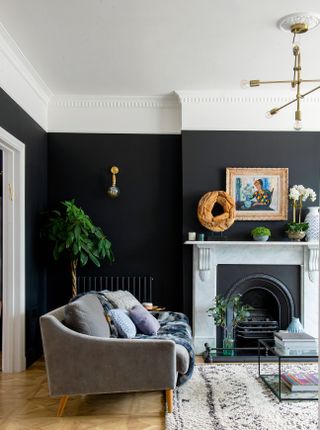 'We'd actually already decided to move in with my parents as we sold our house with nowhere to go, which was a bit of a risk. We had three weeks before we had to move out from our old house when we saw this place. I told my parents when we were moving in with them, "It could be a few months, it could be years." Luckily they took us in. We were there about seven months by the time we'd bought the house and done all the work. I was coming back to drop the kids off at school and my work is nearby so I'd visit the site every day to keep on top of things. And I was using builders I'd worked with before. We were lucky; there weren't any major problems.'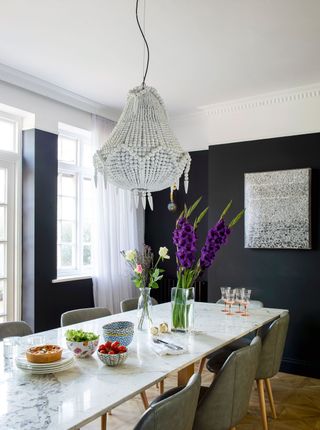 'Based on what we had to pay for the house, we had very little budget left to work with, so any ideas of extending just weren't an option now. It started off with, "Okay, we'll just give it a lick of paint". But the reality of the condition it was in meant that we had to do a lot – new bathroom, kitchen, decorating, everything other than structural work or moving walls. But I knew pretty much exactly what I wanted to do.'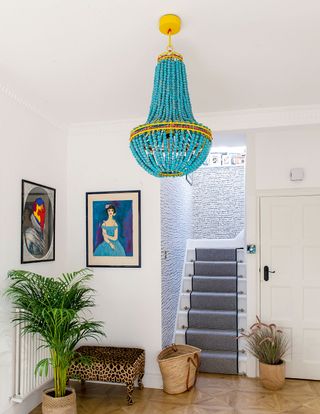 'I was very careful with what we spent the money on. In the kitchen I wanted the look of marble worktops and splashback, so I chose the plain white work surface while the whole splashback is actually a large-format porcelain tile. The parquet flooring is all laminate from B&Q. Even when people walk around on it, nobody realises it's not real wood.'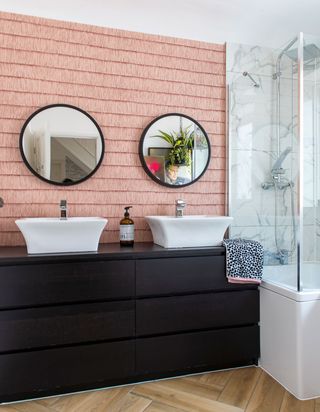 'Almost all of the art is from Ebay or charity shops. I really shopped around, got bathroom fittings from Ebay outlets that might be returns or end of line – sometimes I'd spend all night online. My intention wasn't to go for the cheapest on absolutely everything, it was just picking a few key things to spend money on. I tend to pick small areas in the house where it's worth using a top-end product, such as expensive wallpaper if I only needed one roll.'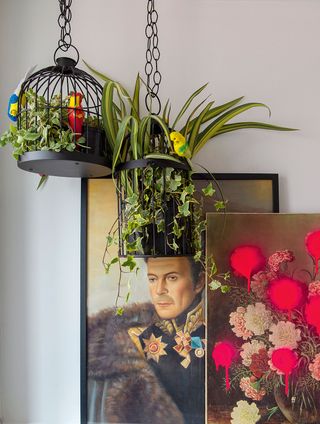 'Everybody comes in the door and goes straight to the kitchen. I didn't think it was going to be like that but it's just how it is. There are tall cupboards on one side and no wall units as I feel like they close the kitchen in. I prefer the look of open shelving, and going for this option also saved us a lot of money. With the art on the shelves it makes it feel more homely, not like a kitchen. We also have an instant hot water tap, which was a real indulgence. My husband didn't get why we needed one, but until you have one you don't realise how great it is. I love lighting and the French antique chandelier was an opportunity to put some interest in, and it didn't cost that much. It doesn't let out a ton of light so with open shelving I was able to have wall lights over the work surface.'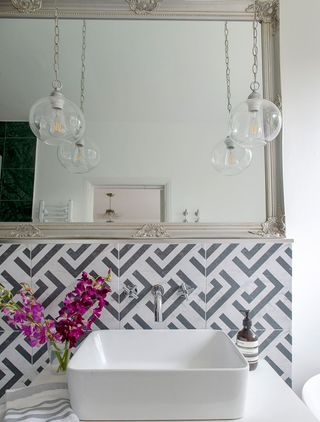 'My oldest daughter had a clear idea of what she wanted for her room, which was a vibrant tropical theme, though we toned it down by putting in pastels. She was very involved in the whole process. The other two kids chose their bedroom colours. We spent days with sample pots, trying them out. With my son we tried a broad range of blues. He said, "They're all the same. I can't see a bit of difference". So I said, "Okay, I'll pick".'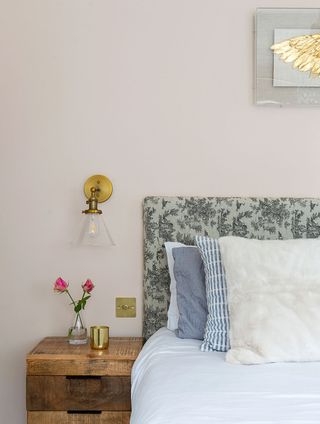 'We went away in the summer so we left my parent's house and then returned to this house, which was a bit mad. My little one thought you had to get here by plane – she was very confused by the whole experience! There are a lot of Jewish festivals after the summer and we love to entertain friends and family. Even though we still had boxes everywhere in one half of the room, we just put up trestle tables and had everyone gather round them in the other half!'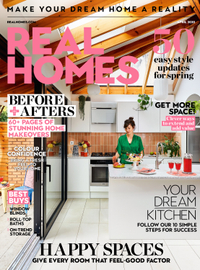 Subscribe to Real Homes magazine
Want even more great ideas for your home from the expert team at Real Homes magazine? Subscribe to Real Homes magazine and get great content delivered straight to your door. From inspiring completed projects to the latest decorating trends and expert advice, you'll find everything you need to create your dream home inside each issue.
More reading: