On the hunt for inspiring Christmas decoration ideas? We've got plenty of really pretty ones right here. So even though many of you will have your own holiday decorating traditions (the kids' salt dough decorations that were meant to resemble stars but don't, the creepy looking fairy who's minus an arm, and the nativity scene that's been annually plundered and is now made up of Playmobil characters), we promise you're going to love these and add them to your list. 
And sure, Christmas might be looking a little different this year, but that's why we think decor is extra important! In fact we have seen plenty of people that have got their decs up already, because well, it's 2020, anything goes!
Head to our Christmas hub page too to find plenty more decorating ideas, gift guides and just all thing festive. 
1. Create an unexpected asymetric display
We've said it before and we will say it again, an empty mantle at Christmas is a sad mantle. They are so easy to decorate too, just pick some greenery, add some candles and there you go. We love this asymmetric look though, with the large houseplant, it's unexpected because of the height but definitely adds interest to the space and a clear focal point. 
2. DIY a rustic advent calendar 
So simple and so effective!  Pick up some brown paper bags from a craft store or Amazon and then hang them using ribbons and strings to start your own DIY advent calendar. Use stickers to add the numbers, or a chalk pen to add patterns. You could hang it anywhere too but we think it would look so cute in a hallway so the kids can just grab their bag as they leave for school.
3. Add some subtle festive decor to your kitchen 
Despite being the heart of the home over the holidays, the kitchen does get a bit overlooked when it comes to decorating. We say that needs to change! Sure, you might not have room for a full on tree in there, but copy this Christmas decorating idea and hang some foliage around a doorway, in your cabinets and over your lighting. Add some cute hanging decorations on your handles too to complete the look. 
4. Pick an alternative color pallete this year – go pink!
A pink Christmas tree is our dream. We love the soft, vintagey look, and we are up for sporting what is one of the cutest throwback Christmas decorating ideas around. Create it by tying ribbons to the branches, pair your pink with silver and gold to bring in some sparkle too!
5. Paper stars make Christmas decorating easy
The easiest, most effective Christmas decorating ideas we are going for this year? Paper stars. Or just any paper decs actually. They look so stylish and like you have really put in some effort, but all you really did is order a couple of packs of Amazon and hang them all over your home. 
6. Or hang paper decs from the ceiling
Again, another one of the most easy and effective Christmas decoration ideas is to hang an abundance of paper decorations from the ceilings or around mantles, door ways, up the stairs. Pick a mix of styles and sizes and bundle them together to create a proper feature. 
7. Embrace the dark and moody trend this Christmas
Dark, moody interiors are all over Instagram this year, and if you're well into the look, but aren't sure how to match it with your Christmas decor scheme, we have some really easy ideas. Easiest option? Go for dark colored baubles – black, navy, dark green – will all create a dramatic feel. If you have a dark living room already, go for a contrasting color to create a striking look. 
Fill your rooms with lots of dark evergreens, too, trail firs and ivy over mantlepieces, up banisters and around door frames. Stick to candlelight, or low, warm lights to add to the atmosphere. 
8. Go for a Scandi-style Christmas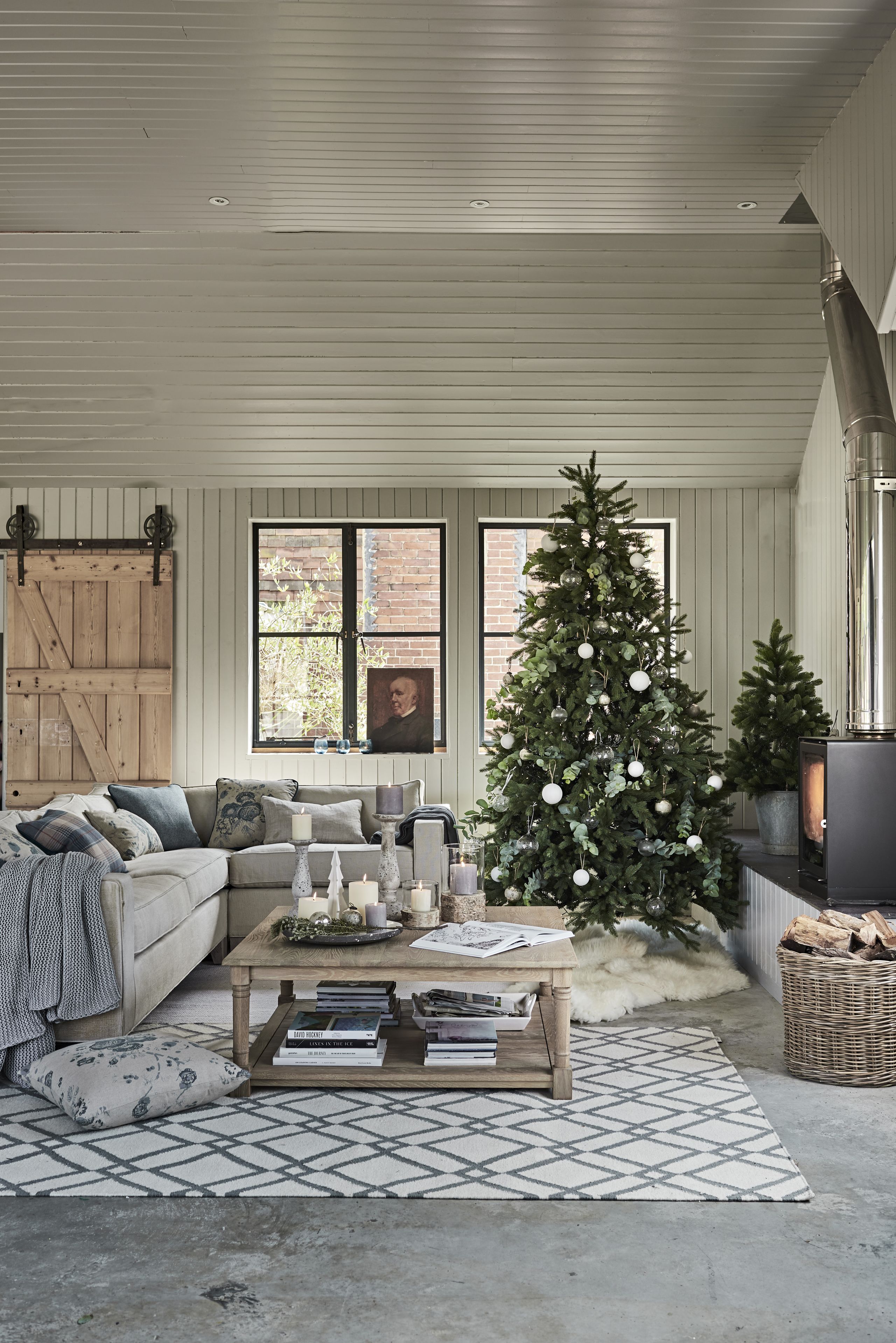 Christmas and Scandi style really were made for each other: it's chilly out, the fire's lit and the mulled wine is going down a treat. So, if yours is an (almost) all-white room, embrace it with our Scandi Christmas decorating ideas . Go for white or pale wood, and then add pops of color with red or deep green. Give your room a festive feel with candles, and evergreen sprigs on every surface and of course a Scandi-approved Christmas tree. 
9. Love vintage style? Make your decs old-style
The best thing about decorating a vintage style tree? You can mix and match colors, bauble styles and all the rustic Christmas decor you'd like to create an artfully thrown-together look. Kitsch Christmas tree decorations are a fab option for the vintage look, but opt for muted, smoky colors rather than bolds (which will look too contemporary). Etsy have some lovely 1950s Christmas decorations if you are after the real thing. 
10. Love bright colors? Neon is a big trend for this holiday
Yup, the neon Christmas decorating trend is here – and it's pretty simple to recreate in your own home. Think tacky but... stylish at the same time. Baubles in rainbow colors and funky shapes, pick up some cheap bright colored tinsel too; feather bowers in bright pink, strung over your tree would look really cool also. 
11. Use blackboard paint to create an instant Christmas
Thinking of redecorating before Christmas with a dark, moody scheme (you know, the type we've labored on about above)? Why not opt for blackboard paint in a strategic way? Create a Christmas tree that takes up zero room (perfect for a child's room or a kitchen) by drawing one onto a blackboard wall. You could even use some Command Hooks to hang actual decorations from it. 
12. Small home? Downsize your decs not your ambitions
If you're resigned to small living room ideas forever (or perhaps embracing them), you may not have a) the room for a full size Christmas tree or b) anywhere to store the decorations the rest of the year. Well lucky for you, mini trees are a massive trend this year! Decorate with diddy baubles and a string of fairy lights to add some instant holiday cheer no matter how small your apartment.  
13. Make an entrance with an OTT garland
There's no denying that once a year, it's worth going over the top to make your home look festive. A hallway garland will create a welcoming first impression for guests. Just a few tips – whether you go real or fake – one threaded with wire will make it easier to wind around the banister securely. If you do go for a real one, pick foliage known not to drop, wilt or brown quickly. 
For our pick of the best Christmas garlands, head over to our feature. 
14. Switch up how you display a wreath 
Did you learn how to make a Christmas wreath? If so, then you definitely need to hang it with pride! Why not do it with a difference and suspend yours horizontally like the Scandis do (above)? Over the dining table is best, with droplet baubles hanging beneath.
A fire surround loves a garland, too, but ensure yours is well out of the way of any flames (we didn't need to tell you that, did we? We did, it's a legal requirement). Put it atop the mantelpiece or swag it, with baubles at its center for a traditional, formal feel. 
15. Use baubles imaginatively (ie, not on the tree)
Remember what we said about using the baubles on the stair garland or within the one on the fireplace? There are tons of places you can dot baubles about – in the living room, Christmas dining space and beyond – to create a gorgeous festive look, without having to buy anything new. 
16. Go overboard with Christmas lights
You can't go over the top here: literally go crazy with Christmas lights (well, you can go over the top, but we're talking tasteful crazy here). As well as hanging them around window and door frames, across the mantelpiece, around the banisters and on the tree (obviously), you can put battery-run, LED lights in a sturdy glass vase to create an instant table centerpiece – and don't forget outdoors, too.
Find more Christmas fairy light ideas in our buying guide.
17. Don't ignore the kitchen Christmas decorations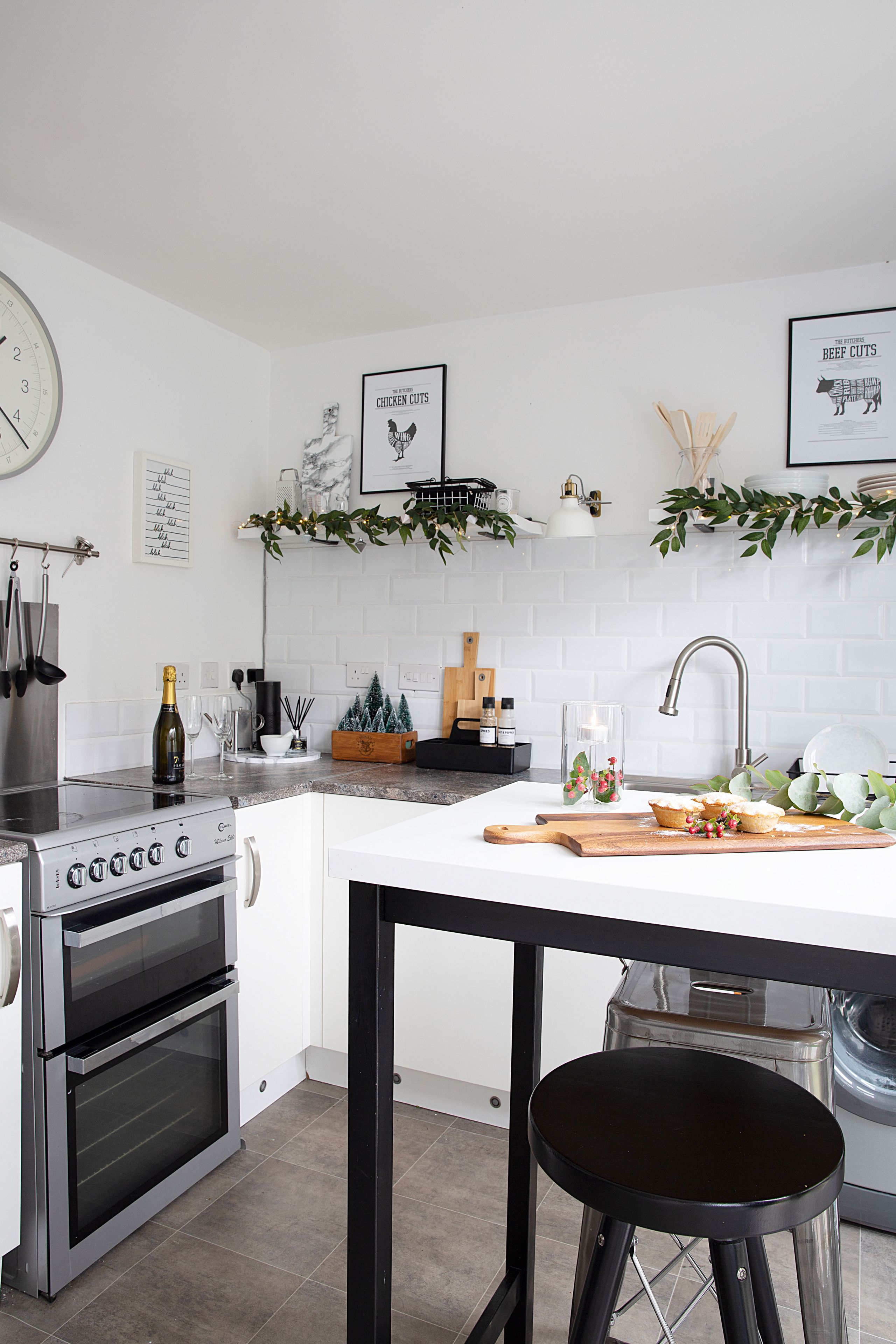 Despite being the heart of the home at Christmas time, the kitchen does tend to get a bit neglected when it comes to festive decor. We know it might not be that practical to have a full on tree in your kitchen but why not try adding a garland or two – they take up zero room and bring in just as much of a festive feel. String them along your shelves or around your window for a touch of greenery.
Check out the best Christmas garlands over in our gallery.
18. Create a festive feel outdoors, too
While not many of us have room (or the budget or the extra Christmas decorations) for a real Christmas tree outside the front or back door, we all have a front door that's crying out for a Christmas wreath. Pushed for time? Buy a ready-made Christmas wreath for a gorgeous display.