Christmas: there really is no better time of year to embrace Scandi style – it's cold outside; the fire is going; mulled wine is on the stove and you can pretend for just a second you are actually living in that Norwegian cottage of your Pinterest dreams.
So keep your dose of Hygge high with our Scandinavian Christmas decorating ideas.
1. Add a ton of texture
Take inspiration from this room by Neptune and pull out the (faux) pelts, pile up the chunky blankets and stack up the logs. The more texture the better we say.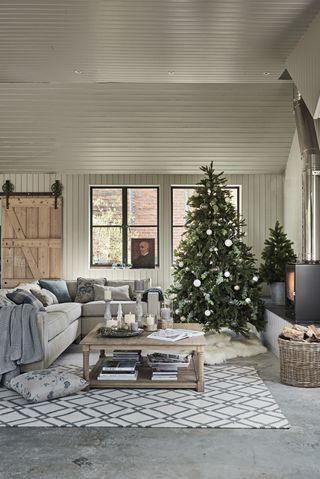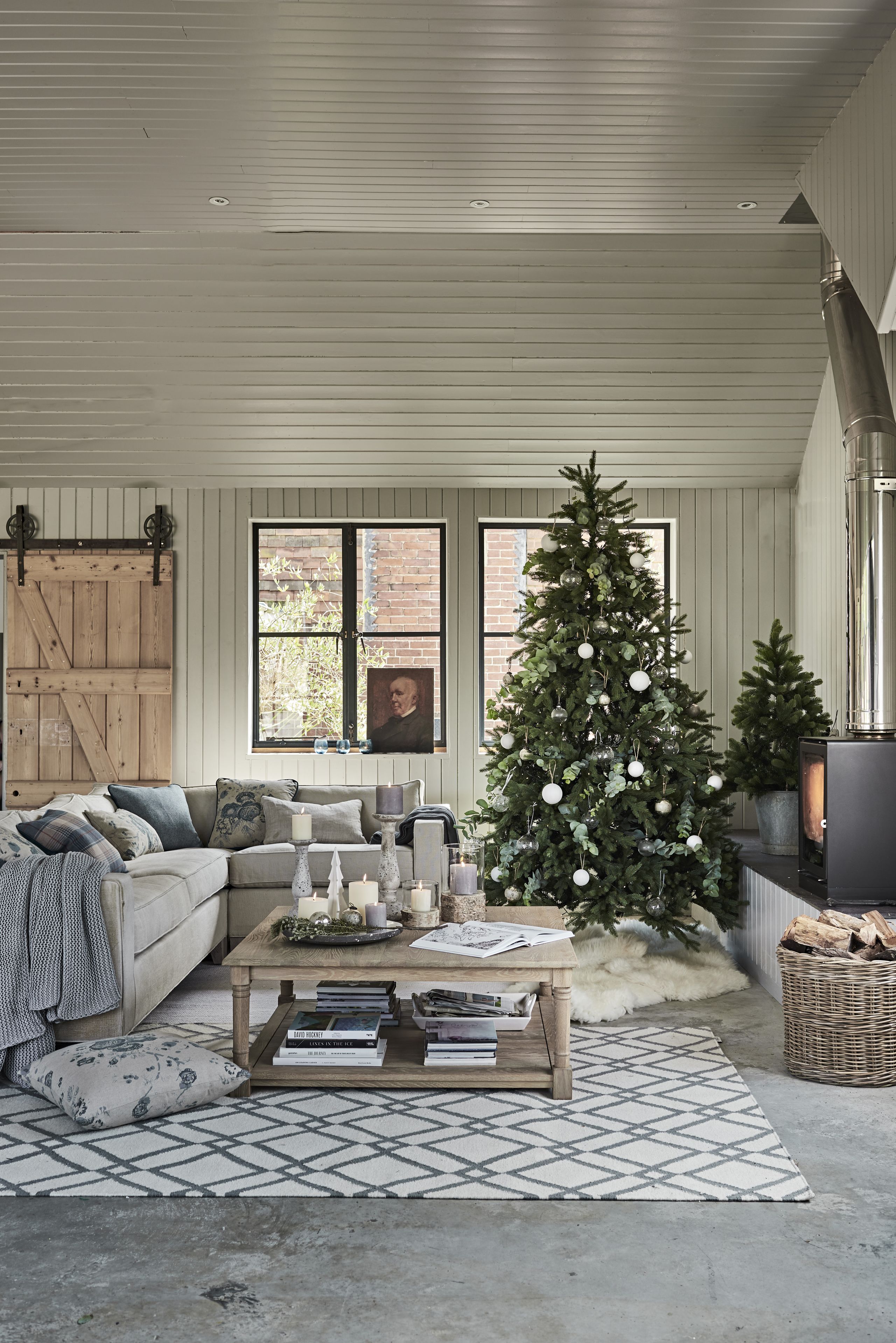 2. Set the mood with candles
If there isn't an abundance of Christmas candles dotted around, can you even call it Scandi? The White Company is of course smashing the Christmas candles this year, and while the classic Winter will always have a place in our hearts, we are also loving the comforting, earthy smell of Highland Escape.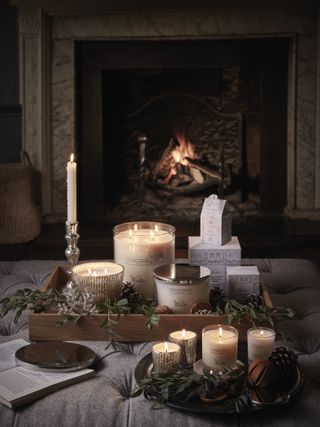 3. Fill your home with soft lighting
And since having constantly lit candles dotted around your house probably isn't very realistic, recreate that cosy glow with plenty of artificial lights. Obviously fairy lights are a given at Christmas, but these LED candles from Lights4fun are also perfect for recreating candle light. Plus they are made from wax so have a very authentic look.
4. Go for an alternative Christmas tree
As much as we love the smell of a real Christmas tree, this year we are really feeling the alternative Christmas tree. This simplistic white washed ladder has been decorated with an array of baubles from Marquis and Dawe and we love the understated (but of course still very festive) look.
5. Or just keep your tree super simple
If you simply can't live without a real tree, just keep decorating to a minimum. We aren't dismissing your pink tinsel and techno coloured ornaments, but if you want all the Scandi vibes, leave those in the loft this Christmas. Check out Cox and Cox for their beautiful selection of Sandi style decs.
6. Evergreen. Literally. Everywhere
We are talking wreaths, garlands and trees – as soon your house starts to resemble Narnia you are about halfway there. The Scandis are all about bringing the outside in, especially at this time of year. And if you can't make it, fake it with our pick of the best artificial Christmas trees.
7. Hang things in abundance
Forget hanging stuff off the tree; in every Pinterest image of a Scandi Christmas there is something beautiful hanging from the ceiling. If you are lucky enough to have beams in your house, try hanging decorations and bits of foliage from it to re-create this look.
And if you can't manage hanging a forest from your ceiling, try wrapping some evergreen around you headboard instead for a similar, more low maintenance effect. We'd go fake though – pine needles in your bed = ouch!
8. Choose festive wall accessories
You can get creative with paper and scissors to make your own paper stars or you could definitely cheat with these decorations from Idyll Home . They come in the very Scandi friendly shades of black, grey and white so you can't really go wrong...
9. Opt for a monochrome theme
In keeping with the whole minimal mantra, try sticking to a monochrome scheme this Christmas. Just balance out the black and white with various hues of grey and add in some wood accents or just bring in a few boughs of fir (or a John Lewis and Partners pine garland would do the trick).
10. Go traditional Scandi
So far we have been all about the monochrome and the neutral but you could try out a more traditional Nordic look and introduce some colour (when we say colour we do basically mean red). These gorgeous hand embroidered decorations are from Jan Constantine but Ikea are also great for more traditional decorations.
Want more Christmas decorating inspiration?