Sometimes, nothing but traditional Christmas decor will do. Perhaps you've tried every novelty decorating scheme going and are just craving the classic Christmas look. Or maybe your aim is to recreate the magical Christmas you remember from childhood?
Whatever your reason for going traditional with your Christmas decorating ideas this year, these are the most magical, sumptuous, and cozy traditional decor themes to explore.
Why go for traditional Christmas decor?
If you're still deciding on your Christmas decor scheme and aren't sure why traditional decor is worth considering, take this top tip from Rebecca Challinor, interior designer at home furnishings retailer Terrys:
'In modern times, Christmas decorations go far and beyond the norm. That said, there are some traditions that have stood the test of time.'
In other words, you may find it both easier and more rewarding to go for a decorating scheme that is guaranteed to work rather than chasing the latest trends. Here are the top traditional Christmas looks that will never go out of fashion.
1. Choose vintage-style decorations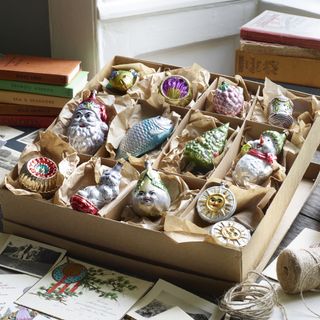 For nostalgic souls, opening up a box of treasured decorations passed down through the generations sparks delight year after year. In fact, not having personal decorations is one of the biggest Christmas decorating mistakes you can make!
Today antique examples can be hard to come by, so Catesbys has worked with talented artisans to create vintage-inspired glass decorations using original molds. Choose from classic St Nick and Christmas trees to fantastical fish and fruit.
2. Hang up plenty of stockings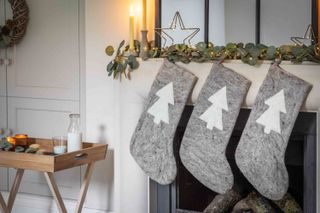 Obviously. The more homemade looking the better. And, if during all that mulled wine drinking and mince pie eating, you can't find the time to make your own, these beautiful traditional-style stockings from Garden Trading will definitely do the trick. Make sure you hang them from one of our favorite stocking holders.
3. Go super traditional with a red-and-green theme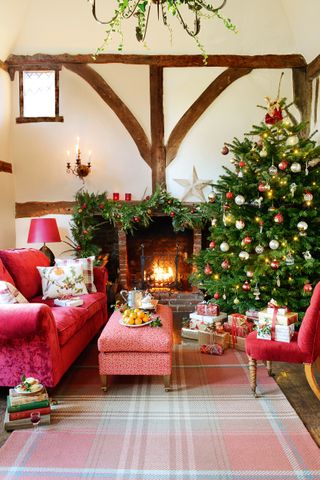 This classic color combination is guaranteed to create that warm feeling of Christmases past. Of course, it helps if you already own a red sofa, but a red woollen throw or a red upholstered chair will also create the right accent. Accessorize with the best Christmas garlands, fresh or artificial.
4. Embrace a country cottage look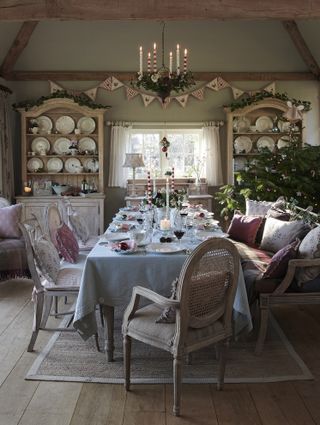 Create a quintessentially English scheme by choosing a pretty palette of red, cream and pastel blue and teaming with old-fashioned bunting and classic candy stripes.
Susie Watson has plenty of country-style linen cushions, table linen and Christmas homewares to recreate the look - finish with plenty of natural foliage.
5. Decorate the banisters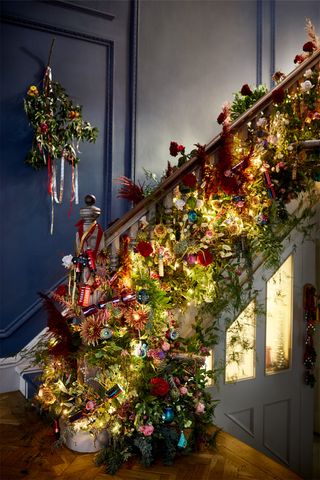 Welcome in Christmas visitors with a show-stopping hallway display by layering up fairy lights, garlands, ribbons, decorations... you name it.
This mix of on-trend jewel-colored Christmas tree decorations from Laura Ashley works wonders set against this dramatic navy wall, not forgetting that glitter for that seasonal sparkle.
6. Add some glamour with metallics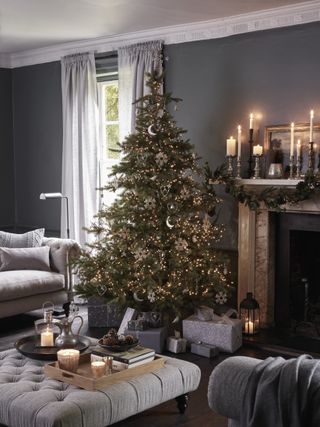 Red and green may be the quintessentially traditional Christmas colors but why not go rogue with a metallic color scheme this year?
We think this sparkling silver tree, decorated with warm lights and glistening decorations from The White Company is still very in keeping with a more traditional style.
7. Get creative with Christmas knits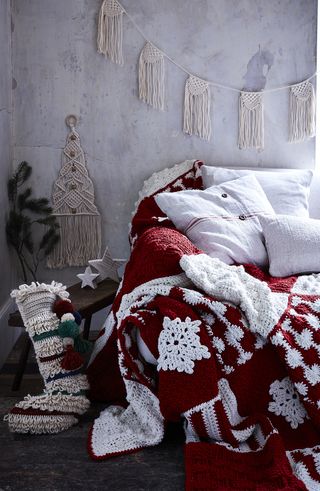 Getting stuck into some Christmas crochet is a great way to spend some mindful 'me' time during the busy festive season, and makes a great idea for thoughtful gifts, too.
The options are endless, from macramé bunting and chunky throws to stockings. Fancy making this loop stitch stocking? You can get knitting patterns and yarns at Hobbycraft.
8. Adorn your mantelpiece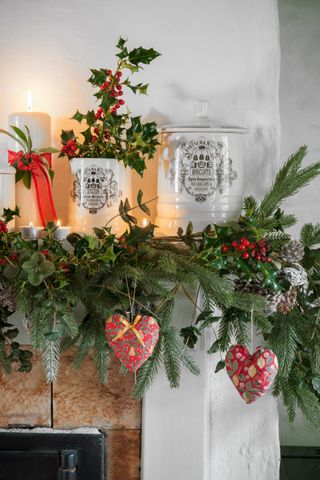 Bringing a bit of the outside in at Christmas always makes a home feel extra cosy (plus it's a super cheap way to decorate).
There's something very traditional about foraging around your garden (and the neighbours' hedges) to find bits of holly and ivy to string along the mantelpiece in a to make a Christmas garland. And if you can't recreate this look from actual bits of nature, fake it with an artificial garland.
9. Choose a traditional wreath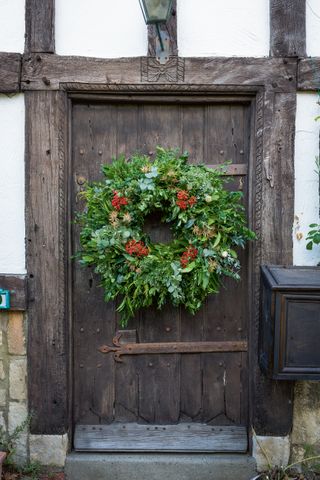 Nothing says traditional Christmas like a fresh wreath of winter foliage and red berries. We're loving the lean towards more wild, natural styles this year like this bespoke wreath from Daylesford made with fir, eucalyptus, laurel and even some dried flowers. If you're making your own try popping in some rosemary too, the smell is amazing.
You can learn how to make a Christmas wreath quite easily – and it's even more fun than buying one.
10. Dress up the sofa with festive cushions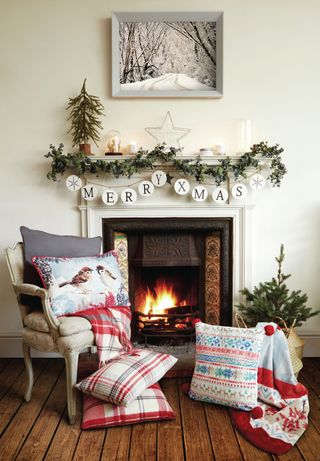 Because you wouldn't want your non-festive, boring, everyday cushions bringing down your Love Actually marathons would you? Spread the festive cheer even further by changing up your sofa cushions.
These Christmas cushions from M&Co are our favorites.
11. Choose the right tree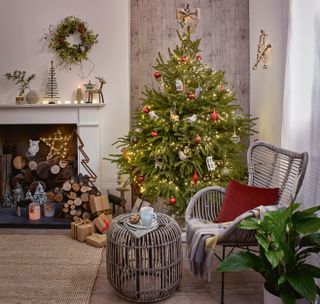 A fresh tree will best capture that nostalgic Christmas feel – try your local Dobbies, they have a great selection.
But, while a lot of traditional Christmas decorating ideas revolve around plenty of evergreens, you can always fake the feeling of walking in Narnia with artificial trees. There are some very convincing, affordable options out there.
Miss the scent of pine? The best Christmas candles can help you recreate the festive fragrance.
12. Create a traditional Christmas tablescape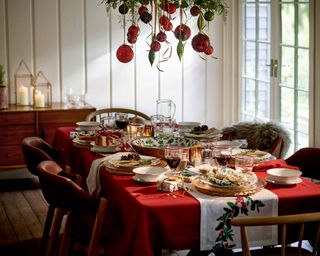 There is nothing more traditional than the warmth and coziness of the Christmas table.
Traditional Christmas table decorations are all about opulence. More is more – this is the time to bring out your gold-rimmed crockery and the finest wine glasses; a fancy Christmas table runner is a must.
White and red are the classic Christmas table colors, but you could also experiment with green and white.
13. Get the outdoor lights right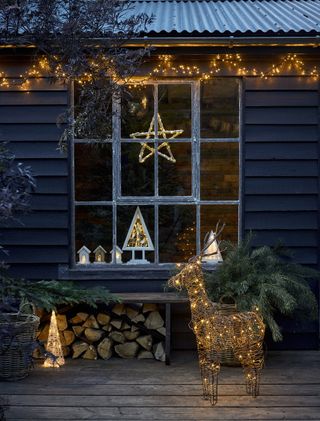 So we've covered the inside, but what about decorating the exterior of your home? The best Christmas fairy lights tend to be warm-colored lights – nothing too bright white if you are going for a more traditional look.
String them around your doorway for a warm welcome, get the ladder out and drape them through the trees. And don't forget to hang lights at your windows, too, just to add to that lovely festive glow.
14. Don't forget the bedroom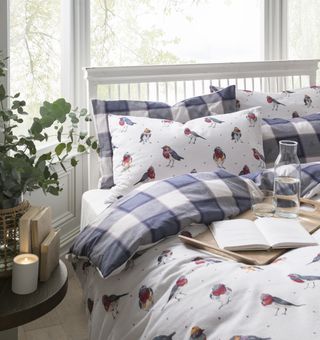 When it comes to decorating, why limit yourself to just downstairs? Get that festive feel in your bedroom too. Perfect for a festive update, this cute robin set from FatFace has a timeless check on the reverse so won't be too Christmassy come January. Make sure you have a glance through these bedroom Christmas light ideas to really up the festive feel.
15. Decorate with classic festive foods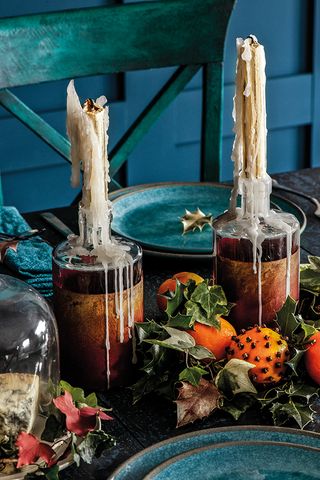 Make like the Victorians and use everyday food to decorate your home. Stick some cloves in an orange, thread some popcorn onto a string or dry out some citrus fruits – not only do they make for lovely budget decs but they also make your house smell like Christmas.
16. Bridge traditional and modern styles with an all-white scheme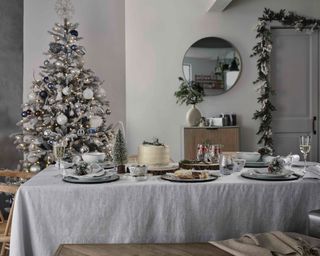 Want something that's edging more towards a modern scheme but still has a traditional charm to it? Our advice is to go all white, with a few evergreen touches.
The overall look will be fresher but not too out there. A white tablecloth for your Christmas table will complete the Winter Wonderland motif.
17. Or embrace a sumptuous red and gold theme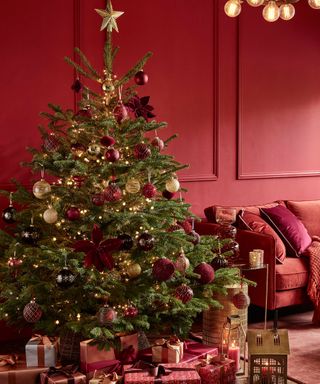 On the other hand, if you want to go all-out on the luxurious warmth a Christmas tree theme can provide, red and gold is your best bet. It's a tried-and-tested color combination that never gets old and is guaranteed to put a smile on your face.
Play around with textures, too – smooth metallics combined with red velvet are especially opulent.
What is the most traditional Christmas decoration?
According to Rebecca Challinor, 'from a foliage perspective, garlands, wreaths, and, of course, Christmas trees are all traditional.'
But if you want the most traditional decoration possible, 'stockings are a decoration dating back for hundreds of years, and though they now come in a variety of styles, it's traditional to hang them on the mantelpiece or over an open fire.'
Other traditional decorations include stars, bells, and angels.
What is the most traditional Christmas color combination?
Rebecca's top choice is the classic green, red and gold combination. Green, of course, 'dates back centuries' – 'holly plants were used to celebrate the winter solstice.' Red became traditional because of the red color of the holly berries. And gold? It 'represents the gifts brought to baby Jesus, as well as the colour of the stars in the sky.'