No Christmas decorating scheme is complete without a garland. Whether you're looking for a discreet and minimalist design to wrap around a bookshelf, or are going all out and covering every visible surface with garlands, we have a range of options, from realistic foliage to abstract designs. What will take your fancy?
Looking for more Christmas decorating ideas? We've got 21 ideas that you will want to copy.
1. Find an alternative way to use baubles – as a garland
Perfect either in lieu of or in addition to a Christmas tree, the Two Whitewashed Glass garlands from Cox & Cox have an attractive distressed glazing that will look great as part of a vintage Christmas decorating scheme.
2. Swap traditional fir branches for delicate leaves
Whether as part of a traditional Christmas look or a more contemporary Scandi Christmas decorating scheme, a green garland that experiments with eucalyptus, juniper, or even oak branches, instead of the traditional pine or fir, is a lovely pick.
The Eucalyptus Wreath & Garland from Lights4fun come in a handy bundle, and look very delicate and convincing.
3. Add a splash of colour with a kitsch garland
Pining for some bright colour in the middle of winter? Go for a kitsch decorating scheme and forget about having to tastefully match your decorations.
We love the explosion of colour provided by the Multi Coloured Pompom Garland, the Rainbow egg hanger, and the Glass Strawberry Bauble, all from John Lewis.
We have loads more kitsch Christmas tree decorations, too.
4. Pick a realistic rendition of pine branches
If you're going for a traditional Christmas decorating scheme this year, then fir branches are a must. We love the very realistic-looking Festive Foliage Runner from Ginger Ray.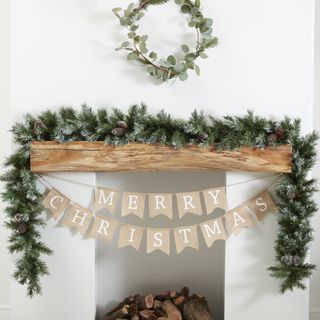 5. Mix fir branches and colourful flowers
Feeling the itch for something a bit different this year? Liven up your traditional garlands and wreaths with fresh or artificial flowers. Red roses look particularly stunning when you mix them with frosted cones.
Don't have time to make your own? The Snowy Fir & Cone Garland with Red & White Flowers by Gisela Graham is available from Duckbarn Interiors.
More Christmas garlands with flowers:
6. Go for minimalist charm with a frosted sage garland
For an understated, go-with-anything look, go for a frosted leaf garland, which will look especially lovely against wooden furniture. Our pick is the Sage & Berry Garland from Cox & Cox.
7. Pick a lit-up twist on the silver bell garland
Silver bells, silver bells... get a slightly more interesting version, with built-in LED lights. The Silver Bell Battery Lights by Gisela Graham are available from The Contemporary Home.
More LED silver bell lights:
8. Create a snowy kingdom with a silver garland
Nothing beats good old tinsel for creating snowy Christmas drama in your living room. The Silver Tinsel Garland from Next is so versatile: hang it up along your staircase, drape it over your mantlepiece, or around the bottom of your tree.
More silver tinsel garlands:
9. Introduce a rustic charm with a warm gold garland
You've finished decorating the living room – now what about the kitchen/dining room? Complement the warmth of a rustic kitchen with a warm gold garland. Our favourite is the Gold Leaf Garland from The National Trust.
More gold leaf garlands:
10. Add a string of snowflakes to a Scandi Christmas scheme
Want to keep to a cool, Scandi Christmas decorating scheme this festive season? All you need is a string of snowflakes! The trick is to keep it simple.
We love this Nordic decorating scheme, finished with the Silver Glitter Slowflake Garland by Ginger Ray.
More snowflake garlands:
11. Warm up the room with a pre-lit garland
Want a garland that will instantly cheer up the room? Always go for warm, yellowy lights rather than cool frosty ones. Go for several different garlands, too, mixing tiny lights with larger ones.
We love the very warm-coloured Jewelled Twig Light Up Garland from Cox & Cox.
12. Pick a cheerful and easy-going metallic garland
For an easy and classic Christmas charm that will also effortlessly translate into New Year's Eve celebrations, pick a metallic garland. Our favourite is the Gold Circle Garland Ginger Ray.
13. Add a cosy charm with a Christmas jumper garland
What could be more cosy than a traditional patterned Christmas jumper? The Red and White Festive Jumper Wooden Bunting from Ginger Ray is also a clever little nod to the Scandi decorating trend.
More Christmas jumper garlands:
More Christmas decorating ideas: