If you're looking for budget Christmas decor ideas this festive season, these cheap but chic decorating options are for you. Getting your home to look festive really doesn't have to cost a fortune – all you need is a bit of imagination and, perhaps, a knack for making things with your hands.
Don't worry if DIYing all of your Christmas decorations doesn't appeal. Many of our favorite budget Christmas decorating ideas can be easily found in major stores.
What's also lovely about being a little frugal is that not only will you save money while still making a great and gorgeous impact, but you'll likely be more eco-friendly with your decorating. And if you're wondering when to put up Christmas decorations, never fear, as we consulted the experts!
Budget Christmas decor tips
The founder of This Girl Can Organise, Nicola Lewis, told us that her own thrifty Christmas involves 'making an extra effort to find some goodies from small businesses. Amazon has a dedicated section on their site for SMB Gift – I'll put a note or inspirational message in one of the bags to remind them that I love them and it just brings a smile to their faces.'
Amazon is not the only retailer worth checking out for wonderful budget finds. Our favorites include Etsy, H&M, Walmart, and, of course, IKEA.
And if you don't want to spend anything at all, there are plenty of ways to decorate your home for free with budget Christmas decorations – often by taking a look at what's in your backyard.
1. DIY your advent calendars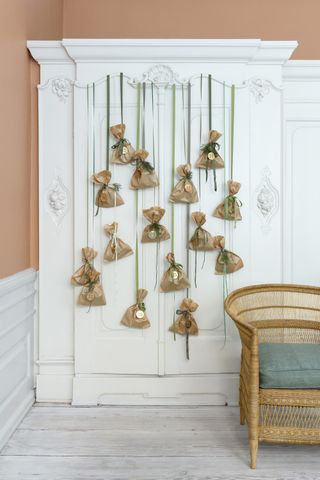 Our love for DIY is simply amplified around Christmastime, and making your own advent calendar is not only an easy way to save cash (not to mention plastic) but it's also perfect to make something so much more personal to you, or to your lucky recipient. And, the bigger you go, the more decorative it is. These Swoosh craft paper bags are from Amazon and they make a great display.
Nicola Lewis admits to loving 'an advent calendar in our house. I like to use advent bags that you can get on amazon, which I reuse every year and fill it with items that I know my children will love and use.'
2. Make your own plantable Christmas cards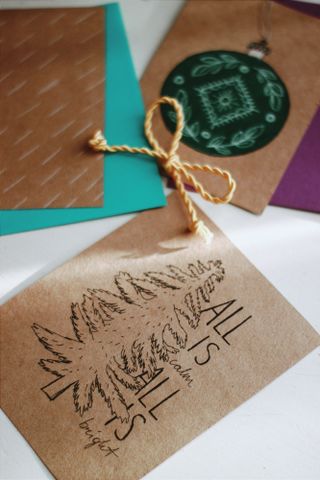 This is a great eco-friendly Christmas decoration idea, plus, investing in plantable seed paper Christmas cards can not only be more pocket-friendly compared to some luxurious cards, but when they will, in turn, grow wildflowers, that's a 2 in 1 gift.
We like these Nordic plantable Christmas cards from Amazon, but if you're feeling even more creative, you can purchase blank ones to decorate yourself!
Nicola also likes plantable cards – 'Instead of putting the card in the bin, you can pop them in the garden, sprinkle some water, and you have some new flowers!' She also likes using 'non-toxic stamps to decorate the cover and also find it very therapeutic.'
3. Decorate with foraged greenery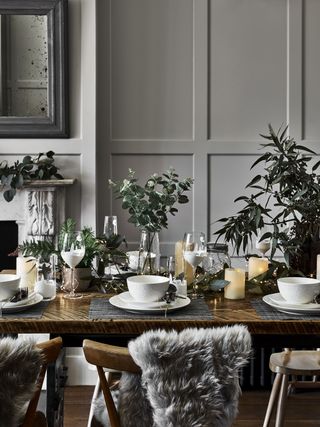 Greenery is usually free, especially if you have a holly bush, willow tree or any type of fir or spruce in your garden or local park. And you only need a little to make a stylish impact on a dining table.
So you could even just use some offcuts of your real Christmas tree. Plus, if you want to invest in a little dried eucalyptus from Etsy, it's fairly affordable, will last for years, and looks great in the house year round.
Brenda Scott, professional organizer, interior decorator, and owner of Tidy My Space, advises looking for 'a park or neighbour with cedar hedge bushes or pine trees and take a few sprigs. (Ask for permission from your neighbour first). Cedar branches can make great garlands, porch arrangements, wreaths and even decorate a plate with a candle in the center with small pieces that fall off the branches.'
'While you're looking for branches, 'pine cones found on the ground make a great addition to a centerpiece.'
4. Fashion your own table decor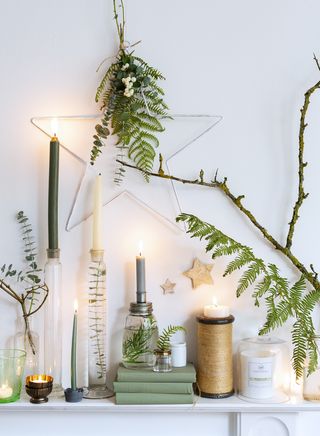 There's a lot you can do with what you already have, especially when it comes to Christmas table decor that has a little more personality.
From leftover baubles (the ones missing the string) to old candles or jam jars, you can usually find plenty of sundry festive items that add interest, for free! You also can fill the jars with cute Christmassy trinkets.
Nicola's top tip is to 'repurpose old candle jars and turn them into table decorations. Fill the top with hot water, empty the wax and fill it with anything you have lying around the house—for example, pebbles from the garden, candles or lights.'
5. Decorate every nook and cranny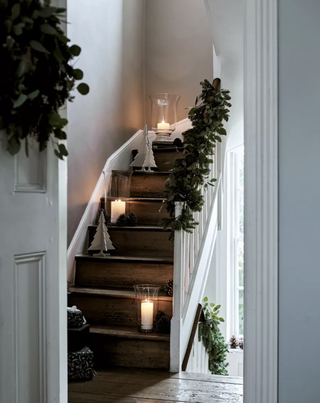 A few strategically placed candles and lanterns can make a huge difference, especially in the hallway area.
This beautiful staircase idea is created with just a few repurposed vases, candles, garlands, and rustic Christmas decorations which you might have left at the bottom of the box. Proof that there is a place for everything, and it won't cost you any extra!
6. Make your own no sew stockings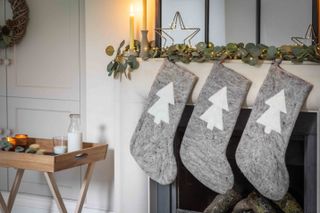 Stockings hanging from a Christmas mantlepiece is one of those cozy Christmas scenes that we all think about.
And, making your own no-sew or appliqué stockings is a really nice way to add a personal touch to your Christmas decor, without the big spend on a regular shop-bought stocking.
Plus, it's a great way to reuse any old fabrics you have lying around. Waste not want not after all.
7. Be original with your Christmas wrapping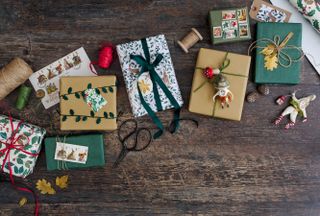 Gift wrapping is all part of the Christmas decor package, and if you choose to go fancy, it can be expensive.
We love the authentic look of brown paper packages, while you can even reuse paper bags from Primark or other stores like Amazon, as Nicola suggests below, because this is one of the most simple, stylish, eco-friendly and cheap Christmas decor ideas going.
Nicola likes 'to reuse the brown paper you get in your Amazon deliveries. I lay it out on the table with some books over it, and this year I will get the kids to draw on it and use it as wrapping for their grandparents. For my friends, I will keep it plain and wrap some twine around it and add some eucalyptus from my garden, so it smells nice and gives it a rustic look.'
8. Make your own decor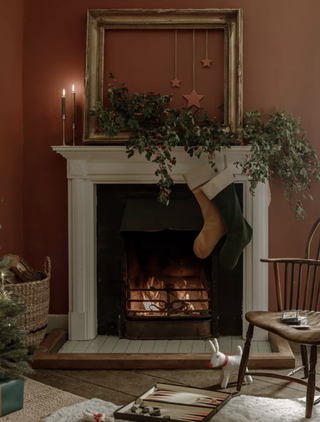 We've mentioned that we're into DIY Christmas decks and proof is in the pudding. Think outside the box, and take a little inspiration from far out budget Christmas decor ideas like this one.
To recreate the look, you simply need to paint a leftover frame in gold or silver – depending on your Christmas decorating color scheme – and that gives off such a good effect, making it the perfect place to house a couple of hanging Christmas tree decorations and anything you'd want really.
9. Be strategic with fairy lights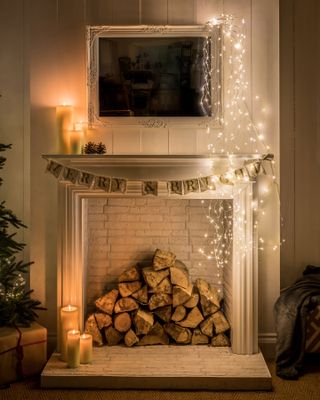 We know how versatile Christmas fairy lights can be, and the way to get the most use out of a small bunch of lights is to place them thoughtfully.
Cascading them looks amazing visually, while if you really don't have many to work with, or if some of the bulbs have gone, you could entwine them around a little foliage to help softly brighten up the greenery in a lovely subtle way.
10. Hang paper decorations high for more effect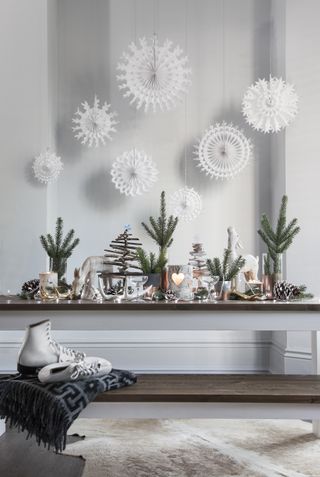 And it's not just about hanging fairly lights either. Think about the placement of all your Christmas decor and aim for height for more visual grandeur. We love these paper decks (which are fairly inexpensive also) and hanging them from above helps make the Christmas decor pop.
11. Get creative with tea lights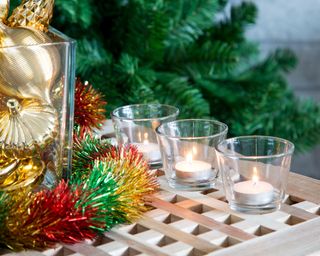 Brenda's top tips is that 'tea lights from a Dollar Store can be placed on a plate with Christmas balls surrounding, to make a table centerpiece.' Tea lights like these from Amazon are incredibly versatile – and very cheap, with bundles you can pick up for only a few dollars.
Place them in drinking glasses for a DIY lantern effect, or just strew them around your Christmas table for a festive glow.
12. Use old book pages to create an alternative Christmas tree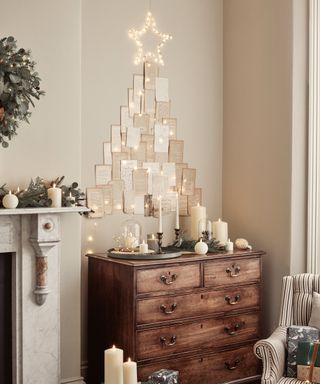 Alternative Christmas trees can be as expensive as real Christmas trees, but if you get a bit creative, they can cost you almost nothing at all.
If you've got a second-hand bookshop near you, pick up a few inexpensive old volumes and use the vintage pages to create your own alternative Christmas tree.
Use soap and water to attach the pages to the wall – they'll wash off easily when it's time to take them down.
13. Consider glass as an alternative decorating material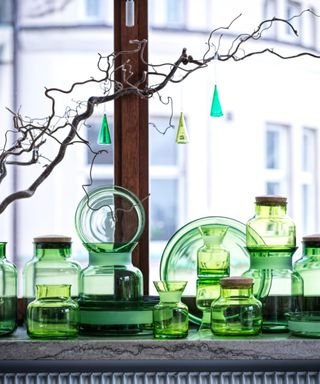 Glass storage jars as Christmas decor? It should work but very much does – the green of the glass looks very festive.
The jars can be picked up from IKEA for only £6-£10, and the little hanging decorations are £9 for three. Needless to say, the jars will come in very handy for kitchen organizing come January.
14. Get a seasonal paper lampshade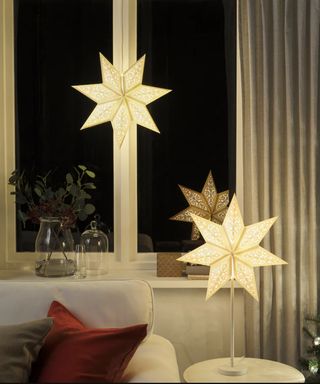 As we've already seen, paper is your friend when it comes to decorating on a budget. From paper snowflakes to paper lanterns, paper decorations are cheap and pretty.
And lit-up paper looks even better, as these gorgeous star-shaped lampshades from IKEA demonstrate. The lamp bases are sold separately, so at the end of the festive season, you can swap the lampshade with a different one.
15. Create a table centerpiece with poinsettia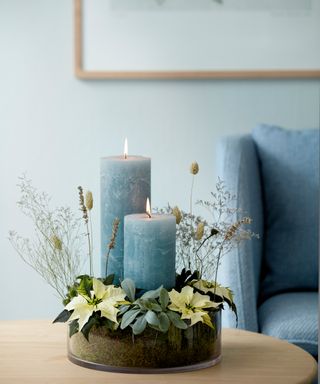 Poinsettia is one of the most popular Christmas plants, and with proper care, this plant is a perennial, meaning it will give you its pretty, colorful bracts every year. Why not pick a few and create a beautiful centerpiece for your table?
Andra DelMonico, the Lead Interior Designer for Trendey, told us that 'Poinsettias are the classic Christmas plant with their bold red or white leaves. Rosemary, thyme, and other common holiday herbs are also great options for adding a multi-sense decor.'
How can you decorate for Christmas if you're on a tight budget?
Kelly Marohl, owner and designer of The Greenspring Home recommends starting by 'looking at what Christmas decor you already have' and 'thinking about
what you can repurpose.'
'For example, pine cones from outside and tree ornaments you already have make great bowl and vase fillers. Another way is to buy an inexpensive roll of holiday tree ribbon and make bows out of it. Attach the large festive bows to the backs of your counter stools!'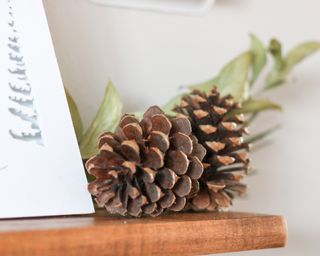 What can I use if I don't want to DIY my Christmas decorations?
Don't worry, DIY is optional if you're decorating on a budget. Errika Horner, owner and author of The Home Intent blog, advises looking to nature for ready-made decorations that are free and don't require any DIY skill.
'Go for a walk and collect fallen evergreen branches, pine cones and twigs. Look through your kitchen cupboards to find cinnamon sticks, oranges and cranberries.'
'The beauty of decorating with natural items is that all the items can be used in multiple ways. Dry the oranges and hang them as ornaments, create a garland, layer them throughout a wreath or use them on their own beside other shelf decor! Most of these natural items can be made into ornaments, placed in vases and put on wreaths and garlands.'
And you don't even have to worry about color-coordinating. As Errika says, 'everything naturally goes well together. The greens, browns, tans, oranges and reds of these items work together seamlessly. You don't have to put in much effort to create a cohesive look. Isn't nature amazing that way?!'
For more home decoration inspiration this Christmas, watch Nicola Lewis' Black Friday Live episode on her top tips to decorate the home on a budget.