If you're still putting your Christmas living room decorations up then you are in the right place for the most beautiful inspiration. After all, the living room is the beating heart of the Holidays! Where children play, parents laugh, where gifts are unwrapped and snacks shared. It's therefore, where we most often place our trees, where mantel pieces adorned with festive garlands reside, and where a lovely bar cart lives also.... All of which command our attention on the embellishment factor, which goes hand in hand with feeling Christmassy, at this time of year.
We've seen so many gorgeous looks around for 2020 and lots of these are totally creeping in to our Christmas decorating ideas too. With this in mind, we've rounded up our top ten stylish and striking Christmas living room looks and ideas to help you make the most of your space this Christmas. Celebrate your quirky side, embrace those essential twinkling lights, and if it's time to find some dazzling new living room decorating ideas to lift your space this festive season, just keep scrolling.
1. Make a show-stopping Christmas mantle
If you have a mantle in your living room, pull out all the Christmassy stops and add your own DIY decorations to really make it pop. Placing an oversized Christmas garland around the top and draping down the side (asymmetric style is the current look) so it spills onto the hearth below will give a dramatic focal point. Embellishing with fresh or faux eucalyptus only adds to the wow factor. And don't forget the mirror too. Adding ribbons and baubles brings this into frame in more ways than one. Plus the addition of candles is always a welcome touch. For some fire hazard free glow, try some of the great battery powered ones - we love lights4fun.
2. Choose cool, quirky Christmas living room decor
We love traditional decorations but if they aren't for you, how about some Post Impressionism-inspired characters to adorn your tree instead? And who wouldn't want to hang chameleons next to a fairies, near koala bears, opposite some gold leaves and adjacent to some halved papayas?! The palette's cool undertone of greens and gold colors run through this, making the theme come together under one beautifully eclectic scheme. Check out the full range at John Lewis.
3. A festive living room space needs festive foliage
Keeping things neutral and natural is always a winner during the holiday season as this stunning Christmas living room looks prove so well. Using greenery brings the outdoors in, especially when using fresh winter flowers and foliage. Foraging is a really fun way to get into the spirit and to perfect your Christmas mantel decor, so don't be afraid of taking secateurs out on your next winter walk and see what you kind find. We love the addition of eucalyptus and pussy willow as the woman herself, Kelly Hoppen inspired us to do. Just be sure to leave any hedgerow finds outside for a day or two, to let any insect stowaways make their escape.
4. Give a festive living room that glow
On point living room lighting ideas are important all year round, but especially at this time of year to ensure your space is super illuminated throughout long wintery days, and uplifting to boot! And, we all want extra sparkle at Christmastime so choosing Christmas tree decor that can double up as a light source also, is going to make your lounge space feel dazzling. These stars add a touch of illumination by day and really shine come evening time, making your festive living room come to life, with all the cozy and bright vibes. A liberal sprinkling of Christmas fairy lights and of bright – batter powered – candles (safety first) give great glow also. Find similar ones at Lights4fun
5. Create a Christmas drinks corner with party style decs
This kitsch space shows that alternative Christmas living room decorations will totally get the festivities going and people in the party mood. And with seasonal cocktail mixing being a quintessential pastime come holiday season – of course – make sure you shower yourself with bar cart ideas to ensure that yours gets some embellishment of it's own! Clustering stylish additions nearby like these awesome paper decorations from Rockett St George is one of our favorite Christmas living room decorating ideas right now to create vibrant and cute decoration scheme for the Holidays.
6. Match matchy Christmas living room decor
Look at all these gorgeous blue hues. The homeowner has cleverly incorporated the existing schemes palette and infused with subtle decorations. There's blue baubles around the mirror, plenty of touches of gold to pick up on the side tables while the stockings match the dreamy rug. The final flourish of some twinkling lights is one of the most original fireplace ideas that is sure to lift your spirits. So what's next? Grab an eggnog and cozy in for the Holidays.
7. Nod to traditional Christmas colors
There's nothing quite like the fir greens and reds of a classic Christmas color scheme and this lounge is the epitome of cozy and bright in our books. Get the look via your tree and decorations, say yes to a little gold and play with texture also, while a lick of paint on the walls and even on your mantlepiece will of course up the look of your Christmas living room space.
8. Swap in festive accessories
From changing up your regular living room cushions to velvet or full on Christmas cushions, to upping your candle game and the overall look of your coffee table decor, it all counts towards your Christmas living room decor. We love the muted colors in this set up and we would totally consider keeping those cushions on the gorgeous 3 seater.
9. Create a cozy reading corner
Everything about this nook screams cozy, come read here vibes. Plus, the blue color scheme is on point for a contemporary Christmas look that is super luxe and festive. Love that wall light as much as we do? Find the Bamboozle wall light with the Matthew Williamson Leopard Love Jade shade and Slider Floor lamp at Pooky.com.
10. Pare down your color palette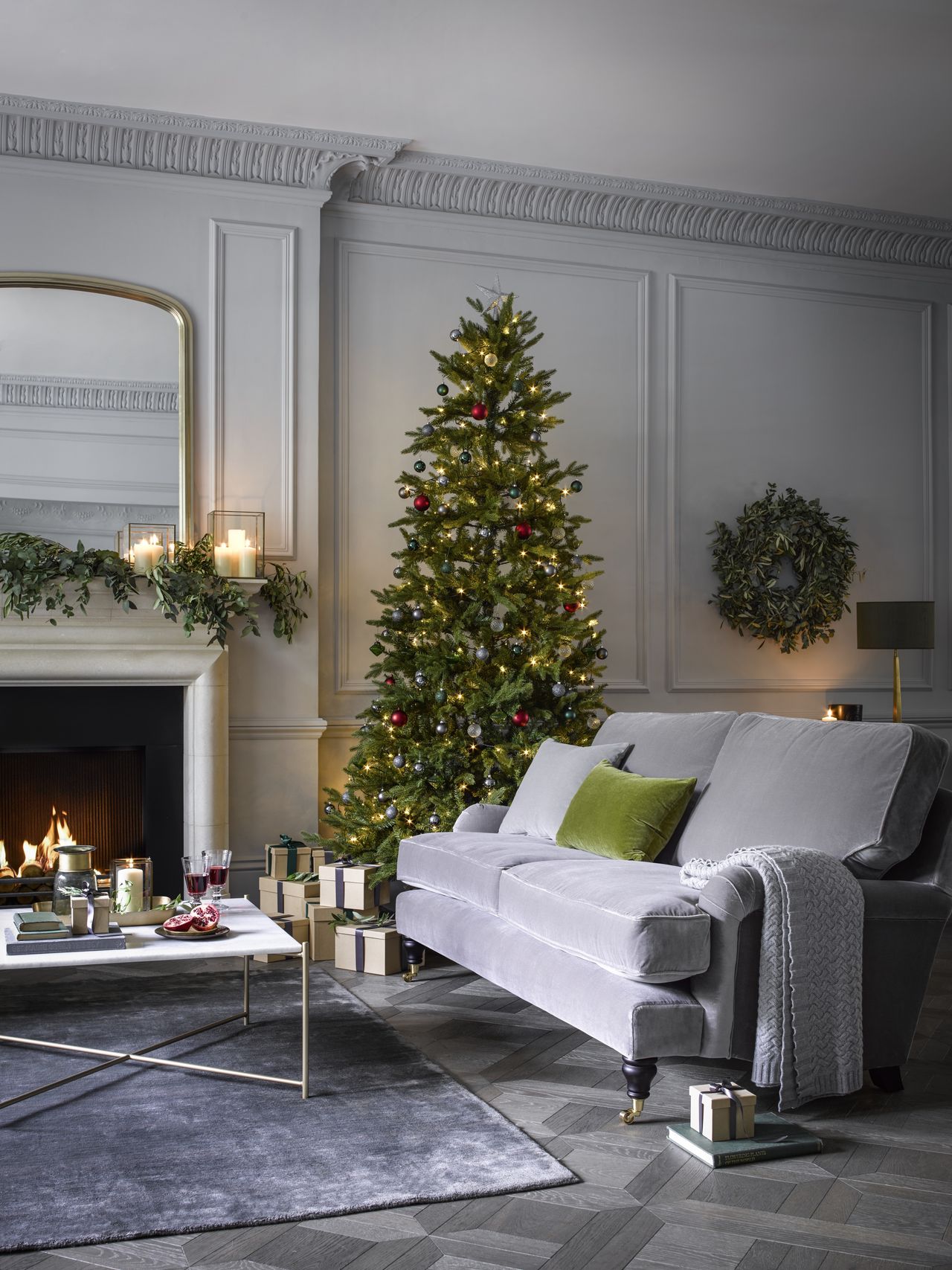 To create a cozy oasis that is still really luxurious and festive, stick to grey living room additions and more neutral tones that will really set off your Christmas tree and any other foliage you have on display. What makes this room interesting still? The different textured surfaces, from the fuzzy rug to the knit throws and velvet sofa – it all works like a charm.