Shock announcement of the year: not everyone loves Christmas trees. Some of us find them too much faff to put up; others are just plain bored of same old year in, year out; others simply don't have the space. If you'd like an alternative, you're in luck: we have scoured the world of festive offerings for cool and unusual ideas – guaranteed to stir up enthusiasm. Best of all? If you LOVE Christmas trees, these make a great addition to your traditional tree, too.
Find more Christmas buys and gifts on our dedicated page.
1. Go minimalist with a metal Christmas tree silhouette
Love Scandi, minimalist design? You'll like the Metal Silhouette Tree, £60, from Cox & Cox. Perfectly understated, but still very recognisably Christmassy. (Sold without baubles.)
2. Cheer up your exterior with an LED tree
Another understated ornament, the Chalk Pre Lit Twig Tree from Lights4fun is both elegant and cheerful, thanks to the warm LED lights. Stick it by the front door, in the back garden – or bring it inside for a contemporary Christmas look.
More LED trees:
3. Stack crates in the shape of a tree
The easiest option of all – and a very budget-friendly one – is stacking wooden crates in the shape of a Christmas tree. Then, fill them with your favourite Christmas decor or gifts. Hey presto, a chic, boho Christmas tree alternative.
Don't have any crates, or love the ones in the photo below? Get the Large Wooden Christmas Crate Tree from Plantabox.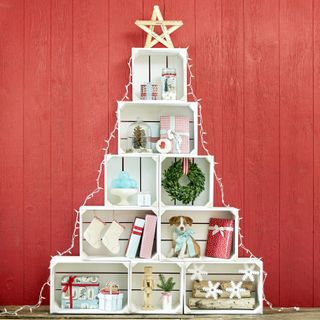 Shop wooden crates and make your own alternative tree:
4. Build a Christmas teepee for the kids
If you have small children, a tree can be too much of a hazard (people with naughty pets will get the dilemma, too). Instead, put up a child-safe teepee they'll love playing in, and decorate it with your favourite Christmas ornaments.
This teepee has been decorated with Christmas treats from Dunelm.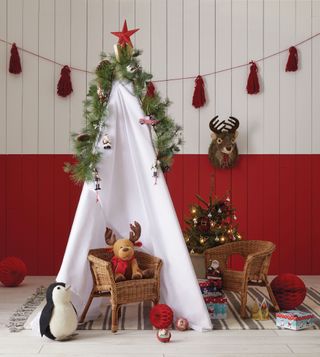 Buy a teepee:
5. Draw your tree on a blackboard
Forget buying stuff and have fun drawing your tree with your kids! If your children's room has a blackboard and some chalk, you're basically sorted. Just add Christmas decs.
This kid's room has been decorated with Christmas goodies from Homesense.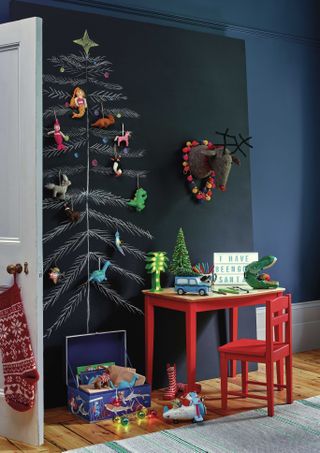 Don't have a blackboard? Find one:
6. Use neon lights as a festive alternative
It's not all about fairy lights; why not edge it up a bit and go for neon lights instead? The Neon Christmas Tree Garden Stake Lights from Lights4fun are cool and different, if a little Twin Peaks. They cost £34.99 for a pack of three.
More neon Christmas lights:
7. Decorate ladders with baubles
Part joke, part cool design idea, using a step ladder to create a tree-shape for displaying baubles will delight your friends (but probably appal your grandma). Just make sure everything is stable – you might be better off laying a soft rug underneath, just in case your makeshift tree topples... and maybe avoid this idea if you have toddlers. This DIY ladder tree has been decorated with baubles from Poundland, but if you're considering it, it's definitely worth checking out our best kitsch tree decorations, just to finish off the tongue-in-cheek approach to perfection.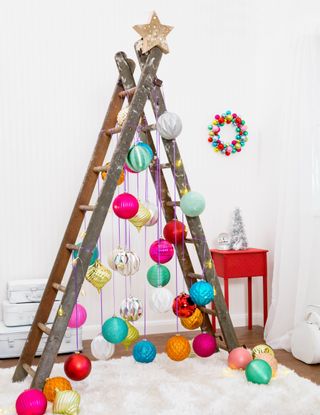 For an even smarter look, why not decorate a ladder book shelf?
8. Go for a contemporary interpretation of a tree
Don't like any of the DIY options? The Multicolour LED Christmas tree from My Furniture is sleek and glitzy, and will look nice in a contemporary home. Plus, the only effort you'll have to make is to a) click and buy and b) take delivery and c) plug it in and switch it on. Simples.
More LED Christmas trees:
9. Create a festive atmosphere with a backlit ornament
Perfect Christmas atmosphere with the help of a battery-powered wood carving? Easy, with an LED stag forest scene, available from Not On The High Street.
10. Hang up a tree-shaped wreath
Wreaths are a great compromise when you want something quite Christmassy, but don't want a tree. Our favourite is the Tree Shaped Wreath from House of Bath.
More wreaths:
11. Conjure up an instant festive vibe with a pop-up tree
Perfect for those who like a more abstract take on Christmas, the pop-up outdoor tree from Wilko is very understated, but still festive. Plus it takes up barely any storage space the rest of the year. Result.
12. Create a bohemian take on white Christmas
Don't really do Christmas at all? Just stick some fairy lights on some of your favourite house ornaments, and you're good to go. If it's tree-shaped, even better.
We like the White Wishing Trees from Sue Ryder. Have yourself a boho merry Christmas.
More wishing trees:
13. Pick a compact design that fits on the dinner table
Don't have much space, or would you like your tree to be the dinner table centrepiece, without pine needles everywhere? Pick a compact and stable metal design, like the ingenious Metal Christmas Tree from Maisons du Monde (sold without baubles).
14. Decorate a small space with a silver mini tree
Bring festive cheer into a small kitchen or living room with a mini tree. With very small trees, there's no need to look for a convincing spruce lookalike – you might as well go for something a bit more unusual and eye-catching, such as the very sparkly and pretty Silver Glitter Mini Christmas Tree from Lights4fun.
15. Add colour with a Christmas tree rope light
Want to really cheer up your front garden – and the whole street? The Tree Rope light from B&Q is guaranteed to stand out. Mains operated.
16. Have frosted branches delivered to your door
This contemporary 'Christmas tree' from Bloom & Wild is perfect for Scandi-interior fans. Perfectly simple, it pairs frosted branches with paper pom-pom baubles (both come in a super slim box that fits through your letter box). Plus we love that you can just pack it all away and reuse them year after year.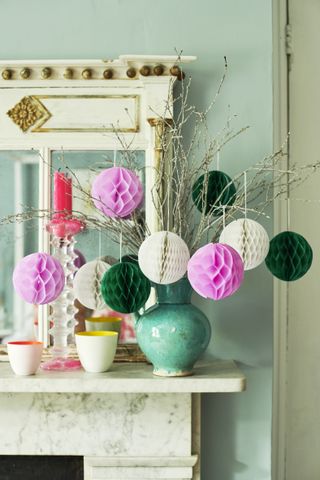 17. Make a wall sticker Christmas tree
Want to get a bit creative? All you need is some double-sided sticky tape and your favourite decorations (obviously not glass ones, as they won't stick).
This tree-shaped Christmas ensemble has been created by MYK Berlin.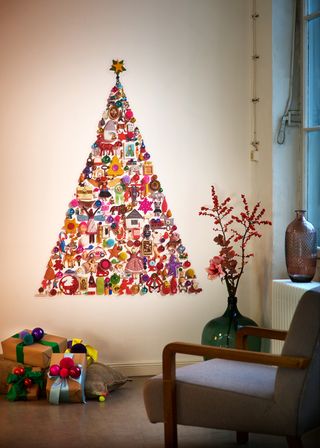 Read more: