These clever, modern and funky alternative Christmas trees will bring festive cheer whether you're looking for an eco-friendly alternative to buying a real tree or just want to give your usual artificial tree a miss this year. They might also help you to refresh a scheme that may have historically been the same each year.
So if you'd like an change to your usual Christmas tree ideas, you're in luck: we have scoured the world of festive offerings for cool and unusual ideas – guaranteed to stir up enthusiasm and your curiosity. Best of all? If you do LOVE Christmas trees, these make a great addition to your traditional tree, too. Because who says you can't have both? Not us.
In our alternative Christmas tree ideas round up, we've catered for big and small spaces, both inside and out, so that you can forgo your usual Nordic Fir in lieu of something special that'll get conversations with even the most awkward relatives started.
Alternative Christmas trees that are aesthetically-pleasing
'Whether you have limited square footage to work with at home, or you simply are just anti-pine (how does it manage to get everywhere?), there are other fun and festive options for your Christmas tree – that won't use up valuable space.' says Marianne Shillingford, creative director at Dulux.
1. Get the party ready with pink and green decor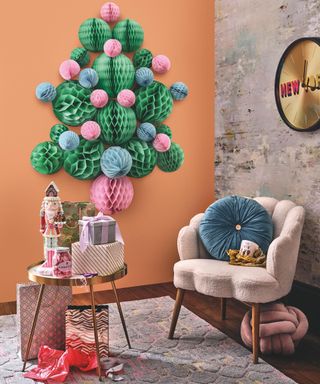 How fun is this honeycomb holiday tree?! Such a quick and easy idea and the most perfect solution if you've no place to store the tree for 11 months of the year, you're lacking floor space or you're unsure about how to put up a Christmas tree.
So solve three problems in one with this colorful carnival-style, alternative Christmas tree. There's no need to bother will real baubles and other decorations, it doesn't need lights, and you can either dispose of it after Christmas, or carefully detach them off your walls and store them to reuse again next year.
Check out these honeycomb paper decorations available on Amazon.
2. Go OTT with a large frame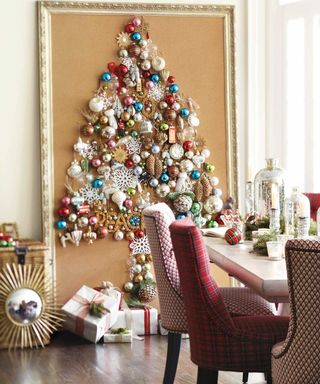 If you're someone that likes to add to add to your bauble collection with a statement, or novelty ornament every year, you may find that you end up with a surplus of decorations that aren't destined for the tree.
Rather than picking and choosing which ones make the cut, frame the remaining decorations on an ornate brass picture frame and hang in your living or dining area to add interest and excitement. Plus, there's no need to buy a Christmas tree topper – just use your best bauble up top.
'We dreamed up this spectacular one-dimensional tree using our collection of ornaments – and made clever use of wall space.' says Patricia Palermo, web content editor, Ballard Designs.
3. Opt for dark and dramatic with black wall decor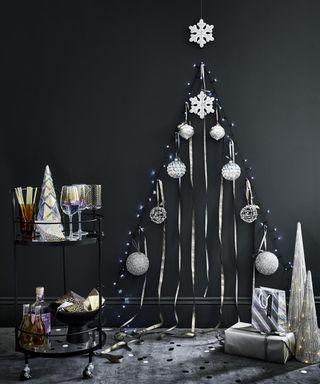 When the black Christmas tree was introduced, it was quite the interior revelation. But, if you want a look that's less novel and don't want the faff of spending hours working out how to decorate a Christmas tree – simply decorate a dark wall in your living room.
To make this festive wall look glam, turn to metallic baubles and gift ribbon decor to create a chic scheme. Black is such a good foundation to play with texture so go wild with wire, diamantes and other opulent ornaments. Fairy lights are given a grown-up makeover elegantly fashioned into a Isosceles triangle to depict the shape of a tree.
'Blacks, greys and deep purples blend with metallic sheens and iridescent finishes to give a moody yet luminous finish to the trend.' says Julie Varma, senior design director, George Home.
The addition of the bar cart idea makes this space the perfect meeting spot for a glass of wine or a cocktail. And those iridescent wine glasses just give everything so much wow-factor.
4. Use a painted peg board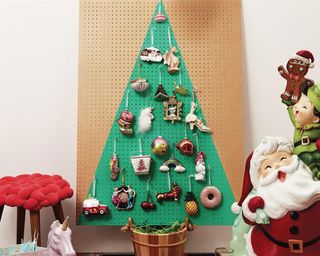 The holidays are usually a time for us to down tools and spend time with the family, so if your peg board is looking a little bare from the lack of work to-do lists and professional errands – repurpose it into a Christmas tree alternative with paint.
Here, Homesense have used gold and green paint to turn this office organization tool into a decorative tree. Simply paint it in a neutral color once the festivities are over, and hey presto, your trusty board is back to business duties.
This is one DIY Christmas decoration that doesn't take much time at all, but looks oh-so cool.
5. Decorate ladders with baubles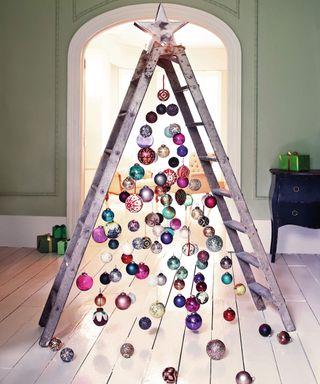 Part joke, part cool design idea, using a step ladder to create a tree-shape for displaying baubles will delight your friends (but probably appal your grandma).
Just make sure everything is stable – you might be better off laying a soft rug underneath, just in case your makeshift tree topples... and maybe avoid this idea if you have toddlers. Or pets for that matter.
Here, it's positioned center stage in front of a wall arch for maximum impact. By no means is it a traditional Christmas decorating idea, but it's a fun way to elevate and take your festive decor to the next level.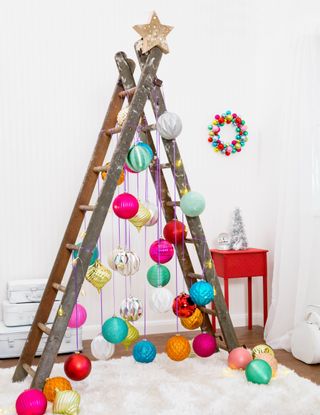 Same idea, different approach. Create an impactful design by backing everything up against white walls. Bar the red side table, everything else (trunks, faux fur rug, snow globe and mini tree ornament) is intentionally light and bright to create contrast.
Create a similar, budget-friendly idea by decorating your ladder in baubles from Dollar tree.
6. Style a dining room with a straw tree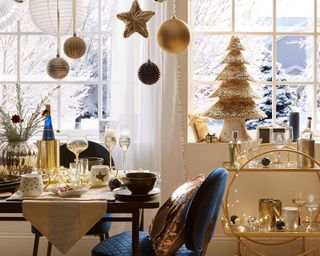 Ever wondered what would happen if you mixed Art Deco-inspired glamour with a bit of farmhouse luxe? Well, this Christmas dining area is a pretty accurate execution and we think it looks lush.
The rustic Christmas decoration sees five layers of perfectly arranged straw brought to life by a gorgeous golden colorway. The base recreates the unique visual of a thick, supportive tree trunk while also providing plenty of stability so you don't need to worry about it tipping over.
Get this Heaven Sends large gold straw Christmas tree from Very.
7. Add a tree design using foliage above the mantel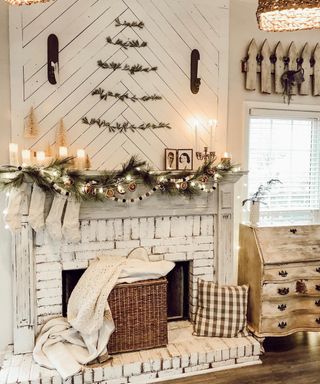 Sometimes, the simplest ideas shine the brightest. And so, we can't believe we didn't think to decorate our festive living room with only foliage first. We're in absolute awe of this country living room using just greenery to create a Nordic Fir-like design above the fireplace as a makeshift Christmas tree alternative.
Abundant with texture, this white farmhouse lounge by homeowner Savannah Witt (aka @thegrayolivebranch) ticks all the boxes of interior design. White brick fireplace? Check. Chic shiplap? Got.
Even picket fencing has its own feature. Traditional stockings, picture frames and Christmas mantel decor all help to give this home a family-orientated vibe.
8. Blow up a balloon tree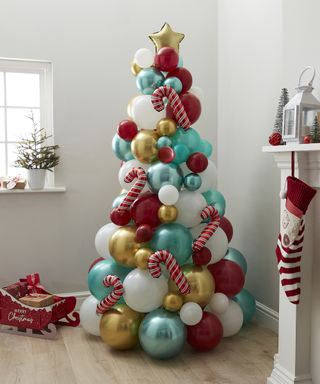 Don't get your tinsel in a tangle- up your balloon game this Christmas by creating an amazing balloon Christmas tree instead!

This balloon alternative Christmas tree kit from Ginger Ray, available from John Lewis & Partners contains over 100 balloons to make the ultimate show-stopping display, including traditional festive colours of red, green, gold and white, and topped off with candy cane balloons for that extra impact.
9. Display a mini tree in open shelving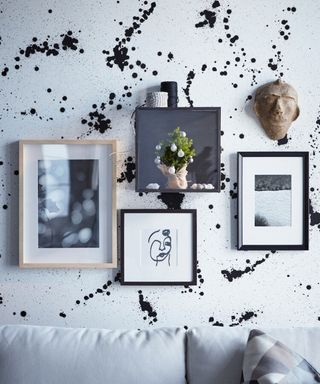 'Last holiday season's big tree trend was trees cut in half.' says Anna Blom, writer, IKEA.
'Take it to the next level and decorate your walls with a tree installation. Just put a tree into a display box or open shelving and let matching frames create a graphic feel.'
10. Use a wooden ladder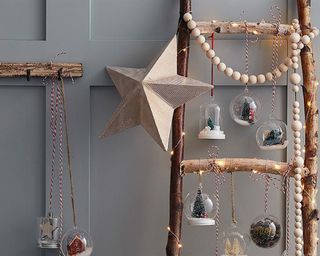 Instead of using a metal stepladder, create a softer, more organic scheme with a wooden ladder. You can either buy one off the shelf, or, drill an assortment of branches together for a tonal and textural variation (and all-round Christmas kudos).
We love the glass snow globe-style baubles which reflect off the fairy lights wrapped around the ladder apparatus. And the chunky, beaded and necklace-like decor draped over it... Genius.
11. Dress up a palm plant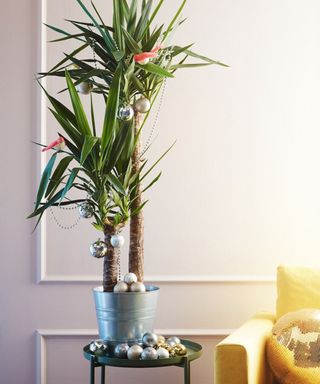 'If you're a ho-ho-ho traditionalist this tree may feel a little outside the box.' says Blom.
'But it's oh-so-simple. Just decorate a plant you already have at home. We went for tropical holiday deco with silver pearl garlands, hot pink birds and shimmering baubles.'
12. Add a mini ladder by the stairs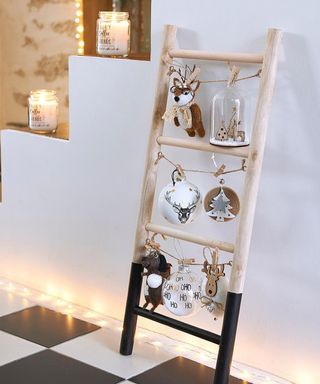 Add a nod to Christmas the Nordic way with a light, dip-painted ladder with stag and reindeer decor and baubles. This adorable design has been dressed near some steps and on a checkered floor to add interest to your hallway and staircase.
This is one Christmas tree alternative that has all the hygge but none of the hassle associated with how to care for a live Christmas tree.
13. Create a hanging textile tree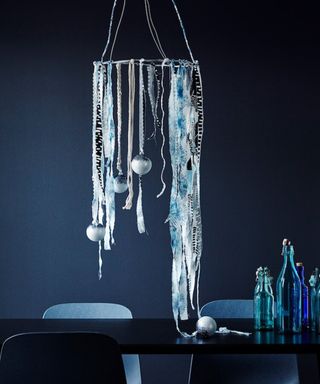 Macrame can look a bit out of place at Christmas, but if you want to create an alternative Christmas tree with a bit of flair, look to this design by Anna Cardell, interior designer, IKEA.
Make a wire circular base, and attach five strands of wire to form a cone shape. Decorate your 'tree' with baubles and strips of scraps. Twist fabric round two of the wire strands (just use what you have at home). Then hang it from the ceiling.
14. Go for a fuss-free wire bauble tree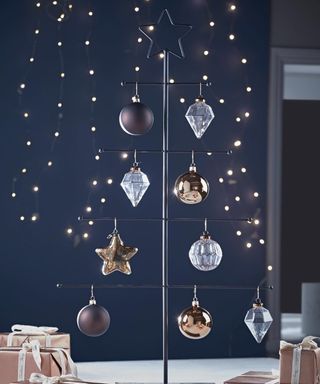 'Ideal for those with limited space or wanting to take a step away from tradition and decorate in a minimalist fashion this festive season, our small black metal silhouette tree is the perfect blank canvas,' says Dani Taylor, product and creative director, Cox and Cox.
'To make the most of this modern tree's versatility, hang with contrasting dramatic gold baubles, coordinating cool grey ornaments, or simply wind a set of wire lights around the branches for a simple, but joyful look.'
15. Stack your logs in a seasonally-apt way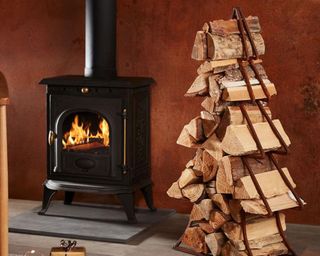 Fires are great for year-round enjoyment, but if you really want to ramp up the festive feels in your Christmas fireplace decor – look to your log storage.
Perfect for stoves, a tree-shaped log holder is the perfect accessory for to keep your fuel source looking tidy and stylish too. This Daria Fir Tree Shape Iron Log Carrier from Wayfair, made from iron is great feature for your Christmas mantel decor.
16. Light up indoors and out with a multipurpose tree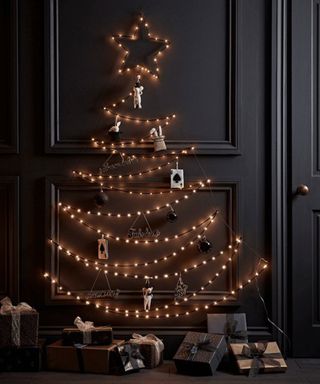 'Designed to capture the cheer, bouncing light and charm of a traditional star-topped tree, our Indoor Outdoor Magical String Light Tree is perfect for those who love Christmas but are seeking something a little different,' says Taylor.
'Crafted with shaped metal boughs, and easy to hang from a hook on your wall, our magical tree can be displayed either inside or outside the home to striking effect.'
17. Build a tree made from logs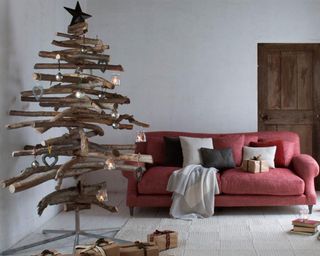 If you're got a furry friend who likes to fetch a log (or five) on their daily walk – they're going to love this Christmas tree alternative. This concept, styled by Loaf involves gathering logs to build a tree made from wood and then organizing them on a metal stand for stability.
Unleash your primal cavewoman, hunter-gatherer abilities with this wow-factor wood tree. Go further with this bare aesthetic by wrapping some boxes in brown paper and butchers' twine for a stripped-back scheme.
18. Add interest to your hall with frosted branches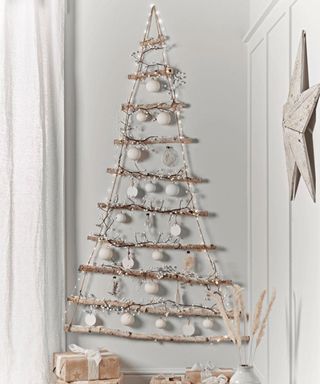 'Our rustic hanging tree has been carefully created using rows of natural birch branches hung together with strong jute string. A nature-inspired contemporary tree that works as an addition or alternative to your traditional fir tree, each branch has a dusting of sparkly snow,' says Taylor.
'Available in two sizes to suit your space, and perfect for hanging on your wall, this tree can be displayed alone in your entrance hall or used as the main attraction teamed with an array of lights and decorations, surrounded by presents.'
19. Don't fancy a fir tree? Try a twig tree instead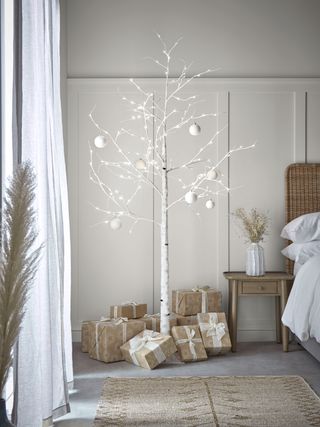 Fir trees are the traditional choice, and most Christmas tree alternatives in our gallery reproduce the fir tree shape, whatever they're made from. However, there's no reason why you can't use another tree – the trick is to choose an artificial tree that doesn't have any leaves on it, for a wintry look.
Pre-lit trees will look more festive, but you can also decorate them with a few baubles. As a Christmas tree theme, this white painted twig tree is perfect choice for a Scandi Christmas decorating scheme.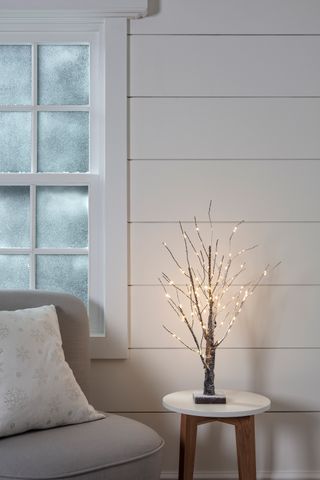 Of course, we don't expect that everyone has the space to use a full-sized twig tree as a Christmas tree alternative as their Christmas bedroom decor. While it makes quite the statement, it can be quite visually intrusive – not to mention, a little impractical to get up the stairs.
So, for a more subtle approach, this battery-operated twig tree by Lights4Fun offers a miniature middle ground.
20. Give your twig tree an industrial chic edge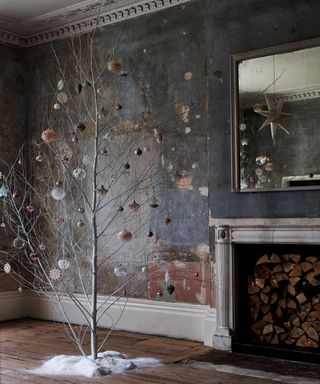 If you prefer your Christmas decor to look industrial or shabby-chic, this bare Christmas tree alternative is what it's all about. In stark contrast to the Scandi scheme we just saw, this is all about creating a rough, edgy look with organic texture and un-doneness.
Think unpolished wooden floorboards, peeling walls and an unused fireplace filled with firelogs. Fans of brutalist architecture will appreciate this aesthetic, but we totally understand that rustic, living room Christmas decor isn't for everyone.
21. Hang a decorated branch over a dining table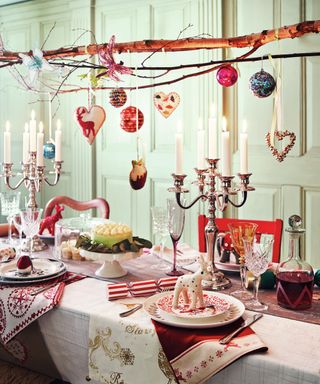 Before we 'branch' out to other Christmas tree alternatives, you'll see that our obsession with nature and foraging is still going strong. If you don't want a whole twig tree, consider collecting a branch from a tree and hanging it over your dining table.
This will work best with long banquet-style tables and, if positioned quite low, will add interest and intimacy to the table. Though this scheme looks quite modern and colorful, we can only imagine how dreamy it would look in a cozy cottage as a farmhouse Christmas tree idea.
22. Go minimalist with a metal Christmas tree silhouette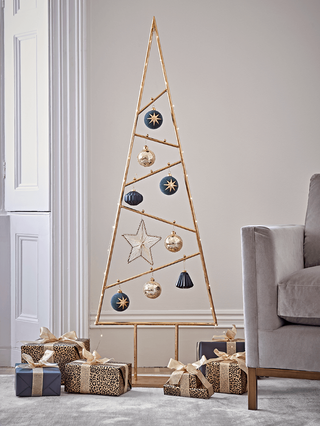 Love Scandi, minimalist design? You'll like the Metal Silhouette Tree, £60, from Cox & Cox. Perfectly understated, but still very recognisably Christmassy. (Sold without baubles.)
23. Cheer up your exterior with an LED tree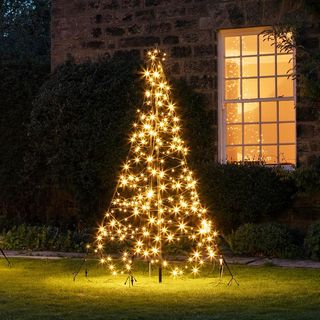 Another lovely Christmas tree alternative, the Warm White LED Fairybell Outdoor Christmas from Lights4fun is both elegant and cheerful, thanks to the warm LED lights. Looks like there could be a tree under there right? Stick it by the front door, in the back garden – or bring it inside for a contemporary Christmas look.
So if you're wondering how to hang Christmas lights outside in your exterior spaces – consider this job done!
24. Stack crates in the shape of a tree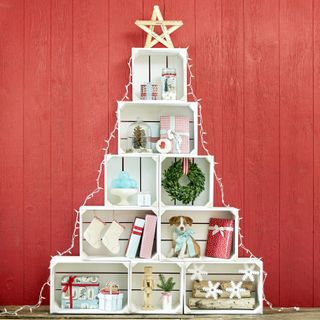 The easiest option of all – and a very budget Christmas decorating idea – is stacking wooden crates in the shape of a tree. Then, fill them with your favorite ornaments or gifts. Hey presto, a chic, boho alternative Christmas tree.
25. Build a Christmas tepee for the kids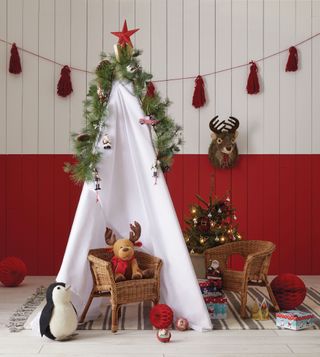 If you have small children, a tree can be too much of a hazard (pet owners will get the dilemma, too). Instead, put up a child-safe tepee they'll love playing in, and decorate it with your favourite Christmas ornaments.
This tepee has been decorated with Christmas treats from Dunelm.
26. Draw your tree on a blackboard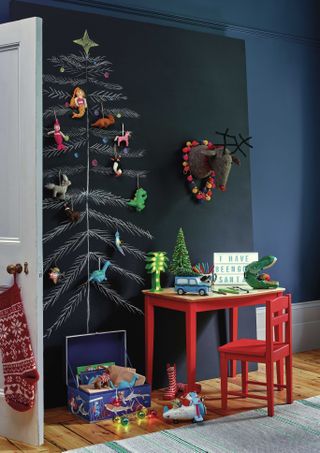 Forget buying a new tree and have fun drawing one with your kids! If your children's room has a blackboard and some chalk – you're basically sorted. Just add Christmas decs. This kid's room has been decorated with Christmas goodies from Homesense.
27. Use neon lights as a festive alternative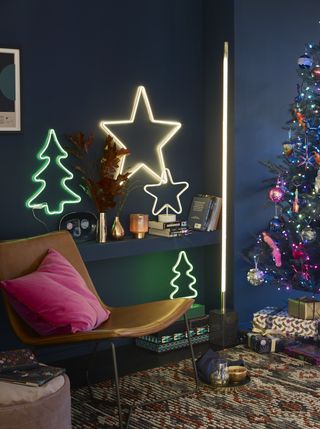 It's not all about fairy lights; why not edge it up a bit and go for neon lights instead? We love these neon hanging lights from John Lewis (just ignore that there is an actual Christmas tree in the corner and focus on how cool just a collection of neon lights would like as a Christmas tree alternative).
28. Go for a paper Christmas tree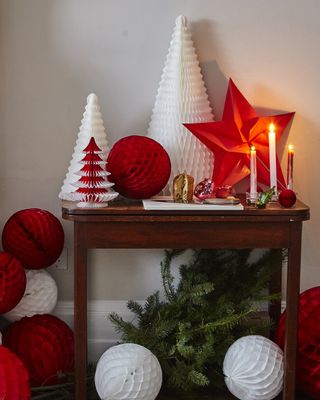 Paper decorations are literally the easiest Christmas decs going – you just unfold them for a copious amount of festive gloriousness.
You can get them in Christmas tree shapes too. Why not (instead of a Christmas tree or as well as) create a feature with loads of paper decs in different shapes and sizes? This lovely lot are all from Paper Dreams.
29. Decorate some branches as a Christmas tree alternative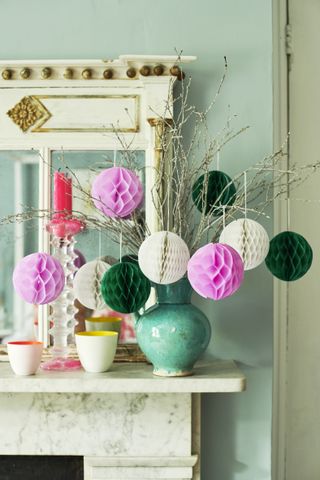 It's a classic, easy go-to. Just grab some twigs from the garden and festive them up with some baubles. If you have the time you could spray paint your twigs – we love these frosty white ones from Bloom & Wild.
Once you have found the perfect set of twigs, you can just pack them away carefully and reuse them year after year.
30. Make a wall sticker Christmas tree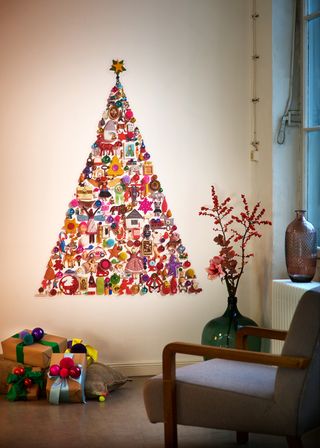 Want to get a bit creative? All you need is some double-sided sticky tape and your favourite decorations (obviously not glass ones, as they won't stick). This tree-shaped Christmas ensemble has been created by MYK Berlin.
How can I create an alternative Christmas tree?
'If you have some pallets laying around or just love that shabby chic, recycled look, why not try a pallet tree this year?' asks Kent Griswold, author of Tiny House Blog.
'With its 2-D, borderline 3-D design, and limited need or use of floor space this tree is just right for the retrofit crowd. The coolest thing though is how limitless the tree can be. Each rung of the tree can be scrolled or tapered or angled. You can stack "branches".'
'You can paint on the "branches." You can inset LED rope lighting or use backlight. You can string ornaments on them. They are truly versatile and easy enough to build for anyone with the slightest bit of hammer and nail experience.'
How do you make it feel like Christmas without a tree?
'For some, it just doesn't feel like Christmas until the tree is trimmed,' says Palermo.
'For others, decorating with a full-size tree is not an option. And that's okay. So whether you lack the space, the time or the energy this year for full-scale decorating, there are plenty of equally festive (and easier) ways to add merriment to your rooms without a tree.'
'Whether you have a tree or not, think outside the box and find different ways to display your ornaments for extra sparkle.'