Rustic Christmas decor is perfect for creating a relaxed, nature-inspired, festive scheme – that doesn't take itself too seriously. We're talking neutral color palettes, simple, understated designs, and, most importantly of all, natural materials.
Even though it's on the rugged side, it's still one of the most popular Christmas decorating ideas around this year. Instead of anything too hard, stark, or manmade, the rustic scheme really is all about a lovely variety of textures.
We're making comfort, practicality, and sustainability a priority. So from hessian to wood and felt, to warm candlestick lighting, discover the best ways to style your rustic Christmas decor ideas and prepare for a family Christmas full of heart.
Rustic Christmas decor that's full of charm
'Do you love rustic timbers, natural fibres and everything to do with nature?' asks Tanya Graetz, interior decorator and designer at Direct Paint.
'Then a rustic Christmas theme will be perfect for your home this Christmas. Be creative and make your own simple decorations using hessian, jute, twigs, timber and other natural materials.'
'The more simple the decoration, the more effective and in keeping with the Rustic theme. And add some of the rustic charm to your gift wrapping by finishing it with some bluegum or pine needles. The great thing about going rustic is that most of the personal touches you can find outside and won't cost a cent!'
1. Glam up rustic mantel decor with neon lighting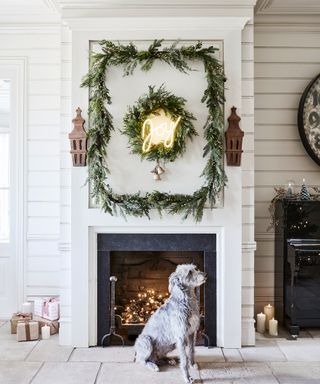 If you're blessed with a fireplace, you'll have the luxury of styling all elements of this heating device this season. One way to create excitement around the embers is to add even more of a glow to the foliage above your Christmas mantel. Modernize your rustic Christmas decor by positioning LED Christmas lighting in the middle of your greenery.
This gorgeous 'Joy' slogan fixture from Lights4Fun, available at Amazon, is perfect for providing additional light this festive season
For bold and bright ideas, our best neon lights buying guide is the go-to place inspo. You're bound to be in your element.
2. Use dried fruit to dress your dining table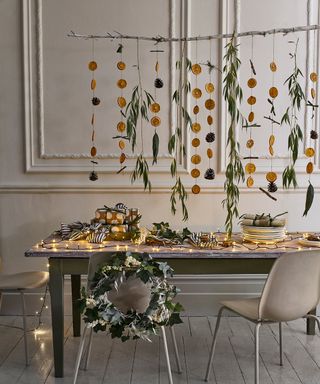 Light wooden floorboards and chairs are the perfect furniture elements for a rustic Scandinavian Christmas decorating scheme, but if you really want to add zesty pizazz to your festive banquet, do so with dehydrated fruit.
The supermarkets and shops are full of Clementines and oranges this season, so go low-key with these fruity DIY rustic Christmas decorations that have the added bonus of infusing your home with a fresh citrus fragrance. You don't need any industrial equipment. Instead, pick up a food dehydrator on Amazon to dry out your citrus fruit. You can then use it for protein-filled jerky and fruit bars if you want to get healthy come the New Year.
'Traditional dried fruit decorations are the holy grail of Christmas crafts,' says Zoe Sugg aka Zoella.
'Strung onto a garland, hooked into a natural Christmas wreath, or even nestled into a bowl of potpourri, they bring a certain festive simplicity and fragrant flair to our homes throughout the holidays that no shiny modern and polished ornament would dare to compete with.'
3. Celebrate your space in Hanzel and Gretel style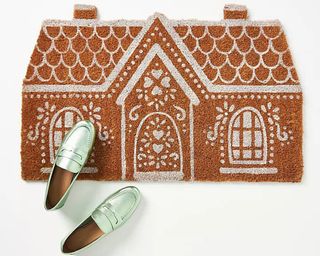 Christmas is the perfect time for baking goodies, from marzipan-rich Stollen, to mince pies and gently-spiced Gingerbread houses and men. So create a warm and cozy place to stop by, by popping a rustic Christmas doormat outside of your property.
We love this Gingerbread House Doormat, by Anthropologie which is a steal at under $40. Made from coconut coir, it'll add an organic feel to your exteriors and is easily cleaned by sweeping or rinsing clean.
4. Repurpose your rattan furniture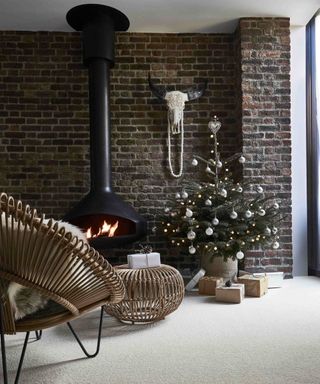 When looking at inspiration for your living room Christmas decorating ideas – look outside. Instead of buying new winter furniture, take your rattan chairs and garden furniture out of the garage and introduce them into your rustic Christmas decor. Make them cozy with a few affordable faux fur throws from a main road or online store like Target.
This lounge is full to the brim with lots of texture; exposed brick wall, a modern fireplace with flume, and a bull ornament for good measure. Flooring-wise, this Carpetright Thaxted Wool Carpet is a perfect choice. It's naturally durable, insulative and, ideal for a busy sitting room where lots of guests will be popping in and out of your home.
5. Introduce rustic touches in the bedroom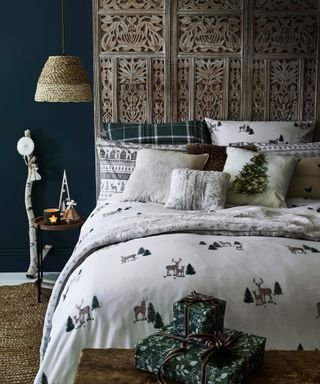 Just because you'll be entertaining your guests in your living and kitchen areas, this doesn't mean that you should neglect your sleep space. Introducing rustic bedroom Christmas decor will make the countdown until Santa arrives even more special. So take down your 'summer' jute rugs and lampshades from the attic and use them in a way that'll bring wow-factor to your winter bedtime.
'A cozy and crafted trend, Kindred uses mixed woods, felts and natural textures to give an overall pared back finish.' says Julie Varma, senior director, George Home, speaking about one of the brand's six Christmas themes.
6. Paint a festive staircase runner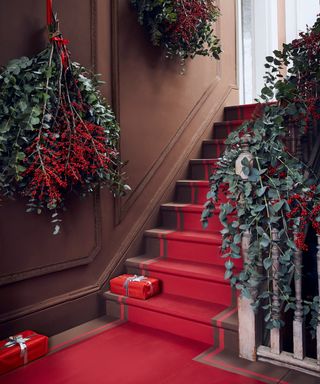 Adding foliage to your banisters can be a quick and easy way to beautify your staircase, but if you want to add rustic Christmas decor that brings red-carpet glam for your extra-special guests – paint a staircase runner.
Red is synonymous with Christmas, but feel free to experiment with other seasonal colors such as forest green, or even gold. We'd recommend reviving tired stairs with some like Rust-oleum, available on Amazon.
7. Create curb appeal with a Christmas wreath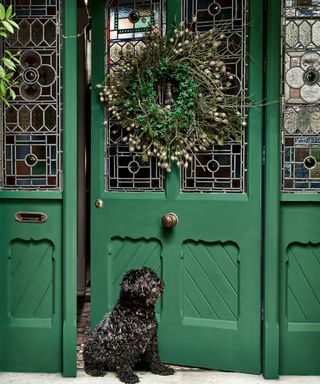 It's all good and well decking the halls with boughs of holly and other homewares, but don't forget about your exterior spaces too. With carol singers and an increased number of guests and neighbors knocking at your door, you'll want to create kerb appeal by doorscaping and dressing your front door with a Christmas wreath.
'Show stopping door displays have become the latest craze as people get into the festive spirit this Christmas,' says Adam Pawson, head of digital at Safestyle UK.
'Instagram can take ample responsibility for the trend - #doordecor has over a quarter of a million posts featuring luxury garlands and seasonal wreaths with a number of celebrities revealing nothing short of a winter wonderland outside their front door.'
Chthe best Christmas wreaths in our buying guide or learn how to make a Christmas wreath for a really rustic look and feel.
8. Create a DIY festive feature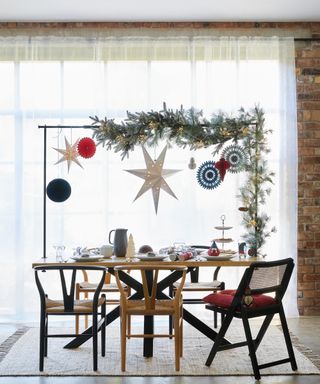 There are loads of reasons why you should invest the time in creating DIY Christmas decor this winter. 1) Handmade always holds its sentimental value 2) You can personalize your decorations with whatever bespoke designs that your heart desires.
We love this upcylcled feature that uses a clothes rail to fashion a festive feature with three-dimensional paper honeycomb decor and frosted fir foliage. Upgrade this idea by exclusively using primary colors for a modern take on Bauhaus chic.
'The Coronavirus pandemic gave many people the opportunity to learn new skills so expect to see more handmade door wreaths, table decorations, candle holders and crackers reflecting the creator's style and personality.' says Daisy Coombes, marketing manager at Sass & Belle
9. Buy a budget-friendly garland (or DIY your own)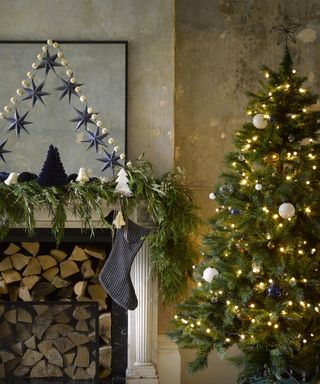 This handmade Southwold Felt Pom Pom Christmas garland from Garden Trading is made from Fairtrade felt and is available in a choice of colors. It is perfect for hanging above the fireplace or draping above dining tables for a hint of dainty decoration. Whether you choose to use it, prices start from just £15, making it a budget Christmas decoration that won't break the bank.
Pair with plaster wall decor and stack logs in a unused fireplace alcove for a homespun aesthetic.
10. Embrace mismatched seating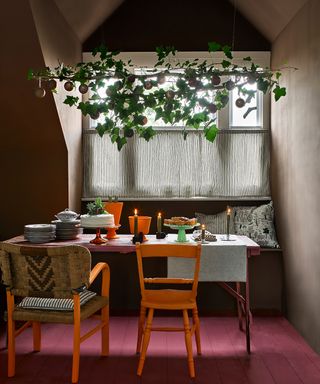 Christmas means unexpected guests calling in for coffee and catch-ups. And, with more people dropping in for extended periods of time – you'll need to make sure that you have ample seating in your dining room sorted.
If your assortment of formal dining chairs and garden seats don't match up – don't be embarrassed. With a little bit of paint, you can create a rough and ready rustic scheme that looks... Sort've coordinated.
You can also use paint on your wooden table and floorboards to provide colored cohesion. Get to work with Annie Sloan Chalk Paint.
11. Go for soft hessian to get a farmhouse feel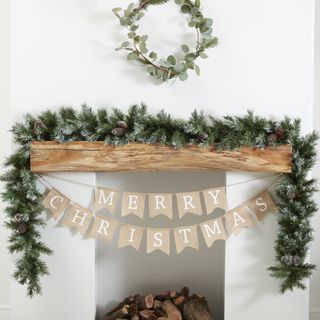 There's something so innocent and wholesome about bunting, but in a natural hessian material like this, it brings rustic and country vibes too. We're loving the crisp white Merry Christmas message, making this design from Ginger Ray perfect for hanging over a mantle, or even up your staircase for a warm welcome home. Combine with natural foliage and a farmhouse Christmas tree decorations to complete the look.
12. Accessorize with chunky homewares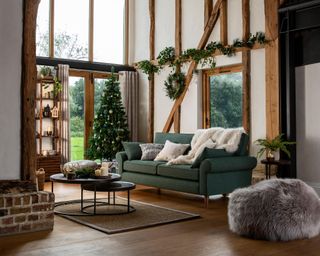 'Your living room is going to be your hibernation spot over the Christmas period, so make it as cozy as can be with sumptuous cable-knit blankets and cushions and soft faux fur throws,' says Jade Lambert, managing director, Heyl Interiors.
'Add forest finds, handmade decorations and soft, cozy fabrics to your home for a truly rustic Christmas. Mix a modern color scheme with rustic accessories and furniture for an aesthetic that is contemporary yet cozy.'
13. Up the cozy factor with felt stockings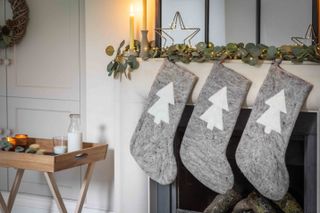 Felt is a signature material when it comes to rustic Christmas decorations. Somehow soft and rugged all at the same time, felt is a material that screams cozy, be it in Christmas tree decorations, bunting, or stocking as shown here by Garden Trading. The simple tree design and pale grey makes these Scandi decor up the modern, cool Christmas vibe too, and we are all for that.
14. Pack in all the festive foliage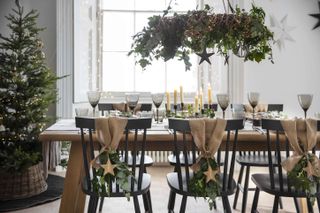 When going rustic, you can never have too much foliage, and as arguably the most important Christmas backdrop, the dining room is a great place to go wild with your greenery.
This festive foliage chandelier creates a real statement in the space, and the scheme is completed with sprigs of eucalyptus, hessian and wooden stars on the back of the chairs.
The goblet style wine glasses and candlesticks shown here by Garden Trading bring an almost medieval feel to the Christmas table decorations and we're loving it.
15. Get back to nature with wooden decorations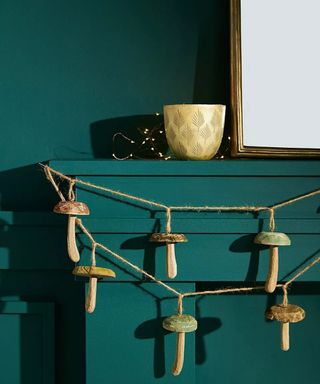 Yep - rustic decorations really are all about the materials you choose. Move over ceramic and glass, get back to basics with wood.
This wooden mushroom garland is stylish in its simplicity. The simple shapes, clean lines, and natural wood grain make for a decorative feature that's warm and inviting over a mantel. It's perfect to decorate a console table or as fireplace decor for an earthy and back-to-basics feel.
16. And keep your pressies in the loop too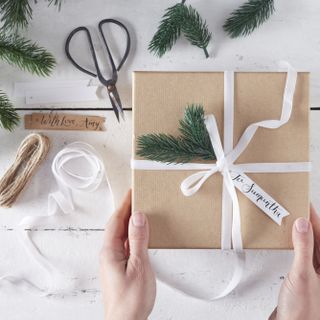 Choose the sustainable Christmas wrapping paper option with simple brown gift paper, like this from Ginger Ray, and get creative with your ribbons and bows.
This pure white ribbon and a sprig of foliage is just the trick for a muted look, or you can liven things up with deep reds and earthy greens. They're the perfect homely and quintessential addition for under your tree, and they're better for the planet too.
How can I decorate my home in a rustic way for Christmas?
'With an increase in Pinterest search volume by 1750% over the last 12 months, we'll definitely be opting for the simplicity of natural Christmas decorations this festive season,' says Nick Drew, trend specialist, WeThrift.
'Using natural elements to make Christmas decorations is a great way to cut back on waste, show your love for nature and it's an aesthetically pleasing alternative to plastic decorations.'
'Use small pieces of nature such as branches, pinecones, or dried fruit like oranges and apples to decorate your mantelpiece and Christmas tree. Create ornaments from wood, and paint for a beautiful natural finish for your tree.'
'Creating salt dough ornaments will add texture to your tree and will create a wonderfully fresh and Christmassy scent to your home. Use pine cones and dried fruit to add decoration to your evergreen wreath or garland.'
How do you make a country Christmas kitchen?
'Adorn your kitchen with illuminated decorations incorporating natural materials, such as wood or faux greenery to bring the outdoors in' says Flo Oldridge, marketing executive, Lights4Fun.
'For a traditional look, opt for wooden Christmas shapes such as star lights or place a sprig of festive foliage in a minimalistic vase to keep with the stripped-back theme. To complete the arrangement, scatter real pinecones, acorns, or berries alongside your display for a touch of authenticity.'
'Kitchen tables and countertops are also a great point for styling. To ensure you don't overcrowd your surfaces, we recommend keeping it simple with smaller decorations. Our TruGlow® Candles (available on Amazon) are the ideal alternative to real candles. Not only do they look super realistic & effective, but they also eliminate the risk of any flame-related accidents if knocked accidentally around busy tables!'
'However big or small your kitchen is, there are many ways you can style your space ready to enjoy over the Christmas season.'