Whether it's a table for two or a big get together, dressing the table for the holiday season adds the final flourish to the main event. And, getting your Christmas table setting right means that you'll impress your guests, all while you enhance your existing interiors (and snap a couple of posts for the gram also). So it pays to make a big deal out of your holiday table decor.
Delve into the art of Christmas tablescaping by layering plates, adding eye-catching florals, foliage and more for a styled finish. Whether you want a minimal look, something a little mismatched or an elegant, traditional setting, choosing the right tableware, colors and decorative accents like statement candles, napkins and more will add heaps of flair to your Christmas dinner party.
Christmas table settings that are full of festive cheer
Bring out your best platters, glasses, crockery and linens or simply update everyday pieces with some of your main Christmas decorations, foraged finds and sparkling candlelight.
1. Re-think the traditional color scheme
Give the table setting a fresh spin with a frosted palette of blush, icy blue and snowflake white. Not forgetting the festive shimmer and sparkle, include bejeweled table decorations and napkin rings, glam sequinned cushions and iridescent glassware. Feathers placed in a vase and hanging pendants add a magical, ethereal vibe.
Amber Dunford, Style Director at Overstock.com (opens in new tab) explains why this table works so well, 'When sprucing up your tablescape with some seasonal décor, it's important to work with varying heights to add interest. Adding different levels is an easy and affordable way to enhance the visual experience of your tablescape'.
2. Arrange a living table runner
'Add fresh flowers, greenery, or fruit to your table. No holiday dining table is complete without some greenery. To bring the outdoors inside, we recommend adding a festive pine garland, eucalyptus leaves, and seasonal flowers; or any preferred greenery of your choice', says Anna Franklin, interior designer and founder of Stone House Collective (opens in new tab).
Nestle fruit such as pomegranate, figs or grapes amongst greenery for a simple yet opulent finish. Tall dinner candles will add to the sense of grandeur as well as keeping the flame safely at a distance.
'Setting a beautiful table doesn't need to be complicated. Go sustainable and accessorize using locally sourced, edible produce instead of expensive flowers', advise Stephanie Bloom and Julie Darwent of Table Linen brand Setting Pretty (opens in new tab).
3. Create a cozy farmhouse set up
The weathered wood of a rustic table instantly creates a beautiful surface on which to layer the settings and decor. Incorporate a linen runner, shearling and faux fur seat pads and cushions to create an inviting space. Warm red napkins are enough to punctuate the natural tones and make a statement.

'I think there's something wonderfully Christmassy about rich claret – I love the rustic simplicity it creates with a natural runner and ribbed glassware. A nice detail to incorporate if you're hosting guests, is to tie the napkins with some greenery or a small decoration at each place setting." Chrissie Rucker, OBE & Founder of The White Company. (opens in new tab)
4. Take it alfresco
Weather permitting, embrace an outdoor setting for a festive party. Start with a neutral base and layer on bold hues that contrast the greenery of a garden, such as striking fuchsia and turquoise and polished brass highlights.
'The garden has been a welcome escape for many over the past 18 months, providing an extra space for entertainment and relaxation,' explains Wayfair (opens in new tab)'s Resident Style Advisor, Nadia McCowan Hill.
Don't just stop at the table, go for an overhead display too,
'Hang spray-painted branches above your table and adorn with decorations of your choice, for that extra-special statement look. Candles, fairy lights and cosy faux fur throws will transport your garden dining experience into a truly magical winter wonderland,' she continues.
5. Dip into the trend for dried flowers and foliage
A suspended chandelier display creates an impactful focal point. Secure either a premade hoop, a dry branch or chicken wire structure, to hooks on the ceiling, hanging from either clear fishing wire or decorative jute or ribbon. Then build up layers of dried stems to create fullness and texture. Finish with cascading elements and hanging decorations for even more drama.
6. Go simple Scandi
This less is more approach creates impact in its simplicity. Warm up a pairing of red, white with naturals elements such as wooden placemats and a burlap or jute runner.
A garland of evergreens running down the table also adds a little life, along with twinkling tealights. Why not insert some fragrant herbs such as rosemary, sage or mint to create even more of a sensory experience and Scandi Christmas look.
As Amber Dunford, Style Director at Overstock.com (opens in new tab) echoes, 'foliage and florals can soften the look of your tablescape and bring a natural holiday feel to your tablescape. To experiment with how you display your foliage, try placing mossy branches, wheat or loose leaves directly on your table. This feels organic and offers a new take on traditional florals in a vase.'
7. Bring color to the table with flowers
As a vibrant alternative to evergreen garlands, why not go full on floral maximalist. Team colorful, blowsy displays with smaller bud vases. These make an ideal backdrop for a buffet or canopee table where guests aren't seated opposite one another.

As influencer and presenter Louise Roe explains, guests don't want to be fighting the Christmas table decor for attention, 'It's important guests can see each other across the table, so cut flowers shorter. I love a mix of jam jars and vintage colored vases that I've picked up on Ebay (opens in new tab)'.
8. Make it informal
An informal setup can still be impressive using serving boards and platters, table linens and trays. Create height with cake stands, dinner or pillar candles, and lay a garland and lights among the dishes.
Beautifully styled grazing boards are still the party food trend - build your own combining a cheeseboard, charcuterie, nibbles and crudites. The key to making it an impressive platter is presentation.
Swirl cured meats into nests, include hard and soft cheeses, fill gaps with nuts, and use fruits such as berries, opened figs and clementines as decorative accents. Include crackers, breadsticks or bread, and keep dips or chutneys in separate ramekins. Fill gaps with herb sprigs or edible flowers for a final flourish.
9. Use just one floral
Using just one variety of flower of foliage can create impact, such as a runner made from delicate Gypsophilia, a carpet of flat moss or Christmas centerpiece made of pampas.
Try a line up of dried hydrangea heads, silvery honesty branches or seed heads to create a rustic texture. The addition of a few dried fronds sprayed gold or silver will add a magical metallic touch.
10. Think sustainably
Avoid throwaway settings and invest in pieces that you can bring to the table year after year, such a cotton napkins and reusable crackers.
As advise Stephanie Bloom and Julie Darwent of Table Linen brand Setting Pretty (opens in new tab). advise, 'Just say no to disposable plates and cutlery when setting your holiday table. Use 100% cotton, machine washable table linen as a more sustainable alternative.
The most beautiful tablescapes include unexpected personal touches that tell a story to your guests – from hand painted place cards, homemade bouquets of flowers or your grandmother's vintage dishes.'
11. Make it effortlessly eclectic
A rainbow scheme adds a joyful spark to the dining experience. If you have a neutral space then the world is your oyster in terms of Christmas color choices, whilst a warm green wall, lends itself to slightly earthier tones with a few primary pops.
This look isn't pared back or about matching crockery sets, so go for clashing prints and patterns, just be sure to keep them within your color story.
For this dining table idea (opens in new tab), layer a statement tablecloth, in large scale print, with smaller scale patterns for a balanced finish, or visa versa. This is the time to bring out your vintage platters, artisan candle holders and alternative Christmas wreaths to create a wonderfully, bohemian finish.
12. Perfect your place setting
Even if you don't have time for an elaborate centerpiece you can still elevate your Christmas dinner with a decorative lift with your individual place setting. Add a single berry stem or green sprig with a decoration or dried orange slices to your napkin, tied together with string or ribbon.
Layer a placemat beneath plates to A rattan liven up plain white settings and linens.
'Opting for a natural linen tablecloth is a fail-safe way to create an effortlessly chic setting. What's more, linen is easily washed (for when the inevitable spillages occur) and ironing is not completely necessary - as the crumpled texture provides character,' says Jessica Hanley, founder of Piglet In Bed. (opens in new tab)
13. Add a personal touch with place cards
Not only does this ensure that you can be conveniently positioned at the opposite end of the table to whichever relative has had one too many bucks fizz, but place cards are also a really easy (and inexpensive) touch that shows you have made a bit of extra effort. You could of course have your place cards made, or you could copy this idea and get fancy with a calligraphy pen (or just a biro) and some nice heavy paper.
14. Add some (budget) luxury with deep shades
For an alternative Christmas table try choosing a deep, velvety color scheme – pair together shades of teal and plum and incorporate touches of rich fabrics for a really luxurious but cozy feel. This table setting might look expensive but everything is actually from Ikea (opens in new tab)!
15. Make a statement with Art Deco tableware
Give your roasties a more glamorous backdrop with some bold tableware. We love these zebra print plates from Maisons du Monde (opens in new tab); team them with some gold accessories, vintage-style glasses and printed napkins to recreate this look.
16. Add warmth with autumnal hues
Go rogue this Christmas and move away from the typical wintery blues, silvers and crisp whites and choose a warmer autumnal colour scheme. We love how the deep orange textiles look with the pillar candles, and how gorgeous is that Alpine throw from Neptune (opens in new tab)? Still very festive of course, just has a bit of a fresher feel.
17. Use accessories to add pops of color
If you want to stick to a fairly neutral table but still want just a hint of cheery Christmas crimson, choose a few bits of tableware to lift an otherwise pretty restrained color palette. These salt and pepper shakers (opens in new tab) from Le Creuset add a splash of color and look gorgeous with the wintery blues and greys.
18. Don't forget the kids' table
If you are lucky enough to have to space to pop all the kids on a separate table for the Christmas dinner, then make sure they get some cute table decor too! Zara (opens in new tab) has a whole range of festive melamine tableware this year – unbreakable, dishwasher safe, candy cane adorned, plates, bowls, glasses and mugs are but a click away...
19. Choose wintery blues and silvers
We've seen a lot of debate about blue Christmas decor we think paired with the right flourishes of foliage and touches of silver it can totally work. Pinch this idea and use rustic wooden placemats and fur throws to soften the look.
20. Embrace the neon Christmas trend
We are lurrving this neon thing that's going on this Christmas. It's just so far from all the green foliage, red berries and pillar candles you see so often.
This is such an easy Christmas table decoration idea to copy too and is minimal effort for maximum effect – you just have to fill up a statement bowl with fruit, mince pies, whatever you fancy, and then the pièce de résistance? Those clip on parrot decorations! Love. This. So. Much.
21. Switch out your dining chairs for a new look
We know this isn't technically a Christmas table decor idea, but switching around you dining chairs could give you a whole new vibe for the festive season plus determine how you set your table for the holidays. We love these Kartell chairs (opens in new tab) (on sale at the moment, so snap them up!) They look so stylish contrasting with the more traditional table. To make the setup feel more festive decorate your table with some simple fir cones and a centerpiece of green foliage.
22. Hang a wreath above your dining table
Hang a homemade Christmas wreath to recreate this look. We would recommend DIYing a yours for the best effect. Nod to lots of texture by adding draping plenty of ivy where small decs will happily slot into also and you'll have yourself one chic look.
23. Keep things elegant with tall glasses and tapers
Love this elegant Christmas table – a crisp white table cloth, contrasting deep blue napkins, tall taper candles, a touch of sparkle and of course the most bougie of champagne coupes. Simple and yet so effective
24. Make use of what you've got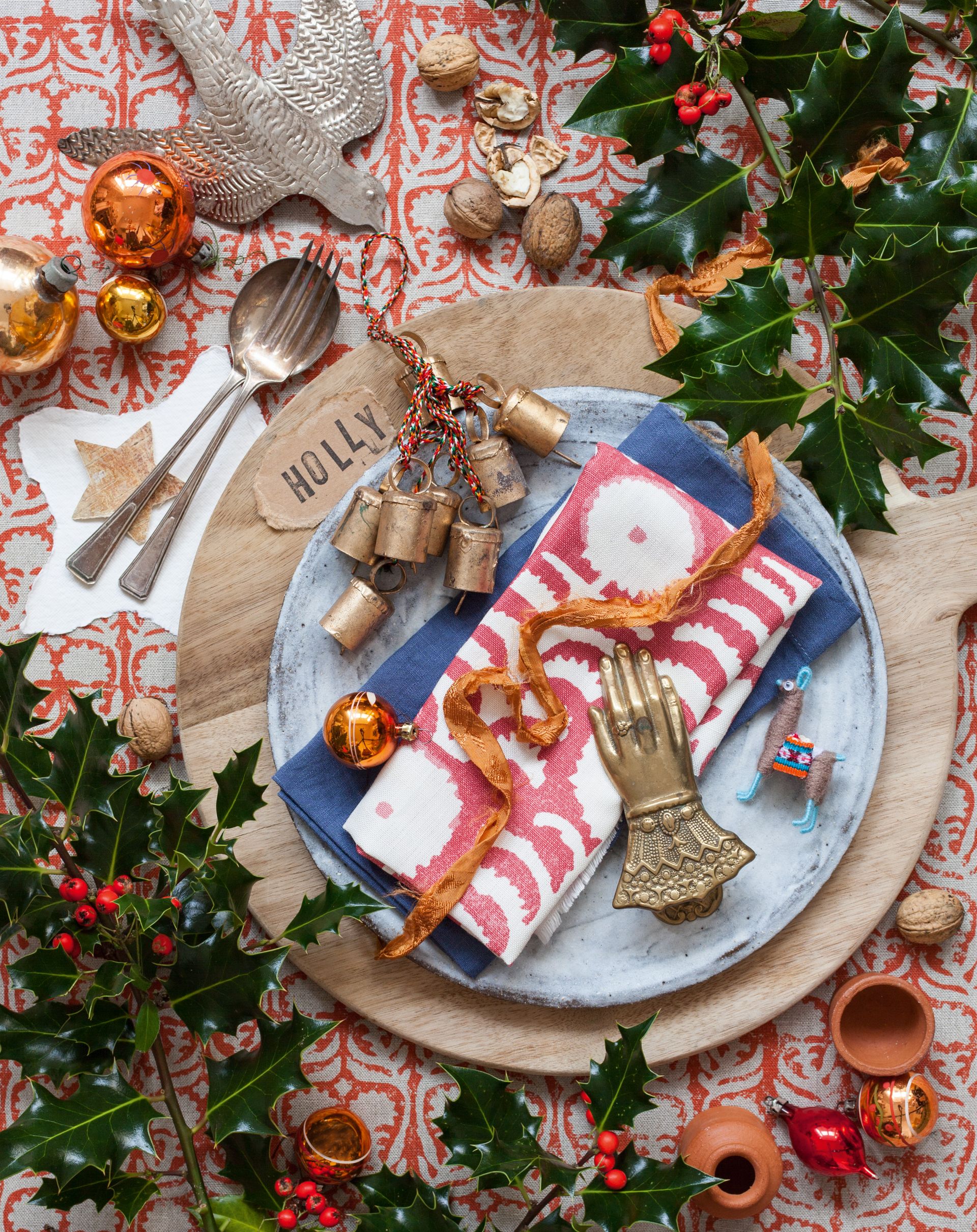 There's definitely something endearing about Christmas table settings that get their character from mismatched plates, vintage trinkets and homemade decorations. Bring yours together to create a lovely festive melange ahead of buying anything new. Just take a look around your home and see if anything could be given a second home next to the cranberry sauce, it's one of the best budget Christmas decor ideas going.
25. Use natural materials for a rustic touch
We've talked a lot about bringing the outside in at Christmas, but it really is such an effective, inexpensive way to make your Christmas table decorations immediately more festive. Try strewing your table with some branches, stems of eucalyptus and pine cones for an on-trend rustic Christmas decor look.
26. Go trad with colors
If you are a sucker for traditional Christmas decorations, don't limit all that red, green, gold and tartan just to the tree, incorporate them into your Christmas table settings, too. Start by dressing the table in a deep red tablecloth and then build up from there with holly, ivy, leftover baubles, tartan napkins and all that you've got!
27. Add some retro feels with kitsch decor
Nostalgia plays such a huge part at Christmas, it explains why we are seeing a comeback of kitsch Christmas decorations. So why not have your turkey joined by a flamingo or the odd llama this year? Recreate this look by getting playful with pastel colors, confetti, sparkling stars and vintage baubles. Basically, anything colorful goes.
28. Bring in opulence with gold
Because if you can't have an overload of sparkle at Christmas then when can you? Mix rose gold metallics with blush-hued tableware and team with a simple table runner to recreate this look. (And pssst… that glimmering, golden branch running through the middle of the table, isn't a painstaking DIY make, it's actually a pre-lit garland from Lights4fun (opens in new tab)).
29. Decorate your dining chairs
Add an extra touch to your Christmas table decor by adding something extra to your dining chairs too. Tie ribbons around them, adorn them with mini wreaths or just simply hang a bough of fir off the back. It might not last long, but looks lovely for the big day, wouldn't you agree?
All this stunning tableware, artificial trees and dining room furniture are by Neptune (opens in new tab).
30. Go for a dark, dramatic color scheme
Not traditionally the most festive of color schemes, black and greys may not scream Christmas cheer, but this table setting is just irresistibly gothic and, combined with the gold candles and plenty of foliage, we reckon it still looks plenty festive.
31. Dark candle centrepieces
And if you just love a touch of Tim Burton, why not choose dark candles over the more traditional ivory tapers? Keep foliage away from flames but still present to soften the look.
32. Line table benches with sheepskin rugs
As much as we love a crisp white table cloth, try using a linen one instead for a more casual Scandi vibe. Complete the look by throwing some fur rugs over your benches and lacing the table with some greenery.
You can find all this lovely tableware and decorations at Neptune (opens in new tab).
33. Go Victoriana
Pay homage to the Victorian tradition of using food as decoration and make it the centerpiece of your Christmas table. Pick out some delectable looking fruit and pile it high in the middle of the table, then chose some vintage-inspired tableware and dramatic tapers to complete the look.
34. Layers of (LED) candles
You just can't go wrong if you have plenty of soft, glowing candles. And if you don't trust your family to be around an open flame (especially after a few snowballs) these wax LED candles from Light4fun (opens in new tab) are incredibly realistic no one will even notice the difference (again, especially after a few snowballs).
How do you decorate a simple Christmas table?
For an unfussy finish to the table, 'opting for a natural linen tablecloth is a fail-safe way to create an effortlessly chic setting. What's more, linen is easily washed (for when the inevitable spillages occur) and ironing is not completely necessary - as the crumpled texture provides character', explains Jessica Hanley, founder of Piglet In Bed. (opens in new tab)
Create a living garland with foraged finds such as pinecones, berries or even fruit. Whether you raid your garden or a florist, seasonal greenery such as ivy, spruce, laurel, fatsia will all work as a base. Or fragrant eucalyptus comes in many forms, from familiar Baby Blue and Gunni to Parvafolia with a smaller, delicate leaf. Liven up evergreens with unusual varieties – Spanish moss, air plants or succulents add a soft, sage green accent.
Candlelight is always adds ambience, so low level tea lights, a striking candelabra or dinner candles will add a magical sparkle.
And central lighting? 'The lighting you choose for your tablescape will greatly impact the overall mood. Soft, warm lighting provides a calm and welcoming environment. If you're worried about having enough light, try using warm, low light bulbs' advises Amber Dunford, Style Director at Overstock.com (opens in new tab).
How do you dress a Christmas dinner table?
For this special occasion, start by layering the table with a Christmas table runner or tablecloth. A runner creates a central anchor to the table and a place to build a living garland from.
Bring out your best glasses and tableware, create layers to your setting. Start with a placemat, adding dinner plates topped with a side plate or bowl, color or patterns will add even more impact. Finally, use your napkins as the final flourish, use a special napkin ring, tie a decoration or festive sprig around with beautiful ribbon.
Don't forget the Christmas centerpiece. Go for a floral display, 'seasonal winter flowers like honeysuckle or roses make the perfect impact and bring a burst of nature in from the outdoors', says Jessica Hanley, founder of Piglet In Bed. (opens in new tab) or 'red florals paired with winter greens add a festive pop of color', Amber Dunford, Style Director at Overstock.com (opens in new tab).
For a showstopping finish, create an overhead display by suspending decorations, a decorative branch dressed with baubles and ribbon or dried flower and foliage chandelier.