The holiday season is here, so it's time to talk tablescaping.
Having a Christmas table set with immaculate vibes will impress every guest you have over, and you'll also be able to snap a couple of posts for the 'gram'. Not to mention, enhance all your other Christmas decs on display...
Delve into the art of Christmas tablescaping by layering plates, linens, and adding eye-catching florals, foliage, and more for a styled finish.
Whether you want a minimal look, something a little mismatched, or a more traditional setting, choosing the right tableware, colors, and decorative accents like statement candles and napkins will add tons of flair to the next dinner you host.
Christmas table settings that are full of festive cheer
Consider this your definitive guide to finding the tablescape aesthetic for you, complete with expert tips on how to create the perfect Christmas table.
1. Incorporate natural elements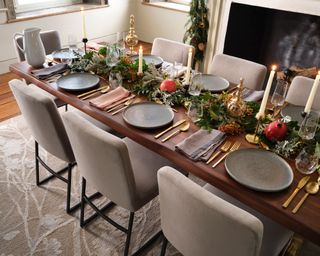 Bring a breath of fresh air indoors with a nature-inspired tablescape. You can create a living table runner using greenery, florals, fruit, and woodsy elements like pinecones, acorns, and cinnamon sticks.
"No holiday dining table is complete without some greenery," says Anna Franklin, interior designer and founder of Stone House Collective. "To bring the outdoors inside, we recommend adding a festive pine garland, eucalyptus leaves, and seasonal flowers; or any preferred greenery of your choice."
Nestle wintery fruit like pomegranate, figs, or grapes among your greenery for a simple yet opulent finish. Tall dinner candles will add to the sense of grandeur, and keep the flame at a safe distance from your foliage.
2. Celebrate colorfully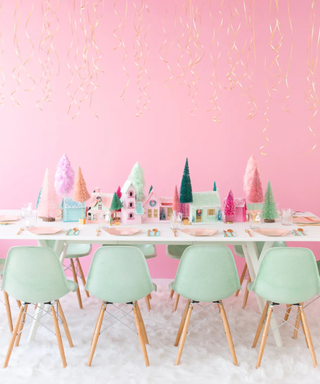 We're huge fans of the Danish pastel aesthetic, and it's even cuter with a holiday spin. Try making your own pastel Christmas village like Studio DIY, and line up your buildings as a table runner with varying heights. Sprinkle through some tiny bottle brush Christmas trees, and you have a wow-worthy tablescape.
If you have pastel dinnerware, glassware, or home decor that you use year-round, taking the colorful Christmas route is also a great way to utilize what you already have at home. Adding a few festive touches in matching tones will feel even more cohesive.
3. Embrace the cottagecore vibes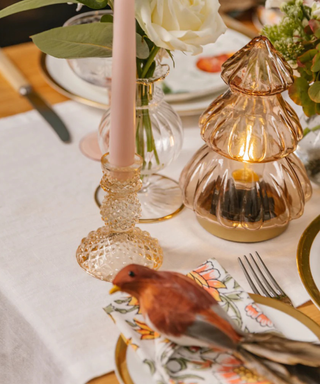 The cottagecore trend is clearly here to stay, and we are obsessed with how enchanted forest vibes are being brought into Christmas decor this year. Whether it's woodland creatures or mushrooms, there are countless elements that can be brought into your Christmas tablescape.
We recommend tinted glass decor in whimsical shades like pink, red, and sage, figurines of woodland creatures, printed or embroidered napkins, and candles or resin mushrooms scattered amongst a garland of greenery. Mix in some fun floral patterns, and you have the perfect recipe for a quintessential Christmas tablescape that feels both traditional and on-trend.
4. Bring on the boards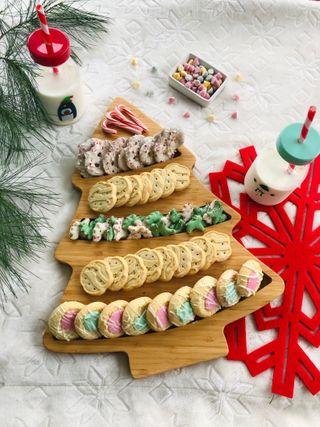 An informal setup can still be impressive using serving boards, platters, table linens, and trays. Create height with cake stands, dinner or pillar candles, and lay a garland and lights among the dishes.
Beautifully styled grazing boards are still the party food trend (hello, bring-a-board parties). Try creating a butter board or build your own charcuterie or cheese board. The key to making it an impressive platter is presentation.
Swirl cured meats into nests, include hard and soft cheeses, and use fruits such as berries, opened figs, and clementines as decorative accents. Include crackers, breadsticks, or bread, and keep dips or chutneys in separate ramekins. Fill gaps with herb sprigs or edible flowers for a final flourish.
5. Think sustainably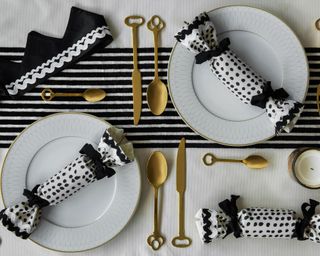 Avoid throwaway settings and invest in pieces that you can bring to the table year after year, such as cotton napkins and reusable crackers.
Stephanie Bloom and Julie Darwent of table linen brand Setting Pretty note that it's best to avoid single-use dinnerware and tablescaping accessories. Instead, find products you can reuse, like cotton tablecloths.
They also suggest finding items around your home that mean something to you and repurposing them as decorative accents, whether that's vintage dishes or floral arrangements you put together yourself.
6. Consider a kit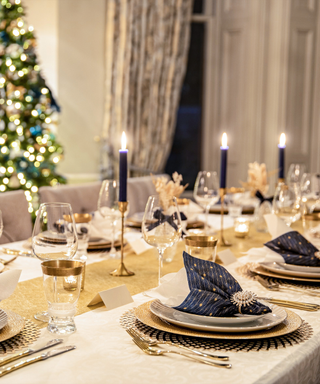 Don't get us wrong, it is a lot of fun to look for all the different elements of a tablescape and bring your vision together, but it can be time-consuming and difficult. If you're in a rush or would prefer a pre-styled look, consider a Christmas tablescape kit.
We love the options from Tableday, festive and otherwise, which cover everything you need besides your plates, cutlery, and glassware. Kits include placemats, candles, a dried flower bouquet, and pretty much any other decorative element you can think of.
If you'd rather get a kit you can use year-round for every dinner party, you can also add some Christmas magic with a bowl of baubles, a mini tree, or festive foliage.
7. Get frosty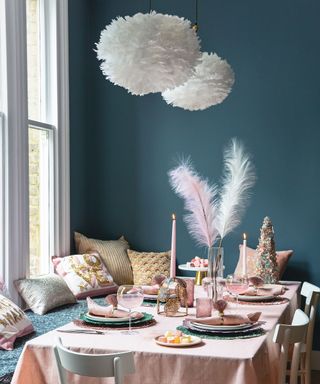 Give the table setting a fresh spin with a frosted palette of blush, icy blue, and snowflake white. Focus on festive shimmer and sparkle by including bejeweled table decorations and napkin rings, glam sequinned cushions, and iridescent glassware to create a magical, ethereal vibe.
"When sprucing up your tablescape with some seasonal decor, it's important to work with varying heights to add interest," says Overstock.com's style director Amber Dunford. "Adding different levels is an easy and affordable way to enhance the visual experience of your tablescape."
8. Make it effortlessly eclectic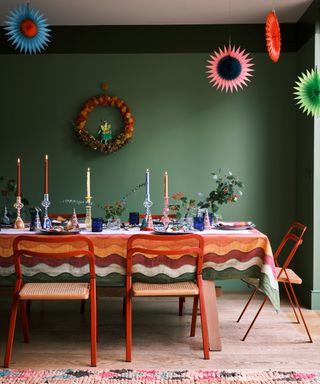 If you have a neutral space, the possibilities are endless in terms of Christmas color choices. Try an eclectic look, going for clashing prints and patterns within a color story you love.
For this dining table idea, layer a statement tablecloth in large-scale print, with smaller-scale patterns for a balanced finish, or pull different colors from a patterned piece and seek out items in unique shapes.
This is the time to bring out your vintage platters, artisan candle holders, and alternative Christmas wreaths to create a punchy, quirky finish.
9. Perfect your place setting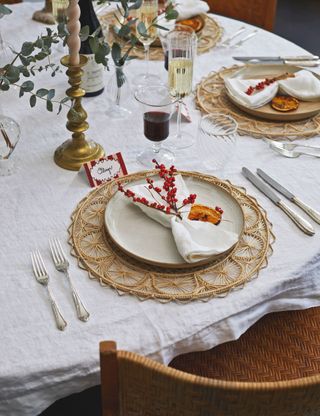 Even if you don't have time for an elaborate centerpiece, you can still elevate your Christmas tablescape with place settings. Add a single berry stem or green sprig, a decoration, or dried orange slices to your napkin, tied together with string or ribbon.
Place cards are a really easy (and inexpensive) touch that shows you've made the extra effort. Get your set printed, handmade, or utilize small ornaments and get fancy with a calligraphy pen.
10. Create a cozy farmhouse set up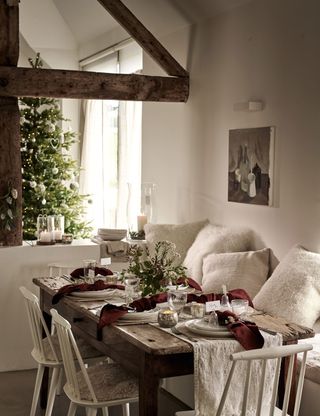 Creating a cozy farmhouse look is all about layering settings and decor. Incorporate a linen runner and shearling or faux fur seat pads and cushions to create an inviting space. Warm red napkins are enough to punctuate the natural tones and make a statement.
"I think there's something wonderfully Christmassy about rich claret — I love the rustic simplicity it creates with a natural runner and ribbed glassware," says Chrissie Rucker, OBE and founder of The White Company. "A nice detail to incorporate if you're hosting guests is to tie the napkins with some greenery or a small decoration at each place setting."
11. Use kitchenware to add pops of color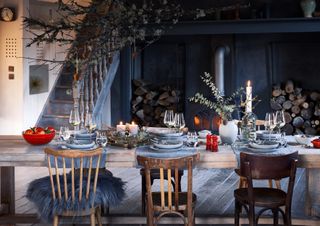 If you're planning on sticking to a fairly neutral table but still want just a hint of cheery Christmas red or green, choose a few pieces of statement tableware to lift an otherwise pretty restrained color palette. These salt and pepper shakers from Le Creuset add a splash of color and look gorgeous against a cooler, toned-down tablescape.
12. Take it alfresco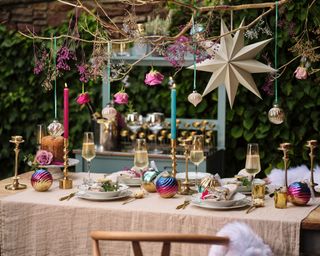 Weather permitting, embrace an outdoor setting for a festive party. Start with a neutral base and layer on bold hues that contrast the greenery of a garden, such as striking fuchsia and turquoise and polished brass highlights.
"Hang spray-painted branches above your table and adorn with decorations of your choice for that extra-special statement look," suggests Wayfair's resident style advisor Nadia McCowan Hill. "Candles, fairy lights, and cozy faux fur throws will transport your garden dining experience into a truly magical winter wonderland."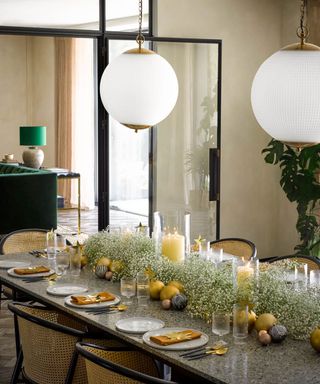 Using just one variety of flower or foliage can create massive impact. Some of our favorite looks are runners made from delicate Gypsophilia, cottagecore carpets of flat moss, or Christmas centerpieces made of pampas grass.
Try a lineup of dried hydrangea heads, silvery eucalyptus branches, or seed heads to create a rustic texture. The addition of a few sparkling sprigs in gold or silver can also give a magical metallic touch.
15. Add some retro feels with kitsch decor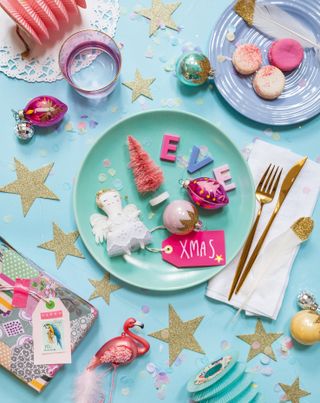 Nostalgia is one of the biggest parts of Christmas, which explains why we're seeing a comeback of kitsch Christmas decorations. Why not have your dinner accompanied by a flamingo or quirky llama this year?
Recreate this look by getting playful with pastels, confetti, sparkling stars and vintage baubles. There are no rules here: basically, anything colorful is fair game.
You just can't go wrong if you have plenty of soft, glowing candles, and you can achieve that festive warmth in a safe, flame-free way. If you have a strict no candles policy to adhere to, or just don't trust your family to be around an open flame (especially after a few cocktails), you can still get the look with LED candles.
Available in tea light, pillar, and taper styles, LED candles can be lined up and layered to achieve an impressive lit-up table runner look.
How do you decorate a simple Christmas table?
Hoping to keep it simple this holiday season?
"Opting for a natural linen tablecloth is a fail-safe way to create an effortlessly chic setting," explains Jessica Hanley, founder of Piglet In Bed. "What's more, linen is easily washed (for when the inevitable spillages occur) and ironing is not completely necessary as the crumpled texture provides character."
When it comes to the runner, create a living garland with foraged finds such as pinecones, berries, or even fruit. Whether you raid your garden or a florist, seasonal greenery such as ivy and pine will all work as a base. If you prefer to go artificial, opt for a timeless eucalyptus.
For an easy way to finish the table, light up the candles and bring some ambience. Try low-level tea lights, a striking candelabra, or dinner candles to add a magical sparkle.
How do you dress a Christmas dinner table?
For this special occasion, start by layering the table with a Christmas table runner or tablecloth. A runner creates a central anchor to the table and a place to build a living garland from.
Bring out your best glasses and tableware, create layers to your setting. Start with a placemat, adding dinner plates topped with a side plate or bowl, color or patterns will add even more impact. Finally, use your napkins as the final flourish, use a special napkin ring or tie a decoration or festive sprig around it with a beautiful ribbon.
For a showstopping finish, create a display by incorporating decorations, like a bowl filled with baubles or ribbon around dried or fresh flowers in a coordinating vase.